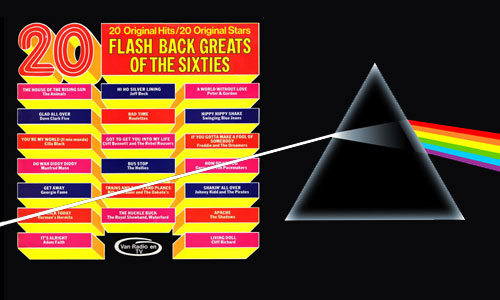 Released on March 1, 1973, Pink Floyd's legendary album 'The Dark Side Of The Moon' is the 7th best selling album of all time in the UK, yet it never made it to number 1 in the weekly UK album chart.
It did hit #1 for a week on the Billboard Album Chart, and eventually sold over 45,000,000 copies.
In the UK, it was kept off top spot by the compilation album '20 Flash Back Greats Of The 60s' when it came out.
'The Dark Side of the Moon' has spent a total 923 weeks (17 years, 9 months) on the Billboard 200 chart overall, including a 741 week (14 years, 3 months) stint after being released. The second longest total time on the chart is 490 weeks.
The album was originally released in a gatefold LP sleeve designed by Hipgnosis and George Hardie. The prism design was inspired by a photograph that Thorgerson had seen during a brainstorming session with Powell. Hadrie did the final design.
20 Flash Back Greats Of The Sixties (K-Tel) included:
A Side:
1 The Animals – The House Of The Rising Sun
2 Dave Clark Five – Glad All Over
3 Cilla Black – You're My World (Il Mio Mondo)
4 Manfred Mann – Do Wah Diddy Diddy
5 Georgie Fame – Get Away
6 Herman's Hermits – No Milk Today
7 Adam Faith – It's Alright
8 Jeff Beck – Hi Ho Silver Lining
9 Roulettes – Bad Time
10 Cliff Bennett And The Rebel Rousers – Got To Get You Into My Life
B Side:
1 The Hollies – Bus Stop
2 Billy J. Kramer And The Dakotas – Trains And Boats And Planes
3 The Royal Showband, Waterford – The Huckle Buck
4 Peter & Gordon – A World Without Love
5 Swinging Blue Jeans -Hippy Hippy Shake
6 Freddie And The Dreamers – If You Gotta Make A Fool Of Somebody
7 Gerry And The Pacemakers – How Do You Do
8 Johnny Kidd And The Pirates – Shakin' All Over
9 The Shadows – Apache
10 Cliff Richard – Living Doll
Dark Side Track Listing:
(All lyrics written by Roger Waters. )
Side one
1. Speak to Me
2. Breathe
3. On the Run
4. Time
5. The Great Gig in the Sky
Side two
1. Money
2. Us and Them
3. Any Colour You Like
4. Brain Damage
5. Eclipse
Save
Save