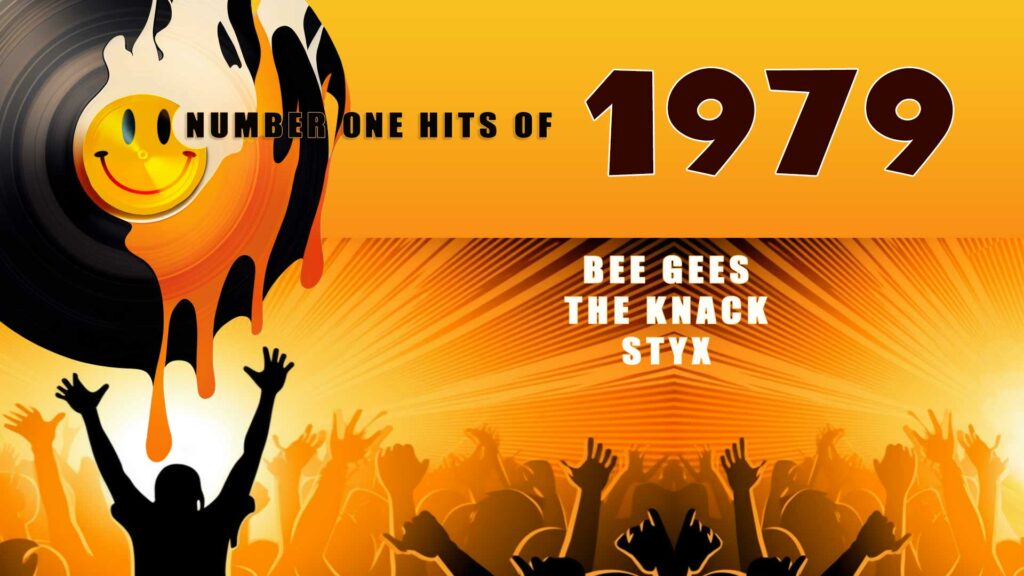 The Number One Hits Of 1979
December 9, 1978 – January 5, 1979
Chic
Le Freak

In 1977, Nile Rodgers and Bernard Edwards, the founding members of Chic, attempted to enter Studio 54 but were turned away at the door. This rejection inspired them to create a song that would capture their experience and frustrations. They channeled their emotions into the creation of "Le Freak."

Originally titled "F*** Off," the song's lyrics reflected the band's rejection and disappointment that night. However, realizing that a radio-friendly version would be necessary, they changed the title to "Le Freak" and altered the explicit lyrics to the more innocuous "Freak out."
January 6, 1979 – February 9, 1979
Bee Gees
Too Much Heaven
When the Bee Gees were working on the music for "Saturday Night Fever," they wrote "Too Much Heaven" as a heartfelt ballad. The song's uplifting and ethereal quality resonated with the band, but it didn't fit the overall disco vibe of the film. As a result, the decision was made to exclude it from the soundtrack.
The Bee Gees donated the royalties from Too Much Heaven to UNICEF, as part of the Music for UNICEF Concert.
February 10, 1979 – March 9, 1979
Rod Stewart
Da Ya Think I'm Sexy
Rod Stewart is a British rock singer-songwriter known for his raspy voice and distinctive style.
Da Ya Think I'm Sexy is a disco-influenced hit that helped Stewart maintain his popularity during the late 1970s.
March 10, 1979 – March 23, 1979
Gloria Gaynor
I Will Survive
Gloria Gaynor is an American singer known for her powerful voice and disco hits.
I Will Survive became an anthem for empowerment and resilience and remains one of the most famous disco songs ever.
March 24, 1979 – April 13, 1979
Bee Gees
Tragedy
Tragedy was released in 1979 as a single from the Bee Gees' album "Spirits Having Flown." While the song's lyrics do not explicitly reference Andy Gibb or his death, the emotional weight and themes of loss and heartbreak are believed to have been influenced by the family tragedy.
April 14, 1979 – April 20, 1979
The Doobie Brothers
What a Fool Believes
The Doobie Brothers are an American rock band known for their fusion of rock, R&B, and country music styles.
What a Fool Believes is a soft rock hit written by Michael McDonald and Kenny Loggins that won two Grammy Awards.
April 21, 1979 – April 27, 1979
Amii Stewart
Knock on Wood
Amii Stewart is an American singer and dancer known for her disco and soul hits
Knock on Wood is a high-energy disco cover of a 1966 hit by Eddie Floyd, which showcased Stewart's powerful vocals.
April 28, 1979 – May 4, 1979
Blondie
Heart of Glass
Blondie is an American rock band led by singer Debbie Harry, known for its eclectic style and fusion of various musical genres.
Heart of Glass is a new wave and disco hit that helped establish Blondie as a major act in the late 1970s.
May 5, 1979 – June 1, 1979
Peaches & Herb
Reunited
Peaches & Herb is an American vocal duo of Herb Fame and various female singers using the stage name "Peaches."
Reunited is a smooth R&B ballad that became one of the duo's most successful singles.
June 2, 1979 – June 8, 1979
Donna Summer
Hot Stuff

Hot Stuff by Donna Summer is that it almost didn't make it onto her album. When Summer and her team were working on her 1979 album "Bad Girls," they initially didn't plan to include "Hot Stuff" as they thought it didn't quite fit the disco theme of the album.

However, while in the studio, the producer Giorgio Moroder happened to hear Donna Summer singing a version of the song during a break. Impressed by her performance, he convinced her to record "Hot Stuff" and include it on the album. Moroder saw the track's potential and believed it could be a hit.
June 9, 1979 – June 29, 1979
Bee Gees
Love You Inside Out

Released in 1979 as a single from their album "Spirits Having Flown," the song showcased a departure from their earlier disco-oriented sound and incorporated more elements of pop and R&B.

While recording "Love You Inside and Out," the Bee Gees experimented with different musical styles and production techniques. They incorporated a prominent bassline, layered harmonies, and a catchy melody that blended disco, pop, and soul elements. The result was a smoother and more polished sound than their earlier disco hits.

The song's success confirmed the Bee Gees' ability to adapt to evolving musical trends while maintaining their distinct sound and songwriting style.
June 30, 1979 – July 13, 1979
Anita Ward
Ring My Bell
Anita Ward is an American singer best known for her disco hits.
Ring My Bell is an infectious, danceable disco tune that became Ward's biggest hit and a popular party anthem.
July 14, 1979 – August 17, 1979
Donna Summer
Bad Girls

When Summer and her producer, Giorgio Moroder, began working on her 1979 album of the same name, they initially envisioned Bad Girls as a rock-oriented song. However, during the recording process, they embraced the emerging disco sound and infused it into the track. They incorporated pulsating basslines, disco rhythms, and catchy synthesizer hooks. The result was a seamless fusion of rock and disco, giving "Bad Girls" its distinctive and infectious sound.

The decision to infuse disco elements into Bad Girls was genius. The song became a massive success, reaching number one on the Billboard Hot 100 chart and earning Donna Summer a Grammy nomination for Best Female Pop Vocal Performance.
August 18, 1979 – August 24, 1979
Chic
Good Times

Good Times by Chic was a primary influence for creating one of the most iconic songs in hip-hop history. The Good Times bassline was famously sampled in 1979's hit single Rapper's Delight by the Sugarhill Gang.

Rapper's Delight is widely recognized as the first mainstream rap song and played a crucial role in introducing hip-hop to a global audience. The Sugarhill Gang's use of the bassline from Good Times as the backbone of their track laid the foundation for the song's infectious groove.

Interestingly, incorporating the "Good Times" bassline into "Rapper's Delight" led to a landmark copyright case. Due to the uncredited use of the sample, Nile Rodgers and Bernard Edwards of Chic filed a lawsuit against Sugarhill Records, eventually settling out of court.
August 25, 1979 – October 5, 1979
The Knack
My Sharona
The Knack was an American rock band known for their catchy power pop tunes.
My Sharona is an energetic rock song with a memorable guitar riff, and it became the band's biggest hit.
October 6, 1979 – October 12, 1979
Robert John
Sad Eyes
Robert John is an American singer-songwriter known for his soft rock ballads.
Sad Eyes is a heartfelt ballad that became John's biggest hit and reached the top of the charts.
October 13, 1979 – October 19, 1979
Michael Jackson
Don't Stop 'til You Get Enough

Released in 1979, the song became Jackson's first crossover solo single to reach number one on the Billboard Hot 100 chart.

This achievement is noteworthy because it marked a departure from Jackson's previous work with his family group, The Jackson 5. Despite his tremendous success as a member of the Jackson 5, including multiple chart-topping hits, Jackson had yet to achieve a solo number-one single.

Don't Stop 'til You Get Enough is a disco-funk track that began Jackson's successful solo career and won him his first Grammy Award.
October 20, 1979 – November 2, 1979
Herb Alpert
Rise
Herb Alpert is an American trumpeter and music producer, best known as the founder of A&M Records.
Rise is an instrumental jazz-funk track that showcased Alpert's trumpet skills and became his first number-one single.
November 3, 1979 – November 9, 1979
M
Pop Muzik
M is an English musician and producer whose real name is Robin Scott.
Pop Muzik is a catchy, synth-driven new wave track that became a worldwide hit and remains M's most well-known song.
November 10, 1979 – November 16, 1979
Eagles
Heartache Tonight

During the recording sessions for their album "The Long Run" in 1979, Glenn Frey, Don Henley, Bob Seger, and J.D. Souther gathered in a room to write a song together. They began jamming and exchanging ideas, eventually leading to Heartache Tonight's creation. Each member of the group contributed to different aspects of the song. Glenn Frey created the opening guitar riff, and Don Henley and J.D. Souther worked on the lyrics. Bob Seger added some of his signature rock and roll style to the song, helping to shape its energetic and catchy sound.

The collaborative and impromptu nature of the songwriting process for "Heartache Tonight" showcases the strong musical chemistry and camaraderie among The Eagles members. It demonstrates their ability to blend their individual talents and create a cohesive and memorable track.
November 17, 1979 – November 23, 1979
Commodores
Still

A little-known fact about the song Still by the Commodores is that it was written and sung by the group's drummer, Walter "Clyde" Orange. While the Commodores were known for their diverse vocal talents, Lionel Richie often took lead vocals on their hits, "Still" allowed Orange to showcase his singing ability.

Released in 1979 as a single from their album "Midnight Magic," "Still" stands out as a heartfelt and soulful ballad. The song captures a sense of longing and nostalgia, emphasizing the enduring power of love. Orange's smooth and emotive vocals and the Commodores' tight musical arrangement created a captivating and memorable track.
November 24, 1979 – December 7, 1979
Barbra Streisand and Donna Summer
No More Tears (Enough Is Enough)

The idea for the collaboration came from the song's producer, Gary Klein, who thought bringing together two strong female vocalists with distinct styles would be compelling. Streisand was a renowned actress and singer known for her Broadway and pop ballads, while Summer was the reigning Queen of Disco.

The "No More Tears (Enough Is Enough)" recording process was challenging. The two divas had different approaches to singing, and there were reportedly some tensions during the sessions. However, their mutual respect and desire for the song's success prevailed, leading to a dynamic and emotive performance.
December 8, 1979 – December 21, 1979
Styx
Babe
Styx is an American rock band known for their progressive rock and power ballad hits.
Babe is a romantic ballad written by the band's vocalist and keyboardist, Dennis DeYoung, as a birthday present for his wife.
December 22, 1979 – January 4, 1980
Rupert Holmes
Escape (The Pina Colada Song)
Rupert Holmes is an English-American singer-songwriter and playwright best known for his storytelling-style songs.
Escape (The Pina Colada Song) is a catchy, narrative-driven soft rock hit that tells the story of a man who unknowingly connects with his own partner through a personal ad.
The Biggest Pop Artists of 1979 include:
A Taste of Honey, Ashford & Simpson, Barbra Streisand, The Bar-Kays, Barry Manilow, The Bee Gees, Billy Joel, Blondie, Chic, The Commodores, The Doobie Brothers, Donna Summer, Dr. Hook, Earth, Wind & Fire, Electric Light Orchestra (ELO), Foreigner, George Benson, GQ, Herb Alpert, Instant Funk, John Travolta, Kenny Rogers, The Knack, Kool & the Gang, McFadden & Whitehead, Micheal Jackson, Olivia Newton-John, Parliament/ Funkadelic, Peaches & Herb, Peaches & Herb, Player, Prince, Queen, Rod Stewart, Rufus featuring Chaka Kahn, Rupert Holmes, Sister Sledge, Steely Dan, Styx, Sugarhill Gang, Supertramp, Village People
(HPS music data is compiled from charts, including Billboard's Pop, Rock, Airplay, R&B/Dance, and Singles Charts. The Hot 100 is the primary chart used for this list.)