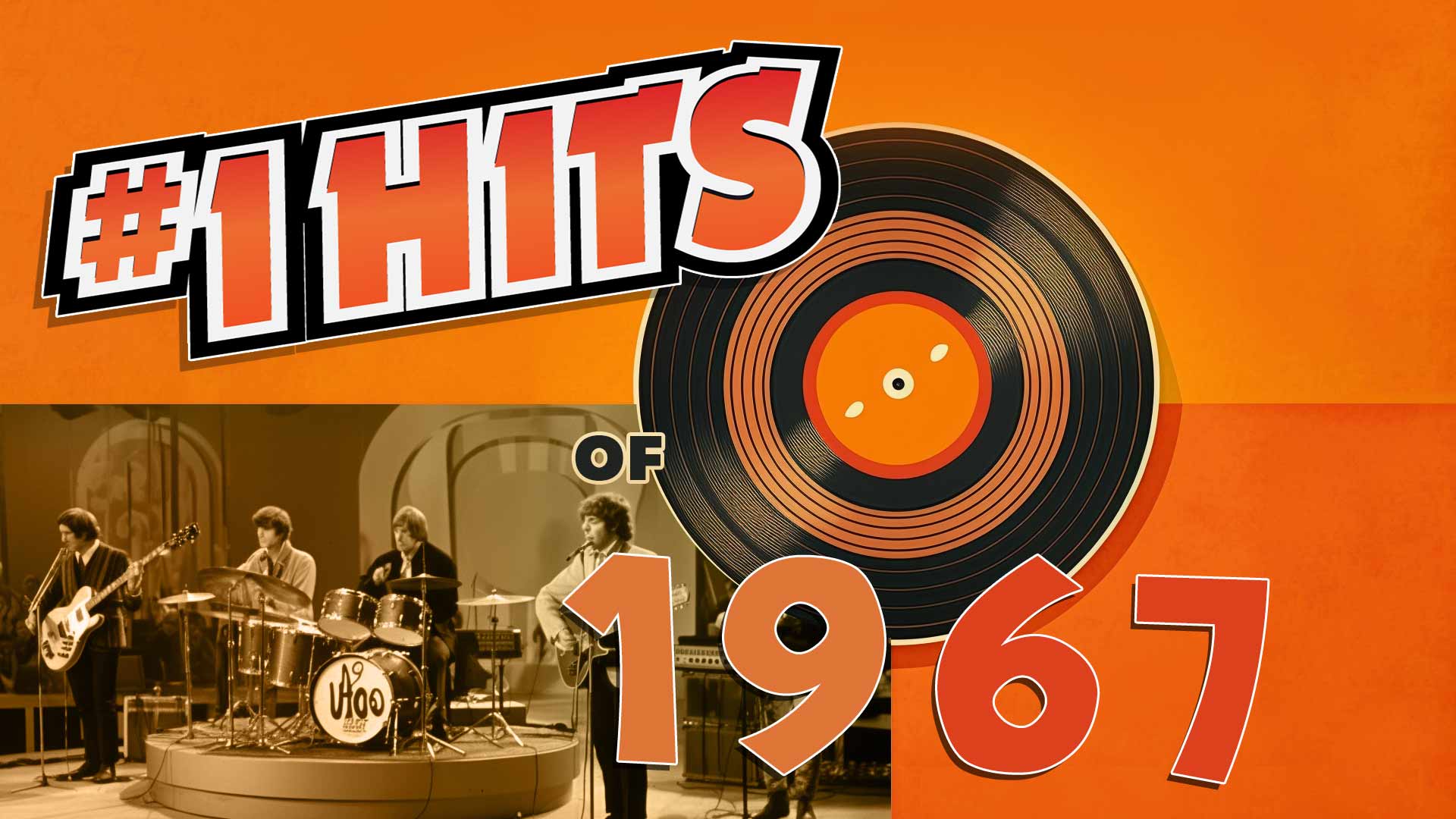 The Number One Hits Of 1967
December 31, 1966 – February 17, 1967
The Monkees
I'm a Believer
The Monkees were formed in Los Angeles, initially as a TV show band, but eventually became a successful recording group.
I'm a Believer became one of the band's signature songs and has been covered by numerous artists since its release.
February 18, 1967 – March 3, 1967
The Buckinghams
Kind of a Drag
The Buckinghams were a rock band from Chicago, known for incorporating brass instruments into their sound.
Kind of a Drag was The Buckinghams' first and biggest hit, topping the charts in the US.
March 4, 1967 – March 10, 1967
The Rolling Stones
Ruby Tuesday
The Rolling Stones, an English rock band, has been active since 1962 and is one of the most commercially successful and influential bands in the history of popular music.
Ruby Tuesday was written by Mick Jagger and Keith Richards, inspired by the former's romantic relationship with a woman named Linda Keith.
March 11, 1967 – March 17, 1967
The Supremes
Love Is Here and Now You're Gone
The Supremes were a female singing group known for their chart-topping hits and glamorous image.
Love Is Here and Now You're Gone was inspired by a breakup and showcased the group's signature harmonies and production.
March 18, 1967 – March 24, 1967
The Beatles
Penny Lane
The Beatles were not only known for their music but also for their impact on popular culture, fashion, and attitudes during the 1960s.
Penny Lane is a nostalgic song about a street in Liverpool, England, where the band members grew up.
March 25, 1967 – April 14, 1967
The Turtles
Happy Together
The Turtles were the most successful American rock band during the mid-1960s.
Happy Together was written by Garry Bonner and Alan Gordon, becoming the band's biggest hit and an iconic song of the 1960s.
April 15, 1967 – May 12, 1967
Nancy Sinatra and Frank Sinatra
Somethin' Stupid
Nancy Sinatra is the daughter of legendary singer Frank Sinatra, and both enjoyed successful solo careers.
Somethin' Stupid is a duet between the father-daughter pair, showcasing their unique vocal chemistry.
May 13, 1967 – May 19, 1967
The Supremes
The Happening
During their peak years, the Supremes' lineup consisted of Diana Ross, Mary Wilson, and Florence Ballard.
The Happening was written and produced by the famous Motown team of Holland-Dozier-Holland, becoming another chart-topping hit for the group.
May 20, 1967 – June 2, 1967
Young Rascals
Groovin'
Young Rascals, later known as The Rascals, were an American rock band from New Jersey that combined elements of soul, R&B, and pop.
Groovin' was a laid-back, feel-good song that reflected the band's love for soul music.
June 3, 1967 – July 1, 1967
Aretha Franklin
Respect
Aretha Franklin, often called the "Queen of Soul," was a powerful singer known for her gospel roots and incredible vocal range.
Otis Redding originally wrote Respect, but Aretha Franklin's rendition became an anthem for civil rights and women's rights movements.
July 1, 1967 – July 28, 1967
The Association
Windy
The Association was an American sunshine pop band known for their tight vocal harmonies and catchy melodies.
Windy was a chart-topping hit for the band, written by Ruthann Friedman and characterized by its upbeat tempo and intricate harmonies.
July 29, 1967 – August 18, 1967
The Doors
Light My Fire
The Doors were an American rock band led by charismatic frontman Jim Morrison, known for their poetic lyrics and distinctive sound.
The band members wrote Light My Fire, one of their most iconic songs, showcasing Morrison's passionate vocals and Ray Manzarek's innovative organ playing.
August 19, 1967 – August 25, 1967
The Beatles
All You Need Is Love
The Beatles' experimentation with different musical styles and recording techniques made them one of the most innovative bands in history.
All You Need Is Love was written as a simple message of love and unity, first performed live on the global satellite broadcast "Our World."
August 26, 1967 – September 22, 1967
Bobbie Gentry
Ode to Billie Joe
Bobbie Gentry was an American singer-songwriter known for her narrative storytelling and Southern Gothic themes in her music.
Ode to Billie Joe tells the story of a mysterious tragedy in a small Mississippi town, becoming a massive hit and earning Gentry multiple Grammy Awards.
September 23, 1967 – October 20, 1967
Box Tops
The Letter
Box Tops were an American rock band from Memphis, Tennessee, with a soulful sound heavily influenced by their Southern roots.
Wayne Carson wrote The Letter and became the band's biggest hit, featuring the soulful voice of then-16-year-old lead singer Alex Chilton.
October 21, 1967 – November 24, 1967
Lulu
To Sir With Love
Lulu, a Scottish singer, and actress, gained international fame with her powerful voice and dynamic stage presence.
To Sir With Love was the title song for the movie of the same name, in which Lulu also appeared as an actress and became a chart-topping hit.
November 25, 1967 – December 1, 1967
Strawberry Alarm Clock
Incense and Peppermints
Strawberry Alarm Clock was an American psychedelic rock band known for their fusion of pop and experimental music.
Incense and Peppermints was their biggest hit, characterized by its distinctive organ riff and trippy, psychedelic lyrics.
December 2, 1967 – December 29, 1967
The Monkees
Daydream Believer
The Monkees were one of the first bands to transition from television to mainstream music success successfully.
John Stewart wrote Daydream Believer, a hit for the band known for its catchy melody and optimistic lyrics.
December 30, 1967 – January 19, 1968
The Beatles
Hello, Goodbye
The Beatles were pioneers in studio technology, creating innovative sounds and expanding the boundaries of popular music.
Hello, Goodbye was written by Paul McCartney, featuring a catchy melody, contrasting lyrics, and a memorable music video that further cemented the band's image.
The Biggest Pop Artists of 1967 include:
Aretha Franklin, The Association, The Beatles, Bettye Swan, Carla Thomas, Dionne Warwick, The 4 Seasons, The Four Tops, Freddie Scott, Gene Chandler, Gladys Knight & the Pips, The Hollies, Jackie Wilson, James Brown, Joe Tex, Jr. Walker & the All Stars, King Curtis, The Lovin Spoonful, The Mamas & the Papas, Martha and the Vandellas, The Marvelettes, Marvin Gaye, The Monkees, Nancy Sinatra, Otis Redding, Paul Revere & the Raiders, Percy Sledge, Petula Clark, The Rascals, Sam & Dave, Smokey Robinson & the Miracles, Stevie Wonder, The Supremes, Tammi Terrell, Tommy James & the Shondells, Wilson Pickett
(HPS music data is compiled from charts, including Billboard's Pop, Rock, Airplay, R&B/Dance, and Singles Charts. The Hot 100 is the primary chart used for this list.)