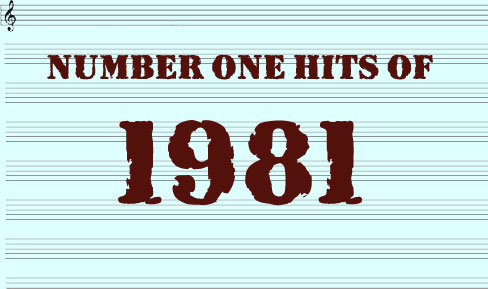 The Number One Hits Of 1981
December 27, 1980 – January 30, 1981
John Lennon
(Just Like) Starting Over
John Lennon and Yoko Ono released the album "Double Fantasy" in 1980, which marked his return to the music scene after a five-year hiatus.
(Just Like) Starting Over features an upbeat melody and reflects Lennon's hope for a new beginning
January 31, 1981 – February 6, 1981
Blondie
The Tide Is High
Blondie was formed in 1974 by Debbie Harry and Chris Stein and became a pioneer of the American punk and new wave scene.
The Tide Is High is a reggae-infused tune originally recorded by The Paragons, but Blondie's version added a new wave twist.
February 7, 1981 – February 20, 1981
Kool & the Gang
Celebration
Kool & the Gang, an American band formed in 1964, is known for blending jazz, R&B, soul, and funk music.
Celebration is an upbeat, danceable track and has become a popular anthem for parties and special events.
February 21, 1981 – February 27, 1981
Dolly Parton
9 to 5
Dolly Parton is a country music icon and actress who has composed over 3,000 songs.
9 to 5 is the theme song from the 1980 comedy film of the same name, in which Parton starred alongside Jane Fonda and Lily Tomlin
February 28, 1981 – March 20, 1981
Eddie Rabbitt
I Love a Rainy Night
Eddie Rabbitt was an American country singer-songwriter known for his crossover appeal to the pop music market.
I Love a Rainy Night is a country-pop song that combines upbeat rhythms with Rabbitt's smooth vocals.
March 21, 1981 – March 27, 1981
REO Speedwagon
Keep On Loving You
REO Speedwagon is an American rock band from Illinois that gained popularity in the late 1970s and 1980s.
Keep On Loving You is a power ballad that features emotive lyrics and strong vocals from lead singer Kevin Cronin.
March 28, 1981 – April 10, 1981
Blondie
Rapture

Rapture is considered to be the first rap song to reach number one on the Billboard Hot 100 chart. Released in 1981 as a single from their album "Autoamerican," "Rapture" showcased Blondie's innovative and boundary-pushing approach to music.

While Blondie was primarily known as a new wave and punk rock band, "Rapture" incorporated elements of rap and hip-hop into their sound. Debbie Harry, the lead singer of Blondie, delivered a unique rap verse in the middle of the song, making it one of the earliest instances of a rap performance by a white female artist on a mainstream record.
April 11, 1981 – May 1, 1981
Daryl Hall and John Oates
Kiss on My List
Daryl Hall and John Oates are a pop-rock duo that achieved significant success in the 1970s and 1980s.
Kiss on My List is an upbeat pop song co-written by Daryl Hall and Janna Allen, with catchy hooks and harmonies.
May 2, 1981 – May 15, 1981
Sheena Easton
Morning Train (Nine to Five)
Sheena Easton is a Scottish singer and actress who gained fame in the early 1980s.
Morning Train (Nine to Five) is a catchy pop song about a woman waiting for her partner to return from work.
May 16, 1981 – June 19, 1981
Kim Carnes
Bette Davis Eyes
Kim Carnes is an American singer-songwriter known for her distinctive raspy voice.
Donna Weiss and Jackie DeShannon wrote Bette Davis Eyes, and it became one of the best-selling singles of the 1980s.
June 20, 1981 – July 24, 1981
Stars on 45
Medley: Intro Venus / Sugar Sugar / No Reply / I'll Be Back / Drive My Car / Do You Want to Know a Secret / We Can Work It Out / I Should Have Known Better / Nowhere Man / You're Going to Lose That Girl / Stars on 45
Stars on 45 was a Dutch novelty act known for creating medleys of popular songs set to a disco beat.
The medley features covers of numerous hit songs, including several by The Beatles and The Archies, all set to a continuous dance beat.
July 25, 1981 – July 31, 1981
Air Supply
The One That You Love
Air Supply is an Australian soft-rock duo comprising Graham Russell and Russell Hitchcock.
The One That You Love is a romantic ballad that showcases the duo's trademark harmonies and heartfelt lyrics.
August 1, 1981 – August 14, 1981
Rick Springfield
Jessie's Girl
Rick Springfield is an Australian musician and actor who gained fame in the early 1980s.
Jessie's Girl is a catchy pop-rock song about unrequited love and became Springfield's biggest hit.
August 15, 1981 – October 16, 1981
Diana Ross and Lionel Richie
Endless Love
Diana Ross is an iconic singer and actress, while Lionel Richie is a renowned singer-songwriter and producer.
Endless Love is a powerful duet and was the title track from the 1981 film of the same name.
October 17, 1981 – November 6, 1981
Christopher Cross
Arthur's Theme (Best That You Can Do)
Christopher Cross is an American singer-songwriter who gained fame in the late 1970s and early 1980s.
Arthur's Theme (Best That You Can Do) was written for the 1981 romantic comedy film "Arthur" starring Dudley Moore and Liza Minnelli.
November 7, 1981 – November 20, 1981
Daryl Hall and John Oates
Private Eyes

The works of detective novelist Raymond Chandler inspired Private Eyes by Hall & Oates. Chandler's noir-style detective stories, particularly his famous character Philip Marlowe, influenced the song's lyrics and the idea behind its title.

Hall & Oates, known for their catchy pop-rock sound, wanted to capture the essence of mystery and intrigue in "Private Eyes." The song's lyrics revolve around surveillance and observation, as if the singers are private detectives keeping a watchful eye on someone. The connection to Raymond Chandler's detective novels adds an additional layer of depth to the song's narrative. It merges pop music and hard-boiled detective fiction, creating a unique and memorable track.
November 21, 1981 – January 29, 1982
Olivia Newton-John
Physical
Physical

was initially met with some controversy and deemed suggestive or even inappropriate upon its release in 1981. The lyrics and accompanying music video sparked discussions about its sexual undertones and the implications of the song's message.

"Physical" features lyrics that playfully explore the theme of physical attraction and the desire for a romantic connection. However, some critics and listeners interpreted the song as promoting promiscuity or explicit themes due to its innuendos and sexually suggestive lyrics. Despite the controversy surrounding its content, "Physical" became an enormous success for Olivia Newton-John. It spent ten weeks at the top of the Billboard Hot 100 chart, becoming one of her signature hits.
The Biggest Pop Artists of 1981 include:
Air Supply, Barbra Streisand, Blondie, Chaka Kahn, Daryl Hall & John Oates, Diana Ross, Earth, Wind & Fire, Eddie Rabbit, Evelyn 'Champagne' King, Foreigner, The Gap Band, George Benson, Grover Washington Jr., John Lennon, Journey, Kenny Rogers, Kim Carnes, Kool & the Gang, Lakeside, Lionel Richie, Luther Vandross, Neil Diamond, Olivia Newton-John, Phil Collins, The Police, Prince, Ray Parker Jr & Raydio, REO Speedwagon, Rick James, Rick Springfield, Roger, Shalamar, Sheena Easton, Smokey Robinson, Styx, Sugarhill Gang, Teddy Pendergrass
(HPS music data is compiled from charts, including Billboard's Pop, Rock, Airplay, R&B/Dance, and Singles Charts. The Hot 100 is the primary chart used for this list.)