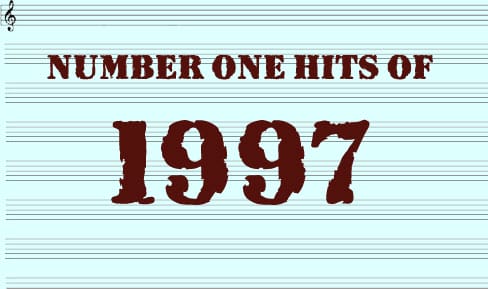 The Number One Hits Of 1997
December 7, 1996 – February 21, 1997
Toni Braxton
Un-Break My Heart
Toni Michelle Braxton was born on October 7, 1967, in Severn, Maryland, USA. "Un-Break My Heart" became one of the biggest hits of her career, spending 11 weeks at No. 1 on the Billboard Hot 100 chart.
February 22, 1997 – March 21, 1997
Spice Girls
Wannabe
Spice Girls is a British girl group formed in 1994, consisting of Melanie Brown, Emma Bunton, Melanie Chisholm, Geri Halliwell, and Victoria Beckham. They are one of the best-selling girl groups of all time.
Wannabe is the debut single of Spice Girls, and it introduced the world to "Girl Power." The song is a dance-pop track with a catchy chorus and energetic vocals.
March 22, 1997 – May 2, 1997
Puff Daddy featuring Mase
Can't Nobody Hold Me Down
(for Puff Daddy) / Mason Durell Betha, known as Mase, is an American rapper, songwriter, and minister. He rose to fame in the late 1990s as a Puff Daddy's Bad Boy label artist.
Can't Nobody Hold Me Down is a hip-hop song that features a sample from Grandmaster Flash and the Furious Five's "The Message." The track showcases the chemistry between Puff Daddy and Mase.
May 3, 1997 – May 23, 1997
The Notorious B.I.G.
Hypnotize
Born Christopher George Latore Wallace on May 21, 1972, in Brooklyn, New York, Biggie Smalls rose to prominence in the early 1990s as a key figure in the East Coast hip-hop scene. His life was tragically cut short when he was shot and killed in a drive-by shooting in Los Angeles on March 9, 1997, at the age of 24.
Hypnotize is a hip-hop song that features a sample from Herb Alpert's "Rise." The track is known for its catchy hook and the late rapper's smooth flow.
May 24, 1997 – June 13, 1997
Hanson
MMMBop
Hanson is an American pop-rock band formed in Tulsa, Oklahoma, consisting of brothers Isaac, Taylor, and Zac Hanson. They gained fame in the late 1990s as teenagers.
MMMBop is a pop song with a catchy melody and upbeat lyrics. The track became an iconic hit of the late 1990s and is remembered for its infectious chorus.
June 14, 1997 – August 29, 1997
Puff Daddy & Faith Evans featuring 112
I'll Be Missing You
(for Puff Daddy) / Faith Evans is an American singer, songwriter, record producer, and actress. She was the first female artist to sign with Puff Daddy's Bad Boy Entertainment.
I'll Be Missing You is a tribute to the late rapper The Notorious B.I.G. The song samples The Police's "Every Breath You Take" and features heartfelt lyrics about loss and friendship.
September 13, 1997 – October 3, 1997
Mariah Carey
Honey
Mariah worked as a backup singer for Brenda K. Starr, who helped her get signed to Columbia Records. She has released several fragrances, with her first, "M by Mariah Carey," launched in 2007.
Honey is an R&B and hip-hop-influenced song that showcases Mariah Carey's signature vocal style. The track features a catchy melody and a memorable music video, which helped the song become a hit.
October 4, 1997 – October 10, 1997
Boyz II Men
4 Seasons of Loneliness
Formed in 1988 at the Philadelphia High School for the Creative and Performing Arts, the group initially called themselves Unique Attraction. They changed their name to Boyz II Men, inspired by the New Edition song "Boys to Men," before their big break.
4 Seasons of Loneliness is an emotional R&B ballad that showcases the group's harmonies and heartfelt lyrics about love and loss. The song became popular, demonstrating the band's staying power in the industry.
October 11, 1997 – January 16, 1998
Elton John
Candle in the Wind '97
Elton John is an English singer, songwriter, pianist, and composer who has been active in the music industry since the 1960s. He has sold over 300 million records, making him one of the best-selling music artists in the world.
Candle in the Wind '97 is a reworked version of Elton John's 1973 song, dedicated to the memory of Diana, Princess of Wales, who tragically died in a car accident. The song became the best-selling single of all time and raised millions for charity.
The Biggest Pop Artists of 1997 include:
Aaliyah, Erykah Badu, Blackstreet, Boyz II Men, Destiny's Child, Dru Hill, Elton John, En Vogue, Faith Evans, Foxy Brown, Hanson, Jagged Edge, Jewel, Keith Sweat, LeAnn Rimes, Lil Kim, Lonestar, Mase, Mariah Carey, Martina McBride, Mase, Matchbox Twenty, MC Lite, Missy 'Misdemeanor' Elliott, Notorious B.I.G., 112, Puff Daddy, R. Kelly, Savage Garden, Sheryl Crow, Spice Girls, Sugar Ray, 2Pac, Third Eye Blind, The Wallflowers, Will Smith, Whitney Houston, Wyclef Jean
(HPS music data is compiled from charts, including Billboard's Pop, Rock, Airplay, R&B/Dance, and Singles Charts. The Hot 100 is the primary chart used for this list.)