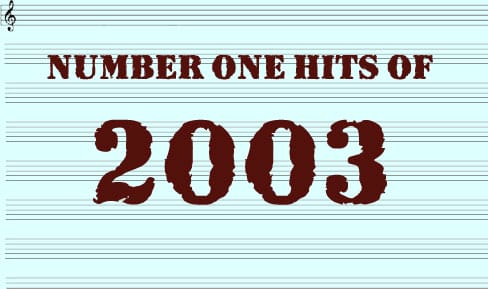 The Number One Hits Of 2003
November 9, 2002 – January 31, 2003
Eminem
Lose Yourself
Eminem is known for his introspective songwriting and controversial lyrics, often addressing personal experiences.
The song received an Academy Award for Best Original Song, making Eminem the first hip-hop artist to win this award.
February 1, 2003 – February 7, 2003
B2K featuring P. Diddy
Bump, Bump, Bump
B2K was a popular American boy band in the early 2000s, known for their R&B and hip-hop sound.
Bump, Bump, Bump features P. Diddy, a prominent figure in the music industry and founder of Bad Boy Records.
February 8, 2003 – March 7, 2003
Jennifer Lopez featuring LL Cool J
All I Have
LL Cool J, born James Todd Smith, is a versatile artist known as an actor, author, and entrepreneur in addition to his music career.
All I Have samples the 1981 song Very Special by Debra Laws.
March 8, 2003 – May 9, 2003
50 Cent
In Da Club
50 Cent, born Curtis Jackson, is a successful entrepreneur and actor in addition to his music career.
In Da Club features a distinctive beat produced by Dr. Dre and has become an iconic party anthem.
May 10, 2003 – May 30, 2003
Sean Paul
Get Busy
Sean Paul, a Jamaican artist, is known for popularizing dancehall music internationally.
Get Busy incorporates elements of dancehall and reggae, making it a popular dance track.
May 31, 2003 – June 27, 2003
50 Cent featuring Nate Dogg
21 Questions
Nate Dogg, born Nathaniel Hale, was a prominent figure in the West Coast hip-hop scene, known for his melodic hooks.
21 Questions is a hip-hop love song that showcases a more vulnerable side of 50 Cent.
June 28, 2003 – July 11, 2003
Clay Aiken
This Is the Night
Clay Aiken gained fame as the runner-up on the second season of American Idol.
This Is the Night is a powerful ballad highlighting Aiken's vocal range and emotional delivery.
July 12, 2003 – September 5, 2003
Beyonce featuring Jay-Z
Crazy in Love
Jay-Z, born Shawn Carter, is a highly influential rapper, entrepreneur, and music mogul.
Crazy in Love samples the 1970 song Are You My Woman (Tell Me So) by The Chi-Lites.
October 4, 2003 – December 5, 2003
Beyonce featuring Sean Paul
Baby Boy
Sean Paul has collaborated with various artists across different genres, expanding the reach of dancehall music.
Baby Boy is known for its blend of dancehall, reggae, and R&B elements, resulting in a unique and catchy sound.
December 6, 2003 – December 12, 2003
Ludacris featuring Shawnna
Stand Up
Ludacris, born Christopher Bridges, is an actor and rapper known for his energetic, humorous, fast-paced rap style.
Stand Up features a catchy hook performed by Shawnna, an American rapper from Chicago.
December 13, 2003 – February 13, 2004
Outkast
Hey Ya!
Outkast, an Atlanta-based hip-hop duo of André 3000 and Big Boi, is known for their eclectic and innovative sound.
Hey Ya! is a genre-blending song that incorporates funk, rock, and hip-hop elements and features a highly memorable chorus.
The Biggest Pop Artists of 2003 include:
Ashanti, Beyonce, Busta Rhymes, Chingy, Christina Aguilera, Clay Aiken, Evanescence, 50 Cent, Fabolous, Jason Mraz, Jay-Z, Jennifer Lopez, Justin Timberlake, Kelly Clarkson, Kenny Chesney, Kid Rock, Lil Jon & the East Side Boyz, Lil Kim, Ludacris, Maroon 5, Nelly, Outkast, P. Diddy, Pharrell, Pink, R. Kelly, Sean Paul, Snoop Dogg, 3 Doors Down, Ying Yang Twins
(HPS music data is compiled from charts, including Billboard's Pop, Rock, Airplay, R&B/Dance, and Singles Charts. The Hot 100 is the primary chart used for this list.)