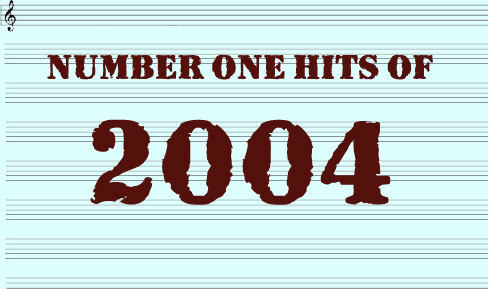 The Number One Hits Of 2004
December 13, 2003 – February 13, 2004
Outkast
Hey Ya!
André 3000, one-half of Outkast, wrote and produced the song, showcasing his versatility as an artist.
Hey Ya! has been praised for its innovative music video, directed by Bryan Barber, featuring multiple versions of André 3000 performing.
February 14, 2004 – February 20, 2004
Outkast featuring Sleepy Brown
The Way You Move
Sleepy Brown, an American singer-songwriter, is an Atlanta-based production team Organized Noize member.
The Way You Move combines funk and hip-hop elements with a catchy horn section and infectious chorus.
February 21, 2004 – February 27, 2004
Twista featuring Kanye West and Jamie Foxx
Slow Jamz
Twista, an American rapper from Chicago, is known for his rapid-fire delivery and ability to rap at high speeds.
Slow Jamz pays homage to classic R&B songs and features a soulful chorus by Jamie Foxx.
February 28, 2004 – May 21, 2004
Usher featuring Lil Jon and Ludacris
Yeah!
Lil Jon is an American rapper, record producer, and DJ known for his signature shouts of "Yeah!" and "Okay!"
Yeah! is a high-energy club anthem combining R&B, hip-hop, and crunk elements.
May 22, 2004 – July 9, 2004
Usher
Burn
Usher is also an accomplished dancer, frequently incorporating intricate choreography into his performances.
Burn showcases Usher's emotional vocal range and is a heartfelt ballad about the end of a relationship.
July 10, 2004 – July 23, 2004
Fantasia
I Believe
Fantasia Barrino won the third season of American Idol, leading to her successful music career.
I Believe is an inspirational ballad that served as Fantasia's debut single after winning American Idol.
July 24, 2004 – August 6, 2004
Usher
Confessions Part II
Usher co-wrote Confessions Part II with Jermaine Dupri, Bryan-Michael Cox, and James Lackey.
The song details the story of a man confessing his infidelities to his partner, adding a personal touch to the lyrics.
August 7, 2004 – August 20, 2004
Juvenile featuring Soulja Slim
Slow Motion
Juvenile, a New Orleans-based rapper, was an influential member of the group Hot Boys.
Slow Motion is a laid-back, sultry track featuring a posthumous verse from rapper Soulja Slim.
August 21, 2004 – September 10, 2004
Terror Squad
Lean Back
Terror Squad is a hip-hop collective founded by Fat Joe, an American rapper and actor.
Lean Back is known for its catchy hook and the popular dance move it inspired.
September 11, 2004 – October 29, 2004
Ciara featuring Petey Pablo
Goodies
Ciara, an American singer, songwriter, and dancer, gained early success with her debut album, Goodies.
Goodies is a seductive dance track featuring a crunk-influenced beat and Petey Pablo's rap verse.
October 30, 2004 – December 10, 2004
Usher and Alicia Keys
My Boo
Alicia Keys is a classically-trained pianist known for her soulful voice and songwriting abilities.
My Boo is a duet that explores the theme of first love and the nostalgia it brings.
December 11, 2004 – December 31, 2005
Snoop Dogg featuring Pharrell
Drop It Like It's Hot
Snoop Dogg, an iconic Long Beach, California rapper, is known for his smooth flow and laid-back style.
Drop It Like It's Hot features a minimalist beat produced by The Neptunes, with Pharrell's signature falsetto on the hook.
The Biggest Pop Artists of 2004 include:
Alicia Keyes, Ashlee Simpson, Beyonce, Ciara, Chingy, Fantasia, Jay-Z, JoJo, Juvenile, Kanye West, Kelly Clarkson, Lil Flip, Lil Jon & the East Side Boyz, Linkin Park, Ludacris, Maroon 5, Nelly, Nickleback, Outkast, Petey Pablo, R. Kelly, Snoop Dogg, Terror Squad, Twista, Usher
(HPS music data is compiled from charts, including Billboard's Pop, Rock, Airplay, R&B/Dance, and Singles Charts. The Hot 100 is the primary chart used for this list.)