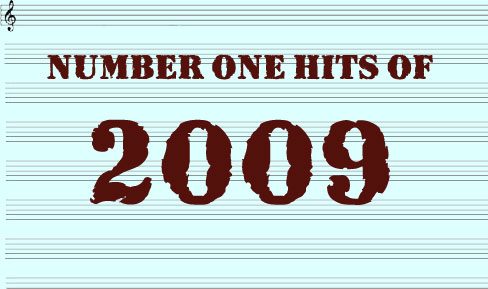 The Number One Hits Of 2009
Dec 13, 2008 – Jan 16, 2009
Single Ladies (Put a Ring on It)
Beyonce
Beyonce was the lead singer of Destiny's Child before going solo.
The music video for Single Ladies inspired a viral dance craze and numerous parodies.
Jan 17, 2009 – Feb 6, 2009
Just Dance
Lady Gaga featuring Colby O'Donis
Lady Gaga, born Stefani Joanne Angelina Germanotta, is known for her eclectic fashion style and powerful vocals.
Just Dance is Lady Gaga's debut single, and it helped launch her career as a global pop star.
Feb 7, 2009 – Feb 20, 2009
My Life Would Suck Without You
Kelly Clarkson
Kelly Clarkson rose to fame after winning the first season of American Idol.
My Life Would Suck Without You set a record for the largest leap to number one on the Billboard Hot 100, jumping from 97 to 1.
Feb 21, 2009 – Feb 27, 2009
Crack a Bottle
Eminem featuring Dr. Dre and 50 Cent
Eminem, born Marshall Bruce Mathers III, is one of the best-selling artists of the 2000s.
Crack a Bottle set a new digital sales record at the time, selling over 418,000 downloads in its first week.
Feb 28, 2009 – Apr 10, 2009
Right Round
Flo Rida
Flo Rida, born Tramar Lacel Dillard, is an American rapper from Florida.
Right Round samples the 1984 song "You Spin Me Round (Like a Record)" by Dead or Alive.
Apr 11, 2009 – Apr 17, 2009
Poker Face
Lady Gaga
Lady Gaga is also an accomplished actress, having won a Golden Globe for her role in "American Horror Story: Hotel."
Poker Face is one of the best-selling singles of all time, with over 14 million copies sold worldwide.
Apr 18, 2009 – Jul 10, 2009
Boom Boom Pow
The Black Eyed Peas
The Black Eyed Peas is an American musical group consisting of members will.i.am, apl.de.ap, Taboo, and Fergie.
Boom Boom Pow marked the group's first number-one single in the US since "My Humps" in 2005.
Jul 11, 2009 – Oct 16, 2009
I Gotta Feeling
The Black Eyed Peas
The Black Eyed Peas was originally formed in 1995 as a hip-hop group called Atban Klann.
I Gotta Feeling became the longest-running number-one single of 2009, topping the chart for 14 weeks.
Oct 17, 2009 – Oct 23, 2009
Down
Jay Sean featuring Lil Wayne
Jay Sean, born Kamaljit Singh Jhooti, is a British singer and songwriter known for his R&B and pop-infused style.
Down was Jay Sean's first number-one single in the United States.
Oct 24, 2009 – Nov 6, 2009
3
Britney Spears
Britney Spears has received numerous awards, including a Grammy, 8 Billboard Music Awards, and a Hollywood Walk of Fame star.
3 is a dance-pop song that debuted at number one on the US chart, making it Britney's third chart-topping single.
Nov 7, 2009 – Nov 13, 2009
Fireflies
Owl City
Owl City is an electronic music project by American musician Adam Young.
Fireflies is known for its unique blend of electronica and emo-pop, and it became a sleeper hit in late 2009.
Nov 14, 2009 – Nov 27, 2009
Whatcha Say
Jason Derulo
Jason Derulo, born Jason Joel Desrouleaux, is an American singer, songwriter, and dancer.
Whatcha Say samples Imogen Heap's 2005 song Hide and Seek and became Derulo's debut single and first number-one hit.
Nov 28, 2009 – Jan 1, 2010
Empire State of Mind
Jay-Z featuring Alicia Keys
Jay-Z, born Shawn Corey Carter, is a highly successful rapper, entrepreneur, and record executive.
Empire State of Mind is an ode to New York City and has become an unofficial anthem for NYC.
The Biggest Pop Artists of 2009 include:
Black Eyed Peas, Colbie Caillat, Flo Rida, George Strait, Jay-Z, John Mayer, Justin Bieber, Keith Urban, Kelly Clarkson, Kesha, Lady Gaga, Michael Bublé, Pink, Rihanna, Sugarland, Susan Boyle, Taylor Swift
(HPS music data is compiled from charts, including Billboard's Pop, Rock, Airplay, R&B/Dance, and Singles Charts. The Hot 100 is the primary chart used for this list.)