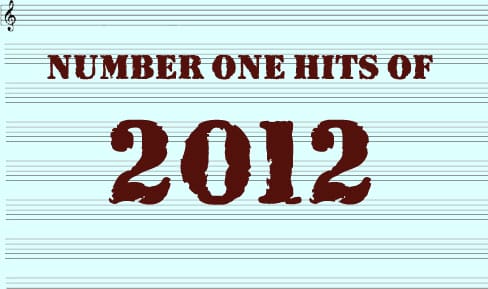 The Number One Hits Of 2012
Nov 12, 2011 – Jan 6, 2012
We Found Love
Rihanna featuring Calvin Harris
Rihanna is a Barbadian singer honored with multiple awards, including several Grammy Awards.
We Found Love has a catchy, synth-driven beat and explores themes of love and heartbreak.
Jan 7, 2012 – Feb 3, 2012
Sexy and I Know It
LMFAO
LMFAO announced a hiatus in September 2012, with both members pursuing solo projects.
Sexy and I Know It is a humorous, dance-pop song with a memorable music video featuring exaggerated dance moves.
Feb 4, 2012 – Feb 17, 2012
Set Fire to the Rain
Adele
Adele's album "21," which includes Set Fire to the Rain, is one of the best-selling albums of the 21st century.
Set Fire to the Rain is a powerful ballad that showcases Adele's impressive vocal range and emotional depth.
Feb 18, 2012 – Mar 2, 2012
Stronger (What Doesn't Kill You)
Kelly Clarkson
Kelly Clarkson won the first "American Idol" season in 2002, launching her successful music career.
Stronger (What Doesn't Kill You) is an empowering anthem about resilience and self-reliance.
Mar 3, 2012 – Mar 16, 2012
Part of Me
Katy Perry
Katy Perry has released her own line of fragrances, with names inspired by her music and personal life.
Part of Me is an upbeat, synth-driven pop song about self-affirmation and moving on after a breakup.
Mar 17, 2012 – Apr 27, 2012
We Are Young
Fun featuring Janelle Monáe
Fun is an American indie-pop band formed in 2008, consisting of Nate Ruess, Andrew Dost, and Jack Antonoff.
We Are Young is an anthemic song that explores themes of youth, love, and living in the moment.
Apr 28, 2012 – Jun 22, 2012
Somebody That I Used to Know
Gotye featuring Kimbra
Gotye, born Wouter "Wally" De Backer, is a Belgian-Australian musician and singer-songwriter.
Somebody That I Used to Know is a haunting, indie-pop song about the end of a relationship, with a memorable xylophone riff.
Jun 23, 2012 – Aug 24, 2012
Call Me Maybe
Carly Rae Jepsen
Carly Rae Jepsen is a Canadian singer-songwriter who gained fame after placing third on "Canadian Idol."
Call Me Maybe is an infectious, bubblegum pop song about infatuation and the excitement of meeting someone new.
Aug 25, 2012 – Aug 31, 2012
Whistle
Flo Rida
Flo Rida, born Tramar Lacel Dillard, is an American rapper known for his catchy hooks and upbeat dance tracks.
Whistle is a catchy, dance-pop song with a memorable whistling melody and playful lyrics.
Sep 1, 2012 – Sep 28, 2012
We Are Never Ever Getting Back Together
Taylor Swift
Taylor Swift is known for her narrative songwriting, often drawing inspiration from her personal life and relationships.
We Are Never Ever Getting Back Together is a catchy, pop-infused breakup anthem about finally ending a tumultuous relationship.
Sep 29, 2012 – Nov 30, 2012
One More Night
Maroon 5
Maroon 5 is an American pop-rock band, with Adam Levine as the lead vocalist. The band has received numerous awards and accolades throughout their career.
One More Night is a reggae-infused pop song that describes the struggle of letting go of a dysfunctional relationship.
Dec 1, 2012 – Dec 21, 2012
Diamonds
Rihanna
Rihanna founded the Clara Lionel Foundation, which supports global education, health, and emergency response programs.
Diamonds is an uplifting song about finding light in the darkness and embracing one's inner strength.
Dec 22, 2012 – Feb 1, 2013
Locked Out of Heaven
Bruno Mars
Bruno Mars, born Peter Gene Hernandez, is also an accomplished record producer, working under the production team The Smeezingtons.
Locked Out of Heaven is a funk and reggae-tinged pop-rock song about the euphoria of being in love.
The Biggest Pop Artists of 2012 include:
Adam Lambert, Adele, Alicia Keyes, Bruno Mars, Calvin Harris, Carly Rae Jepson, Carrie Underwood, Flo Rida, fun., Imagine Dragons, John Mayer, Justin Bieber, Kelly Clarkson, Kesha, LMFAO, Macklemore and Ryan Lewis, Maroon 5, Mumford & Sons, Nicki Minaj, One Direction, PSY, Pink, Rihanna, Taylor Swift, Train, Usher, Zac Brown Band
(HPS music data is compiled from charts, including Billboard's Pop, Rock, Airplay, R&B/Dance, and Singles Charts. The Hot 100 is the primary chart used for this list.)