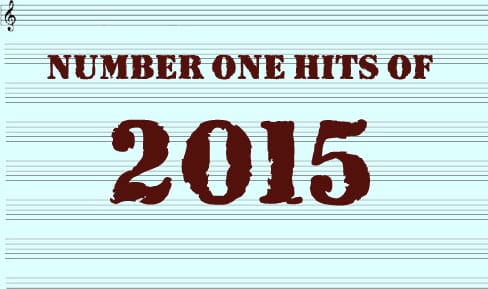 The Number One Hits Of 2015
November 29, 2014 – January 16, 2015
Blank Space
Taylor Swift
Joseph Kahn directed the music video for Blank Space and features Swift as a character inspired by sensationalized media portrayals of her love life.
January 17, 2015 – April 24, 2015
Uptown Funk
Mark Ronson featuring Bruno Mars
Uptown Funk is heavily inspired by the funk sound of the 1980s, and its music video, set in a city street, pays homage to the era.
April 25, 2015 – June 5, 2015
See You Again
Wiz Khalifa featuring Charlie Puth
See You Again was written as a tribute to the late actor Paul Walker and featured in Furious 7.
June 6, 2015 – July 24, 2015
Bad Blood
Taylor Swift featuring Kendrick Lamar
The star-studded music video for Bad Blood, directed by Joseph Kahn, is inspired by action films and features numerous celebrity cameos.
July 25, 2015 – August 21, 2015
Cheerleader
OMI
Jamaican singer OMI initially recorded Cheerleader in 2012, but it gained worldwide popularity after a 2014 remix by German DJ Felix Jaehn.
August 22, 2015 – September 18, 2015
Can't Feel My Face
The Weeknd
Can't Feel My Face, produced by Max Martin, has drawn comparisons to Michael Jackson's music due to its uptempo, pop-infused sound.
September 19, 2015 – October 2, 2015
What Do You Mean?
Justin Bieber
What Do You Mean? marked a shift in Justin Bieber's musical style, featuring a tropical house sound and a more mature image.
October 3, 2015 – November 13, 2015
The Hills
The Weeknd
The Hills is a dark and moody track, inspired by themes of excess and hedonism. The music video, directed by Grant Singer, features a car crash and a mysterious figure.
November 14, 2015 – January 22, 2016
Hello
Adele
Hello, the lead single from Adele's third studio album, 25, is a powerful ballad about heartbreak and nostalgia. The song's music video was directed by Xavier Dolan and shot in Quebec, Canada.
The Biggest Pop Artists of 2015 include:
Adele, Chris Stapleton, Demi Lovato, DJ Snake, Drake, Ed Sheeran, Ellie Goulding, Fall Out Boy, Fetty Wap, Hozier, Justin Bieber, Kendrick Lamar, Luke Bryan, Mark Ronson featuring Bruno Mars, Meek Mill, Meghan Trainor, Mumford & Sons, Muse, OMI, One Direction, Pitbull, Rachel Platten, Sam Smith, Selena Gomez, Taylor Swift, Walk The Moon, The Weeknd, Wiz Khalifa, Zac Brown Band
(HPS music data is compiled from charts, including Billboard's Pop, Rock, Airplay, R&B/Dance, and Singles Charts. The Hot 100 is the primary chart used for this list.)