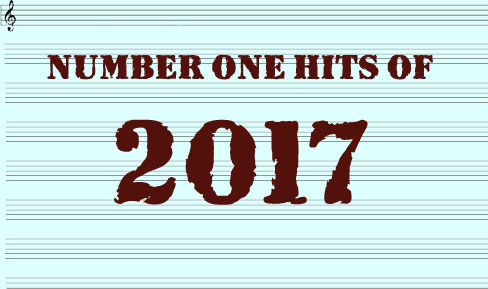 The Number One Hits Of 2017
November 26, 2016 – January 6, 2017
Black Beatles
Rae Sremmurd featuring Gucci Mane
Black Beatles reached number one in several countries, and its production includes hip-hop and trap elements.
January 7, 2017 – January 20, 2017
Starboy
The Weeknd featuring Daft Punk
Starboy, the title track from The Weeknd's third studio album, showcases an R&B and electro-infused sound and explores themes of fame, celebrity, and success.
January 21, 2017 – January 26, 2017
Bad and Boujee
Migos featuring Lil Uzi Vert
Bad and Boujee, produced by Metro Boomin, became a viral sensation and a popular catchphrase, with lyrics describing a luxurious lifestyle and glamorous relationships.
January 28, 2017 – May 5, 2017
Shape of You
Ed Sheeran
Shape of You, co-written by Ed Sheeran, Steve Mac, and Johnny McDaid, features a tropical house beat and marimba-inspired synths while discussing themes of attraction and love.
May 6, 2017 – May 12, 2017
Humble
Kendrick Lamar
Humble, produced by Mike Will Made It, is an introspective hip-hop track with a piano-driven beat, where Kendrick Lamar reflects on his success and encourages humility.
May 13, 2017 – May 19, 2017
That's What I Like
Bruno Mars
That's What I Like, a blend of R&B, funk, and pop, features catchy hooks and smooth vocals, with lyrics centered around romance and the finer things in life.
May 20, 2017 – May 26, 2017
I'm the One
DJ Khaled featuring Justin Bieber, Quavo, Chance the Rapper, and Lil Wayne
I'm the One is a star-studded collaboration with a laid-back, summery vibe, featuring DJ Khaled's signature ad-libs and each artist adding their unique style to the track.
May 27, 2017 – September 15, 2017
Despacito
Luis Fonsi and Daddy Yankee, featuring Justin Bieber
Despacito, a reggaeton-pop hit, became a global phenomenon with its catchy melody and infectious rhythm. The remix featuring Justin Bieber helped propel the song to even greater success.
September 16, 2017 – October 6, 2017
Look What You Made Me Do
Taylor Swift
Look What You Made Me Do, produced by Jack Antonoff, features a darker, more electronic sound than Taylor Swift's previous work, as she addresses personal feuds and her public image.
October 7, 2017 – October 27, 2017
Bodak Yellow
Cardi B
Inspired by Kodak Black's song No Flockin, Bodak Yellow showcases Cardi B's aggressive flow and candid lyrics about her rise to fame, establishing her as a major player in the rap game.
October 28, 2017 – December 22, 2017
Rockstar
Post Malone featuring 21 Savage
Rockstar, a moody hip-hop track with trap influences, features Post Malone and 21 Savage discussing their success and fame in the music industry. It has a catchy chorus that contributed to its popularity.
December 23, 2017 – January 26, 2018
Perfect
Ed Sheeran solo or duet with Beyoncé
Perfect is a romantic ballad that showcases Ed Sheeran's heartfelt lyrics and guitar skills. The duet version with Beyoncé adds her powerful and soulful voice, taking the song to new emotional heights.
The Biggest Pop Artists of 2017 include:
Ariana Grande, Alessia Cara, Big Sean, Bruno Mars, BTS, The Chainsmokers, Charlie Puth, Coldplay, DK KHalid, Drake, Ed Sheeran, Future, Gucci Mane, Guns N' Roses, Halsey, Imagine Dragons, J. Cole, Justin Bieber, Kendrick Lamar, Kodak Black, Lady Gaga, Lil Uzi Vert, Migos, Niall Horan, Pentatonix, Post Malone, Rae Sremmurd, Rihanna, Sam Hunt, Selena Gomez, Shawn Mendes, Taylor Swift, Travis Scvott, twenty one pilots, 21Savage, U2, and The Weekend.