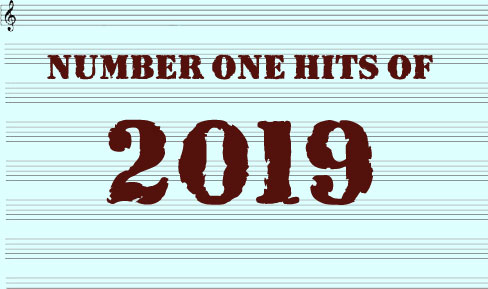 The Number One Hits Of 2019
December 8, 2018 – January 11, 2019
Sicko Mode
Travis Scott
Travis Scott collaborates with Drake on this hit from his "Astroworld" album. The song's music video, directed by Dave Meyers and Travis Scott, features surreal visuals and has won several awards.
January 12, 2019 – January 18, 2019
Without Me
Halsey
Without Me marked Halsey's first solo No. 1 on the US charts. The song deals with love, heartbreak, and realizing one's worth in a relationship.
January 19, 2019 – February 1, 2019
Sunflower
Post Malone and Swae Lee
Sunflower is part of the soundtrack for the animated film "Spider-Man: Into the Spider-Verse." The catchy tune showcases the collaboration between Post Malone and Swae Lee, blending their unique styles.
February 2, 2019 – March 8, 2019
7 Rings
Ariana Grande
7 Rings showcases Ariana Grande's love for materialism and features a trap-infused beat. The song samples "My Favorite Things" from The Sound of Music and is inspired by Ariana's shopping trip with her friends.
March 9, 2019 – March 15, 2019
Shallow
Lady Gaga and Bradley Cooper
Shallow is the main theme from the movie "A Star Is Born," which starred Lady Gaga and Bradley Cooper. The emotional ballad, written by Gaga, Mark Ronson, Anthony Rossomando, and Andrew Wyatt, won the Academy Award for Best Original Song.
March 16, 2019 – April 12, 2019
Sucker
Jonas Brothers
Sucker marked the return of the Jonas Brothers after a six-year hiatus. The upbeat pop track highlights the band's mature sound and features a catchy chorus. The music video, directed by Anthony Mandler, stars the brothers' real-life partners.
April 13, 2019 – August 23, 2019
Old Town Road
Lil Nas X solo and/or featuring Billy Ray Cyrus
Old Town Road, a genre-blending hit, combines elements of country and hip-hop. The song went viral on TikTok and featured a remix with Billy Ray Cyrus. It holds the record for the longest-running No. 1 song, staying at the top for 19 weeks.
August 24, 2019 – August 30, 2019
Bad Guy
Billie Eilish
With its distinctive bass line and Billie Eilish's whispery vocals, Bad Guy discusses power dynamics in relationships. The music video, directed by Dave Meyers, showcases Eilish's quirky and unique style.
August 31, 2019 – September 6, 2019
Señorita
Shawn Mendes and Camila Cabello
Señorita, a sultry duet between Shawn Mendes and Camila Cabello, explores the passion and desire between two lovers. The song's steamy music video, directed by Dave Meyers, features both artists and further fueled dating rumors between them.
September 7, 2019 – October 18, 2019
Truth Hurts
Lizzo
Initially released in 2017, Truth Hurts gained popularity after being featured in the Netflix film Someone Great. The song is a self-empowerment anthem and showcases Lizzo's unique blend of pop, hip-hop, and soul.
October 19, 2019 – November 1, 2019
Highest in the Room
Travis Scott
Highest in the Room, released as a single, features dreamy and psychedelic production. The song addresses Travis Scott's relationship with Kylie Jenner and touches on themes of love and fame. The music video, directed by Dave Meyers and Travis Scott, features visually stunning and surreal imagery.
November 2, 2019 – November 8, 2019
Someone You Loved
Lewis Capaldi
Someone You Loved is a heartfelt ballad about loss and heartbreak. Scottish singer-songwriter Lewis Capaldi's powerful vocals and poignant lyrics struck a chord with listeners worldwide. The song's emotional music video, starring actor Peter Capaldi (second cousin once removed), raises awareness about organ donation.
November 9, 2019 – November 29, 2019
Lose You to Love Me
Selena Gomez
Lose You to Love Me is a powerful ballad in which Selena Gomez reflects on personal growth and self-love following a difficult breakup. The song is widely believed to be about her on-and-off relationship with Justin Bieber. The black-and-white music video, directed by Sophie Muller, features Gomez's simple yet emotional performance.
November 30, 2019 – December 13, 2019
Circles
Post Malone
Circles, a track from Post Malone's album "Hollywood's Bleeding," features a catchy melody and introspective lyrics about a failing relationship. The music video, directed by Colin Tilley, showcases a medieval-inspired setting with Post Malone as a knight.
December 14, 2019 – December 20, 2019
Heartless
The Weeknd
Heartless, a single from The Weeknd's album "After Hours," explores themes of fame, hedonism, and failed relationships. The song's trippy music video, directed by Anton Tammi, features The Weeknd navigating the glitz and glamour of Las Vegas.
December 21, 2019 – January 10, 2020
All I Want for Christmas Is You
Mariah Carey
All I Want for Christmas Is You, a holiday classic by Mariah Carey, was originally released in 1994. The festive tune remains a popular hit during the holiday season and has been covered by numerous artists over the years. In 2019, the song reached No. 1 on the charts for the first time 25 years after its release.
The Biggest Pop Artists of 2019 include:
Ariana Grande, Bad Bunny, Billie Eilish, BTS, Camila Cabello, Cardi B, Chris Brown, DaBaby, Dan+Shay, Drake, Ed Sheeran, Elton John, 5 Seconds of Summer, Halsey, Imagine Dragons, J. Cole, Jonas Brothers, Juice WRLD, Khalid, Kodak Black, Lady Gaga, Lil Baby, Lil Nas X, Lizzo, Luke Combs, Marshmello, Panic! At The Disco, Pink (P!nk), Post Malone, Queen, Sam Smith, Shawn Mendes, Taylor Swift, Travis Scott, 21Savage, XXXTENTACION.