1957's Top 100 Hot Pop Songs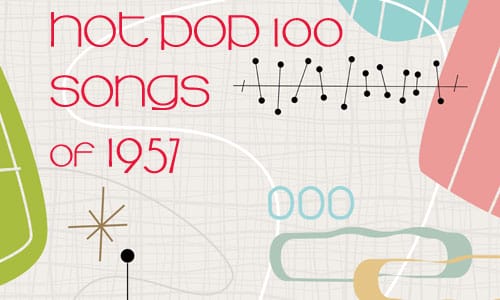 1957's Top 100 Hot Pop Songs & Music Hits
1. Jailhouse Rock – Elvis Presley
  From the film of the same name. Jailhouse Rock was released nationwide on November 8, 1957
2. Blueberry Hill – Fats Domino
  The song was used in 1976's The Man Who Fell to Earth, starring David Bowie, as well as being one of the best known 50s tunes. Written in 1940, it has 'Staying Power.'
3. All Shook Up – Elvis Presley
  Otis Blackwell wrote the based a shaken bottle of Pepsi Cola, according to Rock'n'Roll Lore.
4. Banana Boat Song (Day-O) – Harry Belafante
  Day-O (The Banana Boat Song) is a traditional Jamaican folk song. It was sung by many artists in the 1950s, but Belafante's version, helped carry his Calypso album to over one million copies sold, a record at the time.
5. Walkin' After Midnight – Patsy Cline
  Country, Hillbilly and Rockabilly has been around for a very long time. Walkin' After Midnight is probably the best known 'old school' country music classic. Patsy died in a plane crash in 1963.
6. You Send Me – Sam Cooke
  Sam wrote "You Send Me" but gave the writer credit to his younger brother L.C. He actually wanted L.C. to sing it. Sam was killed in a "justifiable homicide' by Bertha Franklin, the manager of the Hacienda Motel in Los Angeles, California. The details are sordid, but didn't make sense to those who knew him.
7. Chances Are – Johnny Mathis
  The flip side (B-Side) of the 45 was "The Twelfth of Never", another hit for Johnny.
8. That'll Be The Day – Buddy Holly
  An English, cal band led 'The Quarrymen' used this track as a test recording. The Quarrymen were John Lennon's first band.
10. Goody Goody – Frankie Lymon and the Teenagers
  Goody Goody was a hit for Benny Goodman and other bands in 1936. Frankie and the Teenagers made it thier own. Frankie was just 17 when the song came out.
11. Little Bitty Pretty One – Thurston Harris
  This was Thurston's biggest hit, written by Bobby Day, best Known for 'Rockin Robin'. Both songs were hits for Micheal Jackson in 1972.
12. Whole Lotta Shakin Goin On – Jerry Lee Lewis
  Big Maybelle Smith recorded a version of the song in 1955, but Jerry's version was a very different take, much more upfront about the insinuated sex. Jerry married his 13-year-old cousin. Jerry was rock's first bad boy.
13. Little Darlin' – Diamonds
  Written by Maurice Williams for his group, The Gladiolas, the Diamond's cover version is the best known.
14. (Let Me Be) Your Teddy Bear – Elvis Presley
  Recorded in 1957 for the soundtrack of his second motion picture, Loving You, starring Elvis, Lizabeth Scott, Wendell Corey, and Dolores Hart.
15. Come Go With Me – Del-Vikings
  Legal complications involving signing contracts while under the age of 18 made the necessary name change to the "Dell-Vikings" shortly after this record came out.
16. Rock and Roll Music – Chuck Berry
  In the era before Rock N Roll, there were 'Pop Standards" which were songs performed by many, many artists. The Rock Era has a few, and this is the first "Rock Standard" – performed and recorded by dozens of artists.

17. Party Doll – Buddy Knox
  A 'Party Doll' was a pretty girl a young man would take to a public social engagement, in 1957. In the 2000's there is an entirely different type of 'Party Doll.'
18. Silhouettes – The Rays
  Rock N Roll Lore says that Philadelphia WIBG DJ, Hy Lit, fell asleep while playing a stack of new 45s. Silhouettes was the last record on the stack, so it played continuously until he woke up.
19. Peggy Sue – Buddy Holly
  Originally called 'Cindy Lou' the song was renamed after the girl who was no longer dating Buddy's Cricket band-mate (& drummer) – Peggy Sue Gerron.
Drummer Jerry Allison and Peggy Sue did make up, and even got married, as described in Buddy's 1959 release, 'Peggy Sue Got Married.'
20. Love Is Strange – Mickey & Sylvia
  The guitar riff was also used by Dave "Baby" Cortez in his 1962 instrumental song "Rinky Dink", credited to the writer, Bo Diddley. It was also featured on the 1990 film, Dirty Dancing, soundtrack.
21. Wake Up Little Susie – The Everly Brothers
  A song taken right out of a real teenager's life. 10:00 PM curfew, boring movie, fall asleep until 4:00 AM. Been there done that. And we're in trouble deep.
22. I'm Walkin' – Fats Domino
  Fats was a consistent hit-maker through 1964, and pretty much disappeared.
After Hurricane Katrina, we found out he was alive, and survived the devastation, although his home and mementos were destroyed. Many people rallied to help him, and the town recover.
23. Be-Bop Baby – Ricky Nelson
  Ricky Nelson, helped by being a TV star on Ozzy & Harriet, was one of the first young Rock N Roll Idols.
24. Mr. Lee – Bobbettes
  The Bobettes included included Jannie Pought, Emma Pought, Reather Dixon, Laura Webb, and Helen Gathers
25. Tear Drops – Lee Andrews and the Hearts
  You won't find many 50s music charts without Lee Andrews and the Hearts included.
26. Young Blood – The Coasters
  Like most of The Coaster's hits, this was written by the songwriting team of Jerry Leiber and Mike Stoller.
27. Honeycomb – Jimmie Rodgers
  Honeycomb was Jimmie F. Rodgers first and biggest hit. We added the "F" because there was a country singer named James Charles "Jimmie" Rodgers (September 8, 1897 – May 26, 1933) too.
28. Diana – Paul Anka
  Diana was Paul's first and biggest hit.
29. Bye Bye Love – The Everly Brothers
  Bye Bye Love was The Everly Brother's first hit. It only reached # 2, but they had four #1s over the next few years.
30. The Girl Can't Help It – Little Richard
  You may have heard this sampled in Fergie's 2007 hit,' Clumsy.'
31. It's Not For Me To Say – Johnny Mathis
  Although Johnny had a slew of hit singles, he was someone who sold a lot of albums. He had six Christmas albums, for example.
32. Ain't Got No Home – Clarence 'Frogman' Henry
  Clarence "Frogman" Henry was born on March 19, 1937, in Algiers, New Orleans, Louisiana.
33. Rocking Pneumonia and the Boogie Woogie Flu – Huey Smith and the Clowns
  Huey cracked the top 10 with 'Don't You Just Know It' in 1958. His Rockin' Pneumonia reached #52. Johnny Rivers reached #6 with it in 1973.
34. Wonderful! Wonderful! – Johnny Mathis
  Johnny's first single, reaching # 12 on the Billboard Charts.
35. Young Love – Tab Hunter (or Sonny James)
  This song was recorded by many artists through the 1970s. If there was a "Post-Pop Standard" Great American Songbook, this would be in the Top Ten.
36. Long Lonely Nights – Lee Andrews and The Hearts
  The influence of this band carries on today – Questlove, from The Roots, is Lee's son.
37. April Love – Pat Boone
  From the film of the same name, starring Pat Boone and Shirley Jones.
38. The Twelfth of Never – Johnny Mathis
  Johnny could probably claim six or seven 'Signature Songs.' This is one of them.
39. Treat Me Nice – Elvis Presley
  This was the 'B-Side' of Jailhouse Rock. Elvis could pretty much do no wrong in 1957.
40. Tonite, Tonite – Mello-Kings
  A One Hit Wonder, although Tonight only reached #77 on the charts, it is one of the most-remembered songs of 1957.
41. Chicago – Frank Sinatra
  It was written by Fred Fisher and was published in 1922. Frank made it another one of his 'Signature Songs' although it barely made it into the Top 100 on the US charts.
42. My Special Angel – Bobby Helms
  Best known for "Jingle Bell Rock," this was his biggest pop hit.
43. Love Letters In The Sand – Pat Boone
  Pat Boone was THE MAN, just behind Elvis. This was his biggest hit.
44. Bony Moronie – Larry Williams
  Larry had a few hits in the 1950s, but a troubled life. He died of a self-inflicted gunshot wound in 1980.
45. Kisses Sweeter Than Wine – Jimmy Rodgers
  On December 1, 1967, Jimmy had some type of altercation with someone – a stranger, a friend, a business associate or possible the LA police. The city of Los Angeles settled for $200,000.
46. One For My Baby (And One More For The Road) – Tony Bennett
  Was written by Harold Arlen and Johnny Mercer for the 1943 movie 'The Sky's the Limit' and originally sung by Fred Astaire.
47. Searchin' – The Coasters
  "Searchin' was a song written by Jerry Leiber and Mike Stoller specifically for The Coasters. The B-Side 'Young Blood' was also a hit.
48. Little Bitty Pretty One – Bobby Day
  Thurston Harris also had a hit with this song, written by Bobby.
49. Stardust – Nat King Cole
  Written in 1927 by Hoagy Carmichael with lyrics added in 1929 by Mitchell Parish. Stardust is one of the most recorded songs of the Great American Song of Pop Standards. (A title, nit an actual book!)
50. I Love My Girl – Cozy Morley
  Cozy was a Philadelphia area nightclub star and comedian.
51. Blue Monday – Fats Domino
  "Blue Monday" was written by Dave Bartholomew, and first recorded by Smiley Lewis in 1954. Fats's version was featured in the 1956 film 'The Girl Can't Help It'.
52. Jamaica Farewell – Harry Belafonte
  Released a few months before his biggest hit, Day-O, it was written in 1926 by Lord Burgess (Irving Burgie), who added lyrics to several Jamaican folk songs.
53. Butterfly – Andy Williams
  Andy was a vocalist Who sold a lot of albums, along with a handful of Top Ten Singles through the early 1970s.
54. Jim Dandy – LaVern Baker
  Delores LaVern Baker (November 11, 1929 – March 10, 1997) was born in Chicago. In 1966, she recorded three versions of 'Think Twice' with Jackie Wilson. One version was, as they say, x-rated.
55. Too Much – Elvis Presley
  Another #1 for Elvis, and the B-Side, 'Playing For Keeps' reached # 21 on the US charts.
56. Fascination – Jane Morgan
  Jane Morgan was born Florence Catherine Currier in Newton, Massachusetts on May 3, 1924. She married Producer/Manager Jerome Charles "Jerry" Weintraub (September 26, 1937 – July 6, 2015) in 1985.
57. Heartaches By The Number – Guy Mitchell
  Guy Mitchell was born Albert George Cernik on February 22, 1927 (died July 1, 1999)
58. I Dreamed – Betty Johnson
  Betty was a guest star on many television shows, and had a Christmas hit with 'I Want Eddie Fisher for Christmas' (1954). Many young women felt that way, which led to much trouble in Eddie's Love life. (Not with Betty though, to be clear)
59. Butterfly – Charlie Gracie
  Charlie Gracie was born Charles Anthony Graci, May 14, 1936, in Philadelphia. 1957 was his biggest year in pop music, although he toured and recorded well into the 2000s.
60. Around The World – Mantovani
  From the film, 'Around the World in 80 Days.' Mantovani was one of the biggest starts of the 'Easy Listening' music market.
61. So Rare – Jimmy Dorsey
  Jimmy Dorsey's Orchestra (sometimes with his brother Tommy) had popular hit music beginning in 1928.
62. Bernadine – Pat Boone
  This was the B-Side of 'Love Letters in the SAnd' and also came from the film, Bernadine, starring Janet Gaynor and Pat himself.
63. A Little White Sport Coat (And A Pink Carnation) – Marty Robbins
  Marty was also a NASCAR driver.
64. Tammy – Debbie Reynolds
  Debbie Reynolds was born Mary Frances Reynolds on April 1, 1932 'Tammy' was featured in Tammy and the Bachelor, which also starred Debbie.
65. Raunchy – Bill Justis
  William Everett "Bill" Justis, Jr. (October 14, 1926 – July 15, 1982). Raunchy was written by Bill, Sidney Manker and produced by Sam Phillips. It was the song George Harrison played when he auditioned for Paul & John for the Quarrymen/Beatles.
66. Almost Paradise – Roger Williams
  Roger's second Top Twenty Hit; Roger had many best-selling albums, but is probably best known today for the title song for 1966's Born Free.
67. A Teenager's Romance – Ricky Nelson
  Ricky's other hit that came out in the spring of 1957, along with his version of Fats Domino's 'I'm Walkin'.'
68. All The Way – Frank Sinatra
  This song won an Oscar for Best Song from the Film 'The Joker is Wild' starring Frank.
69. I'm Gonna Sit Right Down and Write Myself a Letter – Billy Williams
  Written in 1935 by Fred E. Ahlert and lyrics by Joe Young, it was recorded by many artists, and was Billy's only Top 40 Hit..
70. Liechtensteiner Polka – Will Glahe
  Glahe was the unofficial 'Polka King' in the United States.
71. Old Cap Cod – Patti Page
  Patti did pretty well for herself in the post-Big-Band/pre-Rock Era, and continued to earn hits through the mid-1960s.
72. He's Mine – The Platters
  This was the "Flip-side/B-side" of I'm Sorry. Zola Taylor performed the vocals for this track.
73. Moonlight Gamber – Frankie Laine
  Released in late 1956, this was Frankie's last Top 5 Hit. Although he specialized in film soundtracks and western themes, he was beloved by every generation of his time.
74. An Affair To Remember (Our Love Affair) – Vic Damone
  From the film 'An Affair To Remember' starring Cary Grant and Deborah Kerr.
75. Hey! Jealous Lover – Frank Sinatra
  1957 was a very good year for Frank Sinatra.
76. Remember You're Mine – Pat Boone
  If you were 31 to 60, you were probably a fan of Frank Sinatra. If you were 10 to 30, Pat Boone was your man.
77. Gone – Ferlin Husky
  Country/Pop singer and a honky-tonk singer called Terry Preston and a country comic named Simon Crum. All three were Ferlin Husky.
78. Black Slacks – Joe Bennett and the Sparkletones
  Rockabilly hit 'Black Slacks' can be heard in the Walt Disney cartoon The Rescuers Down Under.
79. Dark Moon – Gale Storm
  Gale Storm (April 5, 1922 – June 27, 2009) was born Josephine Owaissa Cottle in Bloomington, Texas. She won a CBS radio contest and changed her name when she went to Hollywood.
80. Hula Love – Buddy Knox
  Originally written as 'My Hula Hula Love' in 1911. It's amazing how a different arrangement, and better production facilities, can make one sound to go with two different music styles.
81. Rainbow – Russ Hamilton
  Russ (January, 19 1932 – October 11, 2008) was from Liverpool, England. This was his only US hit.
  "I'm saving money to buy you a rainbow."
82. Gonna Find Me a Bluebird – Marvin Rainwater
  Marvin Karlton Rainwater was born 2 July 2, 1925 – September 17, 2013.
  "Gonna chase me a rainbow, thru' a heaven of blue; cause I'm all through crying over you."
83. Marianna – Terry Gilkyson and the Easy Riders
  Folk trio. The The Easy Riders were Richard Dehr and Frank Miller. He later wrote 'The Bare Necessities' from the 1967 Disney film The Jungle Book.
84. Fascination – Dinah Shore
  From the Gary Cooper/Audrey Hepburn film, Love in the Afternoon. Dinah's last Top 20 Hit. Not bad for a music career that started in 1940.
85. Raunchy – Ernie Freeman
  Primarily a session musician and arranger, this was his only Top 5 Hit.

86. Loving You – Elvis Presley
  This was the "Flip/B-Side" of (Let Me Be Your) Teddy Bear.
87. Tammy – The Ames Brothers
  #1 for Debbie Reynolds. #5 for the Ames Brothers. $ for writers Jay Livingston and Ray Evans.
88. Could This Be Magic – The Dubs
  Crossover love song, with a Doo Wop groove.
89. Melodie D'Amor (Melody Of Love) – The Ames Brothers
  Not to be confused with 'My Melody of Love' by the Four Aces and many other artists. Much more upbeat, with a Latin Beat.
90. Fraulein – Bobby Helms
  Bobby's first hit, sounding very country.
91. Why Baby Why – Pat Boone
  Fun Fact: Pat released a Heavy Metal cover album in 1997.
92. Further Up The Road – Bobby "Blue" Band
  Robert Calvin "Bobby" Bland (January 27, 1930 – June 23, 2013) was born Robert Calvin "Bobby" Brooks, AKA 'Lion of the Blues' and the 'Sinatra of the Blues.'
93. Short Fat Frannie – Larry Williams
  He signed with Specialty Records, who also covered Little Richard. They became life-long friends. A man named Martin Allbritton claims to be Larry Williams, but he isn't.
94. Empty Arms – Ivory Joe Hunter
   Ivory Joe Hunter (October 10, 1914 – November 8, 1974) was his real birth name, not a nickname or a stage name.
95. Party Doll – Steve Lawrence
  Steve, along with his wife, Eydie Gormé were well known television personalities and guest stars. His biggest hit was 1962's 'Go Away Littel Girl.'
96. A Fallen Star – Ferlin Husky
  At his Country Music Hall of Fame induction, it was said that he had"all around showmanship" and left a legacy as "one of the best entertainers country music has ever produced".
97. Happy, Happy Birthday Baby – The Tune Weavers
  They toured, on and off, into the early 1990s, all carried by this single hit.
98. Rebel – Carol Jarvis
  Precursor to the 'Girl Group' sound of the early 1960s.
99. Send For Me – Nat King Cole
  Flip Side: My Personal Possession. Sung with: The Four Knights.
100. Long Lonely Nights – Clyde McPhatter
  Original Singer with The Dominoes, and later founded The Drifters. One of the most influential vocalists of the early R&B/Rock Era.