Born in 1977? Find Your Conception Song!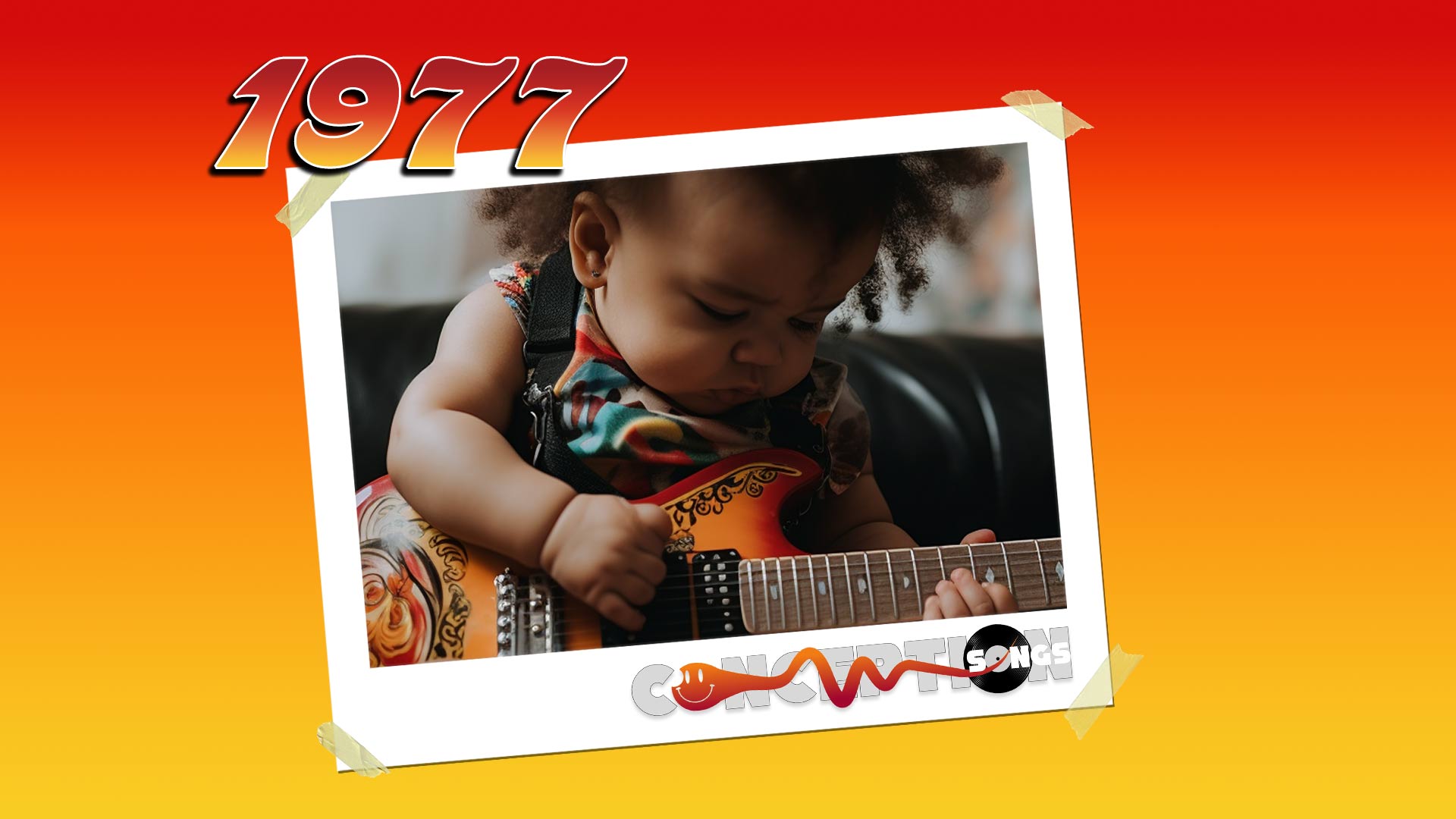 Born in 1977?
The hottest song of your conception era include: Love To Love You Baby by Donna Summer, Afternoon Delight by the Starland Vocal Band, You Sexy Thing by Hot Chocolate and Nobody Does It Better by Carly Simon.
Check the date to find the # 1 song when you were conceived, nine months ago!
The average length of human gestation (Your 'Conception Era') is 280 days, or 40 weeks, from the first day of the woman's last menstrual period. The medical term for the due date is estimated date of confinement (EDC).
If you were born late, or a bit premature, add or subtract those days.
This Year's Euphemisms: Sharing some Afternoon Delight or Shampooing the wookie

Your Birthday:
January 1st, 1977:
The Four Seasons – December 1963 (Oh, What a Night)
January 2nd, 1977:
The Four Seasons – December 1963 (Oh, What a Night)
January 3rd, 1977:
The Four Seasons – December 1963 (Oh, What a Night)
January 4th, 1977:
The Four Seasons – December 1963 (Oh, What a Night)
January 5th, 1977:
The Four Seasons – December 1963 (Oh, What a Night)
January 6th, 1977:
The Four Seasons – December 1963 (Oh, What a Night)
January 7th, 1977:
The Four Seasons – December 1963 (Oh, What a Night)
January 8th, 1977:
The Four Seasons – December 1963 (Oh, What a Night)
January 9th, 1977:
Johnnie Taylor – Disco Lady
January 10th, 1977:
Johnnie Taylor – Disco Lady
January 11th, 1977:
Johnnie Taylor – Disco Lady
January 12th, 1977:
Johnnie Taylor – Disco Lady
January 13th, 1977:
Johnnie Taylor – Disco Lady
January 14th, 1977:
Johnnie Taylor – Disco Lady
January 15th, 1977:
Johnnie Taylor – Disco Lady
January 16th, 1977:
Johnnie Taylor – Disco Lady
January 17th, 1977:
Johnnie Taylor – Disco Lady
January 18th, 1977:
Johnnie Taylor – Disco Lady
January 19th, 1977:
Johnnie Taylor – Disco Lady
January 20th, 1977:
Johnnie Taylor – Disco Lady
January 21st, 1977:
Johnnie Taylor – Disco Lady
January 22nd, 1977:
Johnnie Taylor – Disco Lady
January 23rd, 1977:
Johnnie Taylor – Disco Lady
January 24th, 1977:
Johnnie Taylor – Disco Lady
January 25th, 1977:
Johnnie Taylor – Disco Lady
January 26th, 1977:
Johnnie Taylor – Disco Lady
January 27th, 1977:
Johnnie Taylor – Disco Lady
January 28th, 1977:
Johnnie Taylor – Disco Lady
January 29th, 1977:
Johnnie Taylor – Disco Lady
January 30th, 1977:
Johnnie Taylor – Disco Lady
January 31st, 1977:
Johnnie Taylor – Disco Lady
February 1st, 1977:
Johnnie Taylor – Disco Lady
February 2nd, 1977:
Johnnie Taylor – Disco Lady
February 3rd, 1977:
Johnnie Taylor – Disco Lady
February 4th, 1977:
Johnnie Taylor – Disco Lady
February 5th, 1977:
The Bellamy Brothers – Let Your Love Flow
February 6th, 1977:
The Bellamy Brothers – Let Your Love Flow
February 7th, 1977:
The Bellamy Brothers – Let Your Love Flow
February 8th, 1977:
The Bellamy Brothers – Let Your Love Flow
February 9th, 1977:
The Bellamy Brothers – Let Your Love Flow
February 10th, 1977:
The Bellamy Brothers – Let Your Love Flow
February 11th, 1977:
The Bellamy Brothers – Let Your Love Flow
February 12th, 1977:
John Sebastian – Welcome Back
February 13th, 1977:
John Sebastian – Welcome Back
February 14th, 1977:
John Sebastian – Welcome Back
February 15th, 1977:
John Sebastian – Welcome Back
February 16th, 1977:
John Sebastian – Welcome Back
February 17th, 1977:
John Sebastian – Welcome Back
February 18th, 1977:
John Sebastian – Welcome Back
February 19th, 1977:
The Sylvers – Boogie Fever
February 20th, 1977:
The Sylvers – Boogie Fever
February 21st, 1977:
The Sylvers – Boogie Fever
February 22nd, 1977:
The Sylvers – Boogie Fever
February 23rd, 1977:
The Sylvers – Boogie Fever
February 24th, 1977:
The Sylvers – Boogie Fever
February 25th, 1977:
The Sylvers – Boogie Fever
February 26th, 1977:
Wings – Silly Love Songs
February 27th, 1977:
Wings – Silly Love Songs
February 28th, 1977:
Wings – Silly Love Songs
March 1st, 1977:
Wings – Silly Love Songs
March 2nd, 1977:
Wings – Silly Love Songs
March 3rd, 1977:
Wings – Silly Love Songs
March 4th, 1977:
Diana Ross – Love Hangover
March 5th, 1977:
Diana Ross – Love Hangover
March 6th, 1977:
Diana Ross – Love Hangover
March 7th, 1977:
Diana Ross – Love Hangover
March 8th, 1977:
Diana Ross – Love Hangover
March 9th, 1977:
Diana Ross – Love Hangover
March 10th, 1977:
Diana Ross – Love Hangover
March 11th, 1977:
Diana Ross – Love Hangover
March 12th, 1977:
Diana Ross – Love Hangover
March 13th, 1977:
Diana Ross – Love Hangover
March 14th, 1977:
Diana Ross – Love Hangover
March 15th, 1977:
Diana Ross – Love Hangover
March 16th, 1977:
Diana Ross – Love Hangover
March 17th, 1977:
Diana Ross – Love Hangover
March 18th, 1977:
Diana Ross – Love Hangover
March 19th, 1977:
Diana Ross – Love Hangover
March 20th, 1977:
Diana Ross – Love Hangover
March 21st, 1977:
Diana Ross – Love Hangover
March 22nd, 1977:
Diana Ross – Love Hangover
March 23rd, 1977:
Diana Ross – Love Hangover
March 24th, 1977:
Diana Ross – Love Hangover
March 25th, 1977:
Diana Ross – Love Hangover
March 26th, 1977:
Diana Ross – Love Hangover
March 27th, 1977:
Diana Ross – Love Hangover
March 28th, 1977:
Diana Ross – Love Hangover
March 29th, 1977:
Diana Ross – Love Hangover
March 30th, 1977:
Diana Ross – Love Hangover
March 31st, 1977:
Diana Ross – Love Hangover
April 1st, 1977:
Diana Ross – Love Hangover
April 2nd, 1977:
Diana Ross – Love Hangover
April 3rd, 1977:
Diana Ross – Love Hangover
April 4th, 1977:
Diana Ross – Love Hangover
April 5th, 1977:
Diana Ross – Love Hangover
April 6th, 1977:
Diana Ross – Love Hangover
April 7th, 1977:
Diana Ross – Love Hangover
April 8th, 1977:
Diana Ross – Love Hangover
April 9th, 1977:
Diana Ross – Love Hangover
April 10th, 1977:
Diana Ross – Love Hangover
April 11th, 1977:
Diana Ross – Love Hangover
April 12th, 1977:
Diana Ross – Love Hangover
April 13th, 1977:
Diana Ross – Love Hangover
April 14th, 1977:
Diana Ross – Love Hangover
April 15th, 1977:
Diana Ross – Love Hangover
April 16th, 1977:
Starland Vocal Band – Afternoon Delight
April 17th, 1977:
Starland Vocal Band – Afternoon Delight
April 18th, 1977:
Starland Vocal Band – Afternoon Delight
April 19th, 1977:
Starland Vocal Band – Afternoon Delight
April 20th, 1977:
Starland Vocal Band – Afternoon Delight
April 21st, 1977:
Starland Vocal Band – Afternoon Delight
April 22nd, 1977:
Starland Vocal Band – Afternoon Delight
April 23rd, 1977:
Starland Vocal Band – Afternoon Delight
April 24th, 1977:
Starland Vocal Band – Afternoon Delight
April 25th, 1977:
Starland Vocal Band – Afternoon Delight
April 26th, 1977:
Starland Vocal Band – Afternoon Delight
April 27th, 1977:
Starland Vocal Band – Afternoon Delight
April 28th, 1977:
Starland Vocal Band – Afternoon Delight
April 29th, 1977:
Starland Vocal Band – Afternoon Delight
April 30th, 1977:
The Manhattans – Kiss and Say Goodbye
May 1st, 1977:
The Manhattans – Kiss and Say Goodbye
May 2nd, 1977:
The Manhattans – Kiss and Say Goodbye
May 3rd, 1977:
The Manhattans – Kiss and Say Goodbye
May 4th, 1977:
The Manhattans – Kiss and Say Goodbye
May 5th, 1977:
The Manhattans – Kiss and Say Goodbye
May 6th, 1977:
The Manhattans – Kiss and Say Goodbye
May 7th, 1977:
The Manhattans – Kiss and Say Goodbye
May 8th, 1977:
The Manhattans – Kiss and Say Goodbye
May 9th, 1977:
The Manhattans – Kiss and Say Goodbye
May 10th, 1977:
The Manhattans – Kiss and Say Goodbye
May 11th, 1977:
The Manhattans – Kiss and Say Goodbye
May 12th, 1977:
The Manhattans – Kiss and Say Goodbye
May 13th, 1977:
The Manhattans – Kiss and Say Goodbye
May 14th, 1977:
Elton John and Kiki Dee – Don't Go Breaking My Heart
May 15th, 1977:
Elton John and Kiki Dee – Don't Go Breaking My Heart
May 16th, 1977:
Elton John and Kiki Dee – Don't Go Breaking My Heart
May 17th, 1977:
Elton John and Kiki Dee – Don't Go Breaking My Heart
May 18th, 1977:
Elton John and Kiki Dee – Don't Go Breaking My Heart
May 19th, 1977:
Elton John and Kiki Dee – Don't Go Breaking My Heart
May 20th, 1977:
Elton John and Kiki Dee – Don't Go Breaking My Heart
May 21st, 1977:
Elton John and Kiki Dee – Don't Go Breaking My Heart
May 22nd, 1977:
Elton John and Kiki Dee – Don't Go Breaking My Heart
May 23rd, 1977:
Elton John and Kiki Dee – Don't Go Breaking My Heart
May 24th, 1977:
Elton John and Kiki Dee – Don't Go Breaking My Heart
May 25th, 1977:
Elton John and Kiki Dee – Don't Go Breaking My Heart
May 26th, 1977:
Elton John and Kiki Dee – Don't Go Breaking My Heart
May 27th, 1977:
Elton John and Kiki Dee – Don't Go Breaking My Heart
May 28th, 1977:
Elton John and Kiki Dee – Don't Go Breaking My Heart
May 29th, 1977:
Elton John and Kiki Dee – Don't Go Breaking My Heart
May 30th, 1977:
Elton John and Kiki Dee – Don't Go Breaking My Heart
May 31st, 1977:
Elton John and Kiki Dee – Don't Go Breaking My Heart
June 1st, 1977:
Elton John and Kiki Dee – Don't Go Breaking My Heart
June 2nd, 1977:
Elton John and Kiki Dee – Don't Go Breaking My Heart
June 3rd, 1977:
Elton John and Kiki Dee – Don't Go Breaking My Heart
June 4th, 1977:
Elton John and Kiki Dee – Don't Go Breaking My Heart
June 5th, 1977:
Elton John and Kiki Dee – Don't Go Breaking My Heart
June 6th, 1977:
Elton John and Kiki Dee – Don't Go Breaking My Heart
June 7th, 1977:
Elton John and Kiki Dee – Don't Go Breaking My Heart
June 8th, 1977:
Elton John and Kiki Dee – Don't Go Breaking My Heart
June 9th, 1977:
Elton John and Kiki Dee – Don't Go Breaking My Heart
June 10th, 1977:
Elton John and Kiki Dee – Don't Go Breaking My Heart
June 11th, 1977:
Bee Gees – You Should Be Dancing
June 12th, 1977:
Bee Gees – You Should Be Dancing
June 13th, 1977:
Bee Gees – You Should Be Dancing
June 14th, 1977:
Bee Gees – You Should Be Dancing
June 15th, 1977:
Bee Gees – You Should Be Dancing
June 16th, 1977:
Bee Gees – You Should Be Dancing
June 17th, 1977:
Bee Gees – You Should Be Dancing
June 18th, 1977:
KC and the Sunshine Band – (Shake, Shake, Shake) Shake Your Booty
June 19th, 1977:
KC and the Sunshine Band – (Shake, Shake, Shake) Shake Your Booty
June 20th, 1977:
KC and the Sunshine Band – (Shake, Shake, Shake) Shake Your Booty
June 21st, 1977:
KC and the Sunshine Band – (Shake, Shake, Shake) Shake Your Booty
June 22nd, 1977:
KC and the Sunshine Band – (Shake, Shake, Shake) Shake Your Booty
June 23rd, 1977:
KC and the Sunshine Band – (Shake, Shake, Shake) Shake Your Booty
June 24th, 1977:
KC and the Sunshine Band – (Shake, Shake, Shake) Shake Your Booty
June 25th, 1977:
Wild Cherry – Play That Funky Music
June 26th, 1977:
Wild Cherry – Play That Funky Music
June 27th, 1977:
Wild Cherry – Play That Funky Music
June 28th, 1977:
Wild Cherry – Play That Funky Music
June 29th, 1977:
Wild Cherry – Play That Funky Music
June 30th, 1977:
Wild Cherry – Play That Funky Music
July 1st, 1977:
Wild Cherry – Play That Funky Music
July 2nd, 1977:
Wild Cherry – Play That Funky Music
July 3rd, 1977:
Wild Cherry – Play That Funky Music
July 4th, 1977:
Wild Cherry – Play That Funky Music
July 5th, 1977:
Wild Cherry – Play That Funky Music
July 6th, 1977:
Wild Cherry – Play That Funky Music
July 7th, 1977:
Wild Cherry – Play That Funky Music
July 8th, 1977:
Wild Cherry – Play That Funky Music
July 9th, 1977:
Wild Cherry – Play That Funky Music
July 10th, 1977:
Wild Cherry – Play That Funky Music
July 11th, 1977:
Wild Cherry – Play That Funky Music
July 12th, 1977:
Wild Cherry – Play That Funky Music
July 13th, 1977:
Wild Cherry – Play That Funky Music
July 14th, 1977:
Wild Cherry – Play That Funky Music
July 15th, 1977:
Wild Cherry – Play That Funky Music
July 16th, 1977:
Walter Murphy and the Big Apple Band – A Fifth of Beethoven
July 17th, 1977:
Walter Murphy and the Big Apple Band – A Fifth of Beethoven
July 18th, 1977:
Walter Murphy and the Big Apple Band – A Fifth of Beethoven
July 19th, 1977:
Walter Murphy and the Big Apple Band – A Fifth of Beethoven
July 20th, 1977:
Walter Murphy and the Big Apple Band – A Fifth of Beethoven
July 21st, 1977:
Walter Murphy and the Big Apple Band – A Fifth of Beethoven
July 22nd, 1977:
Walter Murphy and the Big Apple Band – A Fifth of Beethoven
July 23rd, 1977:
Rick Dees and His Cast of Idiots – Disco Duck (part 1)
July 24th, 1977:
Rick Dees and His Cast of Idiots – Disco Duck (part 1)
July 25th, 1977:
Rick Dees and His Cast of Idiots – Disco Duck (part 1)
July 26th, 1977:
Rick Dees and His Cast of Idiots – Disco Duck (part 1)
July 27th, 1977:
Rick Dees and His Cast of Idiots – Disco Duck (part 1)
July 28th, 1977:
Rick Dees and His Cast of Idiots – Disco Duck (part 1)
July 29th, 1977:
Rick Dees and His Cast of Idiots – Disco Duck (part 1)
July 30th, 1977:
Chicago – If You Leave Me Now
July 31st, 1977:
Chicago – If You Leave Me Now
August 1st, 1977:
Chicago – If You Leave Me Now
August 2nd, 1977:
Chicago – If You Leave Me Now
August 3rd, 1977:
Chicago – If You Leave Me Now
August 4th, 1977:
Chicago – If You Leave Me Now
August 5th, 1977:
Chicago – If You Leave Me Now
August 6th, 1977:
Chicago – If You Leave Me Now
August 7th, 1977:
Chicago – If You Leave Me Now
August 8th, 1977:
Chicago – If You Leave Me Now
August 9th, 1977:
Chicago – If You Leave Me Now
August 10th, 1977:
Chicago – If You Leave Me Now
August 11th, 1977:
Chicago – If You Leave Me Now
August 12th, 1977:
Chicago – If You Leave Me Now
August 13th, 1977:
Steve Miller Band – Rock'n Me
August 14th, 1977:
Steve Miller Band – Rock'n Me
August 15th, 1977:
Steve Miller Band – Rock'n Me
August 16th, 1977:
Steve Miller Band – Rock'n Me
August 17th, 1977:
Steve Miller Band – Rock'n Me
August 18th, 1977:
Steve Miller Band – Rock'n Me
August 19th, 1977:
Steve Miller Band – Rock'n Me
August 20th, 1977:
Rod Stewart – Tonight's the Night (Gonna Be Alright)
August 21st, 1977:
Rod Stewart – Tonight's the Night (Gonna Be Alright)
August 22nd, 1977:
Rod Stewart – Tonight's the Night (Gonna Be Alright)
August 23rd, 1977:
Rod Stewart – Tonight's the Night (Gonna Be Alright)
August 24th, 1977:
Rod Stewart – Tonight's the Night (Gonna Be Alright)
August 25th, 1977:
Rod Stewart – Tonight's the Night (Gonna Be Alright)
August 26th, 1977:
Rod Stewart – Tonight's the Night (Gonna Be Alright)
August 27th, 1977:
Rod Stewart – Tonight's the Night (Gonna Be Alright)
August 28th, 1977:
Rod Stewart – Tonight's the Night (Gonna Be Alright)
August 29th, 1977:
Rod Stewart – Tonight's the Night (Gonna Be Alright)
August 30th, 1977:
Rod Stewart – Tonight's the Night (Gonna Be Alright)
August 31st, 1977:
Rod Stewart – Tonight's the Night (Gonna Be Alright)
September 1st, 1977:
Rod Stewart – Tonight's the Night (Gonna Be Alright)
September 2nd, 1977:
Rod Stewart – Tonight's the Night (Gonna Be Alright)
September 3rd, 1977:
Rod Stewart – Tonight's the Night (Gonna Be Alright)
September 4th, 1977:
Rod Stewart – Tonight's the Night (Gonna Be Alright)
September 5th, 1977:
Rod Stewart – Tonight's the Night (Gonna Be Alright)
September 6th, 1977:
Rod Stewart – Tonight's the Night (Gonna Be Alright)
September 7th, 1977:
Rod Stewart – Tonight's the Night (Gonna Be Alright)
September 8th, 1977:
Rod Stewart – Tonight's the Night (Gonna Be Alright)
September 9th, 1977:
Rod Stewart – Tonight's the Night (Gonna Be Alright)
September 10th, 1977:
Rod Stewart – Tonight's the Night (Gonna Be Alright)
September 11th, 1977:
Rod Stewart – Tonight's the Night (Gonna Be Alright)
September 12th, 1977:
Rod Stewart – Tonight's the Night (Gonna Be Alright)
September 13th, 1977:
Rod Stewart – Tonight's the Night (Gonna Be Alright)
September 14th, 1977:
Rod Stewart – Tonight's the Night (Gonna Be Alright)
September 15th, 1977:
Rod Stewart – Tonight's the Night (Gonna Be Alright)
September 16th, 1977:
Rod Stewart – Tonight's the Night (Gonna Be Alright)
September 17th, 1977:
Rod Stewart – Tonight's the Night (Gonna Be Alright)
September 18th, 1977:
Rod Stewart – Tonight's the Night (Gonna Be Alright)
September 19th, 1977:
Rod Stewart – Tonight's the Night (Gonna Be Alright)
September 20th, 1977:
Rod Stewart – Tonight's the Night (Gonna Be Alright)
September 21st, 1977:
Rod Stewart – Tonight's the Night (Gonna Be Alright)
September 22nd, 1977:
Rod Stewart – Tonight's the Night (Gonna Be Alright)
September 23rd, 1977:
Rod Stewart – Tonight's the Night (Gonna Be Alright)
September 24th, 1977:
Rod Stewart – Tonight's the Night (Gonna Be Alright)
September 25th, 1977:
Rod Stewart – Tonight's the Night (Gonna Be Alright)
September 26th, 1977:
Rod Stewart – Tonight's the Night (Gonna Be Alright)
September 27th, 1977:
Rod Stewart – Tonight's the Night (Gonna Be Alright)
September 28th, 1977:
Rod Stewart – Tonight's the Night (Gonna Be Alright)
September 29th, 1977:
Rod Stewart – Tonight's the Night (Gonna Be Alright)
September 30th, 1977:
Rod Stewart – Tonight's the Night (Gonna Be Alright)
October 1st, 1977:
Rod Stewart – Tonight's the Night (Gonna Be Alright)
October 2nd, 1977:
Rod Stewart – Tonight's the Night (Gonna Be Alright)
October 3rd, 1977:
Rod Stewart – Tonight's the Night (Gonna Be Alright)
October 4th, 1977:
Rod Stewart – Tonight's the Night (Gonna Be Alright)
October 5th, 1977:
Rod Stewart – Tonight's the Night (Gonna Be Alright)
October 6th, 1977:
Rod Stewart – Tonight's the Night (Gonna Be Alright)
October 7th, 1977:
Rod Stewart – Tonight's the Night (Gonna Be Alright)
October 8th, 1977:
Rod Stewart – Tonight's the Night (Gonna Be Alright)
October 9th, 1977:
Rod Stewart – Tonight's the Night (Gonna Be Alright)
October 10th, 1977:
Rod Stewart – Tonight's the Night (Gonna Be Alright)
October 11th, 1977:
Rod Stewart – Tonight's the Night (Gonna Be Alright)
October 12th, 1977:
Rod Stewart – Tonight's the Night (Gonna Be Alright)
October 13th, 1977:
Rod Stewart – Tonight's the Night (Gonna Be Alright)
October 14th, 1977:
Rod Stewart – Tonight's the Night (Gonna Be Alright)
October 15th, 1977:
Marilyn McCoo and Billy Davis, Jr. – You Don't Have to Be a Star (To Be in My Show)
October 16th, 1977:
Marilyn McCoo and Billy Davis, Jr. – You Don't Have to Be a Star (To Be in My Show)
October 17th, 1977:
Marilyn McCoo and Billy Davis, Jr. – You Don't Have to Be a Star (To Be in My Show)
October 18th, 1977:
Marilyn McCoo and Billy Davis, Jr. – You Don't Have to Be a Star (To Be in My Show)
October 19th, 1977:
Marilyn McCoo and Billy Davis, Jr. – You Don't Have to Be a Star (To Be in My Show)
October 20th, 1977:
Marilyn McCoo and Billy Davis, Jr. – You Don't Have to Be a Star (To Be in My Show)
October 21st, 1977:
Marilyn McCoo and Billy Davis, Jr. – You Don't Have to Be a Star (To Be in My Show)
October 22nd, 1977:
Leo Sayer – You Make Me Feel Like Dancing
October 23rd, 1977:
Leo Sayer – You Make Me Feel Like Dancing
October 24th, 1977:
Leo Sayer – You Make Me Feel Like Dancing
October 25th, 1977:
Leo Sayer – You Make Me Feel Like Dancing
October 26th, 1977:
Leo Sayer – You Make Me Feel Like Dancing
October 27th, 1977:
Leo Sayer – You Make Me Feel Like Dancing
October 28th, 1977:
Leo Sayer – You Make Me Feel Like Dancing
October 29th, 1977:
Stevie Wonder – I Wish
October 30th, 1977:
Stevie Wonder – I Wish
October 31st, 1977:
Stevie Wonder – I Wish
November 1st, 1977:
Stevie Wonder – I Wish
November 2nd, 1977:
Stevie Wonder – I Wish
November 3rd, 1977:
Stevie Wonder – I Wish
November 4th, 1977:
Stevie Wonder – I Wish
November 5th, 1977:
Rose Royce – Car Wash
November 6th, 1977:
Rose Royce – Car Wash
November 7th, 1977:
Rose Royce – Car Wash
November 8th, 1977:
Rose Royce – Car Wash
November 9th, 1977:
Rose Royce – Car Wash
November 10th, 1977:
Rose Royce – Car Wash
November 11th, 1977:
Rose Royce – Car Wash
November 12th, 1977:
Mary MacGregor – Torn Between Two Lovers
November 13th, 1977:
Mary MacGregor – Torn Between Two Lovers
November 14th, 1977:
Mary MacGregor – Torn Between Two Lovers
November 15th, 1977:
Mary MacGregor – Torn Between Two Lovers
November 16th, 1977:
Mary MacGregor – Torn Between Two Lovers
November 17th, 1977:
Mary MacGregor – Torn Between Two Lovers
November 18th, 1977:
Mary MacGregor – Torn Between Two Lovers
November 19th, 1977:
Mary MacGregor – Torn Between Two Lovers
November 20th, 1977:
Mary MacGregor – Torn Between Two Lovers
November 21st, 1977:
Mary MacGregor – Torn Between Two Lovers
November 22nd, 1977:
Mary MacGregor – Torn Between Two Lovers
November 23rd, 1977:
Mary MacGregor – Torn Between Two Lovers
November 24th, 1977:
Mary MacGregor – Torn Between Two Lovers
November 25th, 1977:
Mary MacGregor – Torn Between Two Lovers
November 26th, 1977:
Manfred Mann's Earth Band – Blinded by the Light
November 27th, 1977:
Manfred Mann's Earth Band – Blinded by the Light
November 28th, 1977:
Manfred Mann's Earth Band – Blinded by the Light
November 29th, 1977:
Manfred Mann's Earth Band – Blinded by the Light
November 30th, 1977:
Manfred Mann's Earth Band – Blinded by the Light
December 1st, 1977:
Manfred Mann's Earth Band – Blinded by the Light
December 2nd, 1977:
Manfred Mann's Earth Band – Blinded by the Light
December 3rd, 1977:
Eagles – New Kid in Town
December 4th, 1977:
Eagles – New Kid in Town
December 5th, 1977:
Eagles – New Kid in Town
December 6th, 1977:
Eagles – New Kid in Town
December 7th, 1977:
Eagles – New Kid in Town
December 8th, 1977:
Eagles – New Kid in Town
December 9th, 1977:
Eagles – New Kid in Town
December 10th, 1977:
Eagles – New Kid in Town
December 11th, 1977:
Barbra Streisand – Love Theme From 'A Star Is Born' (Evergreen)
December 12th, 1977:
Barbra Streisand – Love Theme From 'A Star Is Born' (Evergreen)
December 13th, 1977:
Barbra Streisand – Love Theme From 'A Star Is Born' (Evergreen)
December 14th, 1977:
Barbra Streisand – Love Theme From 'A Star Is Born' (Evergreen)
December 15th, 1977:
Barbra Streisand – Love Theme From 'A Star Is Born' (Evergreen)
December 16th, 1977:
Barbra Streisand – Love Theme From 'A Star Is Born' (Evergreen)
December 17th, 1977:
Barbra Streisand – Love Theme From 'A Star Is Born' (Evergreen)
December 18th, 1977:
Barbra Streisand – Love Theme From 'A Star Is Born' (Evergreen)
December 19th, 1977:
Barbra Streisand – Love Theme From 'A Star Is Born' (Evergreen)
December 20th, 1977:
Barbra Streisand – Love Theme From 'A Star Is Born' (Evergreen)
December 21st, 1977:
Barbra Streisand – Love Theme From 'A Star Is Born' (Evergreen)
December 22nd, 1977:
Barbra Streisand – Love Theme From 'A Star Is Born' (Evergreen)
December 23rd, 1977:
Barbra Streisand – Love Theme From 'A Star Is Born' (Evergreen)
December 24th, 1977:
Barbra Streisand – Love Theme From 'A Star Is Born' (Evergreen)
December 25th, 1977:
Barbra Streisand – Love Theme From 'A Star Is Born' (Evergreen)
December 26th, 1977:
Barbra Streisand – Love Theme From 'A Star Is Born' (Evergreen)
December 27th, 1977:
Barbra Streisand – Love Theme From 'A Star Is Born' (Evergreen)
December 28th, 1977:
Barbra Streisand – Love Theme From 'A Star Is Born' (Evergreen)
December 29th, 1977:
Barbra Streisand – Love Theme From 'A Star Is Born' (Evergreen)
December 30th, 1977:
Barbra Streisand – Love Theme From 'A Star Is Born' (Evergreen)
December 31st, 1977:
Barbra Streisand – Love Theme From 'A Star Is Born' (Evergreen)