1998 One Hit Wonders & Artists Known For One Song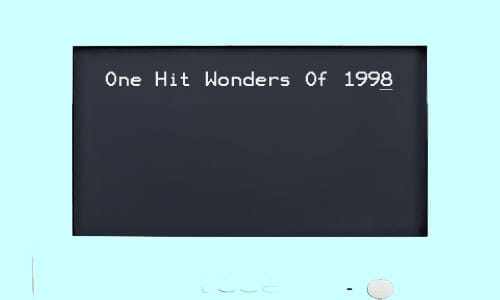 32 Flavors – Alana Davis
'98 Thug Paradise – Tragedy, Capone, Infinite
A Promise I Make – Dakota Moon
Ain't That Just The Way – Lutricia McNeal
Am I Dreaming – Ol Skool
Are You Jimmy Ray? – Jimmy Ray
Be Careful – Sparkle
Big Big World – Emilia
Bitter Sweet Symphony – The Verve
Blue On Black – Kenny Wayne Shepard
Body Bumpin' Yippie-Yi-Yo – Public Announcement
Boom Bye Yae – Reiss
Brick – Ben Folds Five
Burn – Militia
Closing Time – Semisonic
Deja Vu (Uptown Baby) – Lord Tariq & Peter Gunz
Delicious – Pure Sugar
Ding – A – Ling – Hi – Town Dj's
Do You – Heather B
Do Your Thing – 7 Mile
Everything's Gonna Be Alright – Sweetbox
Flagpole Sitta – Harvey Danger
Fun – Da Mob
Get Ready To Bounce – Brooklyn Bounce
Ghetto Supastar – Pras Michel
Give Me Forever (I Do) – John Tesh
Gotta Be… Movin' On Up – Prince Be
Have Fun, Go Mad – Blair
Here We Go – Funkmaster Flex
Hey Now Now – Swirl 360
Hooch – Everything
Hooked On A Feeling (Ooga – Ooga) – Baby Talk
I Don't Ever Want To See You Again – Uncle Sam
I Don't Wanna Go On – Innerlude
If I Never Stop Loving You – David Kersh
Inside Out – Eve 6
It's Alright – Memphis Bleek & Jay – Z
It's Up To You – The Tuesdays
Jealousy – Kim Sanders
Are You JImmy Ray? – Jimmy Ray
Jump Jive An' Wail – Brian Setzer Orchestra
Kiss The Rain – Billie Meyers
Know What You Mean – Sister 7
Lean On Me – Kirk Franklin
Let Me Return The Favor – Andrea Martin
Let The Music Heal Your Soul – Bravo All-Stars
Life In Mono – Mono
Love For Free – Rell
Love The Way – E.O.L. (Elements of Life)
Lullaby – Shawn Mullins
Music Sounds Better With You – Stardust
My Heart Will Go On (Titanic Theme) – Deja Vu
Never Ever – All Saints
Night Wind – Tony Mascolo
Ninety Nine (Flash The Message) – John Forte
Nothin' Move But The Money – Mic Geronimo
One Week – Barenaked Ladies
Out Of Sight (Yo) – Rufus Blaq
Reality – Elusion
Romeo and Juliet – Sylk-E. Fyne
Save Tonight – Eagle-Eye Cherry
Say You'll Stay – Kai
Sex and Candy – Marcy Playground
Shimmer – Fuel
Shorty (You Keep Playing With My Miind) – Imajin
Sin So Well – Rebekah
So Long (Well, Well, Well) – Phajja
Southampton – James Horner
Southside – Lil' Keke
Splackavellie – Pressha
Stand By Me – 4 The Cause
Stepping Stone – Lari White
Strawberry – Nicole Renee
Suavemente – Elvis Crispo
Sugar Cane – Space Monkeys
Superhero – Daze
SuperThug (What What) – Noreaga
Surrounded – Chantel Kreviazuk
Sweet Honesty – M:G
Swing My Way – K.P. & Envyi
Sunchyme – Dario G
Teardrop – Massive Attack
Tha Hop – Kinsu
The Actual – All CityThe Most Beautiful Girl – Raheem
The Mummer's Dance – Loreena McKennitt
The Note – Daryle Singletary
The Street Mix – Mag 7
The Way – Fastball
This Is How We Party – S.O.A.P.
Tic Tic Tac – Fruit De La Passion
Time Ago – Black Lab
Tubthumping – Chucklebutt
Tuck Me In – Kimberly Scott
Westside – TQ
What I Didn't Know – Athenaeum
What If I Said – Anita Cochran and Steve Wariner
Whatuon – LaTanya
You Only Have To Say You Love Me – Hannah Jones
Young, Sad and Blue – Lysette
Zoot Suit Riot – Cherry Poppin' Daddies . .