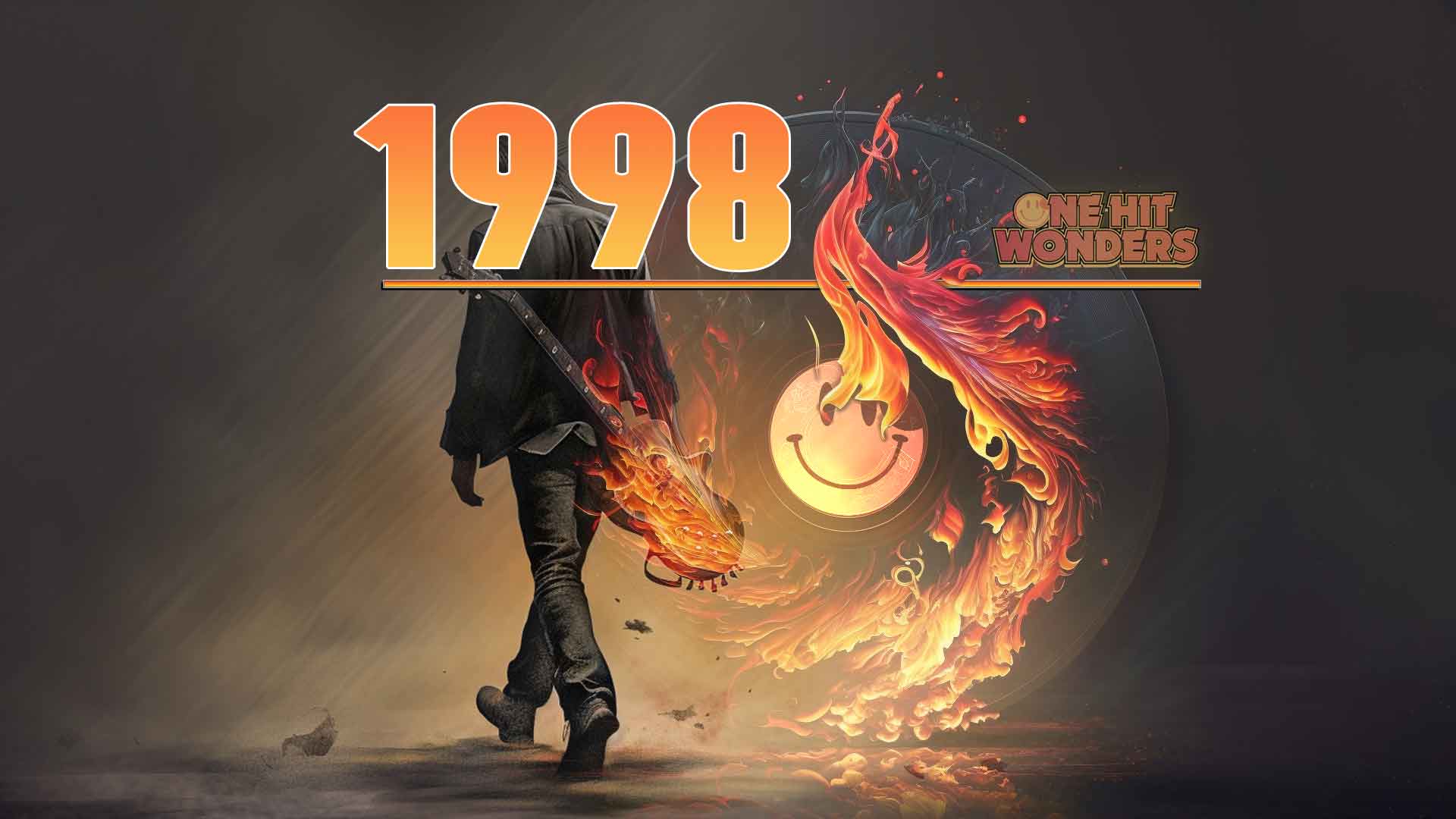 1998 One Hit Wonders & Artists Known For One Song
32 Flavors
Alana Davis
Alana Davis is a singer-songwriter from New York known for her fusion of pop and folk.
'98 Thug Paradise
Tragedy, Capone, Infinite
Capone is a rapper from Queens, known as half of the rap duo Capone-N-Noreaga.
A Promise I Make
Dakota Moon
Dakota Moon was an American pop/rock band that featured a blend of modern pop and soul.
Ain't That Just The Way
Lutricia McNeal
Lutricia McNeal is an American soul and pop singer, known for her powerful, gospel-tinged voice.
Am I Dreaming
Ol Skool
Ol Skool was an American R&B group who brought a classic soul sound to the 90s.
Are You Jimmy Ray?
Jimmy Ray
Jimmy Ray is a British pop musician known for his rockabilly style during the pop-dominated late 90s.
Be Careful
Sparkle
Sparkle is an American R&B artist whose self-titled debut album was heavily influenced by soul and gospel.
Big Big World
Emilia
Emilia Rydberg, known as Emilia, is a Swedish pop singer who saw international success in the late 90s.
Bitter Sweet Symphony
The Verve
The Verve was an English rock band who had a series of successful symphonic rock hits in the 90s.
Blue On Black
Kenny Wayne Shepard
Kenny Wayne Shepherd is an American guitarist, singer, and songwriter known for his blues-infused rock sound.
Body Bumpin' Yippie-Yi-Yo
Public Announcement
Public Announcement is an R&B group, originally serving as R. Kelly's backing band.
Boom Bye Yae
Reiss
Reiss is a British R&B singer known for her soulful vocals and smooth style.
Brick
Ben Folds Five
Ben Folds Five is an American alternative rock band, known for using unconventional instruments in their music, like pianos and cellos.
Burn
Militia
Militia is an American hip-hop group from Texas, known for their distinctive southern rap style.
Closing Time
Semisonic
Semisonic is an American alternative rock band known for their hit singles in the late '90s.
Deja Vu (Uptown Baby)
Lord Tariq & Peter Gunz
Lord Tariq and Peter Gunz was a rap duo from The Bronx. Peter Gunz is the father of rapper Corey Gunz.
Delicious
Pure Sugar
Pure Sugar is a dance-pop group led by Jennifer Starr, a former dancer for Madonna.
Ding – A – Ling – Hi – Town Dj's
Hi – Town Dj's
Hi-Town Dj's were a rap group from Florida, known for their high-energy Miami Bass sound.
Do You
Heather B
Heather B. is an American hip hop artist and former reality TV star, known for being a cast member on "The Real World".
Do Your Thing
7 Mile
7 Mile was an American contemporary R&B group that released their eponymous debut album in 1998.
Everything's Gonna Be Alright
Sweetbox
Sweetbox is a Los Angeles-based pop music project formed in Germany in 1995.
Flagpole Sitta
Harvey Danger
Harvey Danger was an alternative rock band from Seattle, known for their 90s hit singles.
Fun
Da Mob
Da Mob was a house music project featuring DJ Erick Morillo, Jose Nunez, and Carlos Sosa.
Get Ready To Bounce
Brooklyn Bounce
Brooklyn Bounce is one of the many pseudonyms of German trance producers Matthias Menck and Dennis Bohn.
Ghetto Supastar
Pras Michel
Pras Michel is a Grammy-winning American rapper and one of the founding members of the hip hop trio The Fugees.
Give Me Forever (I Do)
John Tesh
John Tesh is an accomplished pianist and composer who had a successful career in broadcasting, known for his stint as a co-host on Entertainment Tonight.
Gotta Be… Movin' On Up
Prince Be
Prince Be was the lead vocalist of the hip-hop duo P.M. Dawn. He was known for his dreamy, ethereal sound.
Have Fun, Go Mad
Blair
Blair is a Scottish pop band that was active during the 1990s.
Here We Go
Funkmaster Flex
Funkmaster Flex is an American DJ, rapper, record producer, and host on New York City's Hot 97 radio station.
Hey Now Now
Swirl 360
Swirl 360 is a Canadian pop-rock band that achieved success in the late 1990s.
Hooch
Everything
Everything is an alternative rock band from Virginia that combines elements of rock, ska, and funk.
Hooked On A Feeling (Ooga – Ooga)
Baby Talk
Baby Talk is a British pop group that had some success in the late '90s.
I Don't Ever Want To See You Again
Uncle Sam
Uncle Sam is an American R&B singer who is best known for being the first male R&B artist signed to Boyz II Men's Stonecreek Records.
I Don't Wanna Go On
Innerlude
Innerlude was a Filipino-American R&B group from the San Francisco Bay Area.
If I Never Stop Loving You
David Kersh
David Kersh is an American country music artist who achieved success in the mid-to-late '90s.
Inside Out
Eve 6
Eve 6 is an American rock band who were known for their hit singles in the late 1990s and early 2000s.
It's Alright
Memphis Bleek & Jay – Z
Memphis Bleek is an American rapper from Brooklyn and a frequent collaborator with Jay-Z. Jay-Z is one of the best-selling musicians of all time and has won a total of 23 Grammy Awards.
It's Up To You
The Tuesdays
The Tuesdays were a Norwegian pop band known for their sweet melodies and rich vocal harmonies.
Jealousy
Kim Sanders
Kim Sanders is an American singer-songwriter who became popular in Europe in the late 1990s.
Are You Jimmy Ray?
Jimmy Ray
Jimmy Ray is a British pop singer known for his unique rockabilly style in the late 1990s.
Jump Jive An' Wail
Brian Setzer Orchestra
Brian Setzer is a Grammy Award-winning musician known for his work in the Stray Cats and his orchestra.
Kiss The Rain
Billie Meyers
Billie Myers is a British rock singer-songwriter known for her powerful lyrics and unique voice.
Know What You Mean
Sister 7
Sister 7 is an American rock band from Austin, Texas known for their soulful sound.
Lean On Me
Kirk Franklin
Kirk Franklin is a prolific gospel musician who has won numerous awards, including multiple Grammys.
Let Me Return The Favor
Andrea Martin
Andrea Martin is an American R&B singer and songwriter who has written songs for several top artists.
Let The Music Heal Your Soul
Bravo All-Stars
Bravo All-Stars was a supergroup formed by the German teen magazine Bravo, featuring artists such as 'N Sync and Aaron Carter.
Life In Mono
Mono
Mono was a British trip-hop duo who had a hit in the late '90s with "Life in Mono."
Love For Free
Rell
Rell is an American R&B singer who was signed to Jay-Z's Roc-A-Fella Records.
Love The Way
E.O.L. (Elements of Life)
E.O.L. is a house music collective led by Grammy-nominated producer and DJ Louie Vega.
Lullaby
Shawn Mullins
Shawn Mullins is an American singer-songwriter known for his hit song "Lullaby" and for co-writing the Zac Brown Band's No. 1 country hit "Toes."
Music Sounds Better With You
Stardust
Stardust was a one-time musical collaborative effort consisting of producers Thomas Bangalter, Alan Braxe, and vocalist Benjamin Diamond; "Music Sounds Better with You" is their only release.
My Heart Will Go On (Titanic Theme)
Deja Vu
Deja Vu is a Eurodance project that is best known for making dance covers of popular songs.
Never Ever
All Saints
All Saints is a British-Canadian girl group whose members have achieved significant solo success in addition to their work as a group.
Night Wind
Tony Mascolo
Tony Mascolo was one of the brothers who co-founded the Toni & Guy hairdressing company.
Ninety Nine (Flash The Message)
John Forte
John Forte is a Grammy-nominated multi-platinum recording artist, composer, and music producer who was also part of the hip hop group, The Fugees.
Nothin' Move But The Money
Mic Geronimo
Mic Geronimo is a rapper from Queens, New York who began his career by winning a local rap contest and earning a record deal as a result.
One Week
Barenaked Ladies
Barenaked Ladies is a Canadian rock band that's known for their humorous, light-hearted hit songs and engaging performances.
Out Of Sight (Yo)
Rufus Blaq
Rufus Blaq is a rapper and songwriter who has worked with artists such as Salt-n-Pepa and Teddy Riley.
Reality
Elusion
Elusion is an R&B group best known for their single "Reality", a modest hit on the R&B charts.
Romeo and Juliet
Sylk-E. Fyne
Sylk-E. Fyne is a rapper known for her work in the mid-to-late 1990s.
Save Tonight
Eagle-Eye Cherry
Eagle-Eye Cherry is a Swedish musician known for his hit single "Save Tonight". He is the son of jazz artist Don Cherry and the half-brother of Neneh Cherry.
Say You'll Stay
Kai
Kai is an American R&B group from the Bay Area, known for their harmonious, vocal-driven R&B sound.
Sex and Candy
Marcy Playground
Marcy Playground is an American alternative rock band named after Minneapolis's Marcy Open grade school.
Shimmer
Fuel
Fuel is an American rock band that was formed in Tennessee. They have received two Billboard Music Awards for their work.
Shorty (You Keep Playing With My Miind)
Imajin
Imajin is an American R&B boy band that was active in the late 1990s.
Sin So Well
Rebekah
Rebekah is an electronic music producer and DJ known for her heavy, uncompromising techno sound.
So Long (Well, Well, Well)
Phajja
Phajja, an American R&B trio of female vocalists, released two albums in the late '90s.
Southampton
James Horner
James Horner was a prolific American composer, conductor, and orchestrator of film scores, including the scores for Titanic and Avatar. He won two Academy Awards for his work on Titanic.
Southside
Lil' Keke
Lil' Keke is a rapper from Houston, Texas, and a member of the original Screwed Up Click, an assortment of rappers from the city's south side.
Splackavellie
Pressha
Pressha is an American R&B singer from Atlanta, Georgia, who started his career as a member of the Quad City DJs.
Stand By Me
4 The Cause
4 The Cause is a 90s R&B group from Oak Park, Illinois, that was formed in 1993. The group consists of the siblings Jason and Shonna, along with their cousin Chris and family friend Ben.
Stepping Stone
Lari White
Lari White was an American country singer and actress who had three Top Ten country hits when she was signed to RCA Nashville in the 90s.
Strawberry
Nicole Renee
Nicole Renée is a soul and R&B singer, songwriter and producer. She was signed to Atlantic Records and released a self-titled debut album in 1998.
Suavemente
Elvis Crespo
Elvis Crespo is a Puerto Rican Grammy and Latin Grammy Award-winning Merengue singer, often called the "King of Merengue."
Sugar Cane
Space Monkeys
Space Monkeys is a British band that was formed in 1995 in Manchester. They were the last band to be signed by Tony Wilson to the seminal Factory Records label.
Superhero
Daze
Daze is a Danish Eurodance/bubblegum dance band whose 1997 debut album "Super Heroes" became a double platinum international hit.
SuperThug (What What)
Noreaga
Noreaga, also known as N.O.R.E., is a Queens, New York rapper. He's one half of the hip-hop duo Capone-N-Noreaga (C-N-N).
Surrounded
Chantal Kreviazuk
Chantal Kreviazuk is a Canadian singer-songwriter of the adult contemporary music genre. She's also a classically trained pianist, and her work often blends classical and pop elements.
Sweet Honesty
M:G
M:G, or Mary Kiani, is a dance music artist who became well known in the 1990s club scene for her work as a solo artist and with the band The Time Frequency.
Swing My Way
K.P. & Envyi
K.P. & Envyi were an American contemporary R&B duo best known for their 1998 hit single "Swing My Way"; this single peaked at #6 on the Billboard Hot 100 and was certified gold by the RIAA.
Sunchyme
Dario G
Dario G is a dance music trio from Cheshire, England. Known for incorporating opera and soprano vocals into their music, they took their name from the Crewe Alexandra footballer, Dario Gradi.
Teardrop
Massive Attack
Massive Attack is a pioneering trip hop group from Bristol, UK. The band's album "Mezzanine," from which "Teardrop" is taken, is considered a classic of 90s trip hop.
Tha Hop
Kinsu
Kinsu is a Hip Hop and R&B group from Cincinnati, Ohio. They are known for combining hip-hop, R&B, and new jack swing elements in their music.
The Actual
All City
All City was an American rap duo composed of rappers Greg Valentine and J. Mega, who hailed from Brooklyn, New York. They were the first act signed to the Mary J. Blige-owned label, MCA.
The Most Beautiful Girl
Raheem
Raheem, also known as Raheem the Dream, is a rap artist from Atlanta, Georgia. He's considered one of the pioneers of the Atlanta hip-hop scene and is known for his high-energy, fast-paced rap style.
The Mummer's Dance
Loreena McKennitt
Loreena McKennitt is a Canadian musician, composer, harpist, accordionist, and pianist. She is known for her refined and clear dramatic soprano vocals. McKennitt's music has generally been classified as World or Celtic music, although it contains significant New Age, Middle Eastern and even electronic elements on many tracks.
The Note
Daryle Singletary
Daryle Singletary was an American country music singer. He was known for his neotraditionalist country style, with influences from Merle Haggard, George Jones and Johnny Paycheck, and kept this style throughout his career.
The Street Mix
Mag 7
The Mag 7 was a group that featured members of the legendary rock band The Clash along with other musicians. They came together specifically to create music for the film 'The Good, The Bad & The Ugly'.
The Way
Fastball
Fastball is an American rock band from Austin, Texas. They rose to fame in the late '90s on the strength of their catchy pop songs.
This Is How We Party
S.O.A.P.
S.O.A.P. was a Danish pop band made up of two sisters, Saseline and Heidi Sørensen. The group's name stands for "Sons of a Plumber," a reference to their father's profession.
Tic Tic Tac
Fruit De La Passion
Fruit De La Passion is a Eurodance group from Sweden. The group was famous for their hit "Tic Tic Tac", which topped the charts in various countries.
Time Ago
Black Lab
Black Lab is an American alternative rock band that was formed by Paul Durham in San Francisco, California. They gained popularity in the late 90s with their unique blend of rock, pop, and electronic elements.
Tubthumping
Chucklebutt
Chucklebutt was an obscure artist and doesn't have significant information available in public sources. As of my knowledge cutoff in 2021, there is no well-known artist by this name. This might be a mislabeled song.
Tuck Me In
Kimberly Scott
Kimberly Scott is an R&B singer who was signed to Hollywood Records in the late 90s. Her single "Tuck Me In" reached the Top 40 of the Billboard Hot 100.
Westside
TQ
TQ is an American R&B singer who gained fame for his hit song "Westside". His style of R&B is notable for the heavy influence of West Coast rap.
What I Didn't Know
Athenaeum
Athenaeum was an alternative pop rock band from Greensboro, North Carolina, USA formed in 1990. Despite achieving only moderate commercial success, they enjoyed a strong fan base and critical acclaim.
What If I Said
Anita Cochran and Steve Wariner
Anita Cochran, a country music artist and songwriter, is known for her skills on the guitar. Steve Wariner is a country music singer, songwriter and guitarist who was one of the most popular artists during the 1980s.
Whatuon
LaTanya
LaTanya was a late 90s R&B artist. She is best known for her single "What U On," which featured Missy Elliott. Her album "LaTanya" peaked at number 48 on Billboard's R&B Albums chart.
You Only Have To Say You Love Me
Hannah Jones
Hannah Jones is a British singer known for her work in the dance and pop genres. She has had several hits on the US Hot Dance Music/Club Play chart.
Young, Sad and Blue
Lysette
Lysette Titi is an R&B singer who scored a hit in 1998 with the song "Young, Sad and Blue." Her album was released on Priority/Capitol Records.
Zoot Suit Riot
Cherry Poppin' Daddies
The Cherry Poppin' Daddies are an American band formed in Eugene, Oregon 1989. They are best known for their mixture of swing, ska and rock, creating a unique style of music.