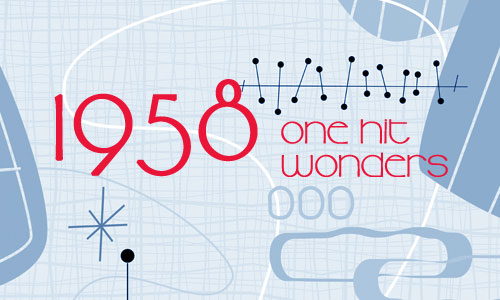 1958 One Hit Wonders & Artists Known For One Song
(It's Been A Long Time) Pretty Baby
Gino & Gina
The duo comprised Gino Minopoli and Gina Minopoli, who were real-life brother and sister.
7-11
Gone All Stars
This was a collective name used by several musicians who recorded for George Goldner's Gone Records.
A House, a Car and a Wedding Ring
Mike Preston
Preston is a British artist who had a successful career in acting and music, appearing in notable films such as "The Music Man" (1962).
Bad Motorcycle
The Storey Sisters
Little is known about The Storey Sisters beyond their one notable hit.
Baubles, Bangles and Beads
Kirby Stone Four
This jazz vocal ensemble innovatively combined pop, jazz, and even comedy in their performances.
Been So Long
Donnie Owens
Owens transitioned from being a pop singer to a successful songwriter and guitarist, often working with Duane Eddy.
Beep Beep
The Playmates
The Playmates, a pop vocal group, were one of the first rock 'n' roll groups signed by Roulette Records.
Bertha Lou
Clint Miller
Clint Miller, a rockabilly singer, later shifted to gospel music, continuing to record into the 2000s.
Bewitched
The Betty Smith Group
Charted at #51 on Billboard Hot 100 in 1958. This was the only entry on the Hot 100 for this group.
Big Brown Eyes
The Redjacks
The Redjacks were a short-lived rock 'n' roll band from the mid-'50s.
Bluebirds Over The Mountain
Ersel Hickey
Hickey, a rockabilly singer-songwriter, is recognized for his iconic publicity photo, which many consider a perfect image of a rockabilly musician.
Bop – A – Lena
Ronnie Self
Self, a songwriter and musician, wrote hit songs for several artists, including Brenda Lee's "Sweet Nothin's."
Book of Love
The Monotones
This group from New Jersey formed in 1955 and was made up of high school friends.
Born Too Late
The Poni-Tails
This all-female group from Ohio was best known for their ability to harmonize and was active from the mid to late '50s.
Bullwhip Rock
Cyclones
The Cyclones were a short-lived rock and roll band from the mid-'50s with a distinct sound due to their saxophone-driven rockabilly style.
Cerveza
Boots Brown
Boots Brown was a pseudonym used by renowned composer and musician Shorty Rogers for some of his more experimental work.
Cha – Hua – Hua
The Pets
The Pets were a doo-wop group from Los Angeles active in the late '50s. They released a few singles, but little else is known about them.
Chanson D'Amour (Song of Love)
Art & Dotty Todd
The husband and wife duo Art and Dotty Todd were originally big band singers who later transitioned to pop music and even hosted their own TV show.
Chantilly Lace
Big Bopper
Big Bopper, also known as J.P. Richardson, was a disc jockey before he started recording music. He tragically died in the same plane crash that killed Buddy Holly and Ritchie Valens.
Come Prima (Koma Preema)
Polly Bergen
Polly Bergen was an American actress, singer, television host, and entrepreneur. She won an Emmy award in 1958 for her role in "Playhouse 90".
Crazy Eyes For You
Bobby Hamilton
Bobby Hamilton was a versatile artist who was a singer, songwriter, producer, and even a race car driver.
Delicious!
Jim Backus and Friend
Jim Backus was a renowned actor and voice artist, best known as the voice of the cartoon character Mr. Magoo.
Dinner With Drac Part 1
John Zacherle
John Zacherle was a television host, radio personality, and voice actor, popularly known for his performance as a horror movie host in the '50s and '60s.
Donde Esta Santa Clause (Where Is Santa Claus?)
Augie Rios
Augie Rios had his first hit record at the age of 12 with "Donde Esta Santa Claus?" and continued performing into adulthood.
Down The Aisle of Love
The Quin-Tones
The Quin-Tones were a doo-wop group that formed in a Pennsylvania high school, and they're best known for their one hit, "Down The Aisle of Love".
Everyone Was There
Bob Kayli
Bob Kayli was actually Robert Gordy, Jr., brother of Berry Gordy Jr., the founder of Motown Records.
Fried Onions
Lord Rockingham's XI
Lord Rockingham's XI was a British instrumental band, a group of session musicians brought together by producer Jack Good.
Get a Job
The Silhouettes
The Silhouettes were a Philadelphia doo-wop and soul group. Their song "Get a Job" is considered a doo-wop classic.
Got A Match?
The Daddy-Os
The Daddy-Os were an American instrumental rock and roll band from the late 1950s. They are best known for their hit "Got A Match?".
Henrietta
Jimmy Dee & the Offbeats
Jimmy Dee was a rockabilly singer from Texas. His backing band, the Offbeats, included a young Doug Sahm, who later gained fame with the Sir Douglas Quintet.
He's Got The Whole World In His Hands
Laurie London
Laurie London was a British singer, who was just 13 years old when he recorded "He's Got the Whole World in His Hands".
Hey Girl – Hey Boy
Oscar McLollie & Jeanette Baker
Oscar McLollie was an R&B singer and Jeanette Baker was a jazz and blues singer. They had a hit with "Hey Girl – Hey Boy" but mostly had separate careers.
I'm Happy
The Four Dates
The Four Dates were a relatively unknown group from the doo-wop era, with "I'm Happy" being their most notable release.
Itchy Twitchy Feeling
The Swallows
The Swallows were an American R&B group. Their biggest hit, "Itchy Twitchy Feeling," was later covered by Bobby Hendricks, who was once a member of the group.
Jealousy
Kitty Wells
Kitty Wells was a pioneering female country music singer. She was the first female artist to top the Country charts with her 1952 hit "It Wasn't God Who Made Honky Tonk Angels".
Judy
Frankie Vaughan
Frankie Vaughan was a British singer who achieved a number of hits in the UK. He was also a film actor, appearing in a few high-profile movies like "Let's Make a Night of It".
Just Like In The Movies
The UpBeats
The UpBeats were a pop group active during the late '50s. They're mostly remembered for "Just Like in the Movies," but remained obscure outside of their hit.
Just Young
Andy Rose
Andy Rose was a pop singer from New York. Despite his short-lived career, his song "Just Young" reached the Top 20 on the Billboard charts in 1958.
Let's Go Steady For The Summer
The Three G's
The Three G's were an American pop vocal trio. Their single "Let's Go Steady For The Summer" is their most remembered song.
Little Star
The Elegants
The Elegants were a doo-wop vocal group from Staten Island, New York. Their first single "Little Star" went straight to No. 1 on the Billboard Hot 100.
Lollipop
Ronald and Ruby
Ronald and Ruby were a pop vocal duo. Ruby was actually Beverly Ross, a prolific songwriter who penned hits for various artists.
Love Bug Crawl
Jimmy Edwards
Jimmy Edwards was a rockabilly singer and songwriter from Oklahoma. Despite his talent, he never quite achieved the same success as some of his contemporaries.
My Lucky Love
Doug Franklin
Doug Franklin was a rockabilly singer. His brief career was highlighted by his single "My Lucky Love".
Nine More Miles (The Faster – Faster Song)
Georgie Young
Georgie Young was a 50s artist who was able to create a unique sound that was memorable and loved by many fans of the era.
No Chemise, Please
Gerry Granahan
Granahan was not only a singer but also a songwriter who penned hits for other artists.
Nothin Shakin'
Eddie Fontaine
In addition to his singing career, Fontaine also enjoyed a career as an actor in film and television.
Oh Julie
Sammy Salvo
Despite only charting three songs in the late 1950s, Salvo remained a beloved figure in the pop music world.
Oh Julie
The Crescendos
The Crescendos, an American doo-wop group, are best known for their hit song which became synonymous with their name.
Old Macdonald
The Chargers
As a quintessential doo-wop group, The Chargers were one of many to successfully incorporate traditional tunes into their repertoire.
One Summer Night
The Danleers
The Danleers, formed in Brooklyn, were named after their manager, Danny Webb.
Op
The Honeycones
The Honeycones are a one-hit wonder, known for their specific song.
Over The Weekend
The Playboys
While many bands have taken the name The Playboys, this group from the 1950s had their own unique sound.
Philadelphia, U.S.A.
The Nu Tornados
The Nu Tornados were a short-lived American vocal group from Philadelphia, best known for their top 30 hit.
Prisoner's Song
Warren Storm
Warren Storm, known as the "Godfather of Swamp Pop," had a career that spanned seven decades in the music industry.
Rumble
Link Wray & His Ray Men
Link Wray is considered a pioneer of rock and roll guitar, with his use of power chords influencing many future artists.
Short Shorts
The Royal Teens
The Royal Teens were more than just a one-hit wonder; Bob Gaudio went on to become a member of The Four Seasons.
So Tough
Kuf-Linx
Kuf-Linx was an American doo-wop group from Los Angeles, they enjoyed some chart success in the late 1950s.
So Tough
The Original Casuals
The Original Casuals were a one-hit wonder with their successful track landing on the Billboard Hot 100.
Sugah Wooga
The Three Playmates
The Three Playmates were an all-female group who enjoyed success with their harmonious vocals and catchy tunes.
Summertime, Summertime
The Jamies
The Jamies were an American vocal group from Dorchester, Massachusetts, known for their summertime hit.
Susie Darlin'
Robin Luke
Robin Luke is not just a singer but also a professor of Marketing at Missouri State University.
Swinging Shepard Blues
Johnny Pate Quintet
Johnny Pate is a noted jazz bassist who became a successful arranger and composer in the pop, R&B, and jazz genres.
Tequila
The Champs
The Champs are a group that went on to have a successful instrumental career even after their initial hit.
The Blob
The Five Blobs
The Five Blobs was actually just one person – studio singer Bernie Knee. He was named as such due to the multi-tracking used to record the song.
The Freeze
Tony & Joe
Tony & Joe were a one-hit-wonder duo best known for their dance novelty records.
The Green Mosquito
The Tune Rockers
The Tune Rockers, a quintet from Portland, was known for their instrumental rock and roll music in the late '50s.
The Little Train (Die Kleine Bimmelbahn)
Marianne Vasel & Erich Storz
Marianne Vasel & Erich Storz were popular German singers who often performed duets in the 1950s.
The Purple People Eater
Sheb Wolley
Sheb Wolley was a character actor in numerous Western films and TV shows, besides his music career.
The Reason
The 5 Chanels
The 5 Chanels were a girl-group known for their vocal harmonies in the Doo-Wop genre.
The Things I Love
The Fidelity's
The Fidelity's were known for blending pop and doo-wop elements in their music.
This Is The Night
The Valiants
The Valiants, a vocal group from Los Angeles, were known for their doo-wop style.
To Know Him Is To Love Him
The Teddy Bears
The Teddy Bears were the starting point of legendary producer Phil Spector's career.
Torero
Renato Carosone
Renato Carosone was one of the most significant figures in the development of Neapolitan song and music in the post-war years.
You're The Greatest
Billy Scott
Billy Scott was a talented R&B singer who had a string of hits in the Beach Music genre, a regional variant of R&B popular in the Southeastern US.
Week End
The Kingsmen (NOT the "Louie Louie" Band)
This version of The Kingsmen was a pop vocal group from the late '50s, not to be confused with the garage rock band of the same name who did "Louie Louie".
Western Movies
The Olympics
The Olympics were an American doo-wop group, best known for their energetic R&B hits in the late 1950s and 1960s.
When The Boys Talk About The Girls
Valerie Carr
Valerie Carr, a rhythm and blues singer from New York, had a powerful voice that was equally adept at singing pop ballads and R&B.
Where The Blue Of The Night
Tommy Mara
Tommy Mara has been called one of the last great voices of his era, often compared to Frank Sinatra and Tony Bennett.
Willie and the Hand Jive
Johnny Otis Show
Johnny Otis, known as the "Godfather of Rhythm and Blues", was a songwriter, musician, producer, and talent scout who significantly influenced the development of R&B music.
Wishing For Your Love
The Voxpoppers
The Voxpoppers were a one-hit-wonder group with "Wishing for Your Love". Their name derived from the Latin phrase 'vox populi', meaning 'voice of the people'.
Witch Doctor
David Seville (David was also the creator of The Chipmunks)
David Seville, real name Ross Bagdasarian, not only had success with "Witch Doctor" but later created Alvin and the Chipmunks, one of the most successful children's music projects in history.
Woodchopper's Ball
Hutch Davie
Hutch Davie was a renowned bandleader and arranger, famous for his big band and swing interpretations.
Yea, Yea
The Kendall Sisters
The Kendall Sisters, a pop vocal duo from the 1950s, were known for their close harmony singing style.
Yellow Dog Blues
Joe Darensbourg
Joe Darensbourg was an acclaimed jazz clarinetist best known for his work with the Louis Armstrong All-Stars in the 1950s and 1960s.
You
The Aquatones
The Aquatones were a doo-wop group from the late 1950s known for their distinctive sound featuring Lynne Nixon's lead vocals surrounded by the male members' vocal harmonies.
You Cheated
The Shields
The Shields were an American doo-wop group from Los Angeles, California. Notably, singer Frankie Ervin and guitarist Johnny "Guitar" Watson were part of this group.