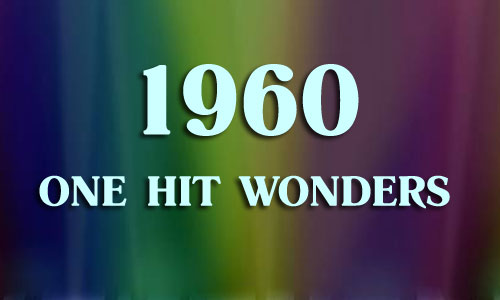 1960 One Hit Wonders & Artists Known For One Song

(Do The) Mashed Potatoes
Nat Kendrick and the Swans
The band was a pseudonym used by James Brown and his backing band, The Famous Flames, who were not credited on the recording due to contractual obligations.
A Teenager Feels It Too
Denny Reed
Reed was a one-hit wonder; however, he had a successful career as a disc jockey in the Southern California region for many years.
Alabam
Cowboy Copas
Born as Lloyd Estel Copas, he was a significant country music singer in the 1940s and 1950s but sadly was one of three country singers killed in the 1963 plane crash that also claimed the life of Patsy Cline.
Alley-Oop
Hollywood Argyles
This one-hit-wonder band was named after a street intersection in Los Angeles.
Alley-Oop
The Dyna-Sores
This cover version of "Alley Oop" didn't achieve the same level of success as the version by the Hollywood Argyles. The Dyna-Sores remained relatively obscure.
Angel Baby
Rosie and the Originals
Rosie Hamlin, the lead singer, wrote "Angel Baby" when she was just 15 years old. John Lennon once cited this song as one of his favorites.
Angela Jones
Johnny Ferguson
This was Ferguson's only hit, but he continued to write songs for other artists throughout his career.
Bad Boy
Marty Wilde
Wilde is the father of pop singer Kim Wilde, who also had a successful music career in the 1980s.
Ballad of the Alamo
Bud and Travis
The folk duo Bud Dashiell and Travis Edmonson were known for their intricate guitar playing and tight vocal harmonies.
Banjo Boy
Jan and Kjeld
Danish duo Jan & Kjeld were brothers who gained popularity through their banjo skills.
Barbara
The Temptations
These Temptations were a white doo-wop group from New York and are not connected to the famous Motown Temptations.
Beautiful Obsession
Sir Chauncey
Sir Chauncey was an alias of renowned conductor, arranger, and composer Charles Randolph Grean, known for his work in pop, easy listening, and novelty songs.
Biology
Danny Valentino
Danny Valentino had a brief recording career, with "Biology" being his only charting single.
Blue Velvet
The Statues
The Statues were a Nashville-based trio, and their version of "Blue Velvet" was a top 100 hit in 1960.
Brontosaurus Stomp
The Piltdown Men
The Piltdown Men were named after the famous archaeological hoax, the Piltdown Man.
Clap Your Hands
The Beau-Marks
The Beau-Marks were a Canadian rock group and were one of the first Canadian rock bands to have a Top 40 hit in the United States.
Comin' Down With Love
Mel Gadson
Despite releasing several singles, Mel Gadson was a singer and drummer who is best known for "Comin' Down with Love."
Darling Lorraine
The Knockouts
The Knockouts were a doo-wop group from New Jersey, and "Darling Lorraine" was their only hit single.
Diamonds and Pearls
The Paradons
The Paradons were a doo-wop group from Bakersfield, California, and "Diamonds and Pearls" was their only hit.
Forever
Billy Walker
Known as the "Tall Texan," Walker was a prolific country singer with six decades of music under his belt.
Forever
The Little Dippers
The Little Dippers were a studio vocal group formed specifically to record the song "Forever," which became a Top 10 hit.
Gonzo
James Booker
James Booker, nicknamed "the Piano Prince of New Orleans," was known for his unique fusion of jazz, gospel, and rhythm and blues.
Harlem Nocturne
The Viscounts
The Viscounts, a New Jersey based quintet, had their greatest success with "Harlem Nocturne," a song that became a saxophone standard.
Heartbreak (It's Hurtin' Me)
Jon Thomas
Thomas was a piano player and bandleader, primarily known for this song which was a minor hit in 1960.
He'll Have To Stay
Jeanne Black
This response to Jim Reeves' "He'll Have to Go" was Black's biggest hit, reaching #4 on the country chart.
I Don't Know What It Is
The Bluenotes
Not to be confused with Harold Melvin's Blue Notes, this group was a doo-wop band from the 1960s.
If I Had A Girl
Rod Lauren
Rod Lauren was an actor and singer, best known for this Top 40 hit. Later, he had a substantial acting career in both film and television.
Just a Little Bit
Rosco Gordon
Rosco Gordon was one of the pioneers of the Memphis blues style and helped to popularize the distinctive rhythm that would become known as ska in Jamaica.
Kookie Little Paradise
The Tree Swingers
This band was a one-hit wonder, with their only charting single being "Kookie Little Paradise."
Last Chance
Collay and The Satellites
This group was a one-hit wonder, with their only charting single being "Last Chance."
Let The Little Girl Dance
Billy Bland
Bland had a hit with this song in 1960, but otherwise had a relatively obscure career as a solo artist.
Let's Think About Living
Bob Luman
Bob Luman was a successful country and rockabilly singer.
Look For A Star
Garry Miles
Garry Miles was actually Buzz Cason, an accomplished songwriter who penned hits for artists like the Beatles and Gloria Estefan.
Love You So
Ron Holden
Holden had a hit with this song in 1960 and continued to perform in the Pacific Northwest for many years.
Mister Lonely
The Videls
The Videls were a Rhode Island doo-wop group who had their greatest success with this song.
Mojo Workout
Larry Bright
Bright was a talented musician who was best known for his unique blend of rhythm and blues, rock and roll, and surf music.
Money (That's What I Want)
Barrett Strong
Strong was one of the first artists to record a hit for Motown, although he eventually had more success as a songwriter.
Mountain Of Love
Harold Dorman
Dorman wrote and recorded this song, which was later covered by artists like Johnny Rivers and Ronnie Dove.
Mr. Custer
Larry Verne
This novelty song was Verne's biggest hit, topping the Billboard Hot 100 in 1960.
Mule Skinner Blues
The Fendermen
This rockabilly duo is best known for their cover of this country blues standard.
My Little Marine
Jamie Horton
Jamie Horton, born as Selma Louise Freudenberg, was a female pop singer active during the late 1950s and early 1960s.
National City
Joiner, Arkansas Junior H. S. Band
Despite the band name, this instrumental rock-n-roll song was actually performed by studio musicians.
Night Theme
The Mark II
This instrumental group had their only hit with "Night Theme," which became a popular song in the Pittsburgh area.
Push Push
Austin Taylor
Austin Taylor had a few minor hits in the early 1960s, including this song.
Rambling
The Ramblers
The Ramblers were a Dutch band that had a long career, primarily as a dance band, from the 1930s to the 1970s.
Ramona
The Blue Diamonds
This Dutch duo, consisting of brothers Ruud and Riem de Wolff, found international success with their harmonious renditions of popular rock and roll hits.
Rockin' Red Wing
Sammy Masters
Masters was a rockabilly artist who had minor success in the late 1950s and early 1960s.
Ruby Duby Du
Tobin Mathews and Company
Tobin Mathews was a prolific arranger and producer, primarily in the Chicago area.
Sandy
Larry Hall
Hall was a one-hit wonder, best known for this song, which reached #15 on the Billboard Hot 100.
Secret of Love
Elton Anderson
Anderson was a Louisiana-based R&B singer who recorded for a number of labels in the 1950s and 1960s.
She's Just A Whole Lot Like You
Hank Thompson
Hank Thompson was a successful country music artist, known for his Western swing influences.
Shortnin' Bread
Paul Chaplain and the Emeralds
This group's version of "Shortnin' Bread" is one of the many rock 'n roll covers of this traditional song.
Someone Loves You, Joe
The Singing Belles
This female group from New York had a brief career in the early 1960s.
Stay
Maurice Williams and the Zodiacs
Maurice Williams holds the record for the shortest single ("Stay") to ever reach #1 on the Billboard Hot 100.
Stranger From Durango
Richie Allen
Richie Allen was an alias of surf rock guitarist Richard Podolor, who also had a successful career as a producer and songwriter.
Suddenly
Micky DeMatteo
DeMatteo is best known for his contribution to the 1960 novelty song "The Mummy" under the pseudonym Bob McFadden.
Teenage Hayride
Tender Slim
Tender Slim, real name Joe Richardson, was a singer known for his unique blend of blues and rockabilly.
The Big Time Spender
Cornbread and Biscuits
Cornbread and Biscuits were a novelty act, known for their humorous take on popular music trends.
The Madison
Al Brown's Tunetoppers
Al Brown was a band leader who is best known for this dance craze instrumental.
The Yen Yet Song
Gary Cane
Gary Cane was an alias used by pop singer Gary Stites for this novelty single.
Theme From The Sundowners
Felix Slatkin
Slatkin was a renowned classical conductor and violinist who also had some success as a pop arranger.
There's a Moon Out Tonight
The Capris
The Capris were a doo-wop group from Queens, New York, known for this song, which was a top 5 hit in 1961.
There's a Star Spangled Banner Waving # 2 (The Ballad Of Francis Powers)
Red River Dave
Dave McEnery was a country musician known for his topical songs about current events.
There's Something On Your Mind
Bobby Marchan
Marchan was a New Orleans R&B singer who also performed in drag during the 1950s.
Tracey's Theme
Spencer Ross
Ross was a New York City disc jockey who had a hit with this instrumental theme from a television show.
Yogi
The Ivy Three
The Ivy Three was a short-lived doo-wop group made up of students from Ivy League universities.