1964's Top 100 Hot Pop Songs & Music Hits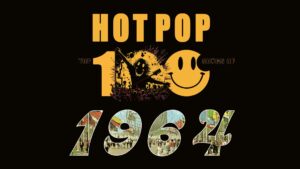 1964's Top 100 Hot Pop Songs & Music Hits
1. Twist and Shout – Beatles
Written By Phil Medley and Bert Russell, this reached #2 on the Billboard Charts, and was the highest ranking song for The Beatles that wasn't written by a member of the band.
2. Under The Boardwalk – The Drifters
Lead singer Rudy Lewis died the night before the recording session, and Johnny Moore did the lead vocal for this, written by Artie Resnick and Kenny Young.
3. I Saw Her Standing There – Beatles
This was the B-SIDE for 'I Want To Hold Your Hand' becoming more popular over time than the A-SIDE, and it reached #14 on the Pop Charts.
4. I'm Into Something Good – Herman's Hermits
Released in late 1964, this song helped kickstart The British Invasion, and has been used in several films and television shows over the past few decades. The band name was actually derived from cartoon character Sherman, Mr. Peabody's friend.
5. L.O.V.E. – Nat "King" Cole
This was one Nat's final releases before his death on February 15, 1965, but he did score a Top 20 hit with a remastered duet of 'Unforgettable' with his daughter Natalie in 1991.
6. I Get Around – Beach Boys
The First #1 Hit for the Boys: Brian, Dennis and Carl Wilson, Mike Love and Al Jardine.
7. Rag Doll – The Four Seasons
Although the 4 Seasons maintained a Top Ten presence through 1967, this was their last #1 song until 1975/6's 'December, 1963 (Oh What A Night)'.
8. My Guy – Mary Wells
Mary was the first Motown Star, and this was her first (and only) #1 Hit. She also had an album of Beatles' hits.
9. Fun, Fun, Fun – Beach Boys
The band had members join/quit and rejoin over the years, including: Bruce Johnston, Glen Campbell , David Marks, Ricky Fataar and Blondie Chaplin.
10. I Want To Hold Your Hand – The Beatles
The Beatle's first #1 Hit, and the Biggest Hit of the Year, released January 18, 1964.
11. The Leader Of The Pack – Shangri-las
Mary Weiss, Elizabeth "Betty" Weiss. Marguerite "Marge" Ganser and Mary Ann Ganser were the Shangri-Las, named after a Queens, New York restaurant.
12. Chapel Of Love – Dixie Cups
#1 for 3 weeks in 1964, this is probably the best-known Wedding Song of the early rock era.
13. A Hard Day's Night – The Beatles
This was written for the soundtrack of the same name, and fifth #1 Hit (out of 6) for The Beatles in 1964.
14. Dancing In The Street – Martha and the Vandellas
Annette Beard, Rosalind Ashford and Gloria Williams started the Vandellas, and Martha Reeves later joined the trio. Gloria left, and the now-named 'Martha and the Vandellas' signed on with Motown. They never had a #1 Hit, but this reached #2 and stayed there for two weeks.
15. I Feel Fine – The Beatles
The sixth #1 Hit for the band in 1964. The FLIP-SIDE was 'She's a Woman' which reached #4 on the Billboard Pop Chart.
16. Walk On By – Dionne Warwick
Marie Dionn Warwick (born on December 12, 1940) became a legend primarily singing songs written by Burt Bacharach and Hal David, but she never reached Billboard's #1 spot until 1974. Her career did include 69 singles making the Top 100.
17. Love Me Do – The Beatles
#1 Hit number four four in 1965 for The Fab Four. The B-SIDE was P.S. I Love You, whiched peaked at #10 itself.
18. Where Did Our Love Go – Supremes
The Primettes – Florence Ballard, Mary Wilson, Diana Ross, and Betty McGlown got together in Detroit in 1959, but Betty was long gone when the group signed with Motown, and this was the Trio's (Flo, Mary and Diana) first #1 Hit.
19. Time is on My Side – Rolling Stones
The Rolling Stones road in with the British Invasion, but it wasn't until 1965 when the songs by Mick Jaggar and Keith Richards worked their way to the top of the US Billboard Charts.
20. She Loves You – The Beatles
This is the song that kept Beatlemania going strong, released just a week after 'I Want To Hold Your Hand'.
21. Oh, Pretty Woman – Roy Orbison and the Candy Men
Roy Kelton Orbison (April 23, 1936 – December 6, 1988) had incredible range, and it mus have impressed a lot of people, because it held the #1 spot for three weeks in 1964. A difficult thing to do when Motown, The Beatles and The Beach Boys were ruling the airwaves.
22. California Sun – Rivieras
Henry Bernard Glover (May 21, 1921 – April 7, 1991) wrote the song for the group. He also co-wrote Peppermint Twist for Joey Dee and the Starlighters. AS a music executive, Glover worked with country, blues, R&B, pop, rock, and jazz musicians.
23. People – Barbra Streisand
Every great artist has a first hit. This was Barbra's, reaching #5 on Billboard. She won the Grammy for Pop Female Vocal for this too.
24. The Girl From Ipanema – Stan Getz & Astrud Gilberto
Heloísa Eneida Menezes Paes Pinto – 'Helô Pinheiro' (born July 7, 1945) was the girl the song was about. The song is probably the iconic vocal jazz recording of the 1960s.
25. Do Wah Diddy Diddy – Manfred Mann
Named after their keyboardist, Manfred Mann (born Manfred Lubowitz), this was the third British Invasion non-Beatles #1 Hit. They hit #1 again as Manfred Mann's Earth Band in 1976, with 'Blinded By The Light', written by Bruce Springsteen.
26. Can't Buy Me Love – The Beatles
The third #1 Hit for Paul, John, Ringo and George of 1964.
Q: What was the second Biggest Hit of 1964?
A: Can't Buy Me Love, by The Beatles
27. You Really Got Me – The Kinks
The term 'British Invasion' was named by CBS newscaster Walter Cronkite to describe the Beatles' arrival in the United States and the outbreak of Beatlemania. The Kinks – Ray and Ray Davies, Mick Avory and Pete Quaife were part of that invasion.
28. Baby Love – Supremes
#1 for four weeks, and written by Motown's Dozier/Holland/Holland.
29. Pink Panther Theme – Henry Mancini
From the film of the same name (and later its sequels and cartoon series) won the Grammy for Best Pop Instrumental.
30. The Way You Do The Things You Do – Temptations
The quintet included David Ruffin, Melvin Franklin, Paul Williams, Otis Williams and Eddie Kendricks. This was the group's first Top 20 Hit, reaching #11. We could also call it their ONLY #11 Hit.
31. Baby I Need Your Loving – Four Tops
Originally called The Four Aims, lead singer Levi Stubbs, and Abdul 'Duke' Fakir, Renaldo 'Obie' Benson and Lawrence Payton. The team of Holland/Dozier/Holland wrote this and many other Motown hits through the 1960s.
32. The Best Part of Breakin' Up – The Ronettes
Veronica Bennett (Ronnie Spector), sister Estelle Bennett and their cousin Nedra Talley made up the trio. The song was co-written and produced by Phil Spector. In 1982, Ronnie (Roni) Griffith had a dance mix of the song that was popular in nightclubs. In 1986, Ronnie Spector scored a backing vocal hit with Eddie Money's 'Take Me Home Tonight'.
33. Don't Let The Sun Catch You Crying – Gerry and the Pacemakers
Entering the Pop Charts in April of 1964, Gerry and The Pacemakers were on the front line of the British Invasion. Like The Beatles, they were managed by Brian Epstein and produced/recorded by George Martin.
34. Come See About Me – The Supremes
The third #1 in a row for the group (the next two, in early 1965 made it 5 in a row) also peaked at the Top Spot. The success of (and attention to) Diana Ross, Mary Wilson and Flo Ballard are probably the reason Martha, her Vandellas and Mary Wells didn't fare as well later in the 1960s.
35. Goin' Out Of My Head – Little Anthony and the Imperials
'Little' Anthony Gourdine and the Imperials had a better 1964 & 1965 than most other old school R&B groups.
36. Last Kiss – J. Frank Wilson & the Cavaliers
Wayne Cochran, The White Knight of Soul wrote this Teenage Death Song. Pearl Jam released a version in 1999. Both versions peaked at #2 on The Charts.
37. Dawn (Go Away) – The 4 Seasons
Written by Bob Gaudio and Sindy Linzer, it reached # 3 on the charts, blocked by 'I Want to Hold Your Hand' and 'She Loves You' – both by The Beatles.
38. You Don't Own Me – Lesley Gore
Released in late 1963, it paved the way for 4 Top 40 Hits for Lesley in 1964. Her brother Michael, with lyricist Dean Pitchford, won the Oscar for 'Best Original Song' for the film 'Fame'.
39. Bits and Pieces – Dave Clark Five
They started out as The Dave Clark Quintet in 1957, but Dave Clark Five just rolled off the tongue better. The Dave Clark Five, The Kinks and The Who were prototypical 'Mod' artists. Artists like the Rolling Stones, The Animals, Eddie Cochran and Bo Diddly represented the 'Rockers' musically. It was a big thing in 1964, with gangfights and riots.
40. She's Not There – The Zombies
The Zombies had a string of minor hits in late 1964, and into 1965. This was their biggest hit.
41. The Little Old Lady From Pasadena – Jan & Dean
William Jan Berry (April 3, 1941 – March 26, 2004) and Dean Ormsby Torrence (born March 10, 1940) had several minor hits 1958-1962, but hit the top of the charts with 1963's 'Surf City' written by Jan with the help of Beach Boy Brian Wilson. They were pioneers in the California Surf Sound.
42. It's All Over Now – Rolling Stones
Written by Bobby and Shirley Womack; the early Stones' catalog included a mix of modern and older R&B and Blues.
43. The Shoop Shoop Song (It's In His Kiss) – Betty Everett
Betty Everett (November 23, 1939 – August 19, 2001) had several hits in 1964, and a mini-comeback in 1969. Dozens of people recorded The Shoop Shoop Song, including Cher, The Nylons and Vonda Shepard.
44. Please Please Me – The Beatles
The FLIP-SIDE of this single was 'From Me To You' which didn't even crack the Top 100 when it was relased in August of 1963.
45. Don't Worry Baby – Beach Boys
This was the FLIP-SIDE of 'I Get Around' and managed to crack the Top 25 as the second side of the single.
46. All My Loving – The Beatles
This was one of the band's earliest recordings, along with 'This Boy', 'If I Fell', I'm Happy Just To Dance With You', 'Do You Want To Know a Secret?' and 'I Should Have Known Better' that are each more popular today than their Billboard rank at the time might have indicated. Frank Sinatra, Louie Armstrong and Elvis Presley are the only other Pop Artists to match such longevity to their music.
47. A Summer Song – Chad & Jeremy
English Duo (born David Stuart Chadwick, born December 10, 1941) and Jeremy Clyde (Michael Thomas Jeremy Clyde (born March 22, 1941). This was their biggest hit, but they stayed busy through the 1960s – Stuart voiced Flaps the vulture in Disney's 1967 film The Jungle Book and the pair appeared in two 1966 episodes of the Batman TV series – 'The Cat's Meow'and 'The Bat's Kow Tow' (it was a two part episode).
48. Remember (Walkin' In The Sand) – The Shangri-Las
The girls were still in high school while they had two major hits (This and 'Leader of the Pack'). They were also spokespeople for Revlon's line of Natural Wonder Make-Up.
49. Java – Al Hirt
Alois Maxwell 'Al' Hirt (November 7, 1922 – April 27, 1999) This song won the Grammy for Pop Instrumental, and was his biggest hit, although many more people know his fast-paced 'Green Hornet' TV Theme.
50. No Particular Place To Go – Chuck Berry
Charles Edward Anderson "Chuck" Berry (born October 18, 1926) had his last Top Ten Hit (#10) with this song, until he hit #1 for the first time in his career with 1972's Novelty/Pop 'My Ding-A-Ling'.
51. Please, Please, Please – James Brown
Originally released in 1961, it was not his biggest hit, but it could be considered his 'Signature Song.' Called the 'Hardest Working Man in Show Business' James had significant radio, sales and chart hits between 1960 and 1976.
52. You Never Can Tell – Chuck Berry
This Top 20 hit (#14) is probably best known as the song in the 1994 film, Pulp Fiction, when Uma Thurman and John Travolta danced together in the Jack Rabbit Slims Twist Contest.
53. Glad All Over – Dave Clark Five
Written by Dave Clark and Mike Smith. The other members were Lenny Davidson, Rick Huxley and Denis Payton.
54. Dead Man's Curve – Jan & Dean
Surf, Cars, Vocal Harmonies, and references to Death were very popular in 1964. 'Won't come back from Dead Man's Curve'
55. What Kind of Fool (Do You Think I Am) – The Tams
The band formed in 1960, and took their name from the 'Tam o'shanter' hats they wore. Members included: Robert Lee Smith, Little Red, Joseph Pope, Horace Key, Floyd Ashton and Charles Pope.
56. (Just Like) Romeo and Juliet – The Reflections
Romeo and Juliet was their biggest hit for the Detroit band, reaching #6. Group members included: Tony Micale, Phil Castrodale, Dan Bennie, Ray Steinberg, John Dean and Frank Amodeo
57. The House Of The Rising Sun – The Animals
The second British Invasion non-Beatles #1 Hit. Like the Rolling Stones, The Animals, led by lead singer Eric Burdon, were heavily influenced by the Blues and R&B.
58. Stay – Four Seasons
Originally performed (and written by) Maurice Williams, 'Stay' has become a modern Pop Standard.
59. Needles and Pins – The Searchers
Another band at the front of the British Invasion, they had a bigger hit later in 1964, a remake of The Clovers' 'Love Potion #9'. It was so late in 1964, that we listed it in 1965's chart.
60. Everybody Loves Somebody – Dean Martin
It wasn't ALL Motown, The Beatles and British Invasion in 1964. Rat Packer Dean Paul Martin (born Dino Paul Crocetti; June 7, 1917 – December 25, 1995) managed to get a #1 Hit with this, which is considered by many one of his two 'Signature Songs.' 1953's 'That's Amore' was his other one.
61. Too Late To Turn Back Now – Brook Benton
Brook Benton (September 19, 1931 – April 9, 1988) was born Benjamin Franklin Peay. Today, he can be called the most under-appreciated soul singer of the 1960s.
62. It's Over – Roy Orbison
Billboard lists Roy as the #14 Artist of the 1960s. That doesn't count his time in the 80s Supergroup, The Traveling Wilburys.
63. Baby I Love You – The Ronettes
"That's it! That's it! That's the voice I've been looking for!" – Phil Spector, when he heard Ronnie Bennett. He had to sign the whole (barely of age) band to get Ronnie too. He married Ronnie shortly thereafter.
64. Hello, Dolly – Louis Armstrong
Stachmo, Louis Armstrong (August 4, 1901 – July 6, 1971) earned his first Top Ten Hit 'Muskrat Ramble' in 1926. He cracked the Top 40 for the final time in 1988, with his 1968 version of 'What A Wonderful World.' 'Hello Dolly' has second #1 Hit.
65. Hippy Hippy Shake – Swingin' Blue Jeans
You know the story. 1964. British Invasion. Band from Liverpool. Mersey Sound. This was the groups biggest hit.
66. The Nitty Gritty – Shirley Ellis
Shirley Marie O'Garra (January, 19 1929 – October 5, 2005) Some listings say her name was 'Shirley Elliston' – her married name. Her biggest hits actually came out in 1965 – 'The Clapping Song' and 'The Name Game'. All three had dance steps/hand motions or were clever sing-alongs, interactive with the teens of the day.
67. That Lucky Old Sun – Ray Charles
Written by Beasley Smith and words by Haven Gillespie in 1949, it was the biggest hit for Frankie Laine. Like every other song Ray adapted, he made it his own.
68. Memphis – Johnny Rivers
Chuck Berry wrote Memphis a few years earlier, but Johnny Rivers (born John Henry Ramistella on November 7, 1942) earned a #2 Chart position with it.
69. Surfin' Bird – The Trashmen
The song was a combination of two hits by the Rivingtons – 'The Bird's the Word' and 'Papa-Oom-Mow-Mow', and to my ears, the greatest remix of two semi-hits to crack Billboard's Top 5 of all time. Also, used several times in TV's 'Family Guy'.
70. Harlem Shuffle – Bob & Earl
The opening riff was also used in House of Pain's Jump Around. Well known through dancefloor and jukebox play, this was the duo's biggest hit, reaching #44 on Billboard.
71. Tall Cool One – The Wailers
First released in 1959 when it reached #36. This time it reached #38. Robert Plant did slightly better, with Jimmy Page, with his version in 1988 (#25). These Wailers had nothing to do with Bob Marley's group
72. Wives And Lovers – Jack Jones
John Allan Jones (born January 14, 1938) This was Jacks' biggest hit, but he was most known for singing TV's Love Boat Theme.
73. Quicksand – Martha and the Vandellas
Released in late 1963 and written by Motown's Lamont Dozier/ Brain Holland/Eddie Holland. Martha originally joined Motown as a secretary after missing an audition there.
74. Suspicion – Terry Stafford
Terry LaVerne Stafford (November 22, 1941 – March 17, 1996) sounded suspiciously like Elvis Presley. Looking for some trivia? On April 4, 1964, when the Beatles held down the top five spots, #6 was Suspicion by Terry Stafford.
75. Baby Baby All the Time – The Superbs
'There are a million stories in the big city and this is mine'. The group included Eleanor Green, Bobby Swayne, Ronnie Cook, Gordy Harmon and Walter White. Their stage outfits were made of leather.
76. A World Without Love – Peter & Gordon
Peter Asher and Gordon Waller had the he first British Invasion non-Beatles #1 Hit, although John Lennon and Paul McCartney wrote 'A World Without Love'.
77. Viva Las Vegas – Elvis Presley
This was actually the B-SIDE to the single 'What'd I Say' – Elvis' take on the Ray Charles hit.
78. That's The Way Boys Are – Lesley Gore
In addition to her singing career, Lesley later played henchwoman Pussycat, working with Julie Newmar's Catwoman in confounding Batman and Robin in the 1967 TV show.
79. I Only Want To Be With You – Dusty Springfield
Dusty (Mary Isobel Catherine Bernadette O'Brien, April 16, 1939 – March 2, 1999) was England's first Pop Diva. Other artists covered the song, including The Bay City Rollers. Dusty's biggest US Hit was with the Pet Shop Boys' 'What Have I Done To Deserve This' in 1987/8.
79.1 To have a truly complete collection of 'Music Hits of the 60s You Need To Have To Make Your Collection Complete' you should also have Dusty Springfield's 'Wishin' and Hopin'.'
80. G.T.O. – Ronny & the Daytonas
John 'Bucky' Wilkin was 'Ronny' and other members included: Paul Jensen, Thomas Ramey, Lynn Williams, Lee Kraft. Gran Turismo Omologato is Italian for 'Grand Touring Homologated' but in this case, the group referred to The Pontiac G.T.O. – 'Pontiac Grand Tempest Option'
81. Saturday Night At The Movies – The Drifters
This was the final Top 20 Hit for The Drifters, peaking at #18. Written by Barry Mann and Cynthia Weil, with Johnny Moore doing lead vocals.
82. Sie Liebt Dich (She Loves You) – Die Beatles
Peaked at #97 on the US Billboard Charts, but it always brings a smile to your average Beatles' fan.
83. When I Grow Up (To Be A Man) – The Beach Boys
The Pendletones changed their name to 'The Beach Boys' about the time they signed with the record label.

84. Little Honda – The Hondells
Written by Brian Wilson, the primary creative force behind The Beach Boys. He was generous with his creativity, helping make him one of the top songwriters of 1964.
85. You'll Never Get To Heaven If You Break My Heart – Dionne Warwick
Dionne's cousin was Whitney Houston, and her aunt is vocalist Cissy Houston (Whitney's mother).
86. Popsicles and Icicles – The Murmaids
Sisters Carol and Terry Fischer; and Sally Gordon made up the one-hit-wonder trio. 'Dad' Carl Fischer was Frankie Laine's musical director and arranger. This was one of the last American Group hits prior to the British Invasion. David Gates, future leader of 70s group Bread, wrote the song.
87. La La La La La – The Blendells
Written by Clarence Paul, it barely qualified as a 'hit' but the strength of the song kept the band touring. They could be called the greatest Latin Rock Band of 1964.
88. Needle in a Haystack – The Velvelettes
They were a mildly successful part of the growing Motown sound, but by 1967 the group had faded. Their 1965 near-hit 'He Was Really Saying Something' was also recorded by Bananarama in 1982.
89. Come A Little Bit Closer – Jay & The Americans
David Black replaced lead vocalist John ' Jay' Traynor,changing his first name to 'Jay' so they wouldn't have to change the name of the group.

90. Mr. Lonely – Bobby Vinton
Stanley Robert "Bobby" Vinton, Jr. (born April 16, 1935) had his final #1 with Mr. Lonely in 1964. Akon used the melody to make a #4 Hit in 2005.
91. Funny Girl – Barbra Streisand
Barbara Joan Streisand was born April 24, 1942. She also appeared on Broadway in 1964 with an acclaimed performance as entertainer Fanny Brice in 'Funny Girl' at the Winter Garden Theatre.
92. Outer Limits (also 'Out of Limits') – The Marketts
Ironically, the opening riff from Rod Sterling's 'Twilight Zone' TV Theme was used in this track, which referred by title to a similar show, The Outer Limits.
93. Anyone Who Had a Heart – Dionne Warwick
Dionn added the 'e' to make her name Dionne because her astrologer told it it would bring good luck, in the early 1970s.
94. Bread and Butter – The Newbeats
The Newbeats were Larry Henley, Dean Mathis and Mark Mathis. Reaching #2 on Billboard, it is also an early example of Bubblegum Pop.
95. I Wanna Love Him So Bad – The Jelly Beans
The Jelly Beans were Maxine Herbert, Alma Brewer, Diane Taylor, Elyse Herbert and Charles Thomas.
96. Stardust – Nino Tempo and April Stevens
Brother and sister team of Nino Tempo & April Stevens (born Antonino and Carol LoTempio) recorded this 1927 song by Hoagy Carmichael (with lyrics added in 1929 by Mitchell Parish.) This was the final 'pop' version of the song. Prior to the 'Rock Era' of 1955 through today, 'Stardust' was the most recorded and well known song in all of Popular Music.
97. Little Children – Billy J. Kramer and the Dakotas
Billy J. Kramer was born William Howard Ashton on August 19, 1943. The FLIP-SIDE of the single was also a hit – 'Bad To Me' – written by John Lennon and Paul McCartney. Both Billy and The Beatles were managed by Brian Epstein.
98. Little Honda – The Beach Boys
This was actually the B-SIDE for 'Wendy' and the Brian Wilson song was a bigger hit for The Hondells.
99. Ringo – Lorne Green
Lyon Himan Green (February 12, 1915 – September 11, 1987) Lorne was best known as an actor, initially in TV's Gunsmoke and later Battlestar Galactica. This song has nothing to do with Ringo Starr.
100. My Boy Lollipop – Millie Small
Millicent Dolly May 'Millie' Small was born 6 October 1946. 'Lollipop' is another example of early Bubblegum Pop.