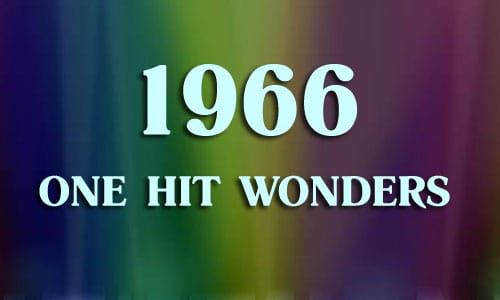 1966 One Hit Wonders & Artists Known For One Song
96 Tears
? and the Mysterians
This American garage rock band was formed in 1962 and is often considered the first Latino rock group to have a major hit single in the United States.
Any Way That You Want Me
Liverpool Five
Despite the name, the Liverpool Five was actually formed in London, not Liverpool. They originally named themselves the Steve Laine Combo but changed their name to appeal to the Beatlemania craze.
Barefootin
Robert Parker
Before his solo career, Robert Parker was a member of the band "The Blue Diamonds" with Edgar Blanchard. He also worked as a sideman with Professor Longhair.
Batman Theme
Neal Hefti
Apart from being a composer, Hefti was also a trumpeter and arranger who began writing big band arrangements at the young age of 19.
Black is Black
Los Bravos
Los Bravos was a Spanish beat group, best known as being the first Spanish rock band to have an international hit single.
But It's Alright
J.J. Jackson
J.J. Jackson is a soul/R&B singer-songwriter famous in the 1960s for his work as a television personality. He was one of the first African American disc jockeys in New York radio.
Come Share the Good Times With Me
Julie Monday
Not much information can be found about Julie Monday, which is indicative of the many one-hit wonders that populated the music industry in the 1960s.
Cool Jerk
The Capitols
Despite their success with "Cool Jerk", The Capitols never had another major hit, making them a classic example of a one-hit wonder.
Day For Decision
Johnny Sea
Johnny Sea was a country singer known for his deep, resonant voice. His real name was John Seay and he used a variant of his name for his stage persona.
Day Tripper
The Vontastics
The Vontastics were an American soul group from Chicago, formed in 1962. They originally named themselves The Vontastic Four, but later shortened it.
Dear Mrs. Applebee
David Garrick
Philip Darrell Core (12 September 1945 – 23 August 2013), known professionally as David Garrick, was an English singer who was best known for his 1966 pop hit single, "Dear Mrs. Applebee".
Dirty Water
The Standells
Despite their name and the title of their biggest hit, The Standells are not from Boston, but Los Angeles. The title of their hit, "Dirty Water", is a reference to the Charles River in Boston.
Don't Touch Me
Jeannie Seely
In addition to her singing career, Jeannie Seely has also worked as a successful songwriter, with one of her songs being recorded by none other than Merle Haggard.
Double Shot of My Baby's Love
Swingin' Medallions
The Swingin' Medallions were formed at the University of South Carolina in the early 1960s and are known for their high-energy performances.
Elvira
Dallas Frazier
Dallas Frazier started his career at the age of 14 as the "Young Sheriff" on the Ferlin Husky TV show. He later transitioned into songwriting and had many hits in the country genre.
Every Day And Every Night
The Trolls
The Trolls were an American garage rock band from Pueblo, Colorado who had regional success in the mid-1960s.
Follow Me
Lyme & Cybelle
Cybelle was actually a pseudonym for a young Warren Zevon, who would later gain fame as a solo artist.
Girl I Got News For You
The Birdwatchers
The Birdwatchers, originally from Florida, were part of the "garage rock" movement of the mid-1960s. They were one of the most successful rock groups from the Miami area.
Gloria
Shadows of Night
The Shadows of Night are from the Chicago suburbs and were originally called The Shadows, but added "of Knight" to avoid confusion with the UK band of the same name.
Greetings
The Monitors
The Monitors were a Motown soul vocal group. Member Richard Street later joined The Temptations and was with them for over twenty years.
Hey Joe
The Leaves
The Leaves were an American garage rock band formed in California in 1963. They are best known for their version of the song "Hey Joe", which was a hit in 1966.
Hi Hi Hazel
Gary & The Hornets
Gary and The Hornets were a sibling trio who got their start when they won a local "battle of the bands" contest in their native Ohio.
Hide & Seek
The Sheep
The Sheep were a garage rock band from New York. Not much is known about them as they were largely overshadowed by the British Invasion bands of the time.
History Repeats Itself
Buddy Starcher
Buddy Starcher was a country singer, who also had a successful career as a TV show host in West Virginia.
I Can't Grow Peaches On a Cherry Tree
Just Us
The band Just Us was actually a duo, consisting of singer-songwriters Tommy Michaels and Bobby Lance.
I Fought The Law
Bobby Fuller Four
The Bobby Fuller Four was a popular rock band during the mid-1960s. Tragically, Bobby Fuller was found dead in a parked automobile in 1966.
I Got To Handle It
The Unknowns
The Unknowns were a band from Nashville, Tennessee, and was one of the first bands managed by legendary country music producer Bob Johnston.
I Love Onions
Susan Christie
Susan Christie was a one-hit wonder with "I Love Onions", but her career spanned a variety of roles, from singer to songwriter to TV hostess.
I Put A Spell On You
Alan Price Set
Alan Price was originally part of the band The Animals before leaving to form the Alan Price Set.
I Spy
Jamo Thomas
Jamo Thomas was an American R&B singer who was born in the Bahamas. He recorded a number of singles, with "I Spy" being his most successful.
I'll Love You Forever
The Holidays
The Holidays were an American R&B group from Pittsburgh. After their successful career in the 60s, they disbanded but many of their songs are still popular in the Northern Soul circuit.
I'm A Nut
Leroy Pullins
Leroy Pullins was a country and novelty song singer who was often compared to Roger Miller due to his humor-infused style.
It's A Happening
The Magic Mushrooms
The Magic Mushrooms were a psychedelic rock band that formed at the University of Pennsylvania in the mid-1960s.
It's Good News Week
Hedgehoppers Anonymous
Hedgehoppers Anonymous was a British beat band. Their name was an amalgamation of their original name "The Hedgehoppers" (because they were "always trying to get somewhere"), and "Anonymous" added by their manager Jonathan King.
Let's Call It A Day Girl
The Razor's Edge
The Razor's Edge was a garage rock band from the mid-1960s who came from the New York City area. They were notable for their mix of folk rock and proto-punk influences.
Little Girl
Syndicate of Sound
Syndicate of Sound was a garage band from San Jose, California, that had a number of regional hits in the San Francisco Bay area.
Lonely Solider
Mike Williams
Mike Williams was a soul and R&B singer from the 1960s, most known for his powerful vocal performances.
Love Makes The World Go Around
Deon Jackson
Deon Jackson was an American soul singer and songwriter best known for his hit songs of the mid-1960s. He moved to England in the 1980s where he performed in clubs and on cruise ships.
Lullaby Of Love
The Poppies
The Poppies was a girl group trio from the 1960s, which included the sister of famed singer Little Richard.
Marble Breaks And Iron Bends
Drafi
Drafi was a German singer and songwriter who used only his first name professionally. His real name was Drafi Franz Richard Deutscher.
Michael
The C.O.D.'s
The C.O.D.'s were an American R&B group from the mid-1960s, originating from Chicago. They were known for their distinctive soulful sound.
Michelle
Bud Shank
Bud Shank was a prominent jazz musician and flutist, known for his involvement in the development of world music and the fusion of jazz and classical music.
Michelle
David & Jonathan
David and Jonathan were a British pop duo consisting of Roger Cook and Roger Greenaway. They later became successful songwriters, penning hits for artists like Blue Mink and The Hollies.
My Little Red Book
Love
Love was an American rock band formed in Los Angeles in 1965. They were one of the first racially diverse American pop bands.
No Man Is An Island
The Van Dykes
They also had an almost-hit "Stupidity" in 1962.
Off To Dublin In the Green
Abbey Tavern Singers
The Abbey Tavern Singers were an Irish singing group named after the famous Dublin pub. They were known for their renditions of traditional Irish songs.
Oh How Happy
Shades of Blue
Shades of Blue was a blue-eyed soul vocal group from Livonia, Michigan. The group included members who were all school friends and shared a love for doo-wop music.
One Has My Name
Barry Young
Barry Young was an American pop singer and songwriter who is best known for his hit "One Has My Name (The Other Has My Heart)".
Open Up Your Door
Richard & The Young Lions
Richard and the Young Lions was a Newark, New Jersey garage rock band. The band had a reputation for their wild stage performances.
Peter Rabbit
Dee Jay & The Runaways
Dee Jay & The Runaways were a garage rock band from Iowa. They are most known for their regional hit, "Peter Rabbit".
Psychotic Reaction
Count Five
Count Five were a garage rock band from San Jose, California. They are often credited as one of the pioneers of the psychedelic rock genre.
Questions And Answers
The In Crowd
The In Crowd was a British pop group of the mid-1960s. They had a couple of UK hits before three members went on to form the progressive rock band, Tomorrow.
Red Rubber Ball
The Cyrkle
The Cyrkle was a short-lived American rock and roll band active in the mid-1960s. They were originally a frat rock band named The Rhondells before changing their name.
Respect
The Rationals
The Rationals were an American rock band from Ann Arbor, Michigan. Formed in 1964, they were a part of the garage rock movement and are remembered for their soulful sound.
She Blew A Good Thing
The Poets
The Poets were an American doo-wop group from the 1960s, hailing from Harlem, New York. They are noted for their complex harmonies and unique vocal stylings.
She Comes To Me
The Chicago Loop
The Chicago Loop was a pop-rock group formed in the mid-1960s. Record producer Bob Monaco, a DJ and producer in Chicago, created the band.
Smokey Joe's La La
Googie Rene Combo
Googie Rene was an American R&B pianist and songwriter. He was the son of songwriter and music publisher Leon René and was associated with the West Coast R&B scene.
Something I Want To Tell You
Johnny & The Expressions
Johnny Wyatt was an American R&B and soul singer. He performed solo and also with the group Johnny & The Expressions, known for their soulful harmony vocals.
Somewhere My Love
The Ray Conniff Singers
Ray Conniff was an American bandleader and arranger. The Ray Conniff Singers consisted of 25 voices (12 male, 13 female) which he incorporated into his easy-listening arrangements.
Stop! – Get A Ticket
Clefs Of Lavender Hill
The Clefs of Lavender Hill were a folk rock and pop family band from Miami, Florida. The band featured siblings Travis, Coventry, and Joseph Fairchild.
Summer Samba
Walter Wanderley
Walter Wanderley was a Brazilian organist and pianist, best known for his lounge and bossa nova music. He had a distinctive style, characterized by his light touch and embellished with trills and staccato notes.
Sunny
Bobby Hebb
Bobby Hebb was an American singer-songwriter best known for writing and recording the hit song "Sunny." He performed in a variety of genres including R&B, pop, soul, country, and jazz.
Suspicions
The Sidekicks
The Sidekicks were a garage rock band from 1960s. They were a part of the Cleveland rock and roll scene, and are best known for their upbeat and energetic performances.
Sweet Dream
Tommy McLain
Tommy McLain is an American swamp pop musician, best known as a singer but also skilled with the keyboard, guitar, and drums. His "Sweet Dreams" recording was a major hit in the UK.
Tell Her
Dean Parrish
Dean Parrish is an American singer of blue-eyed soul, who had a career resurgence in the UK in the 1970s and 80s due to the Northern Soul scene.
That's Enough
Rosco Robinson
Rosco Robinson is an American gospel and soul singer. Robinson recorded for various record labels and scored several hits on the R&B chart.
The Duck
Jackie Lee
Jackie Lee is an American R&B singer, known for his energetic performances. His stage name was a tribute to his idol, Jackie Wilson.
The Eggplant That Ate Chicago
Dr. West's Medicine Show & Junk Band
Dr. West's Medicine Show & Junk Band were a psychedelic rock band from the late 1960s. The band was known for their surrealist lyrics and eclectic mix of instruments.
The Fife Piper
The Dynatones
The Dynatones were a surf rock and garage rock band from San Francisco. They are known for incorporating elements of soul and R&B into their music.
The Loop
Johnny Lytle
Johnny Lytle was an American jazz drummer and vibraphonist. Known as "Fast Hands," Lytle was one of the leading jazz vibraphone players of the 1960s and 70s.
The Men In My Little Girl's Life
Mike Douglas
Mike Douglas was an American "Big Band" era singer, entertainer, television talk show host, and actor.
The Pain Gets A Little Deeper
Darrow Fletcher
Darrow Fletcher is an American soul singer. Despite starting his recording career at 14, he didn't gain significant recognition until the Northern Soul scene adopted his early records.
There's Something On Your Mind
Baby Ray
Baby Ray, born Ray Eddlemon, was an American R&B and soul singer who was associated with the Los Angeles music scene in the 1960s.
They're Coming To Take Me Away
Napoleon XIV
Napoleon XIV is the pseudonym of American singer-songwriter and record producer Jerry Samuels. He is known for his novelty songs and experimental musical style.
Tippy Toeing
The Harden Trio
The Harden Trio was an American country music group. The trio consisted of Bobby Harden and his sisters, Robbie and Arleen.
Tired Of Being Lonely
The Sharpees
The Sharpees were an American soul music group. Formed in Chicago, they are best remembered for their 1966 R&B hit, "Tired of Being Lonely."
Up In Heah
Junior Wells
Junior Wells was an American Chicago blues vocalist, harmonica player, and recording artist who pioneered the amplified blues harmonica style associated with Chicago.
Wait A Minute
Tim Tam/ The Turn-Ons
Tim Tam and the Turn-Ons were an American garage rock band. They are best known for their hit single, "Wait a Minute," which peaked at No. 76 on the Billboard Hot 100.
Walkin' My Cat Named Dog
Norma Tanega
Norma Tanega was an American folk and pop singer-songwriter, painter, and experimental musician. She had a Top 30 hit in the U.S. Billboard charts with "Walkin' My Cat Named Dog."
Wang Dang Doodle
Ko Ko Taylor
Ko Ko Taylor was an American Chicago blues singer, popularly known as the "Queen of the Blues." She was known primarily for her rough and powerful vocals and traditional blues stylings.
(We Ain't Got) Nothin' Yet
Blues Magoos
Blues Magoos are an American rock group, formed in The Bronx, New York, in 1964. They are best known for being at the forefront of the psychedelic music trend of the mid-1960s.
Who Do You Think You Are
The Shindogs
The Shindogs were the house band for the ABC television series "Shindig!" from 1964-1966. The group included renowned musicians such as Delaney Bramlett and Leon Russell.
Wild Thing
The Troggs
The Troggs are an English garage rock band formed in 1964. They are best known for their version of the song "Wild Thing," which reached No. 1 on the Billboard Hot 100 in the U.S.
Winchester Cathedral
Dana Rollin
Dana Rollin is an American actress and singer, who enjoyed brief success in the music industry in the 1960s.
Winchester Cathedral
The New Vaudeville Band
The New Vaudeville Band was a group created by songwriter Geoff Stephens in 1966 to record his novelty composition "Winchester Cathedral," a song inspired by the dance bands of the 1920s and a Rudy Vallee megaphone-style vocal.
Yesterday Man
Chris Andrews
Chris Andrews is a British singer-songwriter whose musical career started in the late 1950s. He gained popularity in the 1960s for writing hit songs for other artists, notably Sandie Shaw.
Your Good Thing (Is About To Change)
Mable John
Mable John is an American blues vocalist and was the first female signed by Berry Gordy to Tamla Records. She later joined Ray Charles' backing vocal group, The Raelettes.
You're Gonna Miss Me
Thirteenth Floor Elevators
The Thirteenth Floor Elevators were an American rock band from Austin, Texas. They are often considered one of the pioneers of the psychedelic rock genre.