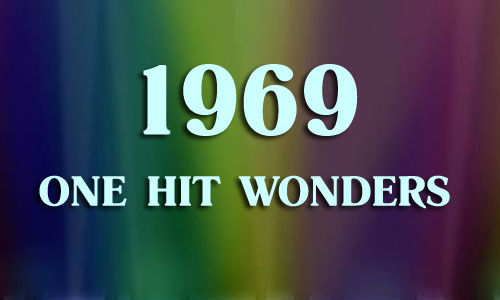 1969 One Hit Wonders & Artists Known For One Song
Abrahman, Martin & John
Moms Mabley
Loretta Mary Aiken, known by her stage name Jackie "Moms" Mabley, was one of the most successful entertainers in the black vaudeville circuit, also known as the "Chitlin' Circuit".
Apricot Brandy
Rhinoceros
Rhinoceros was a group formed by Elektra Records in the late 1960s, and their name comes from the idea of the animal being peaceful yet capable of great strength when provoked.
Ball 'N' Chain
Willie Mae 'Big Mama' Thornton
Willie Mae "Big Mama" Thornton was an influential rhythm and blues singer and songwriter, whose recordings of "Hound Dog" and "Ball 'N' Chain" have been covered by popular artists like Elvis Presley and Janis Joplin.
Bella Linda
Wind
Wind was a pop music group of the late 1960s, whose members included Tony Orlando, who later achieved success with his group Tony Orlando and Dawn.
Big Bruce
Steve Greenburg
Steve Greenberg, a Grammy-nominated record producer, was the founder and CEO of S-Curve Records. He discovered and signed artists like Joss Stone and Hanson.
Birthday
Underground Sunshine
Underground Sunshine was a psychedelic rock band from Wisconsin that was active in the late 1960s. Their cover of the Beatles' song "Birthday" was their biggest hit.
Bubble Gum Music
Rock & Roll Double Bubble
Rock & Roll Double Bubble was a bubblegum pop band from the late 1960s. The name reflects the genre of music they played which was known for its upbeat, catchy tunes and simplistic lyrics.
California Girl
Tompall & The Glaser Brothers
Tompall & the Glaser Brothers were an American country music group composed of three brothers: Chuck (February 27, 1936 – June 10, 2019), Jim (December 16, 1937 – April 6, 2019), and Tompall (September 3, 1933 – August 13, 2013) Glaser.
Camel Back
A.B. Skhy
A.B. Skhy was a blues rock band formed in Milwaukee in the late 1960s. They're best known for their self-titled album that featured the legendary blues guitarist, Luther Allison.
Condition Red
The Goodees
The Goodees were an American pop music girl group, reminiscent of The Shangri-Las or The Ronettes, formed in Memphis, Tennessee, in 1967.
Court of the Crimson King
King Crimson
King Crimson is a progressive rock band formed in London in 1968. They are noted for their influence on the early 1970s progressive rock movement.
Day After Day
Shango
Shango was an Afro-Cuban influenced Latin funk band in the late 1970s that featured members of the band Malo.
Don't Waste My Time
John Mayall
Known as the "Godfather of British Blues," John Mayall's Bluesbreakers band was a launching point for many successful musicians, including Eric Clapton and Mick Fleetwood.
Echo Park
Keith Barbour
Keith Barbour is a former singer and Jellyroll member who became a writer for the National Enquirer. His biggest hit, "Echo Park," reached #40 on the Billboard Hot 100 in 1969.
Eloise
Barry Ryan
Barry Ryan is a British former pop singer. He currently works as a photographer but had a successful music career in the 1960s, including his hit song "Eloise".
Everybody Knows Matilda
Duke Baxter
Duke Baxter was a pop singer in the late 1960s, best known for his song "Everybody Knows Matilda," which hit #51 on the Billboard Hot 100.
Farewell Love Scence
Romeo & Juliet Soundtrack
The soundtrack was composed by Nino Rota, an Italian composer known for his work on numerous film scores, notably for Federico Fellini and Francis Ford Coppola films.
Games People Play
Joe South
Joe South was a singer-songwriter and guitarist who was a prominent session musician and won a Grammy Award for Best Contemporary Song for "Games People Play".
Get It From The Bottom
The Steelers
The Steelers were an American soul group from Pittsburgh, Pennsylvania. They were most active in the late 1960s and are remembered for the northern soul classic "Get It from the Bottom".
Get Together
The Youngbloods
The Youngbloods were an American rock band consisting of Jesse Colin Young (vocals, bass), Jerry Corbitt (guitar), Lowell "Banana" Levinger (guitar and electric piano), and Joe Bauer (drums). They're known for their fusion of folk, rock, and jazz.
Getting the Corners
The T.S.U. Toronadoes
The T.S.U. Toronadoes were an American funk group, known for providing the instrumentals for Archie Bell & the Drells' "Tighten Up," which topped the Billboard Hot 100 in 1968.
Gimme Gimme Good Lovin'
Crazy Elephant
Crazy Elephant was a bubblegum pop band that was created by Jerry Kasenetz and Jeffry Katz, the super-producers of the bubblegum pop era.
Good Old Rock 'N Roll
Cat Mother & The All Night News Boys
Cat Mother & The All Night News Boys was an American musical group, originally formed in New York and later based in Mendocino, California. They were co-produced by Jimi Hendrix.
Groovy Grubworm
Harlow Wilcox
Harlow Wilcox was an American guitarist, known for his instrumental hit "Groovy Grubworm," which reached #30 on the Billboard Hot 100 in 1969.
He Called Me Baby
Ella Washington
Ella Washington started her career as a gospel singer before transitioning into soul music in the late 1960s, and recorded for the Sound Stage 7 record label.
Hello It's Me
Nazz
Nazz was an American rock band founded in Philadelphia. Todd Rundgren and Carson Van Osten formed the band in the late 60s, who later both had successful careers in music.
Hold Me
The Baskerville Hounds
The Baskerville Hounds were a rock band from Cleveland, Ohio, formed in the mid-60s. They were known for their song "Space Rock", one of the earliest rock music songs about outer space.
Home To You
Earth Opera
Earth Opera was an American psychedelic rock group, active during 1967–1969 and featuring Peter Rowan and David Grisman, both of whom went on to greater fame as folk and bluegrass musicians.
Hook & Sling
Eddie Bo
Eddie Bo was a singer and pianist from New Orleans, who worked with many of the city's greatest musicians including Art Neville, Mac Rebennack, and Aaron Neville.
Hot Smoke & Sasafrass
The Bubble Puppy
The Bubble Puppy, a Texas psychedelic rock band active in the late 1960s, evolved into the rock band Demian, and some members later joined the hard rock group Sirius.
I Got A Line on You
Spirit
Spirit was an American rock band founded in 1967, which was noted for their fusion of rock, folk, jazz, and classical elements. Randy California, guitarist, was originally a member of Jimi Hendrix's band, Jimmy James and the Blue Flames.
I Still Believe In Tomorrow
John & Anne Ryder
John and Anne Ryder were a husband-and-wife singing duo, who released several singles in the 1960s and 70s. John was previously a member of the successful group The Sandpipers.
I Wanna Be Your Dog
Iggy Pop & The Stooges
Iggy Pop, often considered the "Godfather of Punk," began his music career with The Stooges, a seminal proto-punk band.
If I Only Had Time
Nick DeCaro
Nick DeCaro was a noted American arranger, producer, and musician, heavily influential in the soft rock genre, and worked with a variety of famous musicians including Barbra Streisand and The Beach Boys.
In The Year 2525
Zager & Evans
Zager & Evans was a US rock-pop duo of the late 1960s and early 1970s named after its two members, Denny Zager and Rick Evans, who are best known for their 1969 No.1 hit single "In the Year 2525".
Israelites
Desmond Dekker/Aces
Desmond Dekker was a Jamaican ska, rocksteady and reggae singer-songwriter and musician, and one of the pioneers who brought reggae to the international audience.
It's My Thing
Marva Whitney
Marva Whitney, often called "Soul Sister #1," was an American funk singer, best known for her work with James Brown.
Jealous Kind Of Fella
Garland Green
Garland Green is a Chicago soul singer best known for his hit "Jealous Kind of Fella," which reached No.5 on the Billboard R&B chart.
Jesus Is A Soul Man
Lawrence Reynolds
Lawrence Reynolds is a country music artist who had a Top 10 hit on the Billboard Hot Country Singles chart with "Jesus Is a Soul Man".
Kay
John Wesley Ryles I
John Wesley Ryles is an American country music artist whose recording career has spanned over five decades, and he is perhaps best known for his 1968 country hit "Kay".
Kick Out The Jams
MC5
MC5, short for Motor City Five, is an American rock band from Detroit that was active from 1964 to 1972 and is often cited as one of the important hard rock groups of their era.
Let's Dance
Ola & The Janglers
Ola & The Janglers were one of Sweden's most popular bands in the 1960s, and they were the first Swedish band to have an international hit song.
Mah-Na-Mah-Na
Piero Umiliani
Piero Umiliani was an Italian composer of film scores and is known for his song "Mah Nà Mah Nà" which was originally used in a Swedish-Italian pseudo-documentary.
MahNa MahNa
The Muppets
The Muppets are a group of puppet characters known for an absurdist, burlesque and self-referential style of variety-sketch comedy.
Moonflight
Vik Venus
Vik Venus (aka "Your Main Moon Man") was a disc jockey at WKBW in Buffalo, New York, in the 1960s and '70s who released a novelty song called "Moonflight".
More Today Than Yesterday
Spiral Staircase
Spiral Staircase was an American pop band, best known for their 1969 single "More Today Than Yesterday".
My Pledge Of Love
The Joe Jeffrey Group
The Joe Jeffrey Group was an American soul group from Cleveland, Ohio, who were best known for their 1969 hit "My Pledge of Love".
Na Na Hey Hey Kiss Him Goodbye
Steam
Steam was a pop-rock band best known for this song, which was a number one pop hit in 1969 and has been extensively used in sports events as a taunt song.
No Not Much
The Smoke Ring
The Smoke Ring was a 1960s band from Omaha, Nebraska. The group included drummer Tom Ware, who later became a noteworthy record producer/engineer.
Nothing But A Heartache
The Flirtations
The Flirtations were an all-female musical group who recorded since the early 1960s. In 1968, three members moved to Britain and had several Northern Soul hits.
Only You
Bobby Hatfield
Bobby Hatfield was half of the legendary blue-eyed soul duo, The Righteous Brothers, and his tenor voice was behind the famous ballad "Unchained Melody".
Playgirl
Thee Prophets
Thee Prophets was a pop group formed in Milwaukee, Wisconsin, in 1966, best known for their 1969 hit "Playgirl".
Put A Little Love In Your Heart
Jackie DeShannon
Jackie DeShannon is an American singer-songwriter with a string of hit song credits from the 1960s onwards. She was one of the first female singer-songwriters of the rock 'n' roll period.
Quentin's Theme
The Charles Randolph Grean Sounde
Charles Randolph Grean was a songwriter and producer, who also had a unique career as a recording artist. He is best known for his adaptation of "Quentin's Theme" from the Gothic soap opera, Dark Shadows.
She's Got Love
Thomas & Richard Frost
Brothers Tom and Dick Frost, originally from Cleveland, had a short-lived stint in the late 1960s as a soft rock duo. They were previously part of the band The Merry-Go-Round.
Simple Song Of Freedom
Tim Hardin
Tim Hardin was a celebrated folk musician known for writing the top 40 hits "If I Were a Carpenter" covered by Bobby Darin and "Reason to Believe" covered by Rod Stewart, among others.
Something In The Air
Thunderclap Newman
Thunderclap Newman was a British rock band that Pete Townshend of The Who and Kit Lambert formed in 1969 in a bid to showcase the talents of John "Speedy" Keen, Jimmy McCulloch, and Andy "Thunderclap" Newman.
Sunday's Gonna Come On Tuesday
New Establishment
New Establishment was a 1960s pop band. Not much information is available about them, but their song "Sunday's Gonna Come On Tuesday" did hit the US charts in 1969.
The Carroll County Accident
Porter Wagoner
Porter Wagoner was a popular American country music singer known for his flashy Nudie and Manuel suits and blond pompadour. He introduced a then-unknown Dolly Parton on his television show, and they were a well-known vocal duo throughout the late 1960s and early 1970s.
The Grooviest Girl In The World
Fun & Games
Fun & Games was a pop-rock band from Houston, Texas, known for their psych-pop style. The band evolved from an earlier group called the Six Pents.
The Pledge of Allegiance
Red Skelton
Red Skelton was a well-known radio and television comedian, most known for his self-titled variety show that aired on CBS for 20 years. Skelton was also an artist and his artwork saw success in the later part of his life.
The Tra La La Song
The Banana Splits
The Banana Splits were a fictional rock band composed of costumed animal characters. Sid and Marty Krofft created the characters, while the music was created by a variety of composers.
The Worst That Could Happen
The Brooklyn Bridge
Johnny Maestro, the former lead singer of The Crests, formed the Brooklyn Bridge. Despite their band name, none of its members are from Brooklyn.
Theme From Electric Surfboard
Brother Jack McDuff
Brother Jack McDuff was an American jazz organist and band leader, who was prominent during the hard bop and soul jazz era of the 1960s, often performing with an organ quartet.
Too Experienced
Eddie Lovette
Eddie Lovette was a reggae musician from the 1970s and 1980s, known for his smooth, lovers-rock style.
Truck Stop
Jerry Smith
Jerry Smith was a noted American session keyboardist and pianist who worked with a wide range of musicians, including Chet Atkins and Boots Randolph.
We Love You, Call Collect
Art Linkletter
Art Linkletter was a Canadian-born American radio and television personality and the host of numerous TV shows, including "House Party," which ran on CBS radio and television for 25 years.
When I Die
Motherlode
Motherlode was a Canadian pop and soul band from London, Ontario. They saw their biggest success in Canada but managed to chart in the US with "When I Die".
Where Do You Go To
Peter Sarstedt
Peter Sarstedt was a British singer-songwriter and instrumentalist. He was the brother of musicians Eden Kane and Clive Sarstedt.
Witchi Tai To
Everything is Everything
Everything is Everything was an American band known for their mix of folk rock and pop. Their best-known song, "Witchi Tai To," is based on a Native American peyote chant.
White Bird
It's a Beautiful Day
It's a Beautiful Day was an American band that was part of the San Francisco psychedelic scene of the 1960s. The band's violinist, David LaFlamme, was a former soloist with the Utah Symphony Orchestra.
Wonderful
Blackwell
Blackwell was a late 60s pop/rock group who are best remembered for their minor hit "Wonderful". Notably, all the members were under 20 when they recorded the song.
You Got To Pay The Price
Gloria Taylor
Gloria Taylor was a soul singer who recorded several singles throughout the 1960s and early 70s. She is recognized for her powerful and emotive vocal style.
You, I
The Rugbys
The Rugbys were a rock band from Louisville, Kentucky. They are one of only two groups from Louisville to ever have a Billboard Top 40 hit.