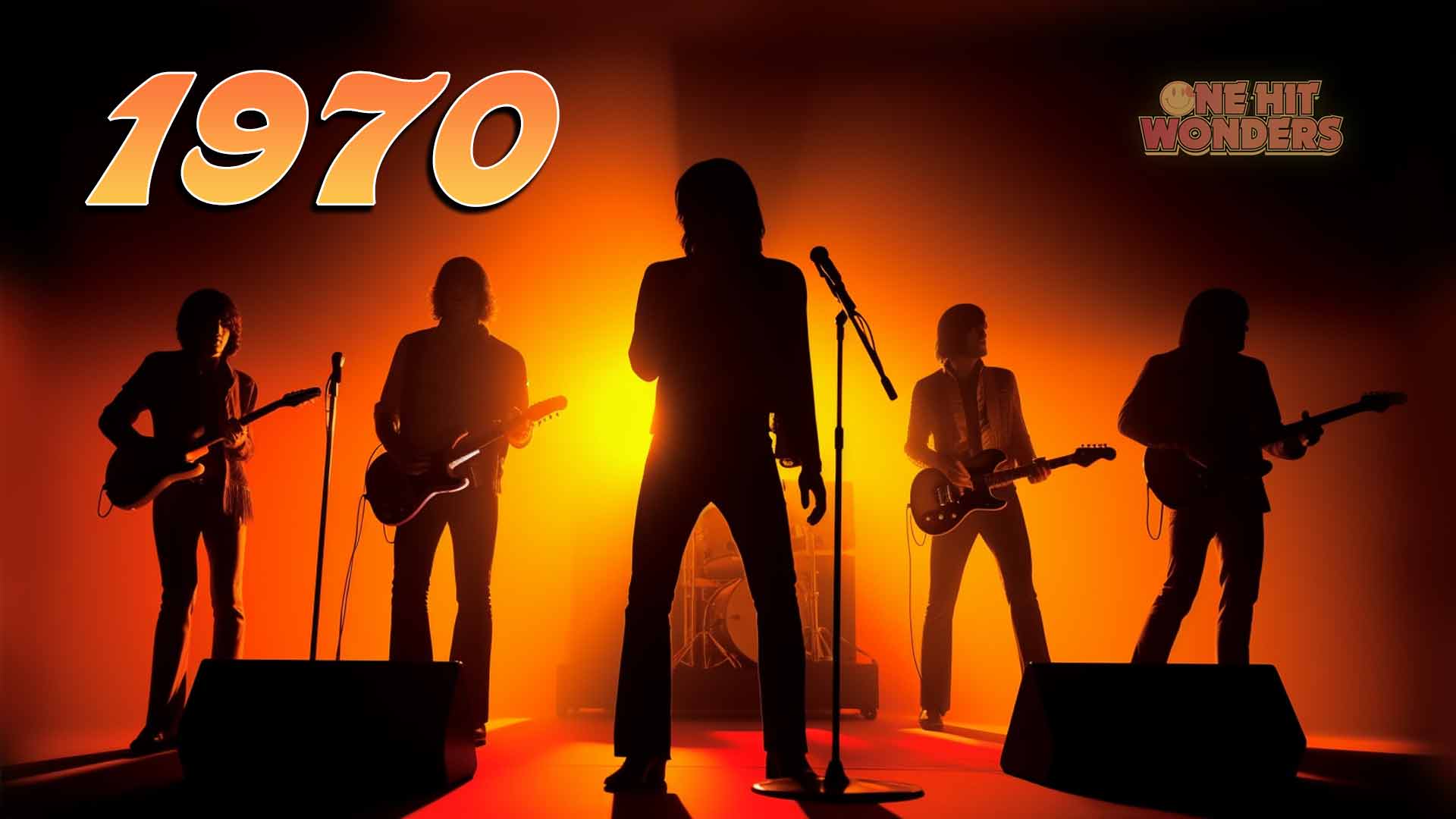 1970 One Hit Wonders & Artists Known For One Song
A Song Of Joy
Miguel Rios
Miguel Ríos is known as one of the pioneers of rock and roll in Spain. He released his first album in 1961.
A Woman's Way
Rozetta Johnson
Rozetta Johnson, a soul singer from Alabama, worked extensively with songwriter and producer Sam Dees in her career.
Airport Love Theme
Vincent Bell
Vincent Bell, a session musician, invented the electric sitar, a key instrument in the 1960s and '70s psychedelic sound.
All Right Now
Free
Free's bassist, Andy Fraser, co-wrote "All Right Now" when he was just 15 years old.
Alright In The City
Dunn & McCashen
Dunn & McCashen, a folk duo from the late '60s, combined folk, blues, and country influences.
Are You Ready
Pacific Gas & Electric
Pacific Gas & Electric, an American blues band, formed in Los Angeles in 1967 and had a rotating lineup throughout its history.
As The Years Go By
Mashmakhan
Mashmakhan was a Canadian rock band, and their single "As the Years Go By" sold over one million copies worldwide.
Baby, Is There Something On Your Mind
McKinley Travis
McKinley Travis was an American soul singer who had a short but impactful career in the late '60s and early '70s.
Band of Gold
Freda Payne
Freda Payne is a singer and a successful actress, appearing in movies and on Broadway.
Big Leg Woman
Israel Tolbert
Israel Tolbert, a Louisiana-born blues singer, was known for his dynamic and charismatic live performances.
Big Yellow Taxi
The Neighborhood
The Neighborhood was a one-hit-wonder band, known primarily for their cover of Joni Mitchell's "Big Yellow Taxi".
Black Fox
Freddy Robinson
Freddy Robinson was a blues and jazz guitarist who played with legends like Ray Charles and John Mayall.
Black Hands White Cotton
The Caboose
The Caboose was an American funk band from the late '60s and early '70s. They were known for their brass-heavy sound.
But For Love
Jerry Naylor
Jerry Naylor, an American country and rockabilly singer, was a member of The Crickets after Buddy Holly's death.
Compared To What
Les McCann & Eddie Harris
Jazz pianist Les McCann and saxophonist Eddie Harris recorded their hit live album, "Swiss Movement," at the Montreux Jazz Festival.
Cryin' In The Streets
George Perkins
George Perkins is a Louisiana-born soul singer who started his career in gospel music.
Green-Eyed Lady
Sugarloaf
Sugarloaf, named after a mountain in Boulder, Colorado, had two Top 10 hits, one of which is "Green-Eyed Lady".
For The Good Times
Ray Price
Ray Price, a member of the Country Music Hall of Fame, is often credited with popularizing the "Nashville sound" in country music.
Fresh Air
Quicksilver Messenger Service
Quicksilver Messenger Service were key figures in San Francisco's psychedelic music scene in the 1960s.
Friends
Feather
Feather, a funk band from the '70s, were known for their tight rhythm section and punchy horns.
Get Down People
Fabulous Counts
Fabulous Counts were a funk group from Detroit, known for their groovy, instrumental tracks.
Gimme Dat Ding
The Pipkins
The Pipkins were a short-lived novelty duo known for their comedic performances and outlandish stage outfits.
Give Me Just a Little More Time
Chairmen of the Board
Chairmen of the Board were one of the first acts signed by the legendary Detroit label Invictus Records.
Go Back
Crabby Appleton
Crabby Appleton, a rock band from Los Angeles, took their name from a character on the "Tom Terrific" animated series.
Good Morning Freedom
Daybreak
Daybreak was a British pop band. Their song "Good Morning Freedom" was a top 10 hit in the UK.
Groovin' With Mr. Bloe
Cool Heat
Cool Heat, an instrumental group, are best known for their UK Top 10 hit, "Groovin' With Mr. Bloe".
Hey There Lonely Girl
Eddie Holman
Eddie Holman is a singer known for his falsetto vocals. He is also a devout Christian and has a degree in music from Cheyney University.
Hitchin' A Ride
Vanity Fare
Vanity Fare is an English pop rock group best known for their hits in the late 1960s and early 1970s.
Holy Man
Diane Kolby
Diane Kolby was an American singer-songwriter who released just two albums in her short-lived career.
House of the Rising Sun
Frijid Pink
Frijid Pink is an American rock band from Detroit, their version of "House of the Rising Sun" peaked at number 7 on the Billboard charts.
How Can I Tell My Mom & Dad
The Lovelites
The Lovelites were an all-girl soul group from Chicago, active in the late '60s and early '70s.
I Got A Problem
Jesse Anderson
Jesse Anderson is an American soul and R&B singer who began his career in the 1960s.
I Who Have Nothing
Liquid Smoke
Liquid Smoke was an American rock group from Brooklyn, New York. They are best known for their self-titled album.
In The Summertime
Mungo Jerry
Mungo Jerry is a British rock group that experienced their greatest success in the early 1970s.
Indiana Wants Me
R. Dean Taylor
R. Dean Taylor is a Canadian singer and songwriter, best known as a recording artist for the Motown label during the 1960s and 1970s.
Je T'Aime Moi Non Plus
Jane Birkin & Serge Gainsbourg
Jane Birkin and Serge Gainsbourg, apart from being music partners, were also romantically involved. Gainsbourg is a major figure in French pop music.
Lady Love
The Klowns
The Klowns were an American bubblegum pop band active in the early 1970s.
Listen Here
Brian Auger/The Trinity
Brian Auger is an English jazz and rock keyboardist who has worked with artists like Rod Stewart and Tony Williams.
Long Lonesome Highway
Michael Parks
Michael Parks was not just a singer but also a successful actor, appearing in over 50 films and numerous TV shows.
Love on a Two-Way Street
The Moments
The Moments, an American R&B vocal group, had a string of hits in the 1960s and 1970s, including "Love on a Two-Way Street".
Ma Belle Amie
The Tee Set
The Tee Set was a Dutch beat band that had a string of hits in the late 1960s and early 1970s.
Man Of Constant Sorrow
Ginger Baker's Air Force
Ginger Baker, founder of this band, was also the drummer for the legendary rock bands Cream and Blind Faith.
Melanie Makes Me Smile
Tony Burrows
Tony Burrows is an English pop singer, known for his involvement with several successful novelty acts in the 1970s.
Mill Valley
Miss Abrams
Miss Abrams, or Rita Abrams, is an American songwriter best known for this song, which she wrote about her hometown of Mill Valley, California.
Mississippi Mama
Owen B.
Owen B. was an American country music singer, active in the late 1960s and early 1970s.
Mississippi Queen
Mountain
Mountain is an American hard rock band that formed in New York in 1969.
Mongoose
Elephant's Memory
Elephant's Memory is an American rock band that was formed in New York City in the late 1960s. They were also John Lennon and Yoko Ono's backing band.
Montego Bay
Bobby Bloom
Bobby Bloom was an American singer-songwriter who also co-wrote the hit song "Montego Bay".
Morning
Jim Ed Brown
Jim Ed Brown was a member of the family country group, The Browns, and also had a successful solo career.
Morning Much Better
Ten Wheel Drive
Ten Wheel Drive was an American jazz-rock band, co-founded by Genya Ravan, a woman who is considered a pioneer for female rock musicians.
My Wife, The Dancer
Eddie & Dutch
Eddie and Dutch was a soul duo, Eddie was previously a member of the vocal group The Five Crowns.
Neanderthal Man
Hotlegs
Hotlegs was an English pop band that later evolved into 10cc, a group that had numerous hits throughout the '70s.
One Tin Soldier
The Original Caste
The Original Caste is a Canadian folk group that formed in Calgary, Alberta in 1966.
Our World
Blue Mink
Blue Mink, a British six-piece group, was known for their fusion of pop, rock, and soul.
Ride Captain Ride
Blues Image
Blues Image was a rock band from Tampa, Florida, and "Ride Captain Ride" was their most successful single.
Rose Garden
Lynn Anderson
Lynn Anderson was one of the most successful female country singers of the 1970s, and was posthumously inducted into the Country Music Hall of Fame in 2020.
Six White Horses
Tommy Cash
Tommy Cash is the younger brother of Johnny Cash. He enjoyed a string of hits in the late '60s and early '70s.
So Close
Jake Holmes
Jake Holmes is an American singer-songwriter and jingle writer; he wrote the famous U.S. Army recruiting jingle "Be All That You Can Be" in the 1980s.
Some Beautiful
Jack Wild
Jack Wild, an English actor and singer, played the Artful Dodger in the film adaptation of Oliver!.
Somebody's Been Sleeping
100 Proof Aged In Soul
100 Proof (Aged in Soul) was an American funk/soul group from Detroit, Michigan.
Song From MAS*H
Al DeLory
Al DeLory was a producer, arranger, and musician, best known for his work with the Beach Boys and Glen Campbell.
Spill the Wine
Eric Burdon & War
Eric Burdon was the vocalist of the Animals before forming War, a funk band, in the late '60s.
Spirit In The Sky
Norman Greenbaum
Norman Greenbaum is a one-hit wonder, known for the iconic rock song "Spirit in the Sky".
Stoned Cowboy
Fantasy
Fantasy was a psychedelic rock band from Miami. They released just two albums before disbanding.
Sweet Jane
Velvet Underground
Velvet Underground, despite achieving little commercial success during their existence, are now recognized as one of the most influential bands in rock history.
That Same Old Feeling
Pickettywitch
Pickettywitch was a British pop group that had a handful of hits in the UK in the early '70s.
The Boys In The Band
The Boys In The Band
The Boys in the Band was a funk/disco group from the '70s. Their self-titled single was their only charting song.
The Cat Walk
The Village Soul Choir
The Village Soul Choir was a soul and R&B group. They are best known for their hits "The Cat Walk" and "The Country Walk".
The Court Of the Crimson King
King Crimson
King Crimson, an English rock band, is considered one of the pioneers of the progressive rock genre.
The Lights Of Tucson
Jim Campbell
Jim Campbell was an American country singer who released a handful of singles in the early '70s.
The Rapper
The Jaggerz
The Jaggerz is an American band known for their hit song "The Rapper", which peaked at #2 on the Billboard Hot 100.
The Sly, Slick & the Wicked
The Lost Generation
The Lost Generation was an American soul and R&B group from Chicago that was active in the late '60s and early '70s.
The Witch
The Rattles
The Rattles are a German rock band, formed in 1960, and are considered one of the most enduring bands of the period in Germany.
Theme Music For the Film '2001 A Space Odyssey'
Berlin Philharmonic
The Berlin Philharmonic is one of the world's leading orchestras, known for its distinctive, warm sound.
Tighter, Tighter
Alive and Kicking
Alive and Kicking was a New York pop rock band, best known for their Top 10 hit "Tighter, Tighter".
Time To Get It Together
Country Coalition
Country Coalition was a country rock band that released one album, "Time to Get It Together", in 1970.
To The Other Woman
Doris Duke
Doris Duke was a soul singer who worked extensively with Swamp Dogg, a soul musician, and producer.
Tobacco Road
Jamul
Jamul was a hard rock band from San Diego. Their version of "Tobacco Road" was their biggest hit.
Up On The Roof
Laura Nyro
Laura Nyro was a songwriter and artist who had a significant influence on the folk-rock scene in the 1960s and 1970s.
Vehicle
The Ides of March
The Ides of March is an American rock band from Berwyn, Illinois. They are best known for their song "Vehicle".
Venus
The Shocking Blue
The Shocking Blue was a Dutch rock band that had a number of psychedelic rock hits during the 1960s and 1970s.
Want You To Know
Rotary Connection
Rotary Connection was a Chicago-based psychedelic soul band that featured Minnie Riperton as a lead vocalist.
Welfare Cadilac
Guy Drake
Guy Drake was a country comedian and singer known for his satirical song "Welfare Cadillac".
We're All Playing In The Same Band
Bert Sommer
Bert Sommer was an American folk singer best known for his performance at the Woodstock festival in 1969.
Won't Find Better (Than Me)
The New Hope
The New Hope was a bubblegum pop band from the early 1970s.
You Got Me Hummin
Cold Blood
Cold Blood was an R&B band from San Francisco, they were one of the first rock bands to have a horn section.