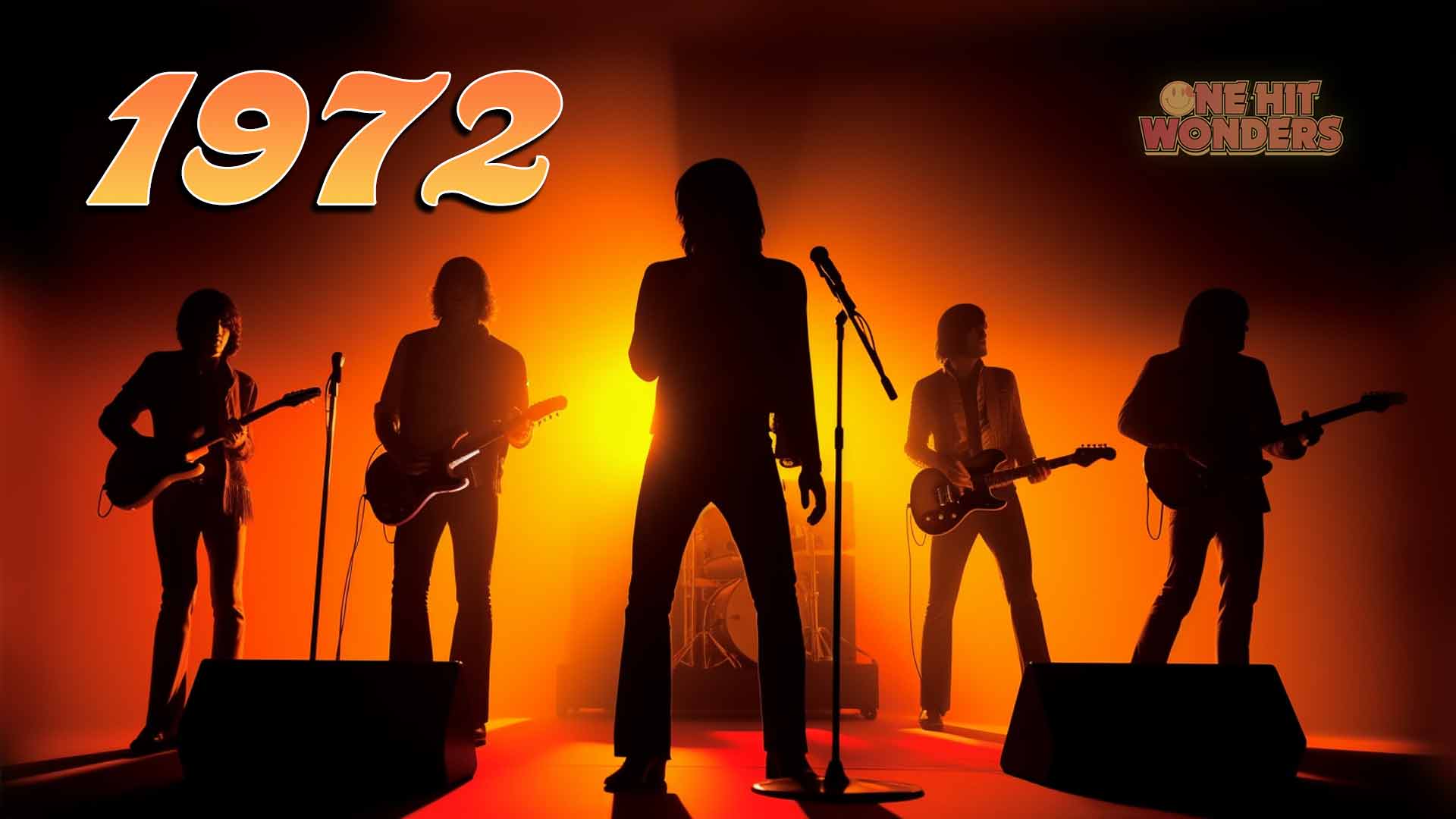 1972 One Hit Wonders & Artists Known For One Song
A Piece Of Paper
Gladstone
Gladstone was an American rock band of the 70s, they released only one album.
Amazing Grace
Royal Scots Dragoon Guards
This is a regiment of the British Army. They are the oldest surviving Cavalry Regiment of the Line in the British Army.
Brian's Song
Michel LeGrand
Michel LeGrand was a French composer who won three Oscars for his film work.
Bring It Home
Hot Sauce
Hot Sauce was an R&B vocal group from Detroit, Michigan. They recorded for the Volt label in the early 1970s.
Butterfly
Danyel Gerard
Danyel Gerard is a French pop singer who peaked in the 1970s.
Buzzy Brown
Tim Davis
Tim Davis was an American musician, known as a drummer and singer in the Steve Miller Band.
Cheer
Potliquor
Potliquor was an American southern rock band hailing from Louisiana in the early 1970s.
Colorado
Danny Holien
Danny Holien is a singer-songwriter best known for his 1972 environmental anthem "Colorado".
Convention 72
The Delegates
The Delegates were a one-off studio group known for their political novelty recordings.
Day and Night
The Wackers
The Wackers were a 1970s pop-rock group that originated in Canada.
Day By Day
Godspell
The performers on the Godspell soundtrack were a collection of stage actors from the musical of the same name.
Dedicated To The One I Love
The Temprees
The Temprees were an American soul vocal trio from Memphis, Tennessee, known for their smooth harmonies.
Deteriorata
National Lampoon
National Lampoon was an American humor magazine that started in 1970 and has spawned films, radio, live theatre, and records.
Don't Ever Take Away My Freedom
Peter Yarrow
Peter Yarrow is an American singer known for his work with the 1960s folk trio Peter, Paul and Mary.
Everybody Knows About My Good Thing
Paul Williams
Paul Williams is a Grammy and Academy Award-winning American composer, singer, songwriter and actor.
Good Time Charlie's Got The Blues
Danny O'Keefe
Danny O'Keefe is an American singer-songwriter known for his soft rock and folk style.
Hold Your Head Up
Argent
Argent was a British rock band led by keyboardist Rod Argent, previously a founding member of The Zombies.
I Don't Need A Doctor
New Riders Of The Purple Sage
New Riders of the Purple Sage is an American country rock band formed in 1969 by John Dawson and Jerry Garcia of the Grateful Dead.
I Got a Thing About You Baby
Billy Lee Riley
Billy Lee Riley was a rockabilly singer, songwriter, and musician known for his energetic performances.
I Need You
Hot Butter
Hot Butter was an instrumental cover band fronted by Stan Free, a member of the Moog-synthesizer ensemble "First Moog Quartet".
I Received A Letter
Delbert & Glen
Delbert McClinton and Glen Clark, known as Delbert & Glen, are a duo that helped inspire the blues rock genre.
I'm Movin' On
John Kay
John Kay is the lead vocalist of the rock band Steppenwolf, which gave us hits like "Born to Be Wild".
In A Broken Dream
Python Lee Jackson
Python Lee Jackson was an Australian rock band active from 1965 to 1968, before a brief sojourn in the UK from late 1968 to mid-1969.
In Heaven There Is No Beer
Clean Living
Clean Living was a short-lived folk-rock band from the early '70s that released just two singles.
It's The Same Old Love
The Courtship
The Courtship was a 70s R&B group known for their strong vocal harmonies.
I've Been Lonely For So Long
Frederick Knight
Frederick Knight is an American R&B singer, songwriter and record producer, known for his deep, sultry voice.
Jungle Fever
The Chakachas
The Chakachas were a Belgian-based group of Latin soul studio musicians known for their fusion of styles.
Louisianna
Mike Kennedy
Mike Kennedy was a Spanish rock'n'roll singer of the 70s who sang predominantly in English.
Love The Life I Lead
The Fantastics
The Fantastics were an American R&B vocal group, which evolved from doo-wop to become a major soul group of the 1970s.
Love Theme From "The Godfather"
Carlo Savina
Carlo Savina was an Italian composer and conductor known for his work on over 200 film scores.
Man & Woman
Tony Cole
Tony Cole was an Australian singer-songwriter known for his piano ballads in the 70s.
Men Of Learning
Vigrass & Osborne
Vigrass & Osborne were a British duo known for their harmonious soft rock sound.
Mercedes Benz
Goose Creek Symphony
Goose Creek Symphony is an American rock band known for blending rock and country into a unique 'outlaw' sound.
Motorcycle Mama
Sailcat
Sailcat was an American southern rock band, best known for this one hit.
Mr. Penguin
Lunar Funk
Lunar Funk was a short-lived funk and soul band in the early 70s.
No
Bulldog
Bulldog was an American rock band known for a brash, hard-edged sound.
Number Wonderful
Rock Flowers
Rock Flowers was an early 70s American girl group that released one album and four singles.
One Way Sunday
Mark Almond
Mark Almond is a British musician and singer-songwriter who gained fame as part of the duo Soft Cell.
Poor Boy
Casey Kelly
Casey Kelly is an American singer-songwriter known for his work in country music.
Questions
Bang
Bang was an American hard rock band from Philadelphia, considered a band ahead of their time.
Run Run Run
Jo Jo Gunne
Jo Jo Gunne is an American rock band formed by Jay Ferguson and Mark Andes after they had left Spirit, a rock band founded in 1967.
Simple Song Of Freedom
Buckwheat
Buckwheat was a little-known American rock band from the early 70s, which faded into obscurity after a few years.
Small Beginnings
Flash
Flash was an English progressive rock group formed out of Yes's ashes, featuring original Yes guitarist Peter Banks.
Softly Whispering I Love You
English Congregation
The English Congregation was a British pop ensemble that had a hit with their version of this song in 1972.
Son Of My Father
Chicory
Chicory Tip is a British pop group, originally known as Chicory, that had a number one hit with the Giorgio Moroder song "Son of My Father".
Suavecito
Malo
Malo is a U.S. Latin-rock band known for its blend of Latin rhythms and R&B vocals, it was led by Jorge Santana, the younger brother of Carlos Santana.
Sugaree
Jerry Garcia
Jerry Garcia was an American singer-songwriter and guitarist, best known for his work as the lead guitarist and as a vocalist with the Grateful Dead.
Summer Sun
Jamestown Massacre
Jamestown Massacre was a one-hit-wonder band from the early 70s, named after the historic event in Virginia.
Sunshine
Jonathan Edwards
Jonathan Edwards is an American singer-songwriter known for his folk and roots-based compositions.
Those Were The Days
Carroll O'Connor & Jean Stapleton
Carroll O'Connor and Jean Stapleton are best known as the actors who portrayed Archie and Edith Bunker on the groundbreaking 70s TV series "All in the Family".
Thunder & Lightning
Chi Coltrane
Chi Coltrane is an American singer-songwriter, who was one of the few female pianists to write songs and lead a band in the 70s.
We're On Our Way
Chris Hodge
Chris Hodge was a British pop singer, who was one of the first acts signed to Apple Records, the label owned by The Beatles.
What A Wonderful Thing We Have
Fabulous Rhinestones
Fabulous Rhinestones was an American rock band that formed in 1971 and included musicians who had played with artists such as Paul Butterfield, Geoff Muldaur, and Michael Bloomfield.
White Lies
Grin
Grin was an American rock group in the early 1970s led by Nils Lofgren who went on to join Bruce Springsteen's E Street Band.
You Are The One
Sugar Bears
The Sugar Bears were a short-lived studio band that was formed for an advertising campaign for Super Sugar Crisp cereal.