1974 One Hit Wonders & Artists Known For One Song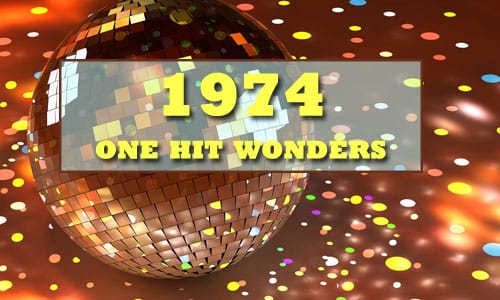 After Midnight – Maggie Bell
Americans – Byron MacGregor
Beach Baby – First Class
Billy Don't Be A Hero – Bo Donaldson & the Heywoods
Boogie Bands & One Night Stands – Kathy Dalton
Dance With the Devil – Cozy Powell
Delta Dirt – Larry Gatlin
Don't Send Nobody Else – Ace Spectrum
Eres Tu (Touch The Wind) – Mocedades
Evil Boll Weevil – Grand Canyon
Feel Like Making Love – Bob James
Georgia Porcupine – George Fischoff
Get That Gasoline Blues – NRBQ
Honey Honey – Sweet Dreams
I Am What I Am – Lois Fletcher
I Can Help – Billy Swan
I Hate Hate – Razzy
I Wish It Was Me You Loved – Johnny T. Angel
In The Bottle – Brother To Brother
Keep On Smilin' – Wet Willie
Kung Fu Fighting – Carl Douglas
Life Is A Rock (But The Radio Rolled Me) – Reunion
Ma! – Lena Zavaroni
Makin' The Best Of A Bad Situation – Dick Feller
Midnight At The Oasis – Maria Muldaur
Music Eyes – Heartsfield
My Sweet Lady – Cliff DeYoung
No Charge – Melba Montgomery
One Day At A Time – Marilyn Sellars
Painted Ladies – Ian Thomas
Pepper Box – The Peppers
Please Come To Boston – Dave Loggins
(Kenny Loggins' cousin)
Rings – Reuben Howell
Rock On – David Essex
Rock The Boat – Hues Corporation
Rock Your Baby – George McCrae
Seasons In The Sun – Terry Jacks
Shame, Shame, Shame – Shirley & Company
She – Southcote
Shoe Shoe Shine – Dynamic Superiors
Sugar Baby Love – The Rubettes
The Americans – Gordon Sinclair
The Entertainer – Marvin Hamlisch
The Lone Ranger – Oscar Brown Jr.
The Lord's Prayer – Sister Janet Mead
The Night Chicago Died – Paper Lace
(PL also did the original version of Billy, Don't Be A Hero, made more famous by Bo Donaldson & the Heywoods)

(TSOP) The Sound of Philadelphia – MFSB
There's Got To Be Rain In Your Life – Dorothy Norwood
This Heart – Gene Redding
Try – Cooker
Tubular Bells – Mike Oldfield
Virginia – Bill Amesbury
When A Child Is Born – Michael Holm
When Will I See You Again – The Three Degrees
When The Morning Comes – Hoyt Axton
Who Is He And What Is He To You – Creative Source
Wombling Summer Party – The Wombles
YoYo Man – Rick Cunha . .