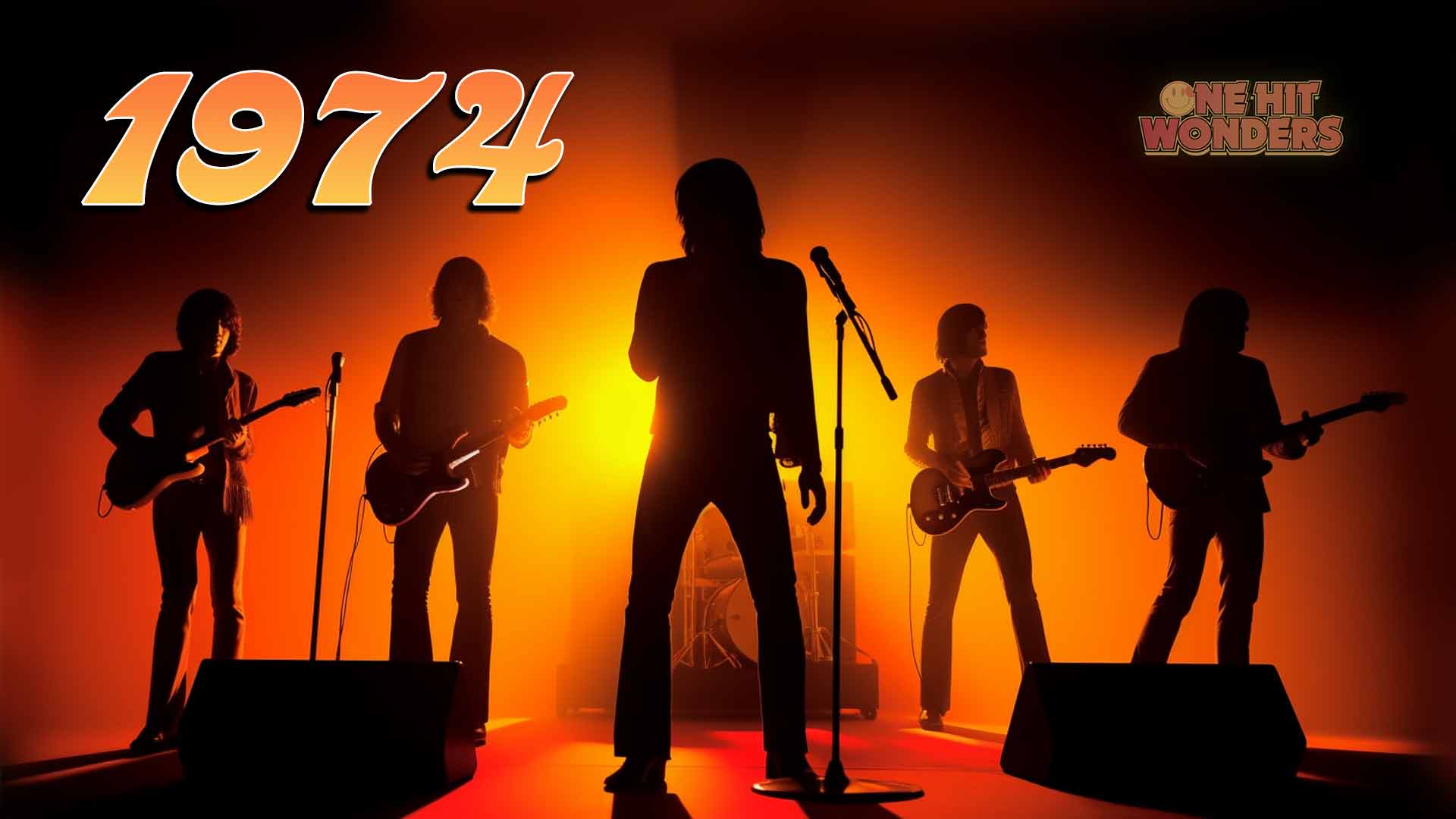 1974 One Hit Wonders & Artists Known For One Song
After Midnight
Maggie Bell
Maggie Bell is a Scottish rock vocalist known for her soulful voice. She was a co-founder of the blues-rock group Stone the Crows.
Americans
Byron MacGregor
Byron MacGregor was a Canadian radio announcer who achieved fame for his recitation of Gordon Sinclair's patriotic essay, "The Americans".
Beach Baby
First Class
First Class was a British pop music studio-based group, put together by songwriters and record producers John Carter and Ken Lewis.
Billy Don't Be A Hero
Bo Donaldson & the Heywoods
Bo Donaldson & The Heywoods are an American pop music group known for their 1970s hits. The band was formed in Cincinnati, Ohio in 1965.
Boogie Bands & One Night Stands
Kathy Dalton
Kathy Dalton is an American singer who combined rock and country music elements in her sound. She released two albums on the Discreet label in the 1970s.
Dance With the Devil
Cozy Powell
Cozy Powell was an English rock drummer, who made his name with many major rock bands and artists like The Jeff Beck Group, Rainbow, and Whitesnake.
Delta Dirt
Larry Gatlin
Larry Gatlin is an American country and Southern gospel singer and songwriter. He achieved considerable success as a solo artist and with his brothers, Steve and Rudy, as the Gatlin Brothers.
Don't Send Nobody Else
Ace Spectrum
Ace Spectrum was an American R&B group from New York City, who were active in the 1970s. Their style incorporated elements of pop, soul, and jazz.
Eres Tu (Touch The Wind)
Mocedades
Mocedades is a Spanish singing group formed in 1969 and still active as of 2021, best known for representing Spain in the Eurovision Song Contest in 1973 with their hit song "Eres Tú".
Evil Boll Weevil
Grand Canyon
Grand Canyon is a rather obscure band, and they have left only a small discographical footprint.
Feel Like Making Love
Bob James
Bob James is an American jazz keyboardist, arranger, and record producer who was an important figure in turning 1970s fusion jazz more commercial.
Georgia Porcupine
George Fischoff
George Fischoff is an American composer and songwriter best known for composing pop hits in the 1960s.
Get That Gasoline Blues
NRBQ
NRBQ is an American rock band founded in 1966, known for its live performances, encompassing a variety of genres, including rock, pop, jazz, and blues.
Honey Honey
Sweet Dreams
Sweet Dreams was a British vocal trio that represented the United Kingdom at the Eurovision Song Contest in 1974.
I Am What I Am
Lois Fletcher
Lois Fletcher is an artist who is not widely known beyond this particular single.
I Can Help
Billy Swan
Billy Swan is an American songwriter and country singer, best known for his 1974 single "I Can Help". A multi-instrumentalist, Swan has also worked as a record producer.
I Hate Hate
Razzy
Razzy Bailey is an American country music artist, known for his string of hit songs in the late 70s and early 80s.
I Wish It Was Me You Loved
Johnny T. Angel
Johnny T. Angel is a relatively obscure artist from the 70s.
In The Bottle
Brother To Brother
Brother to Brother was an American soul/disco group active in the 1970s. They released three albums before disbanding.
Keep On Smilin'
Wet Willie
Wet Willie is an American band from Mobile, Alabama, known for their potent blend of Southern rock, soul, blues, and gospel.
Kung Fu Fighting
Carl Douglas
Carl Douglas is a Jamaican singer, best known for his song "Kung Fu Fighting, " number one on the UK Singles Chart, and the Billboard Hot 100 in 1974.
Life Is A Rock (But The Radio Rolled Me)
Reunion
Reunion was a studio-based group, assembled by Joey Levine in New York. Levine was an accomplished songwriter and producer who was a key player in the "bubblegum" pop movement of the late 60s and early 70s.
Ma!
Lena Zavaroni
Lena Zavaroni was a Scottish singer and a television show host. At ten years of age, she was one of the youngest-ever acts to score a UK Albums Chart number 1 album.
Makin' The Best Of A Bad Situation
Dick Feller
Dick Feller is an American country musician and songwriter, known for his comic and novelty songs.
Midnight At The Oasis
Maria Muldaur
Maria Muldaur is an American folk and blues singer who was part of the American folk music revival in the early 1960s.
Music Eyes
Heartsfield
Heartsfield was an American country rock band that debuted in the 1970s, and are known for their guitar-heavy tunes and harmony vocals.
My Sweet Lady
Cliff DeYoung
Cliff DeYoung is an American actor and musician, known initially as the lead singer for the rock group Clear Light, which played with acts such as The Doors and Jimi Hendrix.
No Charge
Melba Montgomery
Melba Montgomery is an American country music singer best known for duet hits in the 1960s with country music singer George Jones.
One Day At A Time
Marilyn Sellars
Marilyn Sellars is an American country music and gospel singer who had several hits during the mid-1970s on the Billboard country charts.
Painted Ladies
Ian Thomas
Ian Thomas is a Canadian singer-songwriter widely known in his home country. He is the brother of comedian and actor Dave Thomas.
Pepper Box
The Peppers
The Peppers were a Belgian male instrumental duo, who had a big hit in Europe with "Pepper Box" in 1973.
Please Come To Boston
Dave Loggins
Dave Loggins is an American singer, songwriter, and musician, best known for his 1974 song "Please Come to Boston". He is a cousin of Kenny Loggins.
Rings
Reuben Howell
Reuben Howell was an American singer active in the 1970s. He released a handful of singles and two albums before his death in 1997.
Rock On
David Essex
David Essex is an English musician, singer-songwriter, and actor. He has had an extensive career in music, stage, screen and radio for over 50 years.
Rock The Boat
Hues Corporation
The Hues Corporation was an American pop and soul trio, best known for their 1974 hit "Rock the Boat".
Rock Your Baby
George McCrae
George McCrae is an American soul and disco singer, most famous for his 1974 hit "Rock Your Baby".
Seasons In The Sun
Terry Jacks
Terry Jacks is a Canadian singer, songwriter, record producer, and environmental activist, best known for his 1974 hit song "Seasons in the Sun".
Shame, Shame, Shame
Shirley & Company
Shirley & Company was an American disco group, which centered around Shirley Goodman, who had previously been part of Shirley & Lee.
She
Southcote
Southcote was a Canadian band, active in the mid-70s. They disbanded in 1976 after releasing one album.
Shoe Shoe Shine
Dynamic Superiors
The Dynamic Superiors were an American Motown group from Washington D.C., United States. They were known for their high energy performances and the flamboyance of lead singer Tony Washington.
Sugar Baby Love
The Rubettes
The Rubettes were an English pop band assembled in 1973 by the songwriting team of Wayne Bickerton, the then head of A&R at Polydor Records, and his co-songwriter, Tony Waddington.
The Americans
Gordon Sinclair
Gordon Sinclair was a Canadian journalist and writer, one of the original panelists on the long-running CBC Radio show, "As It Happens".
The Entertainer
Marvin Hamlisch
Marvin Hamlisch was an American composer and conductor, one of only a handful of EGOT winners in the history of the entertainment industry (winning an Emmy, Grammy, Oscar, and Tony).
The Lone Ranger
Oscar Brown Jr.
Oscar Brown Jr. was an American singer, songwriter, playwright, poet, civil rights activist, and actor, noted for his wide-ranging career in entertainment.
The Lord's Prayer
Sister Janet Mead
Sister Janet Mead is a Roman Catholic nun and former Adelaide, South Australia teacher. She achieved worldwide fame in 1974 with her recording of "The Lord's Prayer".
The Night Chicago Died
Paper Lace
Paper Lace are a Nottingham-based pop group that rose to success in 1974 during the first wave of British glam rock.
(TSOP) The Sound of Philadelphia
MFSB
MFSB, officially standing for "Mother Father Sister Brother", was a pool of more than 30 studio musicians based at Philadelphia's Sigma Sound Studios.
There's Got To Be Rain In Your Life
Dorothy Norwood
Dorothy Norwood is an American gospel singer and songwriter, often referred to as "The World's Greatest Storyteller".
This Heart
Gene Redding
Gene Redding was an American singer, who Etta James discovered at a USO Club in Anchorage, Alaska.
Try
Cooker
Cooker was a relatively obscure American band, active in the mid-70s.
Tubular Bells
Mike Oldfield
Mike Oldfield is an English multi-instrumentalist and songwriter, best known for his debut album Tubular Bells (1973), which became an unexpected critical and commercial success.
Virginia
Bill Amesbury
Bill Amesbury is a Canadian singer and songwriter, who had a number of hits in the 1970s. He underwent gender transition in the mid-1990s and is now known as Barbra Amesbury.
When A Child Is Born
Michael Holm
Michael Holm is a German singer, musician, songwriter, and record producer, who is considered one of the most successful German pop singers.
When Will I See You Again
The Three Degrees
The Three Degrees is an American female vocal group, formed in 1963 in Philadelphia, Pennsylvania. The group has always been a trio, although there have been a number of personnel changes.
When The Morning Comes
Hoyt Axton
Hoyt Axton was an American folk music singer-songwriter, and a film and television actor, known for his deep, resonant voice.
Who Is He And What Is He To You
Creative Source
Creative Source was an American R&B group from Los Angeles, active from the mid to late 1970s.
Wombling Summer Party
The Wombles
The Wombles are a British novelty pop group, featuring musicians dressed as the characters from children's TV show The Wombles.
YoYo Man
Rick Cunha
Rick Cunha is an American singer-songwriter and guitarist, and a member of the folk music group Hearts & Flowers in the late 1960s.