1976 One Hit Wonders & Artists Known For One Song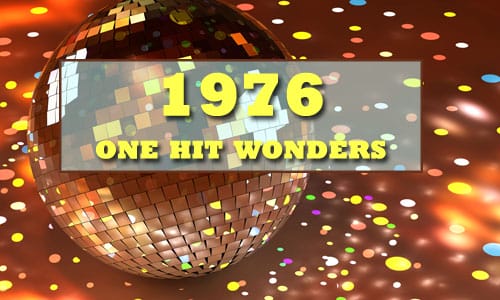 A Fifth of Beethoven – Walter Murphy
Afternoon Delight – Starland Vocal Band
All Roads – Donny Most
Anything You Want – John Valenti
Baby Boy – Mary Kay Place
Bad Luck – The Atlanta Disco Band
Bigfoot – Bro Smith
Blitzkrieg Bop – The Ramones
BLT – Lee Oskar
Cathedrals – D.C. LaRue
Cherry Bomb – The Runaways
Convoy – C.W. McCall
Couldn't Get It Right – Climax Blues Band
Deep Purple – The Wing and a Prayer Fife and Drum Corps
Disco Duck – Rick Dees and His Cast of Idiots
Fooled Around and Fell in Love – Elvin Bishop
Grasshopper – Spin
Happy Days (TV Theme) – Pratt & McClain
Happy Man (part 1) – Impact
Hard Work – John Handy
Hey Shirley (This Is Squirrely) – Shirley and Squirrely
If Only I Could – The Rowans
I'm Easy – Keith Carradine
I'm So Lonesome I Could Cry – Terry Bradshaw
It Shoulds Have Been Me – Yvonne Fair
I've Been Lovin' You – Easy Street
Johnny Cool – Steve Gibbons Band
Junk Food Junkie – Larry Groce
Lady Bump – Penny McLean
Let Me Down Easy – American Flyer
Let's Live Together – The Road Apples
Let's Rock – Ellison Chase
Listen To The Buddha – Ozo
Make Me Smile (Come Up and See Me) – Steve Harley
Makes You Blind – The Glitter Band
Making Our Dreams Come True (LaVern and Shirley Theme) – Cyndi Grecco
Mary Hartman, Mary Hartman – The Deadly Nightshade
Mighty High – Mighty Clouds of Joy
Moonlight Feels Right – Starbuck
More, More More – Andrea True Connection
Movin' – Brass Construction
Nadia's Theme – Barry & Perry Botkin
Norma Jean Wants To Be A Movie Star – Sundown Company
One Fine Day – Julie
Play That Funky Music – Wild Cherry
Popsicle Toes – Michael Franks
Rain, Oh Rain – Fools Gold
Roots, Rock, Reggae – Bob Marley
Roxy Roller – Sweeney Todd
Say You Love Me – D.J. Rogers
Scotch On The Rocks – Band Of The Black Witch
Shannon – Henry Gross
Sherry – The Keane Brothers
Silver Heels – Blaze
Sixteen Reasons – LaVern and Shirley
Sixteen Tons – Don Harrison Band
Street Singin' – Lady Flash
Sun… Sun… Sun (part 1) – Ja – kki
Sweet Summer Music – Attitudes
Teddy Bear's Last Ride – Diana Williams
Ten Percent – Double Exposure
The Boys Are Back In Town – Thin Lizzy
The Fonz Song – The Heyettes
The Game Is Over (What's The Matter With You) – Brown Sugar
The Homecoming – Hagood Hardy
The Lonely One – Special Delivery
Til It's Time To Say Goodbye – Jonathon Cain
Tonight's The Night – S.S.O.
Torn Between Two Lovers – Mary MacGregor
Tubular Bells – Champs' Boys Orchestra
Turn The Beat Around – Vicki Sue Robinson
Uptown and Country – Tom Scott
Wanna Make Love (Come Flick My BIC) – Sun
We Can't Hide It Anymore – Larry Santos
Welcome Back – John Sebastian
Wham Bam – Silver
When Love Has Gone Away – Richard Cocciante
White Bird – David LaFlamme
Words (Are Impossible) – Donny Gerrard
Wow – Andre Gagnon
You Are To Me Everything part 1 – Revelation
You To Me Are Everything – Broadway
You To Me Are Everything – The Real Thing
You'll Never Find Another Love Like Mine – Lou Rawls
You're My Everything – Lee Garrett . .