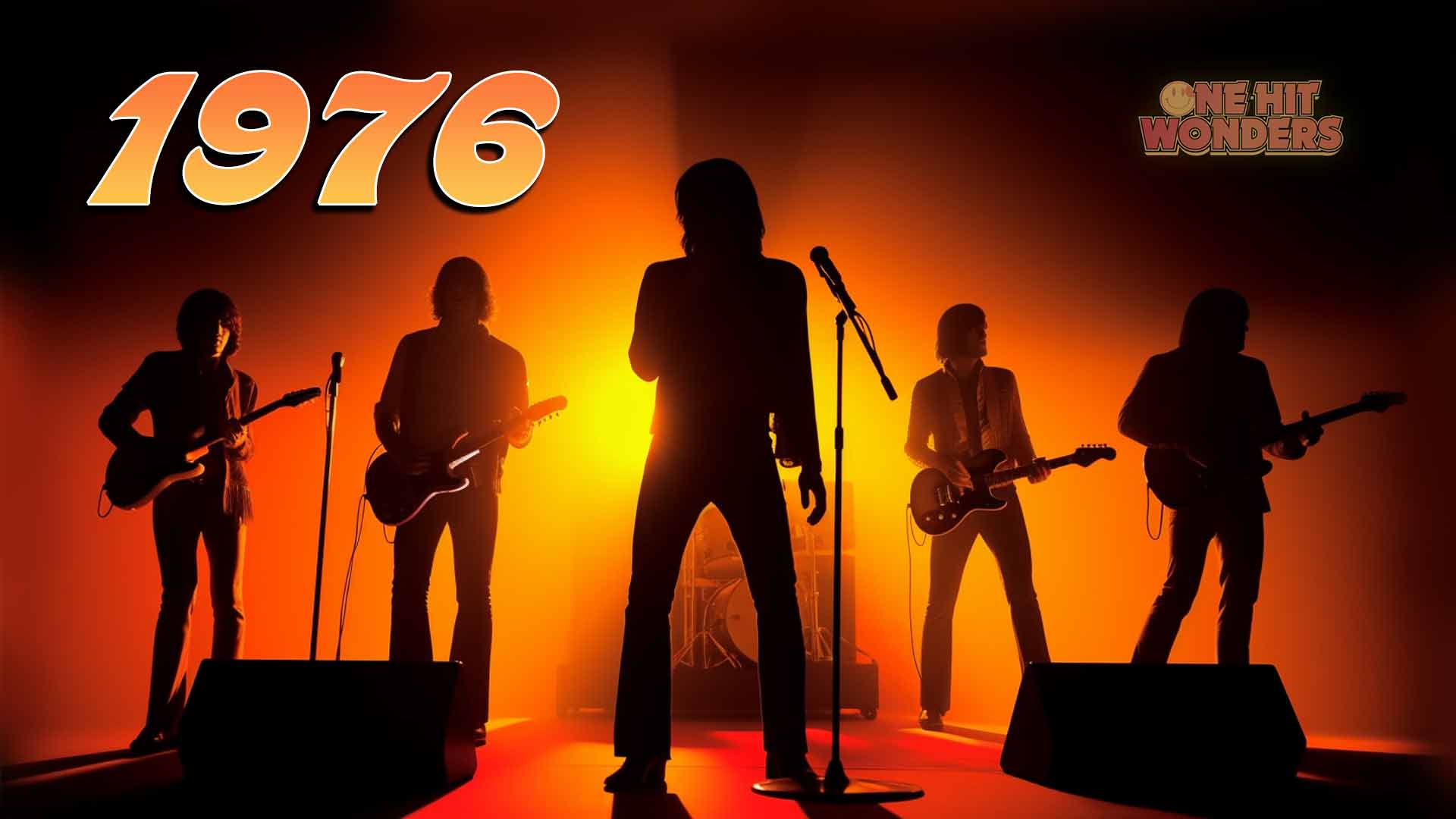 1976 One Hit Wonders & Artists Known For One Song
A Fifth of Beethoven
Walter Murphy
Walter Murphy is an American composer and pianist who is widely recognized for his work in television, including the animated series Family Guy.
Afternoon Delight
Starland Vocal Band
Starland Vocal Band, known for their close harmony, light acoustic folk sound, was also famous for launching the career of Emmylou Harris.
All Roads
Donny Most
Donny Most is best known for his role as Ralph Malph on the television series Happy Days, but he also has a career as a singer.
Anything You Want
John Valenti
John Valenti is a singer-songwriter known for his soulful, melodic style and strong lyricism.
Baby Boy
Mary Kay Place
Mary Kay Place is an American actress, singer, director, and screenwriter who is known for her work on The Mary Tyler Moore Show and for her role as Loretta Haggers on the television series Mary Hartman, Mary Hartman.
Bad Luck
The Atlanta Disco Band
The Atlanta Disco Band was a short-lived project under the guidance of prolific R&B producer Michael Thevis during the 1970s.
Bigfoot
Bro Smith
Bro Smith is an American singer and songwriter who gained some fame in the 1970s.
Blitzkrieg Bop
The Ramones
The Ramones were an American punk rock band that formed in the New York City neighborhood of Forest Hills, Queens, in 1974, often cited as the first band to define the punk rock sound.
BLT
Lee Oskar
Lee Oskar is a Danish harmonica player, notable for his contributions to the sound of the rock-funk fusion group War, which was formed in 1969.
Cathedrals
D.C. LaRue
D.C. LaRue is an American disco singer and songwriter who reached peak popularity in the 1970s.
Cherry Bomb
The Runaways
The Runaways were an all-female American rock band that recorded and performed from 1975 to 1979, notably launching the career of Joan Jett and Lita Ford.
Convoy
C.W. McCall
C.W. McCall is a character created by advertising executive William Fries. Fries created the character for a bread commercial and later used it for his musical career.
Couldn't Get It Right
Climax Blues Band
Climax Blues Band is a British blues rock band formed in 1968 in Stafford, England, and they are still performing today, with over 50 years of history.
Deep Purple
The Wing and a Prayer Fife and Drum Corps
The Wing and a Prayer Fife and Drum Corps is a disco group formed in 1975 by Harold Wheeler; its members were all session musicians.
Disco Duck
Rick Dees and His Cast of Idiots
Rick Dees is a radio personality, stand-up comedian, actor, and voice artist, known for his internationally syndicated radio show The Rick Dees Weekly Top 40 Countdown.
Fooled Around and Fell in Love
Elvin Bishop
Elvin Bishop is an American blues and rock musician and songwriter who was an original Paul Butterfield Blues Band member.
Grasshopper
Spin
Spin was a short-lived band from Holland, known for their combination of progressive rock and pop, active during the 1970s.
Happy Days (TV Theme)
Pratt & McClain
Pratt & McClain is a 1970s era rock and roll band, originally called Brother Love, known for the theme from TV series Happy Days.
Happy Man (part 1)
Impact
Impact was a funk group from Detroit, Michigan, originally formed in the 1970s.
Hard Work
John Handy
John Handy is an American jazz musician most commonly associated with his work in the 1960s with Charles Mingus.
Hey Shirley (This Is Squirrely)
Shirley and Squirrely
Shirley and Squirrely was a novelty act featuring songs performed by speeded-up voices, similar to The Chipmunks.
If Only I Could
The Rowans
The Rowans are an American country-rock group, originally formed as The Rowan Brothers in 1972.
I'm Easy
Keith Carradine
Keith Carradine is an American actor and songwriter who has had a successful career in film, television, and theater since the early 1970s.
I'm So Lonesome I Could Cry
Terry Bradshaw
Terry Bradshaw is a former American football quarterback who is known for his sports career, but he also had a brief career as a country singer.
It Shoulds Have Been Me
Yvonne Fair
Yvonne Fair was an American singer, who was originally a member of the Chantels and the James Brown Revue in the late 1960s and early 1970s.
I've Been Lovin' You
Easy Street
Easy Street was a British band of the mid-70s, known for their fusion of jazz, funk, and rock.
Johnny Cool
Steve Gibbons Band
Steve Gibbons Band was a British rock band formed in the 1970s, led by Birmingham singer-songwriter Steve Gibbons.
Junk Food Junkie
Larry Groce
Larry Groce is an American singer-songwriter and radio host, best known as a co-creator and host of the live radio show Mountain Stage.
Lady Bump
Penny McLean
Penny McLean is an Austrian-born singer who gained fame as a disco group Silver Convention member.
Let Me Down Easy
American Flyer
American Flyer was a 1970s folk-rock band, made up of a group of American singer-songwriters that included Craig Fuller and Eric Kaz.
Let's Live Together
The Road Apples
The Road Apples were an American rock band from Pennsylvania, known for their 1970s hit "Let's Live Together".
Let's Rock
Ellison Chase
Ellison Chase was a 1970s funk and disco group best known for their energetic performances and dance-oriented sound.
Listen To The Buddha
Ozo
Ozo was a British progressive rock band with a somewhat mystical image that released two albums in the 1970s.
Make Me Smile (Come Up and See Me)
Steve Harley
Steve Harley is an English singer and songwriter, best known as the frontman of the rock group Cockney Rebel.
Makes You Blind
The Glitter Band
The Glitter Band was a glam rock band from England, originally formed as Gary Glitter's backing band.
Making Our Dreams Come True (LaVern and Shirley Theme)
Cyndi Grecco
Cyndi Grecco is an American singer who performed the theme song to the television show Laverne & Shirley.
Mary Hartman, Mary Hartman
The Deadly Nightshade
The Deadly Nightshade was an all-female American rock band from the 1970s, known for combining rock, country and jazz elements in their music.
Mighty High
Mighty Clouds of Joy
The Mighty Clouds of Joy is a Grammy Award-winning gospel group that was formed in Los Angeles, California in 1960.
Moonlight Feels Right
Starbuck
Starbuck was a rock band formed in Atlanta, Georgia in 1974 by keyboardist and vocalist Bruce Blackman and marimba player Bo Wagner.
More, More More
Andrea True Connection
Andrea True Connection was a 1970s disco group, created and led by adult film actress Andrea True.
Movin'
Brass Construction
Brass Construction was a 1970s funk band formed in Brooklyn, New York, known for their horn-driven sound.
Nadia's Theme
Barry & Perry Botkin
Perry Botkin Jr. is a prolific composer, known for his work on television themes such as The Young and the Restless (which "Nadia's Theme" is from) and Mork & Mindy. Barry De Vorzon is an American singer, songwriter, producer, and composer. He wrote several hit songs, as well as soundtracks for several films.
Norma Jean Wants To Be A Movie Star
Sundown Company
Sundown Company was a disco-oriented studio project from the 1970s, featuring a variety of vocalists.
One Fine Day
Julie
Julie is a British singer who is best known for her cover of the Chiffons' song "One Fine Day".
Play That Funky Music
Wild Cherry
Wild Cherry was a hard rock band from Ohio, best known for transitioning to a funk rock sound in the mid-1970s.
Popsicle Toes
Michael Franks
Michael Franks is an American singer and songwriter who has been a leading name in contemporary jazz since the 1970s.
Rain, Oh Rain
Fools Gold
Fools Gold was an American country rock band that was active in the mid to late 1970s. They often served as Dan Fogelberg's backing band.
Roots, Rock, Reggae
Bob Marley
Bob Marley is a Jamaican singer-songwriter and musician, considered one of the pioneers of reggae, and his contributions to music increased the visibility of Jamaican music worldwide.
Roxy Roller
Sweeney Todd
Sweeney Todd is a Canadian rock band, best known for its brief association with future superstar Bryan Adams.
Say You Love Me
D.J. Rogers
D.J. Rogers was an American singer, songwriter, and producer, known for his soulful voice and gospel-influenced style.
Scotch On The Rocks
Band Of The Black Witch
Band Of The Black Watch was a musical project by British producer Les Reed, known for their bagpipe-heavy disco sound.
Shannon
Henry Gross
Henry Gross is an American singer-songwriter best known for his association with the group Sha Na Na and for his hit song "Shannon".
Sherry
The Keane Brothers
The Keane Brothers were a musical duo in the late 1970s, consisting of pre-teens Tom and John Keane, sons of actor and comedian Bob Keane.
Silver Heels
Blaze
Blaze was a country rock band of the 1970s, hailing from Kentucky, best known for their hit "Silver Heels".
Sixteen Reasons
LaVern and Shirley
Laverne & Shirley was an American television sitcom that ran for eight seasons on ABC from 1976 to 1983. The show starred Penny Marshall as Laverne DeFazio and Cindy Williams as Shirley Feeney, single roommates who work as bottlecappers in a fictitious Milwaukee brewery called "Shotz Brewery."
Sixteen Tons
Don Harrison Band
The Don Harrison Band was an American rock group formed in 1976 and dissolved in 1977. It was led by Don Harrison and included two former members of Creedence Clearwater Revival, Stu Cook and Doug Clifford.
Street Singin'
Lady Flash
Lady Flash was a 1970s American girl group that was created and managed by Barry Manilow.
Sun… Sun… Sun (part 1)
Ja – kki
Ja – kki was a disco project of the famous producers/writers team Bell & James, known for their work with Philadelphia International Records.
Sweet Summer Music
Attitudes
Attitudes was a band formed by musicians Danny Kortchmar, Paul Stallworth, David Foster and Jim Keltner.
Teddy Bear's Last Ride
Diana Williams
Diana Williams is a country music artist who gained fame with her spoken word song "Teddy Bear's Last Ride".
Ten Percent
Double Exposure
Double Exposure is an American, Philadelphia-based disco group, known for their 1976 hit, "Ten Percent".
The Boys Are Back In Town
Thin Lizzy
Thin Lizzy is an Irish hard rock band formed in Dublin, Ireland in 1969, known for their distinctive twin lead guitar sound and the charismatic vocals of frontman Phil Lynott.
The Fonz Song
The Heyettes
The Heyettes were a group of female vocalists that recorded a tribute album to the television show Happy Days, including "The Fonz Song".
The Game Is Over (What's The Matter With You)
Brown Sugar
Brown Sugar was a British reggae group that formed in the late 1970s and was among the first all-female reggae bands.
The Homecoming
Hagood Hardy
Hagood Hardy was a Canadian pianist, vibraphonist, and composer, known for his commercial jingles and film scores.
The Lonely One
Special Delivery
Special Delivery was an American disco and R&B group of the late 1970s, known for their hit "The Lonely One".
Til It's Time To Say Goodbye
Jonathon Cain
Jonathan Cain is an American musician, best known for his work with The Babys, Journey and Bad English.
Tonight's The Night
S.S.O.
S.S.O. was a European disco group, known for their big orchestral sound and energetic performances.
Torn Between Two Lovers
Mary MacGregor
Mary MacGregor is an American singer, best known for her 1976 song "Torn Between Two Lovers", which topped the Billboard charts for two weeks.
Tubular Bells
Champs' Boys Orchestra
Champs' Boys Orchestra was a disco act of the 1970s known for their instrumental dance versions of popular songs.
Turn The Beat Around
Vicki Sue Robinson
Vicki Sue Robinson was an American singer, best known for her 1976 hit, "Turn The Beat Around". She later became a successful musical actress.
Uptown and Country
Tom Scott
Tom Scott is an American saxophonist, composer, and arranger who has worked with a wide range of high-profile artists, from Frank Sinatra to the Blues Brothers.
Wanna Make Love (Come Flick My BIC)
Sun
Sun was a 1970s funk band from Dayton, Ohio, known for their optimistic and light-hearted take on funk music.
We Can't Hide It Anymore
Larry Santos
Larry Santos is an American singer-songwriter best known for his pop and easy-listening hits of the 1970s.
Welcome Back
John Sebastian
John Sebastian is an American singer-songwriter best known as a founder of The Lovin' Spoonful. He performed the theme song for the 1970s television show Welcome Back, Kotter.
Wham Bam
Silver
Silver was an American 1970s country rock band, including John Batdorf and Brent Mydland, who would later join the Grateful Dead.
When Love Has Gone Away
Richard Cocciante
Richard Cocciante is an Italian-French singer known for his romantic ballads and musical theatre compositions.
White Bird
David LaFlamme
David LaFlamme is a virtuoso violinist best known for his work with the psychedelic rock band It's a Beautiful Day in the late 1960s and early 1970s.
Words (Are Impossible)
Donny Gerrard
Donny Gerrard is a Canadian singer who was a founding member of Skylark, a pop and rock band that had a hit with "Wildflower" in the 1970s.
Wow
Andre Gagnon
Andre Gagnon was a Canadian composer, conductor and pianist known for his fusion of classical and pop styles.
You Are To Me Everything part 1
Revelation
Revelation was a 1970s disco band known for their soulful and groovy sound.
You To Me Are Everything
Broadway
Broadway is a funk band that had a few hits in the mid to late 1970s.
You To Me Are Everything
The Real Thing
The Real Thing are a British soul group formed in the 1970s. In 1976, they became the first all-black British band to have a UK No.1 single with "You to Me Are Everything".
You'll Never Find Another Love Like Mine
Lou Rawls
Lou Rawls was an American singer known for his smooth vocal style and his work in jazz, blues and soul. He was also a three-time Grammy winner.
You're My Everything
Lee Garrett
Lee Garrett is a singer-songwriter and percussionist, best known for co-writing Stevie Wonder's hit "Signed, Sealed, Delivered I'm Yours".