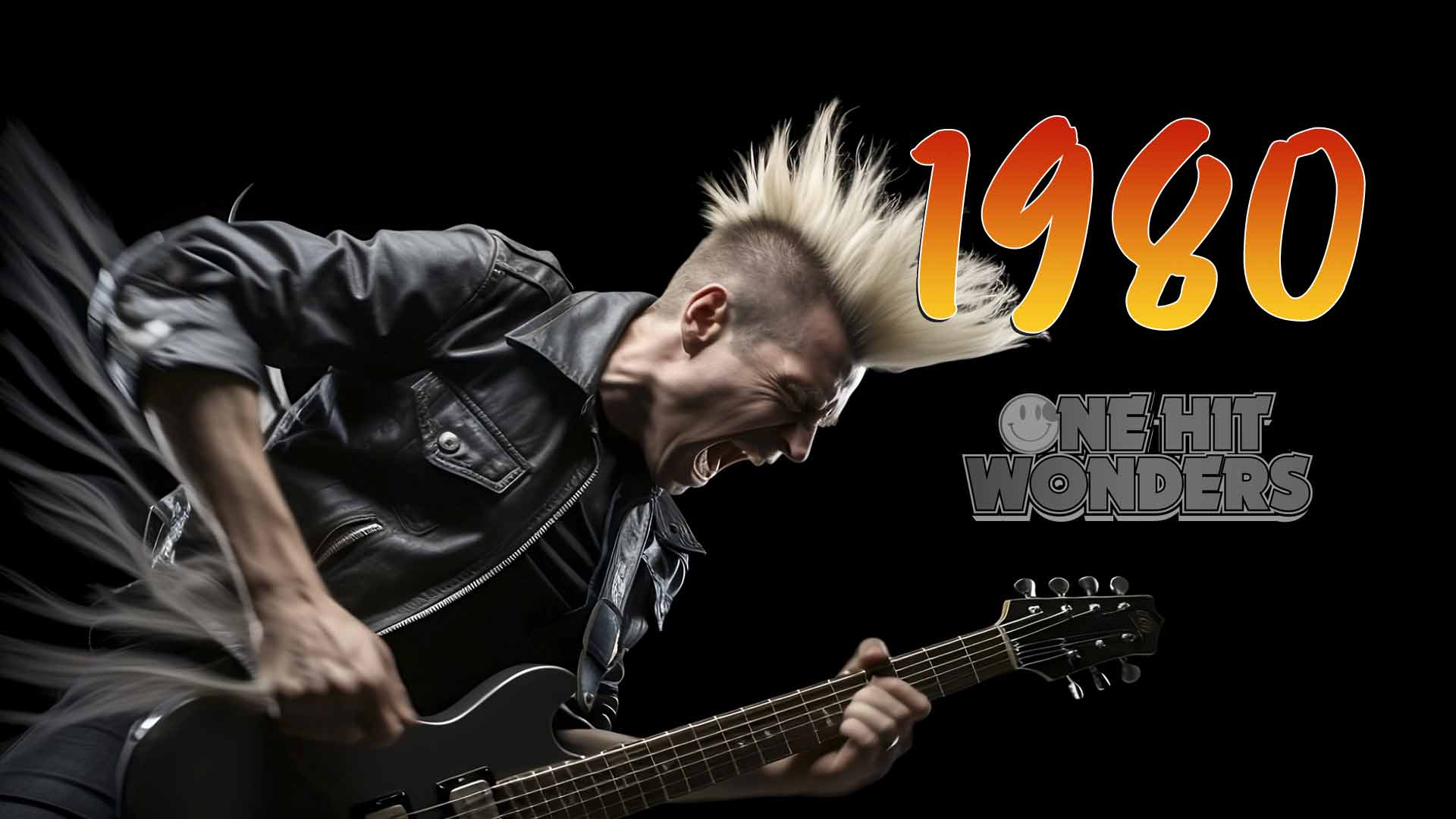 1980 One Hit Wonders & Artists Known For One Song
Ace of Spades
Motorhead
Motorhead, a British rock band formed in 1975, is known for creating a rock sub-genre, speed metal, which was a precursor to thrash metal.
Ah! Leah!
Donnie Iris
Donnie Iris is an American rock musician known for his work with the Jaggerz and Wild Cherry during the 1970s.
All Night Thing
Invisible Man's Band
The Invisible Man's Band was a 1980s American R&B group, which was actually a creation of the Burke family, a group of musicians who had a string of hits in the 1960s as the "Five Stairsteps".
Ashes By Now
Rodney Crowell
Rodney Crowell is a Grammy-winning American musician known for his influential work in country music.
Back Of My Hand (I've Got Your Number)
The Jags
The Jags were a British power pop band formed in 1978. They're often compared to Elvis Costello due to the vocal similarities between Costello and Jags' frontman Nick Watkinson.
Bounce, Rock, Shake, Roll
Vaughan Mason and Crew
Vaughan Mason was an American musician and producer known for his funk and post-disco sound.
Brite Eyes
Robbin Thompson Band
Robbin Thompson was an American singer-songwriter based in Richmond, Virginia. He's known for his single "Sweet Virginia Breeze", often referred to as the unofficial state song of Virginia.
Cars
Gary Numan
Gary Numan is an English singer, songwriter, and record producer. He is considered a pioneer of electronic music, particularly synth-pop.
Computer Game
Yellow Magic Orchestra
Yellow Magic Orchestra is a Japanese electronic music band formed in Tokyo in 1978. They are considered to be pioneers of synthpop, electro, and techno.
Darlin'
Yipes!
Yipes! is an American power pop band from Milwaukee, Wisconsin, formed in 1977.
Dig The Gold
Joyce Cobb
Joyce Cobb is an American singer known for her contributions to jazz and R&B. She's also an educator and has spent decades teaching music in various universities.
Dirty Water
The Inmates
The Inmates are a British pub rock band that formed after the split of The Flying Tigers in 1977.
Don't Cry For Me Argentina
Festival
Festival was a studio group from Sydney, Australia, known for their disco version of "Don't Cry For Me Argentina".
Don't Misunderstand Me
Rossington Collins Band
Rossington Collins Band was a southern rock band formed in 1979 by two founding members of Lynyrd Skynyrd.
Don't Push It Don't Shove It (Let It Happen Naturally)
Leon Haywood
Leon Haywood was an American funk and soul singer, songwriter, and record producer, known for his 1975 hit "I Want'a Do Something Freaky to You".
Don't Say No
Billy Burnette
Billy Burnette is an American guitarist, singer and songwriter who was part of Fleetwood Mac between 1987 and 1995.
Everybody's Got To Learn Sometime
The Korgis
The Korgis were a British pop band known for their innovative use of electronic instruments. Despite their short tenure, they left a lasting impact on the British pop scene.
First… Be A Woman
Lenore O'Malley
Lenore O'Malley is an American disco singer of the late 70s and 80s. Despite having a short career in music, she's fondly remembered for her distinct voice and style.
Funkytown
Lipps Inc.
Lipps Inc. was an American disco and funk band notable for being one of the first groups to bring synth-driven disco to the R&B charts.
Gee Whiz
Bernadette Peters
Bernadette Peters is an accomplished American actress, singer, and children's book author, well known for her performances on Broadway.
Glide
Pleasure
Pleasure was an American funk band with a sound that fused soul, funk, and jazz. The band was known for their on-stage performances.
Goodnight My Love
Mike Pinera
Mike Pinera is an American guitarist, singer, songwriter, and producer, known for his work with Blues Image and Iron Butterfly.
Gypsy Spirit
Pendulum
Pendulum is an Australian drum and bass band founded in 2002. The band is known for their energetic live performances and mix of electronic genres.
He Can't Love You
Michael Stanley Band
Michael Stanley Band, an American heartland rock band, enjoyed a strong following in the Ohio region and parts of the Midwest in the late '70s and early '80s.
High On Your Love
Debbie Jacobs
Debbie Jacobs is an American singer known for her high energy disco and dance music. She's best remembered for her classic late '70s and early '80s club hits.
Honey, Honey
David Hudson
David Hudson is an Indigenous Australian musician known for his skill with the didgeridoo, although he made a few disco records in the 80s.
How Do I Survive?
Amy Holland
Amy Holland is an American pop rock singer and wife to renowned producer and musician Michael McDonald.
I Believe In You
Don Williams
Don Williams was an American country singer and songwriter known for his gentle, laid-back sound, earning him the nickname "The Gentle Giant of Country Music".
I Don't Like Mondays
Boomtown Rats
Boomtown Rats were an Irish rock band that rose to prominence during the late 70s and early 80s punk rock movement. They were led by vocalist Bob Geldof, who later organized the charity super-concert, Live Aid.
I Got You
Split Enz
Split Enz was a New Zealand rock band that was popular in the late 70s and early 80s. Neil Finn, who later formed Crowded House, was a band member.
I Love Women
Jim Hurt
Jim Hurt is a country singer and songwriter from the United States. He made many contributions to the country music genre during the late '70s and '80s.
I Only Want To Be With You
The Tourists
The Tourists were a British rock and pop band. They are known as the band where Annie Lennox and Dave Stewart of Eurythmics fame first had major success.
Into The Night
Benny Mardones
Benny Mardones was an American pop singer and songwriter noted for his soulful voice. He was particularly known for his hit song "Into the Night," which charted twice.
I've Just Begun To Love You
Dynasty
Dynasty was an American band, most popular in the late 1970s and 1980s, known for their high-energy R&B and soulful harmonies.
Just For The Moment
Ray Kennedy
Ray Kennedy was an American country music singer-songwriter known for his crossover appeal to the pop music genre.
Leaving L.A.
Deliverance
Deliverance is a Christian metal band that emerged in the mid-80s. They are considered pioneers of the Christian thrash metal movement.
Let Me Be
Korona
Korona is a lesser-known disco/funk band from the late 70s and early 80s. They are known for their minor hit "Let Me Be."
Let Me Sleep Alone
Cugini
Cugini is a lesser-known band that released the single "Let Me Sleep Alone" in the late 1970s. Their work is representative of the disco music era.
Let's Do Something Cheap and Superficial
Burt Reynolds
Burt Reynolds was an acclaimed American actor who also had a brief music career. He is best known for his roles in films like "Deliverance" and "Smokey and the Bandit."
Looks Like Love Again
Dann Rogers
Dann Rogers is a folk rock singer-songwriter known for his sentimental ballads and catchy pop songs.
Love and Loneliness
The Motors
The Motors were a British pub rock band formed in London in 1977. They are best known for their 1977 hit "Airport."
Love On The Phone
Suzanne Fellini
Suzanne Fellini is a singer-songwriter who gained some recognition in the late 70s for her pop-disco tunes.
Love Will Tear Us Apart
Joy Division
Joy Division were an English rock band formed in 1976. They are considered one of the most influential bands of the late 1970s, with their dark, melancholic sound influencing the goth subculture and future alternative rock bands.
Magnet and Steel
Walter Egan
Walter Egan is an American musician and singer-songwriter, best known for his contributions to the Southern California music scene during the late 1970s.
Mirage
Eric Troyer
Eric Troyer is an American musician, best known for his work as a member of the Electric Light Orchestra Part II and The Orchestra, both spin-offs of the popular 70s group Electric Light Orchestra.
Money
The Flying Lizards
The Flying Lizards were an experimental English new wave band, known for their avant-garde musical style that blended various genres.
More Bounce To The Ounce
Zapp
Zapp is an American funk band that emerged in 1977. The band had a unique electro sound, and was influential to developing the g-funk genre of hip hop.
My Mistake
The Kingbees
The Kingbees were an American neorockabilly band formed in 1977. They are known for their energetic revamp of classic rockabilly sounds.
Never Knew Love Like This Before
Stephanie Mills
Stephanie Mills is a Grammy award-winning singer, songwriter and Broadway stage actress. She rose to stardom as "Dorothy" in the original Broadway run of the musical 'The Wiz' from 1975 to 1977.
On The Rebound
Russ Ballard
Russ Ballard is an English singer, songwriter and musician. Apart from his solo career, Ballard was a lead vocalist of Argent, an English rock band, known for their hit "Hold Your Head Up".
One In A Million You
Larry Graham
Larry Graham is a renowned American bass player and singer, recognized as the innovator of the slapping technique, which widely influenced the funk music genre. He played with Sly and the Family Stone and later with Graham Central Station.
One Life To Live
Wayne Massey
Wayne Massey is an American country music artist and actor. He is known for his role on the ABC soap operas 'One Life to Live' and 'All My Children'.
Only A Lonely Heart Sees
Felix Cavaliere
Felix Cavaliere is an American singer, songwriter, and musician known for being a member of the famed rock band 'The Rascals'. He was inducted into the Rock and Roll Hall of Fame in 1997.
Only The Lonely (Have A Reason To Be Sad)
La Flavour
La Flavour was an American disco and funk band from the late 70s and early 80s. They are best known for their 1980 hit "Mandolay".
Peanut Butter
Twennynine
Twennynine, often stylized as Twennynine with Lenny White, was an American R&B band that was formed in 1979. The band is a brainchild of drummer Lenny White, who was part of the jazz fusion movement.
People Who Died
Jim Carroll Band
Jim Carroll Band was a New Wave/punk rock group formed by poet and writer Jim Carroll, best known for his autobiographical work "The Basketball Diaries".
Pilot of the Airwaves
Charlie Dore
Charlie Dore is a British singer-songwriter known for her folk-country style. Besides her singing career, Dore has also worked as an actress.
Real Love
The Cretones
The Cretones were a 1980s new wave and power pop band. Their lead guitarist, Mark Goldenberg, later became a successful songwriter and session musician.
Savannah Nights
Tom Johnston
Tom Johnston is best known as one of the founding members of the rock group The Doobie Brothers. His guitar work and vocals have been a distinctive part of the band's sound.
Scandal
RCR
RCR (Royal Crown Revue) is considered to be a founder of the retro-swing movement of the 1990s. The band's style is a mix of swing, rockabilly, and jazz.
Seasons
Grace Slick
Grace Slick is a singer-songwriter known for her role in the rock band Jefferson Airplane. She is one of the first female rock stars of the psychedelic rock era.
Set Me Free
Utopia
Utopia is an American rock band featuring Todd Rundgren. The band has been characterized by a fluid membership and wildly differing styles of music.
Shiver and Shake
The Silencers
Lead by Frank Czuri, Pittsburgh's Silencers formed in 1979
Shooting Star
Dollar
Dollar is a British pop duo that was popular in the late 1970s and 1980s. The duo consisted of David Van Day and Thereza Bazar.
Shotgun Rider
Joe Sun
Joe Sun was an American country singer-songwriter known for his deep and raspy vocal style. He originally worked as a construction worker before his music career.
Solitaire
Peter Mclan
Peter Mclan is a French singer and musician who became popular in the late 70s and 80s. He's known for his pop and soft rock style.
Special Lady
Ray, Goodman & Brown
Ray, Goodman & Brown was an American R&B vocal group. Before becoming Ray, Goodman & Brown, they were known as "The Moments", a successful R&B act of the 1960s and 1970s.
Stay In Time
Off Broadway USA
Off Broadway USA is a rock band founded in Chicago in 1977. The band has experienced several lineup changes, with Cliff Johnson being the only consistent member.
Take Your Time (Do It Right)
The S.O.S. Band
The S.O.S. Band is an American funk/soul group, well-known for their use of the Roland TR-808 drum machine and their work with producer Jimmy Jam and Terry Lewis.
Takin' It Back
Breathless
Breathless was a California-based AOR (Album Oriented Rock) band that released two albums in the late 70s and early 80s. Their music often combined melodic rock with harder rock elements.
Teacher Teacher
Rockpile
Rockpile was a British rock and roll group of the late 1970s and early 1980s, noted for strong pub rock, rockabilly and power pop influences, and as a foundational influence on new wave.
The Breaks
Kurtis Blow
Kurtis Blow is an American rapper, singer, songwriter, record producer, DJ and minister. He is the first commercially successful rapper and the first to sign with a major record label.
The Part Of Me That Needs You Most
Jay Black
Jay Black, also known as "The Voice," is an American singer, best known as the lead singer of the band Jay and the Americans. His powerful voice has been a staple of the band's music.
Tired of Toein' The Line
Rocky Burnette
Rocky Burnette is part of the famous Burnette family, which also includes his father Johnny Burnette, a popular rockabilly artist in the 1950s.
Turning Japanese
The Vapors
The Vapors are an English new wave and power pop band. They had a hit with the song "Turning Japanese" in 1980, which reached No. 3 in the UK Singles Chart and No. 36 in the US Billboard Hot 100.
Voice of Freedom
Jim Kirk/ TM Singers
Jim Kirk is an American singer and songwriter who has written and performed many jingles for radio and TV commercials. The TM Singers were part of TM Productions, a Dallas-based company known for its radio jingles.
When Things Go Wrong
Robin Lane and the Chartbusters
Robin Lane and the Chartbusters were an American rock band that had a minor hit in 1980. Lane is the daughter of Ken Lane, songwriter and pianist for Dean Martin.
Whip It
Devo
Devo, an American rock band from Akron, Ohio, is known for their music and stage shows mingling kitsch science fiction themes, deadpan surrealist humor and mordantly satirical social commentary.
Who Shot J.R.?
Gary Burbank
Gary Burbank is a radio comedian who was a longtime personality on WLW in Cincinnati, Ohio. His comedic sketches and parodies made him into the National Radio Hall of Fame in 2012.
Who Were You Thinkin' Of
The Doolittle Band
The Doolittle Band, an American country music group, was composed of brothers Mark and Matt Doolittle. They recorded for Warner Bros. Records in 1981, charting three singles on the Billboard Hot Country Singles chart.
Who'll Be The Fool Tonight
Larsen – Feiten Band
Larsen-Feiten Band was a duo consisting of Neil Larsen (keyboards and vocals) and Buzz Feiten (guitar and vocals), who have had long careers as session musicians.
You and Me
Rockie Robbins
Rockie Robbins is an R&B singer from Minneapolis, Minnesota who reached the Billboard R&B Top 40 charts in the mid-1980s with his peaking #20 hit "You and Me".