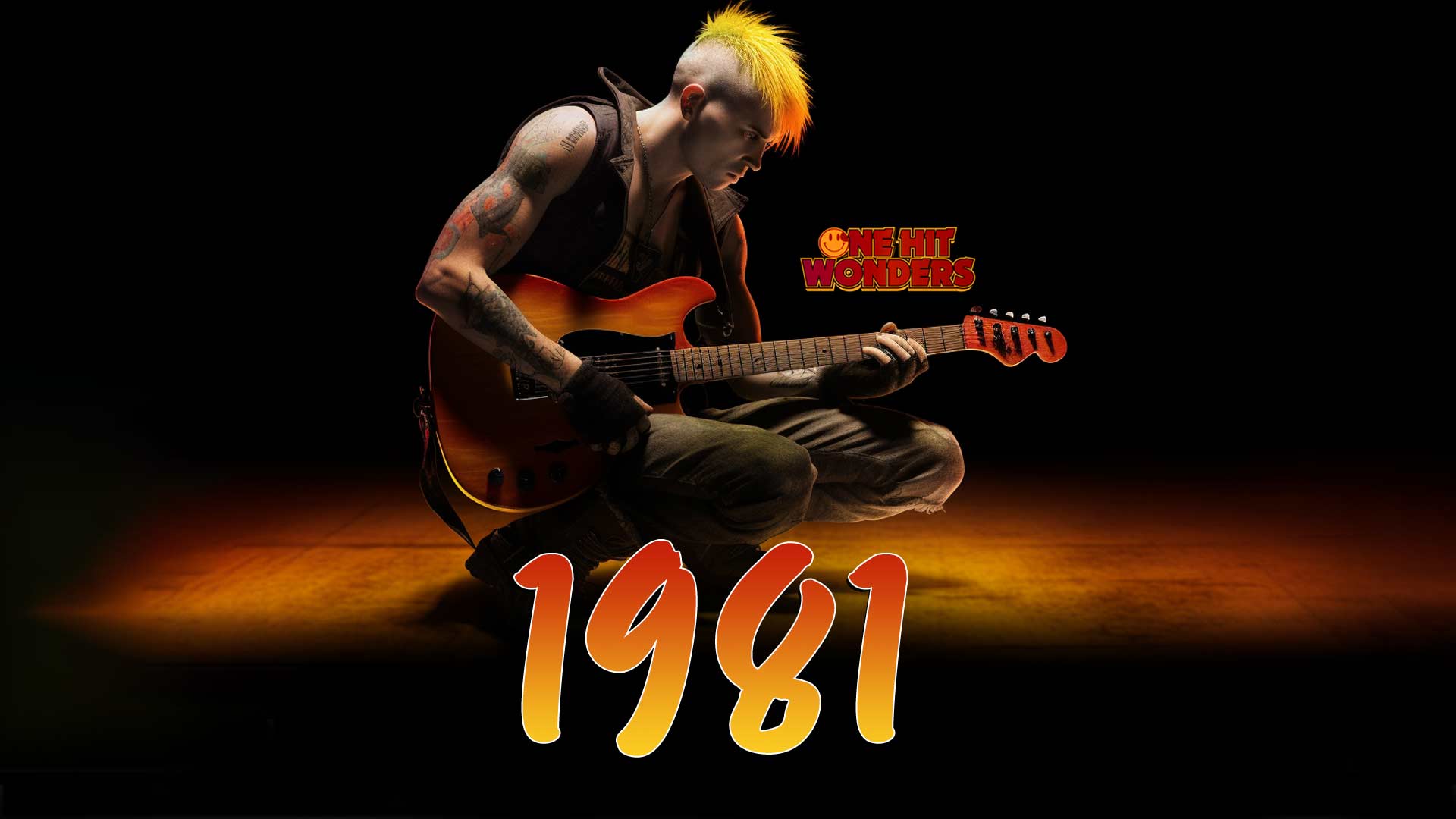 1981 One Hit Wonders & Artists Known For One Song
96 Tears
Garland Jeffreys
Garland Jeffreys is a Brooklyn-born singer and songwriter known for his eclectic mix of rock, reggae, blues, and soul music. He is also a part of the Rock and Roll Hall of Fame's American Music Masters Series.
American Memories
Shamus M'Cool
Shamus M'Cool was a country rock artist who released his debut album, 'American Memories,' in 1981. Despite his limited discography, he's known for his fusion of country and rock elements.
Back To The 60's
Tight Fit
Tight Fit is a British pop group that achieved success in the early 1980s with their UK number 1 hit "The Lion Sleeps Tonight". They were known for their memorable, often jungle-themed, music videos.
Bon Bon Vie (Gimme The Good Life)
T.S. Monk
T.S. Monk is an American jazz drummer, composer, and bandleader. He is the son of the famous jazz pianist Thelonious Monk.
Ch Ch Cherie
Johnny Average Band
The Johnny Average Band, an American power pop group, was active in the late 70s and early 80s, known for their energetic performances and catchy tunes.
Don't Want No – Body
J.D. Drews
J.D. Drews is a lesser-known pop singer who made a mark in the late 70s and early 80s with his single "Don't Want No – Body".
Double Dutch Bus
Frankie Smith
Frankie Smith is an American R&B musician and songwriter. He was a key figure in the development of the funk genre.
Fantastic Voyage
Lakeside
Lakeside is an American funk band, known for their top 10 R&B hits in the late 1970s and early 1980s. They were originally formed in Ohio in 1969.
Fly Away
Peter Allen
Peter Allen was an Australian singer-songwriter and entertainer. He won an Academy Award for Best Original Song in 1981.
General Hospi – Tale
The Afternoon Delights
The Afternoon Delights was a short-lived, all-female American vocal group, best known for their 1981 novelty hit "General Hospi-tale".
Heavy Metal (Takin' A Ride)
Don Felder
Don Felder
I Surrender
Arlan Day
Arlan Day is a singer-songwriter and instrumentalist, most well known in the music world for his one-hit-wonder status.
Just Like Paradise
Larry John McNally
Larry John McNally is an American songwriter whose songs have been recorded by The Eagles, Bonnie Raitt, Don Henley, and others.
Just So Lonely
Get Wet
Get Wet was an American male-female vocal duo comprising of Sherri Beachfront (born Sherri Lewis) and Michael Wittenberg. They had a hit single in 1981 with "Just So Lonely," which hit #39 on the Billboard Hot 100.
Let Me Go
The Rings
The Rings were a British rock band formed in London in 1977, who released two singles and an album on the Chiswick label.
Love Light
Yutaka with Patti Austin
Yutaka Yokokura is a Japanese pianist, keyboardist, kotoist, arranger and composer. He has participated in over fifty recordings and soundtracks, including his own solo albums. Patti Austin is an American R&B, pop and jazz singer known for her chart performance in the 80s and Grammy-winning work in 2008.
Love You Like I Never Loved Before
John O'Banion
John O'Banion was an American vocalist and actor. His highest charting single, "Love You Like I Never Loved Before", reached No. 24 on the Billboard Hot 100 in 1981.
Lovin' The Night Away
The Dillman Band
The Dillman Band was a short-lived American rock band from the early 1980s.
Nicole
Point Blank
Point Blank is an American rock band hailing from Texas. They secured several hits in the 70's and 80's and were known for their combination of southern and hard rock styles.
Not Fade Away
Eric Hine
Eric Hine was an English singer-songwriter who had a minor hit with his rendition of "Not Fade Away", a song originally by The Crickets.
Once A Night
Jackie English
Jackie English is a Canadian actress and director, known for her work in the theater and film industry. Her music career is less extensive, with only a few singles to her name.
One More Night
Streek
Streek was a rock band active in the early 1980s. Despite their lack of commercial success, they have a dedicated fan base.
Pay You Back With Interest
Gary O'
Gary O' is a Canadian musician and songwriter, best known for the singles "Pay You Back With Interest", "All the Young Heroes" and "Shades of '45".
Playing With Lightning
Shot In The Dark
Shot in the Dark was a band formed by former Pilot drummer Ian Wallace. The group only released one album, the self-titled "Shot in the Dark", in 1981.
Precious To Me
Phil Seymore
Phil Seymour was an American musician, singer-songwriter, and record producer, best known for the single "Precious to Me" which reached #22 on the Billboard chart in 1981.
Proud
Joe Chemey Band
Joe Chemay is an American session bassist who has performed with a number of notable artists including Elton John and The Beach Boys. The Joe Chemay Band released one album, entitled "Proud".
Raging Bull Theme
Joel Diamond
Joel Diamond is a Grammy-nominated record producer and songwriter. He has produced over 36 Gold and Platinum recordings.
Rain In May
Max Werner
Max Werner is a Dutch musician, known as a member of the progressive rock band Kayak. As a solo artist, he had a hit in Europe with "Rain In May".
Ready For Love
Silverado
Silverado was an American country music band. They charted several singles on the Billboard Hot Country Singles charts in the early 80s.
Right Away
Hawks
The Hawks were an American rock band best known for their association with musician Ronnie Hawkins.
Rock and Roll Dreams Come Through
Jim Steinman
Jim Steinman was an American composer, lyricist, record producer, and playwright, best known for his work with Meat Loaf.
Sausalito Summernight
Diesel
Diesel is a Dutch pop/rock group that became one of the few Dutch acts to chart in the U.S. when their song "Sausalito Summernight" entered the U.S. Top 40 in 1981.
Seasons
Charles Fox
Charles Fox is an American composer for film and television. His most heard compositions are probably the "love themes" (the sunshine pop musical backgrounds which accompanied every episode of the 1970s television sitcoms "Love, American Style"); he also composed the theme song to the late 1970s ABC series "The Love Boat".
Seduced
Leon Redbone
Leon Redbone was a singer-songwriter and actor known for his distinctive deep voice and his mastery of early 20th-century music styles.
Seven Year Ache
Rosanne Cash
Rosanne Cash is a highly accomplished country singer-songwriter and author. She is the eldest daughter of country music icon Johnny Cash and his first wife, Vivian Liberto Cash Distin.
Shaddap You Face
Joe Dolce
Joe Dolce is an American-Australian singer/songwriter, poet and essayist who achieved international recognition with his multi-million-selling song, "Shaddap You Face", released under the name of his one-man show, Joe Dolce Music Theatre, in 1980.
Stay Awake
Ronnie Lewis
Ronnie Lewis is a less-known artist who had a brief career in the music industry in the 1980s.
Summer '81 Medley
The Cantina Band
The Cantina Band was a novelty band that produced a medley of popular songs in the early 80s.
Sweet Baby
Stanley Clarke & George Duke
Stanley Clarke is an American bassist and film composer known for his innovative work in both the jazz fusion and classical music genres. George Duke was an American keyboard pioneer, composer, singer-songwriter and record producer.
Teacher Teacher
Rockpile
Rockpile was a British rock and roll group of the late 1970s and early 1980s, noted for their strong pub rock, rockabilly and power pop influences, and as a foundational influence on new wave.
Toccata
Sky
Sky was an English/Australian instrumental rock group that specialized in combining a variety of musical styles.
Very Special
Debra Laws
Debra Laws is an American singer and actress from Houston, Texas. She is the sister of the musicians Hubert Laws, Ronnie Laws and Eloise Laws.
Walking Into Sunshine
Central Line
Central Line was a British pop, R&B band that enjoyed success in the early 1980s.
Walking On Thin Ice
Yoko Ono
Yoko Ono is a Japanese multimedia artist, singer, songwriter and peace activist. She is known for her work in avant-garde art, music and filmmaking as well as her marriage to John Lennon.
What She Does To Me (The Diana Song)
The Producers
The Producers were a new wave and power pop band from Atlanta, Georgia.
Where's Your Angel?
Lani Hall
Lani Hall is an American singer, lyricist, author, and the wife of Herb Alpert. She achieved success in the 1960s as the lead singer of Sergio Mendes's breakthrough group, Brasil '66.
WKRP IN Cincinnati
Steve Carlisle
Steve Carlisle is a Canadian singer best known for his rendition of the WKRP In Cincinnati theme song.
You Could Take My Heart Away
Silver Condor
Silver Condor was an American rock band that had a hit in 1981 with "You Could Take My Heart Away".