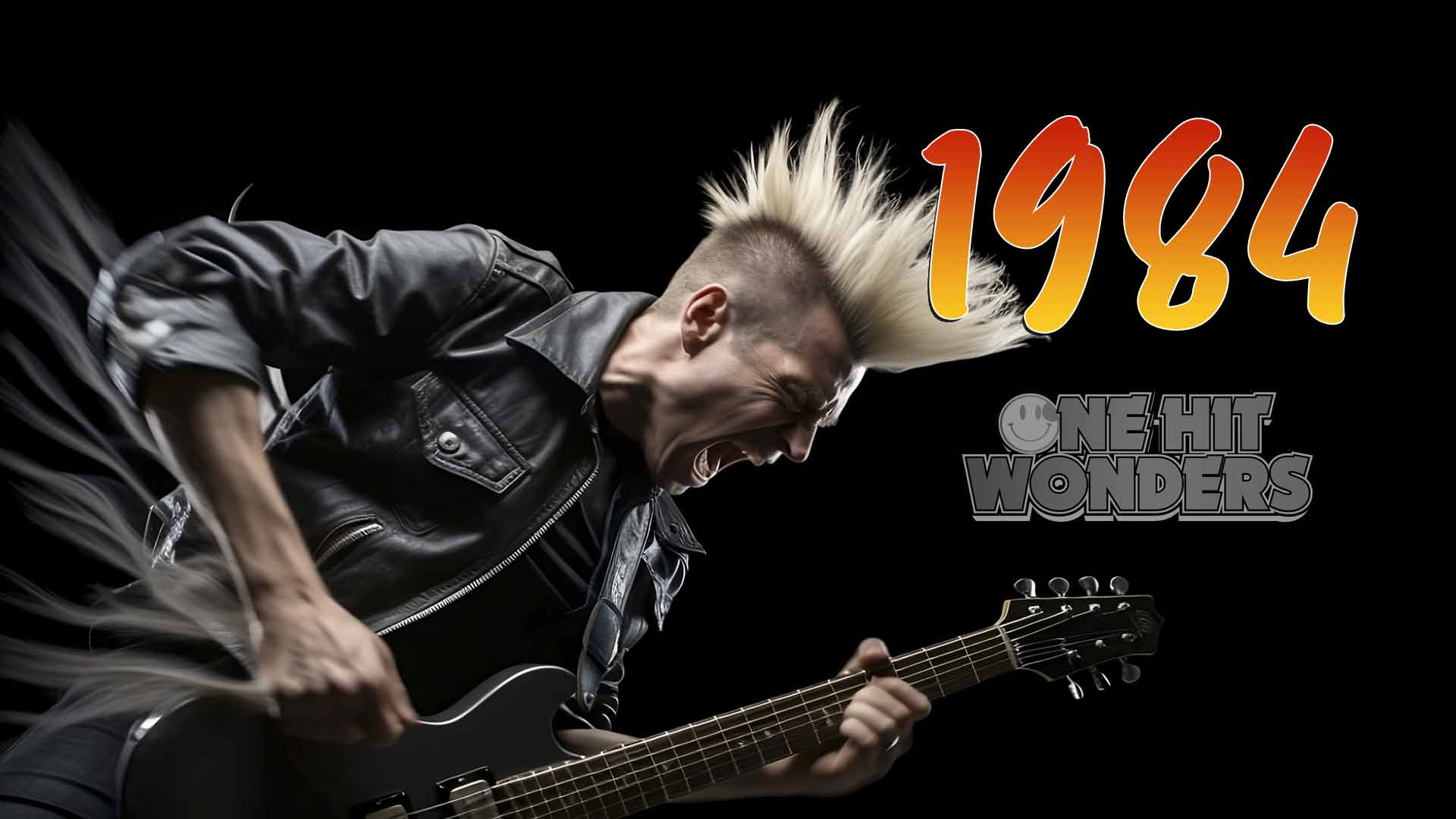 1984 One Hit Wonders & Artists Known For One Song
10-9-8
Face To Face
Face to Face was an American rock band from Boston, Massachusetts in the 1980s, formed by Laurie Sargent, Stuart Kimball and Angelo Petraglia, who all later worked on various other music projects.
99 1/2
Carol Lynn Townes
Carol Lynn Townes is an American soul singer from Warrenton, North Carolina. She is known for her work on the soundtracks of several popular films in the 1980s, including "Breakin'" and its sequel "Breakin' 2: Electric Boogaloo".
99 Luftballons
Nena
Nena is a German band, named after its lead vocalist Gabriele Susanne Kerner, who is often referred to by the band's name. Nena had a series of hits in Europe during the 80s and remains active, primarily in Germany, today.
A Girl In Trouble (Is A Temporary Thing)
Romeo Void
Romeo Void was a new wave/post punk band from San Francisco, California, formed in 1979. The band's name was derived from a line in a Jack Kerouac novel. The song peaked at 35 on the Billboard Charts.
All I Need
Jack Wagner
Jack Wagner is an American actor and singer, best known for his roles on the soap operas "General Hospital", "Santa Barbara", and "The Bold and the Beautiful". Wagner had several hits in the 1980s, with "All I Need" reaching the top of the Billboard charts.
Almost Paradise
Mike Reno (Loverboy) and Ann Wilson (Heart)
Mike Reno is best known as the lead singer of the rock band Loverboy. Ann Wilson is the lead vocalist for the rock band Heart. Their duet "Almost Paradise" was a prominent track on the "Footloose" movie soundtrack.
Anywhere With You
Rubber Rodeo
Rubber Rodeo was an American new wave band, heavily influenced by country music. The band was formed in Rhode Island in 1976, and received a Grammy nomination in 1984 for their 3D EP.
Baby Come Back
Billy Rankin
Billy Rankin is a Scottish rock guitarist and singer who spent several years as a member of the popular hard rock band Nazareth in the 1980s.
Baby I Lied
Deborah Allen
Deborah Allen is an American country singer, songwriter, author, and actress. Since 1976, Allen has issued 12 albums and charted 14 singles on the Billboard Hot Country Songs chart.
Black Stations/White Stations
Martha and the Muffins
Martha and the Muffins are a Canadian new wave band, active from 1977 to the present. Their most known single, "Echo Beach", earned them a Juno Award in 1980 for Single of the Year.
Blue Light
David Gilmour
David Gilmour is an English musician who is best known as the guitarist and co-lead vocalist of the progressive rock band Pink Floyd, which he joined in 1967. He was inducted into the Rock and Roll Hall of Fame as a member of Pink Floyd in 1996.
Body Rock
Maria Vidal
Maria Vidal, born in Florida, USA, was a band Desmond Child & Rouge member in the late 1970s before she went solo. She was nominated for Best Pop Vocal Female Grammy for the song "Body Rock".
Break My Stride
Matthew Wilder
Matthew Wilder is an American musician, composer and record producer. In addition to his pop career, Wilder has been successful in the music industry in several roles, including as a producer of No Doubt's hit album "Tragic Kingdom".
Breakin'. There's No Stopping Us
Ollie & Jerry
Ollie & Jerry was a California dance music duo consisting of drummer Ollie E. Brown and R&B singer Jerry Knight. They enjoyed short-lived success in the mid-1980s, most notably the song "Breakin'… There's No Stopping Us" from the movie "Breakin'".
Breaking Up Is Hard On You (Don't Take Ma Bell Away From Me)
The American Comedy Network
The American Comedy Network (ACN) is a syndicated radio production company in the U.S. that provides comedy show prep material to a network of over 350 affiliated radio stations. The group had a minor hit with "Breaking Up Is hard On You (Don't Take Ma Bell Away From Me)".
Centipede
Rebbie Jackson
Rebbie Jackson is an American singer and the eldest child of the Jackson family. She had a successful career in the mid-1980s, with hits such as "Centipede".
Cleanin' Up The Town
The Bus Boys
The Bus Boys are an American band who formed in Los Angeles in 1978. They became popular in the early 1980s by providing music for films, including contributing to the soundtrack of the 1984 film "Ghostbusters".
Desert Moon
Dennis DeYoung
Dennis DeYoung is an American singer-songwriter, musician and producer best known as a founding member of the rock band Styx. He was the lead vocalist on seven of the band's eight Billboard Top 10 hits.
Do They Know It's Christmas
Band Aid
Band Aid was a supergroup formed in 1984 by Bob Geldof and Midge Ure to raise money for anti-famine efforts in Ethiopia. The group was comprised of many top British and Irish musicians of the time.
Do You Love Me
Andy Fraser
Andy Fraser was an English songwriter and bass guitarist, best known as a founding member of the rock band Free. He co-wrote their biggest hit, "All Right Now".
Don't Do Me
Randy Bell
Randy Bell is a musical artist known for his work in the 1980s. However, details about his life and career beyond his music are scarce.
Don't Look Any Further
Dennis Edwards featuring Siedah Garrett
Dennis Edwards was an American soul and R&B singer, notably a lead singer in The Temptations. Siedah Garrett is an American singer and songwriter, who has written songs and performed backing vocals for many recording artists in the music industry, such as Michael Jackson and Madonna.
Each Word's A Beat Of My Heart
Mink DeVille
Mink DeVille was an American rock band that formed in 1974. Their lead singer, Willy DeVille, went on to have a successful solo career and is credited as helping to introduce the world to the punk rock sound.
Electric Kingdom
Twilight 22
Twilight 22 was an American electro music project led by Gordon Bahary, a producer and synthesist who has worked with Stevie Wonder and Herbie Hancock.
Flashes
Tiggi Clay
Tiggi Clay was a 1980s R&B group comprising of Fizzy Qwick, Michelle Aller, and Marsha Carter. The group was formed after the disbandment of their previous group, The Mirettes.
From A Whisper To A Cream (Birds Fly)
Icicle Works
Icicle Works is an English alternative rock band and was named after the 1960 short story "The Day the Icicle Works Closed" by science fiction author Frederik Pohl.
Girls With Guns
Tommy Shaw
Tommy Shaw is an American guitarist, singer, songwriter, and performer best known for his work with the rock band Styx. In between his stints with Styx, he has played with other groups including Damn Yankees and has released several solo albums.
Had A Dream (Sleeping With The Enemy)
Roger Hodgson
Roger Hodgson is an English musician and songwriter, best known as the former co-frontman and founding member of progressive rock band Supertramp. Hodgson wrote and sang most of the band's big hits, including "Dreamer", "Give a Little Bit", "Breakfast in America", and "Take the Long Way Home".
Hallelujah
Leonard Cohen
Leonard Cohen was a Canadian singer-songwriter, poet, and novelist. His work explored religion, politics, isolation, and romantic relationships. Cohen was inducted into the Canadian Music Hall of Fame, the Canadian Songwriters Hall of Fame, and the Rock and Roll Hall of Fame.
Heaven Knows I'm Miserable Now
The Smiths
The Smiths were an English rock band formed in Manchester in 1982. They are often credited with being the band that inspired the 'indie' music scene in the UK. Lead singer Morrissey and guitarist Johnny Marr are considered one of the most important songwriting partnerships in British music history.
Heaven (Must Be There)
Eurogliders
Eurogliders is an Australian indie pop band which formed in 1980. They were highly successful in the mid-to-late 1980s with chart-topping hits in their native Australia and also gained significant success in the United States and Japan.
High Energy
Evelyn Thomas
Evelyn Thomas is an American singer from Chicago, Illinois, best known for her rise to fame during the disco era in the late 1970s. After her success in the 1980s, she returned to the music industry with the hit dance song, "High Energy".
I Cry Just A Little Bit
Shakin' Stevens
Shakin' Stevens, whose real name is Michael Barratt, is a Welsh rock and roll singer and performer who has been referred to as the 'Welsh Elvis'. He was the UK's biggest-selling singles artist of the 1980s.
I Had A Dream (Sleeping With the Enemy)
Roger Hodgson
Roger Hodgson, the co-founder of the progressive rock band Supertramp, is recognized for his high-pitched singing voice, which became a signature part of the band's sound. After leaving Supertramp, he continued to work as a solo artist.
In The Name of Love
Ralph McDonald and Bill Withers
Ralph MacDonald was an American percussionist and songwriter, who was a prolific session musician and played on many hit songs throughout his career. Bill Withers was a celebrated singer-songwriter known for hits like "Ain't No Sunshine" and "Lean on Me."
It's My Life
Talk Talk
Talk Talk was an English band formed in 1981, notable for their transition from synth-pop to a more experimental form that laid groundwork for post-rock. Frontman Mark Hollis is praised for his innovative songwriting and distinctive vocal style.
Jam On It
Newcleus
Newcleus was an American electro and old school hip hop group that gained popularity in the early 1980s. They are known for their use of sci-fi themes in their music.
Just One More Time
Headpins
Headpins are a Canadian rock group, initially started as a side project by then Chilliwack members Ab Bryant and Brian MacLeod. MacLeod received a Juno Award for "Producer of the Year" for the Headpins' album, Turn It Loud.
Loverboy
Karen Kamon
Karen Kamon is an American actress and singer, who is married to director and producer Michael Manheim. Her acting career includes performances in Broadway productions and on television.
Medley: Love Songs Are Back Again
Band of Gold
Band of Gold was a soul and funk band from the 70s-80s, named after the hit song "Band of Gold" by Freda Payne. Their medleys were quite popular during their time.
Missing You
John Waite
John Waite is an English musician best known as the lead vocalist for the bands The Babys and Bad English. He has also found success as a solo artist, particularly in the U.S.
My Ever Changing Moods
The Style Council
The Style Council was an English band formed by Paul Weller, the former leader of The Jam, and keyboardist Mick Talbot. Known for a series of top-ten singles and albums in the UK in the mid-1980s.
Obsession
Animotion
Animotion is an American synthpop band from Los Angeles, California. Formed in 1983, they are best known for their songs "Obsession" and "Room to Move".
Rain
Dragon
Dragon is a rock band that was formed in Auckland, New Zealand, in 1972, and later moved to Australia in May 1975. Singer Marc Hunter previously led them and are currently led by his brother, bass player/vocalist Todd Hunter.
Rappin' Rodney
Rodney Dangerfield
Rodney Dangerfield was an American stand-up comedian, actor, producer, screenwriter, musician and author, known for his self-deprecating one-liners. He started a singing career alongside his comedy, releasing novelty songs such as "Rappin' Rodney".
Relax
Frankie Goes To Hollywood
Frankie Goes to Hollywood was a British synth-pop band formed in Liverpool in 1980. The group was fronted by Holly Johnson, and was known for their provocative lyrics and imagery.
Say Hello To Ronnie
Janey Street
Janey Street is an American singer-songwriter and guitarist. Her music career spans over three decades with a resurgence in the 2010s when Blue Elan Records signed her.
Sea of Love
The Honeydrippers
The Honeydrippers was a rock and roll side project in the 1980s of former Led Zeppelin lead singer Robert Plant, who formed the group with guitarist Jimmy Page and other famous musicians.
Sex Shooter
Apollonia 6
Apollonia 6 was a short-lived 1980s American female singing trio created by Prince. Apollonia Kotero was hand-picked by Prince as the lead actress in his film, Purple Rain.
So You Ran
Orion The Hunter
Orion The Hunter was a 1980s rock combo and offshoot of the popular band Boston. It featured former Boston members Barry Goudreau on guitars and Brad Delp on backing vocals.
Somebody Else's Guy
Jocelyn Brown
Jocelyn Brown, also known as Jocelyn Lorette Brown, is an American R&B and dance singer. She is noted for her strong and powerful, mezzo-soprano vocals.
Something's On Your Mind
D Train
"D Train" was a duo that included James "D Train" Williams, who was named "D Train" as a reference to the New York City Subway service.
Somebody's Watching Me
Rockwell
Rockwell is a former American musician and singer-songwriter who is the son of Motown founder and CEO Berry Gordy and Margaret Norton.
Straight From The Heart (Into Your Life)
Coyote Sisters
Coyote Sisters are a musical trio from Los Angeles formed by Leah Kunkel, Marty Gwinn Townsend, and Renee Armand.
Sunglasses at Night
Corey Hart
Corey Hart, a Canadian singer, is known for his hit singles and his fashion choices, often seen wearing Ray-Ban sunglasses. His successful music career has earned him the nickname 'The Elvis of Canada'.
Taxi
J. Blackfoot
J. Blackfoot, born Benjamin Franklin Peay, was a soul singer, known as the original lead singer of the soul group The Soul Children.
Terms of Endearment Theme
Michael Gore
Michael Gore is a renowned composer known for his work in film scoring. He won an Academy Award for Best Original Score for the film "Fame".
The Curly Shuffle
Jump 'N The Saddle Band
Jump 'N The Saddle Band was a country pop group from Chicago, Illinois. Although they had a brief career, their single 'The Curly Shuffle' brought them national fame as a novelty act.
The Warrior
Scandal
Scandal is a rock band from the 80s, fronted by Patty Smyth. Smyth later married tennis superstar, John McEnroe.
They Don't Know
Tracey Ullman
Tracey Ullman is a British-American actress, comedian, singer, writer, producer, and director. Her versatile talent has earned her multiple awards in television and music.
Tonight Is What It Means To Be Young
Fire Inc
Fire Inc. was a fictional band created specifically for the soundtrack of the 1984 rock musical film 'Streets of Fire'.
Turn Up The Radio
Autograph
Autograph is an American rock band known for their signature song 'Turn Up The Radio'. They have been active since the 80s, but disbanded and reunited several times since then.
Video!
Jeff Lynne
Jeff Lynne is an English songwriter, singer, record producer, and multi-instrumentalist who co-founded the rock band Electric Light Orchestra (ELO). He also co-founded the supergroup Traveling Wilburys with George Harrison, Bob Dylan, Roy Orbison, and Tom Petty.
Whisper To a Scream (Birds Fly)
Icicle Works
The Icicle Works is an English alternative rock band and was named after the 1960 short story "The Day the Icicle Works Closed" by science fiction author Frederik Pohl.
White Horse
Laid Back
Laid Back is a Danish electronic music duo group. They experienced significant success in the 1980s, and their success has continued in the European market ever since, in the genre of electronic music.
Whiter Shade of Pale
Hager, Schon, Aaronson, Shrieve
Hagar, Schon, Aaronson, Shrieve (also known as HSAS) was a supergroup band featuring Sammy Hagar, Neal Schon, Kenny Aaronson, and Michael Shrieve. The group only released one studio album.
Wouldn't It Be Good
Nik Kershaw
Nik Kershaw, an English singer-songwriter, became a teen idol in the UK in the mid-1980s. He wrote a number of hits for other artists, including a UK number-one single for Chesney Hawkes, "The One and Only".