1991 Top 100 Hot Pop Songs & Music Hits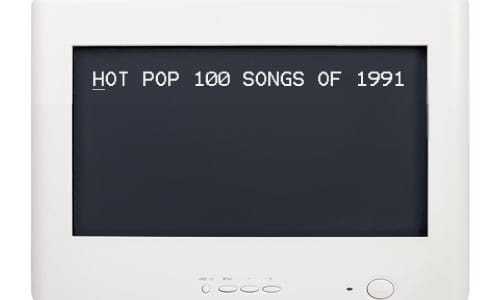 1991 Top 100 Hot Pop Songs & Music Hits
1. Unforgettable – Nat and Natalie Cole
Song's original working title was "Uncomparable"
2. Summertime – DJ Jazzy Jeff and Fresh Prince
The song's instrumental samples "Summer Madness" by Kool & the Gang.
3. (Everything I Do) I Do It For You – Bryan Adams
Song is most recognized for its' placement on the Robin Hood: Prince Of Thieves soundtrack which catapulted it to heavy radio rotation.
4. Gonna Make You Sweat – C + C Music Factory
The official music video features Zelma Davis lip-synching to the actual Martha Wash vocal parts. Wash was involved in a lawsuit over credit in the song resulting in Sony making the unprecedented request to MTV to add a disclaimer that credited Wash for vocals and Davis for "visualization" to the "Gonna Make You Sweat" music video.
5. More Than Words – Extreme
The song was described by Extreme as a song warning that the phrase "I love you" was becoming meaningless
6. O.P.P. – Naughty By Nature
The actual meaning of "You Down With O.P.P." is that you are willing to cheat on your signifigant other. O.P.P.= Other People's Privates
7. True Companion – Marc Cohn
One of the most popular wedding songs of all time. Cohn wrote it for his girlfriend, who would later become his wife, she assumed it was a marriage proposal at the time… it wasn't!
8. Good Vibrations – Marky Mark & The Funky Bunch
This song was Mark Wahlberg a.k.a. Marky Mark's biggest hit, however don't mention it to him today. He gets very irate if people talk about his former rap career or Marky Mark nickname.
9. Strike It Up – Black Box
Singer Martha Wash is featured on lead vocals for this song, however she was uncredited. She later sued Black Box and the ordeal was settled out of court with record label RCA.
10. Power of Love/Love Power – Luthor Vandross
Vandross added "Love Power" to the end of this song title to differentiate it from other 80's/90's song that also used "Power Of Love" in their titles. It assisted with sorting out royalty payments over the years.
11. Its So Hard To Say Goodbye To Yesterday – Boys II Men
Boyz II Men dedicated performances of this song to their tour manager, Khalil Roundtree, after he was murdered in Chicago when the band was on tour with MC Hammer in 1992.
12. Enter Sandman – Metallica
Song was originally supposed to be about the fear of death, however it was later changed to be about nightmares because producer Bob Rock felt that "Death, doesn't sell".
13. Motownphilly – Boys II Men
Song was initially confusing to some radio DJ's as they thought the song was called "Boyz II Men" and the group name was "MotownPhilly" because "Boyz II Men" is stated in the lyrics and the chorus says "MotownPhilly, back again".
14. Crazy – Seal
Song was inspired by the fall of the Berlin Wall and the series of world events that took place in 1989-1990. One of the few songs to reference the word "fractal" to describe repercussions for actions.
15. God Bless The USA – Lee Greenwood
Song was turned into a children's book "Proud To Be An American" by Lee Greenwood in 2015.It draws inspiration from Greenwood's own childhood, as it features a child who was raised by his grandparents rather than his parents.
16. Unbelievable – EMF
EMF would often times play this song multiple times during their live performances as it was the only song the audience had ever heard by them and recognized.
17. Wind Of Change – Scorpions
Scorpions wrote this song after they became the first hard rock band to play in Russia.
18. Black Or White – Michael Jackson
A rapper known as LTB performed the rap on this song, which was lip-synced by Macaulay Culkin in the video.
19. Lets Talk About Sex – Salt N Pepa
Song reached it's peak position on the U.S. charts after basketball star Magic Johnson revealed that he was HIV positive.
20. Silent Lucidity – Queensryche
Song tells the story of a person having a lucid dream. Lucid dreaming is when you are aware that you are dreaming and have some control over parts of the experience.
21. When A Man Loves A Woman – Michael Bolton
Bolton was originally unhappy with his vocals on this song after finishing the album, however upon re-listening he changed his mind and they remained unchanged.
22. I Touch Myself – Divinyls
Music video for "I Touch Myself" was directed by Michael Bay, when he was still an up and coming director. He would later go on to direct feature films such as "Bad Boys" and the "Transformers" and "Teenage Mutant Ninja Turtles" film franchises.
23. Right Here, Right Now – Jesus Jones
Song was written about the fall of the Iron Curtain and was later taken up as an anthem for bomber pilots during the Gulf War.
24. Star Spangled Banner – Whitney Houston
Was recorded as a charity single by Houston to raise funds for soldiers and families of those involved in the Persian Gulf War. She performed it live at Super Bowl XXV and it immediately resonated with the public and is looked at as one of the most memorable Super Bowl performances of all time.
25. Walking In Memphis – Marc Cohn
The sounds at the beginning of the song are meant to indicate falling rain. To Cohn the song represents a spiritual awakening and being baptized into the world of blues music.
26. Gypsy Woman (She's Homeless) – Crystal Waters
The song is about a homeless woman who is a gypsy. She still wears make-up and thinks of herself as beautiful despite busking on a street corner. It is best remembered for it's ultra repetitve chorus "la da dee, la da da" getting on everyone's nerves.
27. Things That Make You Go Hmmmm… – C+C Music Factory
Song references romantic situations that can sometimes take an ironic or suspicious turn. "Things That Make You Go Hmmm.." soared to further popularity when talk show host Arsenio Hall began using it as a catchphrase.
28. Emotions – Mariah Carey
Song shows of Carey's extreme vocal range as she sounded a G-sharp three and a half octaves above middle C. This was one of the highest notes produced by a human voice in the history of recorded music.
29. I've Been Thinking About You – Londonbeat
Part of the song was sampled and prominently featured in the song "Physical" recorded by Alcazar.
30. Coming Out Of The Dark – Gloria Estefan
First song Estefan recorded and performed after surviving a near-fatal car accident.
31. She Talks To Angels – Black Crowes
Band finds it funny that so many people tend to resonate with the songs lyrics which were written purely from vocalist Chris Robinson's imagination at the time, as he had really not lived any of those experiences at the time.
32. Baby Baby – Amy Grant
The video for this song raised suspicion among Grant's Contemporary Christian fans, as she sang it affectionately to an actor who was not her husband (and father of her daughter Millie) Gary Chapman at the time.
33. Can't Stop This Thing We Started – Bryan Adams
Adams works as a photographer as well as musician. On 16 September 2015 he was given an Honorary Fellowship of the Royal Photographic Society in London for his work in photography.
34. Someday – Mariah Carey
Song was included as part of one of Carey's early demo tapes prior to her signing with Columbia Records.
35. I'll Be There – Escape Club
The song is written from the point of view of a recently deceased loved one. The band wrote it for a friend of theirs whose wife had just died.
36. Something To Talk About – Bonnie Raitt
This song is about small-town gossip and the effect it has on the singer and the man she's secretly in love with.
37. Joyride – Roxette
Per Gessle (the male member of the duo) wrote this for his girlfriend after coming home late one night and finding a note which read "Hello you fool, I love you".
38. Deeper Shade of Soul – Urban Dance Squad
Only hit single for Dutch group Urban Dance Squad. Samples the 1968 song "A Deeper Shade Of The Soul" by Ray Barreto.
39. Love Is A Wonderful Thing – Michael Bolton
Bolton was sued by the Isley Brothers over this song claiming it was too similar to their 1966 song by the same name. The subsequent judgment in 1994 was the biggest-ever award in a music plagiarism case: $5.4 million.
40. It Ain't Over Till It's Over – Lenny Kravitz
Kravitz played all the instruments on this track except the strings and horns. It was written for then ex-girlfriend actress Lisa Bonet in hopes for a reconciliation.
41. Set The Night To Music – Roberta Flack and Maxi Preist
Track was written by Diane Warren and was originally supposed to appear on Starship's 1987 album "No Protection", but was later remade a duet for Flack and Maxi Priest.
42. Gett Off – Prince & The New Power Generation
The lyrics "I like 'em fat, I like 'em proud, you've got to have a mother for me…" and the music that accompanies them in the fourth verse of "Gett Off" are paraphrased from the 1969 James Brown song "Mother Popcorn".
43. Sadeness, Part 1 – Enigma
The title is a combination of the words "Sade" and "sadness." "Sade" refers to Marquis de Sade, a French novelist whose sexual activities gave us the word "sadism."
44. P.A.S.S.I.O.N. – Rythm Syndicate
Guitarist Carl Sturken and lead singer Evan Rogers are responsible for discovering Rihanna when they traveled to Barbados.
45. Around The Way Girl – LL Cool J
The LL in "LL Cool J" stands for Ladies Love
46. Here We Go – C+C Music Factory
C+C Music Factory consisted primarily of the two record producers Robert Clivillés and David Cole and vocalists who varied by the particular recording project. The group's moniker is derived from the first letters of Clivillés and Cole's surnames.
47. There She Goes – The La's
Fronted by singer, songwriter and guitarist Lee Mavers, the group officially disbanded in 1992, but have gotten together a few times to tour.
48. Love Will Never Do (Without You) – Janet Jackson
Love Will Never Do was originally planned as a duet and Prince was considered as a possible partner for Jackson, however the idea was later ditched.
49. Rico Suave – Gerardo
This was the first pop hit that was sung in "Spanglish," a combination of Spanish and English. Roughly translated, "Rico Suave" means "Tasty and Smooth."
50. High Enough – Damn Yankees
Song is about loving someone so much you are scared that you may scare them away.
51. Justify My Love – Madonna
This sultry track was written with Lenny Kravitz and the accompanying video was banned by MTV initially, but would later only be played late a night and was released on VHS selling over one million copies.
52. I Don't Wanna Cry – Mariah Carey
Carey has admitted to really disliking this song as she feels it has no message and rarely performs it live.
53. Blowing Kisses In The Wind – Paula Abdul
Song is about pining for another person and hoping that person will feel the same way. Songwriters the Family Strand call it one of their favorite songs and hope that it will be covered again by a country artist in the future.
54. Every Heartbeat – Amy Grant
Grant is often referred to as "The Queen Of Christian Pop" and is the wife of country superstar Vince Gill.
55. Everybody Plays The Fool – Aaron Neville
Neville's version of this song is a cover of the originally performed in 1972 by The Main Ingredient.
56. I Wanna Sex You Up – Color Me Badd
Featured on the soundtrack to the Wesley Snipe's film "New Jack City". The bass line for the song is sampled from Betty Wright's "Tonight Is The Night" which documents a young woman's first intimate encounter with a man.
57. The Motown Song – Rod Stewart
Stewart has a history of blond wives and girlfriends, including Britt Eckland, Alana Hamilton (ex-wife of George Hamilton), Kelly Emberg, Rachel Hunter and Penny Lancaster.
58. Miracle – Whitney Houston
Miracle was written by L.A. Reid and Babyface. The lyrics are very pro-life in regards to a woman who has an abortion and later regrets the decision.
59. Touch Me (All Night Long) – Cathy Dennis
Dennis scored a ton of hits throughout the 90's and later went on to write hits for artists such as The Spice Girls,Britney Spears, Katy Perry, Janet Jackson, Pink, and Carrie Underwood to name a few.
60 (If There Was) Any Other Way – Celine Dion
Celine Dion first met her future husband when she was 12 and he was 38. Rene Angelil was, at that time, her manager, and he mortgaged his house to fund her debut album.
61. Losing My Religion – R.E.M.
The title is a Southern expression meaning "At my wit's end," as if things were going so bad you could lose your faith in God. The mandolin playing on the track was all recorded live with no in-studio overdubbing.
62. Now That We Found Love – Heavy D and The Boys
Written by the Philadelphia Soul specialists Leon Gamble and Kenny Huff, this was originally recorded by The O'Jays in 1973 on their album Ship Ahoy.
63. Where Does My Heart Beat Now – Celine Dion
Celine Dion is the winner of two Academy Awards, one for a duet with Peabo Bryson recorded for the Beauty and the Beast soundtrack, and another for a solo piece recorded for Titanic.
64. Round and Round – Tevin Campbell
Song was produced by Prince and featured on the soundtrack for the film "Graffiti Bridge".
65. How To Dance – Bingoboys with Princessa
Song contains audio samples from an instructional recording from the 1970s that attempted to teach people "how to dance" (for example, Step left, around, and together with the right).
66. Kiss Them For Me – Siouxsie & The Banshees
Song is a tribute to blonde bombshell actress Jane Mansfield, as it even includes her famous catchphrase "divoon".
67. Learning To Fly – Tom Petty and the Heartbreakers
Many people feel that this song referencing drug use, however Petty was actually influenced to write the song after he say a pilot being interviewed on TV and the pilot claimed "the hardest part was coming down".
68. You Could Be Mine – Guns N' Roses
Axl Rose had a persistent stalker. Her name is Karen Jane McNeil, and she claimed to communicate with Rose through telepathy.
69. Don't Treat Me So Bad – Firehouse
The women in hair metal songs were often either heart-breakers or deceitful women getting their due send-off. This song is a combination of both, as the singer can't give her up, but also warns her that he might be the best thing she's ever had.
70. Let The Beat Hit 'Em – Lisa Lisa and Cult Jam
Lisa Lisa & Cult Jam were a Harlem R&B trio made up of Lisa Lisa (born Lisa Velez in 1967), Mark Hughes and Alex "Spanador" Moseley.
71. Wicked Game – Chris Isaak
In 1996, the song was used on the TV show Friends in the episode "The One Where Ross and Rachel… You Know", when Ross and Rachel make love for the first time.
72. Love… Thy Will Be Done – Martika
Martika started acting before launching a recording career, appearing in the film version of Annie in 1982 and on the TV series Kids Incorporated from 1984 to 1986.
73. Do The Bartman – The Simpsons
It is speculated that this parody rap track was actually written by Simpsons super-fan Michael Jackson. It was actually penned by writer Bryan Loren solely and Jackson provided backing vocals. Loren admits it was Jackson idea to call the song "Do The Bartman".
74. Shiny Happy People – R.E.M.
Kate Pierson from the B-52's sang backup on this song. Both R.E.M. and The B52's are from Athens, Georgia.
75. Into The Great Wide Open – Tom Petty & The Heartbreakers
The very first version of the band was called Mudcrutch and was founded by Tom Petty and Mike Campbell.
76. Try A Little Tenderness – The Commitments
The Commitments are a soul band from Dublin, Ireland, formed for the screen version of the book of the same name by Irish writer, Roddy Doyle. They started as a fictional band, but later reunited in 2010.
77. The First Time – Surface
Typical 90's love ballad that was a one hit wonder for Surface. Definitely looked at as a staple for every high school dance during this time period.
78. I Adore Mi Amor – Color Me Badd
Color Me Badd made their debut at a high school talent show singing a jingle from a jeans commercial.
79. All The Man That I Need – Whitney Houston
Luther Vandross switched the gender on this song and recorded it as "All the Woman I Need" in 1994.
80. Live For Loving You – Gloria Estefan
Estefan says this is the "kind of song that really can live in many different genres". It is now generally performed in a Samaba style.
81. Rush, Rush – Paula Abdul
The video was inspired by the James Dean movie Rebel Without A Cause, and it featured Paula starting a drag race in a remake of the iconic scene. It was released via Lucasfilm Commerical Productions leading to a long standing rumor that George Lucas himself may have actually directed the video.
82. Hole Hearted – Extreme
Extreme lead singer Gary Cherone came up with an interesting heartbreak metaphor on this track: he has a hole in his heart, and there's only one girl who can fill it.
83. Romantic – Karyn White
Song defined the genre of "New Jack Swing" which fell out of style as quickly as it began. It is a blend of both hip-hop and R&B.
84. The Promise of a New Day – Paula Abdul
The shots of the people in the music video were squished, which allowed editors to fit more dancers in scenes, and also made Abdul look thinner – although disturbingly so.
85. Hold You Tight – Tara Kemp
In 2013, Kemp launched a Facebook page and YouTube channel containing new photography, uploads of vintage material and teasers to a new track called "Water." In 2014 and 2015, Kemp revealed in interviews that she was working on new material.
86. You're In Love – Wilson Phillips
Written with the assistance of producer Glen Ballard, who later went on to produce Alanis Morrisette's "Jagged Little Pill".
87. Set Adrift On Memoy Bliss – PM Dawn
P.M. Dawn specialized in slow, somewhat psychedelic raps that stood out from the aggressive gangsta rap that was popular at the time. Song samples "True" by Spandeau Ballet.
88. Show Me The Way – Styx
Originally written by Dennis DeYoung as a prayer during a self described crisis of faith, this song later became identified with the first Gulf War.
89. Mama Said Knock You Out – LL Cool J
Mama Said was created when LL Cool J was having an instance of writer's block and his grandmother gave him the advice to "knock them out".
90. Cream – Prince and the New Power Generation
Prince's last number one hit. The song was rumored to have been written while he was standing in front of a mirror.
91. Sensitivity – Ralph Tresvant
Former New Edition lead singer Ralph Tresvant released this as his debut solo single after the group's breakup in 1990. Prior to the release Tresvant was the only member of New Edition without a hit single.
92. Ballad of Youth – Richie Sambora
Richie Sambora was born in 1959, so when it was released – in 1991 – he might just have been considered old enough to dispense this sort of advice.
93. Top Of The World – Van Halen
Van Halen's original name was Mammoth. They changed it after finding out another band had it first.
94. Where The Streets Have No Name (I Can't Take My Eyes Off Of You) – Pet Shop Boys
The English electronic pop duo first met at an electronics store in London and quickly began working together under the moniker West End. It was actually the band member's friends who worked at a Pet Shop and inspired the band name.
95. Superman's Song – Crash Test Dummies
This song is written as a eulogy to Superman, and it points out what many people don't consider about the superhero: he had a full-time job as Clark Kent and never made any money as Superman.
96. Another Like My Lover – Jasmine Guy
Guy is best known for her starring role as Whitley Marion Gilbert–Wayne on The Cosby Show spinoff NBC comedy sitcom A Different World (1987–93), in which she won four consecutive NAACP Image Awards from 1990 through 1993 for Outstanding Lead Actress in a Comedy Series for her role.
97. Deep Deep Trouble – The Simpsons
The song is a rap performed by the character Bart Simpson about his trouble-making antics.Simpsons creator Matt Groening has described it as "the tragic story of Bart Simpson, a bad youth gone worse.
98. Give It Up – ZZ Top
ZZ Top are the longest-running American rock band with no member changes.
99. Hey Stoopid – Alice Cooper
Slash (who was still a member of Guns N' Roses at the time) plays the guitar solo on the song. The track also features axe master Joe Satriani and heavy metal legend Ozzy Osbourne, who provided backing vocals.
100. The Obvious Child – Paul Simon
The meaning of the phrase "The cross is in the ballpark" in the song is the burden that we carry, is in the ballpark, it's doable according to Simon.