1993 Top 100 Hot Pop Songs & Music Hits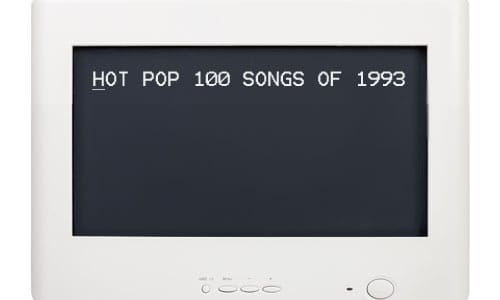 1993 Top 100 Hot Pop Songs & Music Hits
1. What Is Love – Haddaway
"What Is Love" is best-known as the song that is playing in th infamous Saturday Night Live club scene skit that was later turned into the full-length film "A Night At The Roxbury". Rapper Eminem sampled the track on his 2010 single "No Love".
2. Come Baby Come – K7
K7's real name is Louis Sharpe, who was a member of the Latin freestyle group TKA who were signed to Tommy Boy Records.
3. Hero – Mariah Carey
A limo driver named Chris Selletti sued Carey, claiming he wrote the lyrics and has them in an envelope he mailed to himself in 1990. His suit was dismissed in court, but Selletti claimed he would open the envelope on live TV to prove his case.
4. In The Still Of The Night (I'll Remember) – Boyz II Men
Boyz II Men scored a spot as the opening act on MC Hammer's 2 Legit 2 Quit tour. While on the road, the group's tour manager Khalil Roundtree was murdered in Chicago.
5. Have I Told You Lately – Rod Stewart
Stewart is an avid soccer fan and a huge supporter of the Glasgow, Scotland football team, Celtic. He would from time to time kick soccer balls into the audience at concerts.
6. Can't Help Falling In Love – UB40
Both of UB40's number one hits happen to be cover songs. "Can't Help Falling In Love" was originally done by Elvis in 1961 and "Red, Red Wine" was originally recorded by Neil Diamond.
7. All that She Wants – Ace Of Base
Definitely a song that can get stuck in your head, but imagine it stuck in your car cassette player. When the demo was first submitted to producer Denniz Pop, who at first hated it and refused to produce, however the tape became stuck in his car's cassette player and he was forced to listen to it everyday on his way to work. He then began to see something in the song and eventually had a change of heart.
8. Supermodel (You Better Work) – RuPaul
Rupaul is not a gifted vocalist in any traditional sense, but he can add flavor to a Dance production and provide striking visuals to support it. This song made him the arguably the most famous drag queen of all time.
9. Dreamlover – Mariah Carey
Mariah was conspicuously omitted from VH1's televised countdown of "The 100 Top Women of Rock," despite being the top-selling female of the entire decade of the 1990s. Guess she didn't "rock" hard enough…
10. Cryin' – Aerosmith
The video for "Cryin'" was the first to feature fledgling actress Alicia Sliverstone and was responsible for launching her career. "Cryin'" tells the sorry of a true roller-coaster romance, but could also be a metaphor for Steven Tyler's history of drug use.
11. Somewhere Over the Rainbow/What a Wonderful World by Israel 'Iz' Kamakawiwo'ole
Through his skillful ukulele playing and incorporation of other genres, such as jazz and reggae, Kamakawiwo?ole remains a very strong influence on Hawaiian music. He was morbidly obese at one point weighing 757 pounds prior to his death in 1997.
12. Shoop – Salt N Pepa
So what exactly does it mean to "Shoop"? Pepa says "It's whatever…it's a whole vibe", so pretty much it is open to individual interpretations.
13. A Whole New World – Peabo Bryson & Regina Belle
"A Whole New World" won an Oscar for Best Song From A Motion Picture and a Grammy Award for Song Of The Year. It is theme song for the Disney animated film "Aladdin".
14. Show Me Love – Robin S
This version of "Show Me Love" is often confused with Swedish dance pop singer Robyn's 1997-98 international hit of the same title.
15. I'm Gonna Be (500 miles) – the Proclaimers
In the line "I'm gonna be the one who's havering for you," 'havering' means babbling on. "I'm Gonna Be (500 Miles)" became a mega hit in the U.S. after being featured in the film "Benny & Joon".
16. Hip Hop Hooray – Naughty By Nature
The music video was directed by Spike Lee, who also appears in it. Queen Latifah, Eazy-E, Monie Love, Da Youngsta's, Kris Kross and Run-DMC also make appearances in the video.
17. Rhythm Is A Dancer – Snap!
"Rhythm Is A Dancer" contains one of the most tasteless lyrics that topped the charts with "I'm as serious as cancer, when I say rhythm is a dancer."
18. Nuthin' But A "G" Thang – Dr. Dre
"Nuthin' But A "G" Thang" was the first appearance of Snoop Doggy Dogg on a major release where he was a featured vocalist. Single was crucial to Dr. Dre as it set him apart as a solo artist after breaking away from group N.W.A.
19. When I Fall In Love – Celine Dion & Clive Griffin
Celine Dion is the winner of two Academy Awards, one for a duet with Peabo Bryson recorded for the Beauty and the Beast soundtrack, and another for a solo piece recorded for Titanic.
20. Bed of Roses – Bon Jovi
Jon Bon Jovi started writing "Bed Of Roses" in a hotel room in Los Angeles. He had the hotel bring a piano that they used for weddings to his room. Perhaps they included some roses as well?
21. Man On The Moon – REM
Things mentioned in "Man In The Moon" other than it of course being a tribute to comedian Andy Kaufman: Mott the Hoople, Life, Monopoly, Twister, Risk, checkers, chess, twenty-one, wrestler Fred Blassie, Elvis Presley, Moses, Sir Isaac Newton, and Charles Darwin.
22. That's The Way Love Goes – Janet Jackson
It may sound like men are chanting the title lyrics on "That's The Way Love Goes", but Jimmy Jam insists it's all Janet. He electronically manipulated her vocals to give them a masculine sound.
23. T-R-O-U-B-L-E – Travis Tritt
During his teenage years, Tritt worked at a furniture store, and later as a supermarket clerk. Tritt's father thought that Tritt would not find success as a musician, while his mother thought that he should perform Christian music instead of country.
24. Bad Boys – Inner Circle
"Bad Boys" became a staple of pop culture after it was chosen at the theme song for the FOX reality series "Cops". It immediately comes to mind when joking with anyone about getting in trouble with the law.
25. No Ordinary Love – Sade
Sade can refer to both the name of a group and that group's lead singer. Sade made her acting debut in 1986 as Athene Duncannon alongside David Bowie in the musical rock movie, Absolute Beginners, an adaptation of the novel by Colin MacInnes.
26. I Get Around – 2 Pac
A lot of 2 Pac songs contain some kind of social commentary, however "I Get Around" is all about having fun and bragging about his ladies man status.
27. Weak – SWV
SWV is an acronym for Sisters With Voices. "Weak" set the record for the fewest number of characters needed to make up a title and artist's name on a US #1 single. Hint: The answer is 7!
28. Please Forgive Me – Bryan Adams
Adams has done duets with Celine Dion, Bonnie Raitt, Barbra Streisand, Tina Turner, and Mel C. of the Spice Girls. He quit school at age 16 to pursue his music career.
29. Whoot, There It Is – 95 South
95 South was a rap group from South Florida named after the highway that runs through the area. After "Whoot, There It Is" was released, the Tag Team version of the song "Whoop, There It Is" was released a month later. The US Copyright Office reveals that "Whoomp" was registered in 1992 and "Whoot" in 1993.
30. More and More – Captain Hollywood Project
Tony Dawson Harrison was a United State Army captain and had the nickname Captain Hollywood because he danced even when in uniform. e first started in the break dance scene in Europe as he performed on early '80s music TV shows such as Formel Eins.
31. I'm So Into You – SWV
In 2004, Tamara Johnson of SWV married the football star Eddie George. She was a contestant on the TV show Survivor: Tocantins in 2009.
32. I'm Every Woman – Whitney Houston
This song is about a strong woman who takes very good care of her man, supporting him and making him a better person. It was originally recorded by Chaka Khan in 1978. Houston pays tribute to Khan by yelling "Chaka" a few times near the end of the song.
33. Hey Jealousy – Gin Blossoms
"Hey Jealously" was written by guitarist Doug Hopkins who tragically took his own life on December 5, 1993 after being fired from the band for serious substance abuse problems.
34. I'd Do Anything For Love (But I Won't Do that) – Meatloaf
We have always wondered what "that" actually is, and Meatloaf explains ""I will do anything for love, but I won't do that," the "that" is whatever he said just before that. For example: "But I'll never forget the way you feel right now, Oh no – no way – I would do anything for love, But I won't do that" – The "that" in this particular verse is "forget the way you feel right now."
35. Love U More – Sunscreem
Sunscreem has the rare reputation as a techno-based band that successfully performs concerts.
36. Knockin Da Boots – H-Town
In a profile of distinguished lawyer Kristine Huskey, Marie Claire magazine reported that Huskey had appeared as a dancer in the song's music video while working her way through law school.
37. Will You Be There – Michael Jackson
Jackson was sued by an Italian songwriter who claimed "Will You Be There?" had been plagiarised from his composition "I Cigni Di Balaka". A court eventually ruled that the two songs were not the same.
38. Connected – Stereo MCs
Of of the few hip-hop artists to perform at rock music festivals after the success of "Connected". The track pretty much "connected" all genres.
39. Passionate Kisses – Mary Chapin-Carpenter
"Passionate Kisses" was originally recorded by Lucinda Williams. Carpenter's version won a Grammy for Best Country song which also earned Williams a Grammy as a songwriter.
40. Boom! Shake The Room – Jazzy Jeff & Fresh Prince
"Boom! Shake The Room" was the last single Fresh Prince Will Smith released with DJ Jazzy Jeff, and four years later, when he resumed his rap career under his real name, he apparently learned his lesson, as he stopped posturing and focused his lyrical content on having fun and promoting his movies.
41. Baby I'm Yours – Shai
Shai released a completely reworked version of "Baby I'm Yours" simple titled "Yours".
42. Freak Me – Silk
Silk was discovered by the musician Keith Sweat, who also produced their debut album after they hit the road with him as his opening act.
43. Reason To Believe – Rod Stewart & Ronnie Wood
"Reason To Believe" was originally performed by folk singer Tim Hardin in 1965. Stewart covered the song for MTV's Unplugged during which he reunited with Wood, who played with Stewart in The Faces.
44. Sweat (A La La La La Song) – Inner Circle
Inner Circle are known for blending pop and rock with reggae. The popularity of "Sweat (A La La La La Song)" has resulted in many covers and even parodies.
45. Deeper and Deeper – Madonna
The lyrics "When you know the notes to sing, you can sing most anything" reference "Do-Re-Mi" from the 1959 musical The Sound of Music.
46. Another Sad Love Song – Toni Braxton
Producer Babyface first met Braxton when she and her sisters auditioned for him and his producing partner L.A. Reid at their Atlanta-based label LaFace Records.
47. Can't Get Enough Of Your Love – Taylor Dayne
Dayne's take on the popular Barry White track by the same name almost didn't make the album cut, however record label president Clive Davis suggested that Dayne remake the classic song as the album's lead single.
48. Ooh Child – Dino
During this initial up-swing of his career, Dino performed at theme parks, sharing the bill with such artists as Sweet Sensation and Linear. Dino developed an even wider fanbase when he became the opening act for New Kids on the Block in the summer of 1989.
49. Whoomp! There It Is – Tag Team
The phrase, 'Whoomp! There It Is' was coined by strippers from Florida working in Atlanta. Tag Teams version of "Whoop! There It Is" was released just a month after a raunchier version of the song called "Whoot! There It Is" was released by Miami rappers 95 South. While many felt that Tag Team ripped off of 95 South, the copyright office actually shows that "Whoop! There It is" was trademarked first.
50. Two Princes – Spin Doctors
Spin Doctors performed a parody version of this song on Sesame Street in which two princes (Elmo and Telly) ask for a play date.
51. Informer – Snow
It has been over twenty years since "Informer" has been released and we still have no idea what Snow is actually saying! "Informer" rose to popularity while Snow was serving an eight-month sentence in jail for assault.
52. Slam – Onyx
The main chant of Slam's chorus is a variation of the vocal and organ intro to the much-sampled instrumental "The Champ" by The Mohawks.
53. Just Kickin' It – Xscape
"Just Kickin' It" was written by Jermaine Dupri, who allegedly wanted Xscape to be the "ghetto En Vouge" from the male perspective. The lyrics of "Just Kickin' It" are considered somewhat controversial and many female fans found them to be incredibly sexist.
54. Insane In The Brain – Cypress Hill
Cypress Hill was banned from playing Saturday Night Live in 1993 after they smoked marijuana onstage and trashed their instruments after performing the song "I Ain't Goin' Out Like That."
55. Hey Mr. D.J. – Zhane
The correct pronunciation of Zhane is "Jah-Nay"…you're welcome!
56. Creep – Radiohead
On the album version, Thom Yorke sings, "You're so f–king special." For radio, he recut it as, "You're so very special." He regrets the change saying it takes away the songs anger.
57. Runaway Train – Soul Asylum
The video was directed by Tony Kaye, who would later direct the movie American History X. Kaye came up with the idea of using images of real missing children in the clip, and the band loved the idea, as it was truly original and could also do some good. Despite the actual "runaway train" reference in the song is a metaphor for depression, the band embraced the missing children cause.
58. Cat's In The Cradle – Ugly Kid Joe
In their remake, Ugly Kid Joe changed the lyric "Man in the moon" to "Man ON the moon," apparently thinking the song was referring to Neil Armstrong's 1969 lunar landing. Another tweak: their version is titled "Cats in the Cradle," without the apostrophe.
59. I Got A Man – Positive K
Positive K provides not only the male vocals on "I Got A Man" but also the female vocals by raising the pitch of his voice with studio technology.
60 I See Your Smile – Gloria Estefan
"I See Your Smile" tells the story of pining for a relationship that at the time seems completely impossible. Actor Andy Garcia portrays Estefan's love interest in the music video for "I See Your Smile".
61. Into Your Arms – The Lemonheads
The Lemonhead's music is sometimes labeled a "bubblegrunge" which was an attempt to describe a cross between Pearl Jam-ish Grunge and more melodic Pop. Their album covers 12 tracks in less than 30 minutes leading some to feel their music lacked substance.
62. Candy Everybody Wants – 10,000 Maniacs
10,000 Maniacs was the guest of honor on the TV series MTV Unplugged in both 1990 and 1993, making them the first group to make a second appearance.
63. Everybody Hurts – R.E.M.
"Everybody Hurts" was written by former R.E.M. drummer Bill Berry. Berry left the band in 1997 to become a farmer. "Everybody Hurts" is an anti-suicide song as a way to reach out to people who may feel they have no hope.
64. Give It Up – The Goodmen
Zki & Dobre, known by many aliases, but currently most well known as Chocolate Puma (alternatively as The Good Men and as The Goodmen). As the Goodmen, their biggest hit was "Give It Up", a 1993 house music track based upon samba styled percussion and the simple, repeating vocal line of the song title.
65. Dazzey Duks – Duice
"Dazzey Duks"is about the jean shorts popularized by Daisy Duke in The Dukes of Hazzard.
66. Jimmy Olsen's Blues – Spin Doctors
"Jimmy Olsen's Blues" is written from the perspective of Jimmy Olsen, who is a character featured in the Superman comic books. Olsen is a young reporter who in this song is envisioned with a case of depression, as he feels overshadowed by his co-workers, Clark Kent and Lois Lane. Spin Doctors reference Superman quite a bit, however this song is one of the few in general that isn't focused on Superman, himself.
67. What's Up – 4 non-Blondes
The title is not in the lyrics. The chorus refrain is "What's Going On," but that's the name of a 1971 Marvin Gaye R&B classic, so they always called the song "What's Up."
68. Kiss Of Life – Sade
Sade avoids the media and rarely grants interviews. Sade has stated that, "I'm a diva, of course, but I'm not shy or reclusive. I just spend my time with people rather than journalists."
69. River Of Dreams – Billy Joel
Billy Joel gets a lot of song ideas in his dreams, and often struggles to remember them when he wakes up. For "River Of Dreams", however, he woke up with the song in his head, but tried NOT to write it. He than sang it in the shower to himself and just knew he had to record it.
70. Rubberband Girl – Kate Bush
After being passed on by all record labels and family friend took 15-year old Bush's demo tape to Pink Floyd's Dave Gilmour. Gilmour was impressed and Bush began recording tracks in Gilmour's home studio. He helped her record a more professional three-song demo tape and she was then immediately signed to EMI.
71. No Rain – Blind Melon
The bee girl, Heather DeLoach, appears in the Weird Al Yankovic video for "Bedrock Anthem" (a parody of "Give It Away" by the Red Hot Chili Peppers) in the bee suit. Blind Melon eventually grew to resent the success of "No Rain" and would often times purposely leave it off their set list when performing live.
72. Plush – Stone Templke Pilots
The title never appears in the lyric, which is also true of the Core tracks "Sex Type Thing" and "Naked Sunday." The line, "Where you going with the mask I found?" is often misheard as "Where you going with the master plan?"
73. I'm A Player – Too Short
Too Short runs his own record label—Up All Nite Records. Artists on the label include The Pack, Dolla Will, Boo Ski, Eyob Fantay and Li'l J & Boi Payton, FX. In addition to creating Up All Nite Records, Too Short has been a mentor at Youth UpRising, a group serving at-risk youths for several years.
74. I'll Sleep When I'm Dead – Bon Jovi
The Doors' lead singer Jim Morrison's grave was featured in the video clip for "I'll Sleep When I'm Dead".
75. Chattahoochee – Alan Jackson
"Chattahoochee" is about the Chattahoochee River, which forms part of the border between Alabama and Georgia.
76. Forever In Love – Kenny G
Kenny G's music is used in China as a way to indicate that it is time for everything to shut down for the the night.
77. Heal The World – Michael Jackson
During a chat on an internet forum in 2001, Jackson said this song about man's inhumanity to his fellow man is the one he is most proud to have created.
78. Feed The Tree – Belly
"Feed The Tree" has a strong message about commitment and respect.The metaphor is the tree that would be planted on large farms as a point of reference to getting around (the only tree sometimes). Because nothing would grow under the large tree, the family would be buried under it.
79. I Don't Wanna Fight – Tina Turner
Turner's real name is Anna Mae Bullock. Ike Turner convinced her to change it, as he liked the name Tina because it sounded like "Sheena," who was queen of the jungle.
80. Should've Been A Cowboy – Toby Keith
Keith owns a restaurant chain called I Love This Bar & Grill. The name is inspired by his song "I Love This Bar." His songs are also present in the menu: "She's a Hottie" green chili burger, "Should've Been a Cowboy" burger, "High Maintenance" cheese steak sandwich.
81. If I Had No Loot – Tony Toni Tone
"If I Had No Loot" calls out the problem that many celebrities face when dealing with "fair weather" friends.
82. It Was A Good Day – Ice Cube
"It Was A Good Day" is exactly 4:20 in length, an allusion to the song's depiction of hedonistic activity (specifically, marijuana use).
83. Who Is It – Michael Jackson
Filmmaker David Fincher, now known for acclaimed movies like Fight Club and The Social Network, directed the music video for "Who Is It". In the clip, Jackson discovers his girlfriend is a high-class call girl.
84. Gangsta lean – D.R.S.
D.R.S. stands for Dirty Rotten Scoundrels. The group was signed to MC Hammer's Roll Wit It Entertainment who later brought the group to Capitol Records after the success of "Gangsta Lean".
85. Never A Time – Genesis
One of the names Genesis considered was "Gabriel's Angels." Their manager gave them the name Genesis.
86. Mr. Wendal – Arrested Developement
The song is not based on a person named Mr. Wendal at all, but rather Speech's experiences living in Atlanta and befriending some of the homeless population.
87. Alright – Kris Kross
"Alright" also contains a diss to rival group, Da Youngstas, who had been critical of Kris Kross due to their success on the Billboard charts and the fact that they did not write their lyrics. Chris Kelly AKA "Mac Daddy" responded with the lyric "I didn't come out wack I came out right, unlike them moles who choose to pass da mic", an obvious reference to Da Youngstas single "Pass da Mic".
88. Rebirth of Slick – Digable Planets
After breaking up and reforming several times, Digable Planets have announced a reunion tour for 2016.
89. Ditty – Paperboy
"Ditty" is primarily based around a sample of Zapp's "Doo Wa Ditty (Blow That Thing)", but it also contains a sample of James Brown's "Funky President (People It's Bad)".
90. Sex Me – R Kelly
Kelly became the first music star to play professional basketball, when he was signed by the Atlantic City Seagulls in 1997. He wore the number 12 in honor of his 12 Play album.
91. Livin' On The Edge – Aerosmith
According to Steven Tyler, those three big drum hits that you hear near the end of this song were made with the bass drum he stole from Roosevelt High School in Yonkers, New York, where he was in the marching band.
92. Right Here/Human Nature – SWV
Despite the huge success of the single, SWV admitted in early 2014 that they didn't really like Teddy Riley's remix of "Right Here/Human Nature".
93. Are You Gonna Go My Way – Lenny Kravitz
This is about Jesus Christ, whom Lenny referred to as "The Ultimate Rock Star." It's about how God gives choice to man about where to turn.
94. By The Time This Night Is Over – Kenny G with Peabo Bryson
Kenny G is the biggest-selling instrumental musician of the modern era and one of the best-selling artists of all time, with global sales totaling more than 75 million records.
95. The Crying Game – Boy George
Boy George's version of the "Crying Game" was produced by the Pet Shop Boys and used in the feature film by the same name which was directed by Neil Jordan.
96. Knock-N-Boots – Wreckx-N-Effect
The group, now a duo consisting of Aqil Davison and Markell Riley, changed the spelling of their name from Wrecks-N-Effect to Wreckx-N-Effect (the "X" symbolizing the loss of member Brandon Mitchell, who was killed in a shooting incident in 1990).
97. Fields of Gold – Sting
"Fields Of Gold" is about feeling joyous, but knowing that the joy is going to end someday. Sting wrote it after he bought a house near a barley field. The sunsets and the colors of the field were an inspiration for the lyrics, along with his love at the time, Trudie Styler, who he married in 1992.
98. I Love The Way You Love Me – John Michael Montgomery
Montgomery began singing with his brother Eddie, who is one-half of the country duo Montgomery Gentry, before beginning his major-label solo career.
99. Method Man – Wu-Tang Clan
"Method Man" is a solo track for the first successful solo star of the Wu-Tang Clan, Method Man.The refrain of the song (M-E-T-H-O-D) draws from the 1984 Hall & Oates hit "Method of Modern Love" from Big Bam Boom.
100. Few & Far Between – 10,000 Maniacs
In her days with the band, Natalie Merchant referred to Madonna as her "ideological enemy." Mechant went for deep social commentary and played down any hint of sexuality.