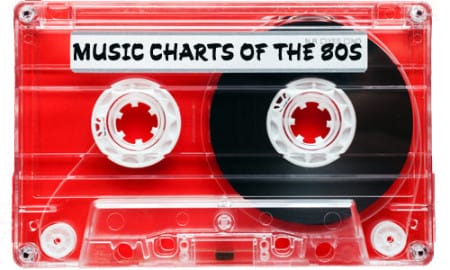 80s Music – 100 Songs You Need To Make Your Collection Complete
This is not a list of the "Best Of" the 80s – it's more of a roundup
of pop songs that define the era.
1. Never Gonna Give You Up – Rick Astley
   #1 in 1988, the song lives on through rickrolling
2. Another One Bites The Dust – Queen
   Queen's biggest song
3. I Love Rock and Roll – Joan Jett and the Blackhearts
   This was also performed by Britney Spears in 2001. Few people know that.
4. Wake Me Up Before You Go Go – Wham!
   People forget that George Michael's partner in Wham! was Andrew Ridgeley
5. Footloose – Kenny Loggins
   This is probably the most-known movie song of the modern era
6. Girls Just Wanna Have Fun – Cyndi Lauper
   This was Cyndi's first hit. Her biggest hit was Time After Time.

7. Beat It – Micheal Jackson
   Side two, Song one on the Thriller album.
8. Eye of the Tiger – Survivor
   Theme Song for Rocky III.
9. Don't Stop Believing – Journey
   Would you believe this song only reached #9 in 1981?
10. I Wanna Dance With Somebody Who Loves Me – Whitney Houston
   Grammy Award for Best Female Pop Vocal Performance in 1988.

11. We Got The Beat – The Go-Gos
   The biggest hit from the famed LA band.
12. We Built This City – Starship
   Previously known as: Jefferson Airplane, later Jefferson Starship.

13. Blitzkreig Bop – The Ramones
   This was the debut single from the debut album from this iconic band. Today the song is best known as coming from the Jimmy Neutron movie soundtrack.

14. Mickey – Toni Basil
   Toni is an American singer, songwriter, actress, filmmaker, film director, choreographer, and dancer
15. Walking on Sunshine – Katrina and the Waves
   Walking on Sunshine was one of the most upbeat, definitive songs of the 80s. 2005's Hurricane Katrina caused a decrease in radio airplay.
16. Funkytown – Lipps Inc
   Lipps Inc was a project put together by Steven Greenberg. Vocals were by Cynthia Johnson.
17. Dancing In The Dark – Bruce Springsteen
   If you look carefully at the girl dancing onstage in the video, you'll recognize actress Courteney Cox.
18. Come On Eileen – Dexy's Midnight Runners
   The song was not based on anyone named Eileen.
19. Into The Groove – Madonna
   Was never released as a single. It was a 12″ dance hit.
20. Dancing With Myself – Billy Idol
   Billy Idol began as the lead singer for Generation X, later Gen X. Gen X were nowhere to be seen when this was released as Billy's first US single.
21. Break My Stride – Matthew Wilder
   Another definitive 80s track; Matthew went on to work with No Doubt.
22. Working For The Weekend – Loverboy
   Not Loverboy's biggest hit, but many radio stations start their 5 o'clock Friday hour with this song today.
23. Only In My Dreams – Debbie Gibson
   She was sixteen years old when she wrote, recorded and released this song.
24. Walk Like An Egyptian – The Bangles
   Following on the heels of fellow LA Girl Band, the Go-Gos, the Bangles went on to even bigger success with Manic Monday, Hazy Shade of Winter and Eternal Flame.
25. Kiss On My List – Hall and Oates
   With 21 Top 40 hits, it was hard to choose which song to include, but Kiss On My List was their first #1 of the 80s.
26. Jam On It – Newcleus
   If you think of 80s Break dancing, you think of this track.
27. Flashdance (What A Feeling) – Irene Cara
   Irene helped open 80s Movie Music with Fame (#46 below) but this was her biggest hit. The Flashdance film also introduced us to actress Jennifer Beals.
28. Tainted Love/Where Did Our Love Go – Soft Cell
   Tainted Love was first performed by Gloria Jones in 1964, Where Did Our Love Go was #1 for the Supremes in '64 as well.
29. Born In The USA – Bruce Springsteen
   On Oct. 27, 1975, Time Magazine proclaimed that Bruce was the future of music. In 1984, they were proven right.
30. Electric Avenue – Eddie Grant
   One of the catchiest, timeless songs of the eighties, sounds like it could have been recorded yesterday.
31. Push It – Salt N Pepa
   This song from 1987 still works in both commercials and on the dance floor.
32. Valley Girl – Frank Zappa featuring Moon Unit
   This song defined the lifestyle (materialism) and linguistics (valleyspeak) of the San Fernando Valley.
33. Morning Train (9 to 5) – Sheena Easton
   Morning Train was just too catchy to be universally hated.
34. Axel F – Harold Faltermeyer
   Eddie Murphy, playing Axel Foley in Beverly Hills Cop, matched with this synth-pop made a hit in 1985. It was reworked into 'Crazy Frog' in 2003.
35. Jessie's Girl – Rick Springfield
   Playing General Hospital's Dr. Noah Drake was Rick's other job in 1981.
36. I Melt With You – Modern English
   Featured in the Valley Girl soundtrack, VH1 declared this the #7 One Hit Wonder of the 80s.
37. 867-5309/Jenny Jenny – Tommy Tutone
   Co-writer Jim Keller said "Jenny is a regular girl, not a hooker. Friends of mine wrote her name and number on a men's room wall at a bar. I called her on a dare, and we dated for a while. I haven't talked with her since the song became a hit, but I hear she thinks I'm a real jerk for writing it."
38. Love Shack – The B-52s
   This was also a top karaoke duet song in the 1990s.
39. Jump – Van Halen
   'Jump' was Van Halen's only number one hit.
40. Who Can It Be Now? – Men At Work
   This started the whole Australian Renaissance of the 80s, which ended with Yahoo Serious' film, Young Einstein.
41. Blinded Me With Science – Thomas Dolby
   Backed up by 1984's Revenge of the Nerds, this started the whole acceptance of the Nerd Renaissance of the 80s, which is still going on today.
42. Whip It – Devo
   Strange robotic nerd band does good. This opened the nerd music genre for the likes of Thomas Dolby and Howard Jones.
43. Old Time Rock and Roll – Bob Seger
   Now, this song is old time rock and roll too.
44. Rock This Town – the Stray Cats
   Led by Brian Setzer, the Stray Cats brought Rockabilly back to pop/rock. Brian did it again for a few months for swing rock with 'Jump Jive N Wail' in 1998.
45. We Didn't Start The Fire – Billy Joel
   Billy should do a song like this for every decade.
46. Fame – Irene Cara
   From the soundtrack of the same name, this song brought movie songs into the 1980s. Fame was also a hit TV show from 1982-1987.
47. Every Little Thing She Does is Magic – The Police
The Police were probably the most successful 'New Wave post-punk reggae rock pop' bands of all time
48. Do That To Me One More Time – The Captain and Tennille
   Leftover Cheesy Music from the 1970s.
49. Call Me – Blondie
   "Top Pop Punk Band Sells Out For Hit Movie Soundtrack" (# 1 for six weeks)
50. The Tide Is High – Blondie
   "Top Pop Punk Band Sells Out With Hipster Reggae Track"
51. Burning Heart – Survivor
   'Eye of the Tiger' hit number one for Rocky 3. 'Burning Heart' reached number two for Rocky 4.
52. Ice Ice Baby – Vanilla Ice
   You can go a long way with the catchy backbeat of Queen/David Bowie's 'Under Pressure'.
53. Hungry Like The Wolf – Duran Duran
   Named a Barbarella bad guy, they were the most successful New Wave Boy Band.
54. Kokomo – The Beach Boys
   Number one song in 1988, not band for a band that started making hits in 1962.
55. Don't You Forget About Me – Simple Minds
   The only number one song by the band, boosted by being the hit from 'The Breakfast Club'.
56. I Ran (So Far Away) – A Flock of Seagulls
   Alphabetically, this band should be at the beginning of any 80s artist list. Lead singer Mike Score based his hair on David Bowie's Ziggy Stardust.
57. Centerfold – J. Geils Band
   It took the band ten years to hit number one on Billboard. Their other top ten hit was 'Freeze-Frame,' also based in photography.
58. Safety Dance – Men Without Hats
   You can dance if you want to. The long-sought 'Girl in the Safety Dance Video' is actually Louise Court, now an editor and journalist at Cosmopolitan.
59. Two of Hearts – Stacy Q
   Stacy started her showbiz career as a showgirl and elephant rider for Ringling Brothers and Barnum & Bailey Circus.
60. Purple Rain – Prince
   80s=Purple=Prince. From the 1984 film 'Purple Rain'.
61. Black Velvet – Alannah Myles
   Myles won the 1990 Grammy for Best Female Rock Vocalist for the song. Yes, it was inspired by Elvis.
62. Almost Paradise – Mike Reno and Ann Wilson
   Mike was the lead singer for Loverboy and Ann was the lead vocals for Heart.
63. Let's Dance – David Bowie
   This was Mr. Bowie's second number one hit. His first was 'Fame' – which he did with John Lennon in 1975.
64. I Got You – Split Enz
   The New Zealand band didn't crack the American Top 40 with this song, but is another definitive '80s-sound' song.
65. In The Air Tonight – Phil Collins
   This song was used in the train sequence of the 1983 film Risky Business, featuring Tom Cruise in his first major role.
66. Don't Worry Be Happy – Bobby McFerrin
   A timeless acapella song. 'Acapella' means no instruments were used.
67. She Drives Me Crazy – Fine Young Cannibals
   The band got their name from a 1960 film, 'All The Fine Young Cannibals'.
68. Nobody – Sylvia
   One of a handful of 80s pop tracks by female singer-songwriters.
69. Rock It – Herbie Hancock
   1983's Rock It was one of the earliest pop hits to use 'scratching' by deejays.
70. Straight Up – Paula Abdul
   This was the first of Paula's six number one hits. (four in the 80s)
71. (tie) Ebony and Ivory – Paul McCartney and Stevie Wonder
   Paul's first post-Beatles collaboration, in 1982.
71. (tie) The Girl is Mine – Michael Jackson with Paul McCartney
   Paul's second post-Beatles collaboration, in 1982.
71. (tie) Say Say Say – Paul McCartney and Michael Jackson
   Paul's third post-Beatles collaboration, in 1983, and final number one hit.
72. On The Dark Side – Eddie and the Cruisers
   (Actually John Cafferty and the Beaver Brown Band)
73. Mr. Roboto – Styx
   "Domo arigato, Mr. Roboto" (Thank you, Mister Robot)
74. Total Eclipse of the Heart – Bonnie Tyler
   Jim Steinman produced this, Bonnie's first and only number one hit.
75. Addicted To Love – Robert Palmer
   I accidentally ordered a 'Robert Palmer' instead of an 'Arnold Palmer' and now a sullen waitress is dancing behind me.
76. West End Girls – Pet Shop Boys
    Pet Shop Boys members Neil Tennant and Chris Lowe are the most successful duo in UK music history.
77. Murphy's Law – Cheri
   A perfect example of 80s dance-pop, an old-school dance classic.

78. Oh Yeah – Yello
   Is it a background sound effect or a song? In either case, a timeless 80s instrumental classic.
79. Roll With It – Steve Winwood
   Steve's second number one hit. It had wide airplay, from AOR (album oriented rock) to Pop to Dance/R&B stations.
80. Here I Go Again – Whitesnake
   The video featured Tawny Kitaen in lingerie dancing on a pair of Jaguar XJs. The song peaked at number one. Coincidence? We think not.
81. Burning Down The House – Talking Heads
   This song says everything you'd ever want to know about a thinking man's American alt/pop/new wave band.
82. Karma Chameleon – Culture Club
   Fronted by Boy George, this was the only number one hit for the band.
83. All Night Long – Lionel Richie
   Lionel Richie, former lead singer for The Commodores had 13 Top Ten Hots, including 5 number ones!
84. Let's Hear It For The Boy – Deniece Williams
   Deniese started her music career as a Stevie Wonder backup singer.
85. Everybody Have Fun Tonight – Wang Chung
   "Everybody WANG CHUNG tonight!"

86. Celebration – Kool and the Gang
   Kool and the Gangs biggest hit is now a timeless classic for festive occasions.
87. Man In Motion (St Elmo's Fire) – John Parr
   From the 'Brat Pack' film, St. Elmo's Fire. The 'Brat Pack' included: Rob Lowe, Emilio Esteves, Judd Nelson, Allie Sheedy and others.
88. I Think We're Alone Now – Tiffany
   There was no actual 'rivalry' between teen singers Tiffany and Debbie Gibson. They both spent four weeks at number one. It was a tie.
89. Miami Vice Theme – Jan Hammer
   Another number one, grammy winning, instrumental soundtrack.
90. Puttin On The Ritz – Taco
   'Taco' was his real name. 'Puttin On The Ritz' also reached number one in 1930.
91. Paranomia – Art of Noise With Max Headroom
   Max Headroon is actually actor Matt Frewer.
92. Wham Rap! (Enjoy What You Do) – Wham!
   Rap music was still very much underground when this was recorded in 1982, although Blondie's 'Rapture' predated it by a year.
93. Blame it on the Rain – Milli Vanilli
   Forever blacklisted by critics for fuzzy rules about the frontmen not actually performing the music, they did have 5 catchy tunes released with a year, including 3 number ones!
94. Money – the Flying Lizards
   It was a hit in the loosest of terms; it reached number 50 on Billboard, but has been used in films, television and even a Taco Bell commercial.
95. Take My Breath Away – Berlin
   # 1, from the Top Gun soundtrack, this song also won the Oscar for for Best Original Song.

96. Escalator of Life – Robert Hazard
   Philly's Robert Hazard peaked at Billboard # 58 with this song about materialism, but don't feel too bad for him. He also wrote Girls Just Wanna Have Fun. Cyndi, and Robert's estate, should do just fine on the royalties from that timeless classic.
97. Right Here Waiting – Richard Marx
   Between 'Satisfied' and 'Right Here Waiting' we heard Richard Marx sing constantly in the spring/summer of 1989.

98. Mr Soul – Neil Young (Trans Album – new version)
   "Respected Hippie Singer Goes Synth" Not as controversial as when Dylan went electric, but it was risky of Neil to produce and release his 1982 'Trans' album. It was followed up with 1983's 'Everybody's Rockin' album, with a rockabllly theme. Oh that Neil!
99. Don't Pay the Ferryman – Chris DeBurgh
   This video had heavy rotation on MTV back in 1983. *Younger Readers- MTV once showed music videos 24/7. Chris' biggest hit was the timeless 'Lady In Red'.
100. Wild Thing – Tone Loc
   Rap was just coming out of the underground in the late 1980s. This reached number two in 1988. It sampled Van Halen's 'Jamie's Cryin'.