Born in 1990? Find Your Conception Song!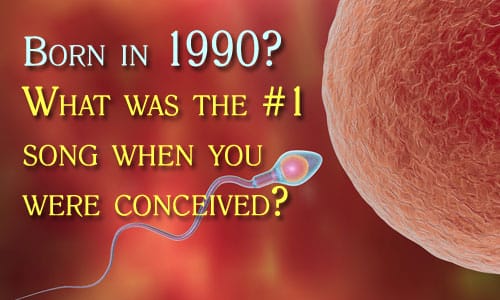 Born in 1990?
Check the date to find the # 1 song when you were conceived, nine months ago!
Seven Viagra tablets are sold every second today. In 1990, it was not available yet.
The average length of human gestation (Your 'Conception Era') is 280 days, or 40 weeks, from the first day of the woman's last menstrual period. The medical term for the due date is estimated date of confinement (EDC).
If you were born late, or a bit premature, add or subtract those days.
This Year's Euphemism: Having some fava beans and a nice Chianti

Your Birthday:
January 1st, 1990:
Mike + The Mechanics – The Living Years
January 2nd, 1990:
Mike + The Mechanics – The Living Years
January 3rd, 1990:
Mike + The Mechanics – The Living Years
January 4th, 1990:
Mike + The Mechanics – The Living Years
January 5th, 1990:
Mike + The Mechanics – The Living Years
January 6th, 1990:
Mike + The Mechanics – The Living Years
January 7th, 1990:
The Bangles – Eternal Flame
January 8th, 1990:
The Bangles – Eternal Flame
January 9th, 1990:
The Bangles – Eternal Flame
January 10th, 1990:
The Bangles – Eternal Flame
January 11th, 1990:
The Bangles – Eternal Flame
January 12th, 1990:
The Bangles – Eternal Flame
January 13th, 1990:
The Bangles – Eternal Flame
January 14th, 1990:
Roxette – The Look
January 15th, 1990:
Roxette – The Look
January 16th, 1990:
Roxette – The Look
January 17th, 1990:
Roxette – The Look
January 18th, 1990:
Roxette – The Look
January 19th, 1990:
Roxette – The Look
January 20th, 1990:
Roxette – The Look
January 21st, 1990:
Fine Young Cannibals – She Drives Me Crazy
January 22nd, 1990:
Fine Young Cannibals – She Drives Me Crazy
January 23rd, 1990:
Fine Young Cannibals – She Drives Me Crazy
January 24th, 1990:
Fine Young Cannibals – She Drives Me Crazy
January 25th, 1990:
Fine Young Cannibals – She Drives Me Crazy
January 26th, 1990:
Fine Young Cannibals – She Drives Me Crazy
January 27th, 1990:
Fine Young Cannibals – She Drives Me Crazy
January 28th, 1990:
Madonna – Like a Prayer
January 29th, 1990:
Madonna – Like a Prayer
January 30th, 1990:
Madonna – Like a Prayer
January 31st, 1990:
Madonna – Like a Prayer
February 1st, 1990:
Madonna – Like a Prayer
February 2nd, 1990:
Madonna – Like a Prayer
February 3rd, 1990:
Madonna – Like a Prayer
February 4th, 1990:
Madonna – Like a Prayer
February 5th, 1990:
Madonna – Like a Prayer
February 6th, 1990:
Madonna – Like a Prayer
February 7th, 1990:
Madonna – Like a Prayer
February 8th, 1990:
Madonna – Like a Prayer
February 9th, 1990:
Madonna – Like a Prayer
February 10th, 1990:
Madonna – Like a Prayer
February 11th, 1990:
Madonna – Like a Prayer
February 12th, 1990:
Madonna – Like a Prayer
February 13th, 1990:
Madonna – Like a Prayer
February 14th, 1990:
Madonna – Like a Prayer
February 15th, 1990:
Madonna – Like a Prayer
February 16th, 1990:
Madonna – Like a Prayer
February 17th, 1990:
Bon Jovi – I'll Be There for You
February 18th, 1990:
Bon Jovi – I'll Be There for You
February 19th, 1990:
Bon Jovi – I'll Be There for You
February 20th, 1990:
Bon Jovi – I'll Be There for You
February 21st, 1990:
Bon Jovi – I'll Be There for You
February 22nd, 1990:
Bon Jovi – I'll Be There for You
February 23rd, 1990:
Bon Jovi – I'll Be There for You
February 24th, 1990:
Paula Abdul – Forever Your Girl
February 25th, 1990:
Paula Abdul – Forever Your Girl
February 26th, 1990:
Paula Abdul – Forever Your Girl
February 27th, 1990:
Paula Abdul – Forever Your Girl
February 28th, 1990:
Paula Abdul – Forever Your Girl
March 1st, 1990:
Paula Abdul – Forever Your Girl
March 2nd, 1990:
Paula Abdul – Forever Your Girl
March 3rd, 1990:
Paula Abdul – Forever Your Girl
March 4th, 1990:
Paula Abdul – Forever Your Girl
March 5th, 1990:
Paula Abdul – Forever Your Girl
March 6th, 1990:
Paula Abdul – Forever Your Girl
March 7th, 1990:
Paula Abdul – Forever Your Girl
March 8th, 1990:
Paula Abdul – Forever Your Girl
March 9th, 1990:
Paula Abdul – Forever Your Girl
March 10th, 1990:
Michael Damian – Rock On
March 11th, 1990:
Michael Damian – Rock On
March 12th, 1990:
Michael Damian – Rock On
March 13th, 1990:
Michael Damian – Rock On
March 14th, 1990:
Michael Damian – Rock On
March 15th, 1990:
Michael Damian – Rock On
March 16th, 1990:
Michael Damian – Rock On
March 17th, 1990:
Bette Midler – Wind Beneath My Wings
March 18th, 1990:
Bette Midler – Wind Beneath My Wings
March 19th, 1990:
Bette Midler – Wind Beneath My Wings
March 20th, 1990:
Bette Midler – Wind Beneath My Wings
March 21st, 1990:
Bette Midler – Wind Beneath My Wings
March 22nd, 1990:
Bette Midler – Wind Beneath My Wings
March 23rd, 1990:
Bette Midler – Wind Beneath My Wings
March 24th, 1990:
New Kids on the Block – I'll Be Loving You (Forever)
March 25th, 1990:
New Kids on the Block – I'll Be Loving You (Forever)
March 26th, 1990:
New Kids on the Block – I'll Be Loving You (Forever)
March 27th, 1990:
New Kids on the Block – I'll Be Loving You (Forever)
March 28th, 1990:
New Kids on the Block – I'll Be Loving You (Forever)
March 29th, 1990:
New Kids on the Block – I'll Be Loving You (Forever)
March 30th, 1990:
New Kids on the Block – I'll Be Loving You (Forever)
March 31st, 1990:
Richard Marx – Satisfied
April 1st, 1990:
Richard Marx – Satisfied
April 2nd, 1990:
Richard Marx – Satisfied
April 3rd, 1990:
Richard Marx – Satisfied
April 4th, 1990:
Richard Marx – Satisfied
April 5th, 1990:
Richard Marx – Satisfied
April 6th, 1990:
Richard Marx – Satisfied
April 7th, 1990:
Milli Vanilli – Baby Don't Forget My Number
April 8th, 1990:
Milli Vanilli – Baby Don't Forget My Number
April 9th, 1990:
Milli Vanilli – Baby Don't Forget My Number
April 10th, 1990:
Milli Vanilli – Baby Don't Forget My Number
April 11th, 1990:
Milli Vanilli – Baby Don't Forget My Number
April 12th, 1990:
Milli Vanilli – Baby Don't Forget My Number
April 13th, 1990:
Milli Vanilli – Baby Don't Forget My Number
April 14th, 1990:
Fine Young Cannibals – Good Thing
April 15th, 1990:
Fine Young Cannibals – Good Thing
April 16th, 1990:
Fine Young Cannibals – Good Thing
April 17th, 1990:
Fine Young Cannibals – Good Thing
April 18th, 1990:
Fine Young Cannibals – Good Thing
April 19th, 1990:
Fine Young Cannibals – Good Thing
April 20th, 1990:
Fine Young Cannibals – Good Thing
April 21st, 1990:
Simply Red – If You Don't Know Me By Now
April 22nd, 1990:
Simply Red – If You Don't Know Me By Now
April 23rd, 1990:
Simply Red – If You Don't Know Me By Now
April 24th, 1990:
Simply Red – If You Don't Know Me By Now
April 25th, 1990:
Simply Red – If You Don't Know Me By Now
April 26th, 1990:
Simply Red – If You Don't Know Me By Now
April 27th, 1990:
Simply Red – If You Don't Know Me By Now
April 28th, 1990:
Martika – Toy Soldiers
April 29th, 1990:
Martika – Toy Soldiers
April 30th, 1990:
Martika – Toy Soldiers
May 1st, 1990:
Martika – Toy Soldiers
May 2nd, 1990:
Martika – Toy Soldiers
May 3rd, 1990:
Martika – Toy Soldiers
May 4th, 1990:
Martika – Toy Soldiers
May 5th, 1990:
Martika – Toy Soldiers
May 6th, 1990:
Martika – Toy Soldiers
May 7th, 1990:
Martika – Toy Soldiers
May 8th, 1990:
Martika – Toy Soldiers
May 9th, 1990:
Martika – Toy Soldiers
May 10th, 1990:
Martika – Toy Soldiers
May 11th, 1990:
Martika – Toy Soldiers
May 12th, 1990:
Prince – Batdance
May 13th, 1990:
Prince – Batdance
May 14th, 1990:
Prince – Batdance
May 15th, 1990:
Prince – Batdance
May 16th, 1990:
Prince – Batdance
May 17th, 1990:
Prince – Batdance
May 18th, 1990:
Prince – Batdance
May 19th, 1990:
Richard Marx – Right Here Waiting
May 20th, 1990:
Richard Marx – Right Here Waiting
May 21st, 1990:
Richard Marx – Right Here Waiting
May 22nd, 1990:
Richard Marx – Right Here Waiting
May 23rd, 1990:
Richard Marx – Right Here Waiting
May 24th, 1990:
Richard Marx – Right Here Waiting
May 25th, 1990:
Richard Marx – Right Here Waiting
May 26th, 1990:
Richard Marx – Right Here Waiting
May 27th, 1990:
Richard Marx – Right Here Waiting
May 28th, 1990:
Richard Marx – Right Here Waiting
May 29th, 1990:
Richard Marx – Right Here Waiting
May 30th, 1990:
Richard Marx – Right Here Waiting
May 31st, 1990:
Richard Marx – Right Here Waiting
June 1st, 1990:
Richard Marx – Right Here Waiting
June 2nd, 1990:
Richard Marx – Right Here Waiting
June 3rd, 1990:
Richard Marx – Right Here Waiting
June 4th, 1990:
Richard Marx – Right Here Waiting
June 5th, 1990:
Richard Marx – Right Here Waiting
June 6th, 1990:
Richard Marx – Right Here Waiting
June 7th, 1990:
Richard Marx – Right Here Waiting
June 8th, 1990:
Richard Marx – Right Here Waiting
June 9th, 1990:
Paula Abdul – Cold Hearted
June 10th, 1990:
Paula Abdul – Cold Hearted
June 11th, 1990:
Paula Abdul – Cold Hearted
June 12th, 1990:
Paula Abdul – Cold Hearted
June 13th, 1990:
Paula Abdul – Cold Hearted
June 14th, 1990:
Paula Abdul – Cold Hearted
June 15th, 1990:
Paula Abdul – Cold Hearted
June 16th, 1990:
New Kids on the Block – Hangin' Tough
June 17th, 1990:
New Kids on the Block – Hangin' Tough
June 18th, 1990:
New Kids on the Block – Hangin' Tough
June 19th, 1990:
New Kids on the Block – Hangin' Tough
June 20th, 1990:
New Kids on the Block – Hangin' Tough
June 21st, 1990:
New Kids on the Block – Hangin' Tough
June 22nd, 1990:
New Kids on the Block – Hangin' Tough
June 23rd, 1990:
Gloria Estefan – Don't Wanna Lose You
June 24th, 1990:
Gloria Estefan – Don't Wanna Lose You
June 25th, 1990:
Gloria Estefan – Don't Wanna Lose You
June 26th, 1990:
Gloria Estefan – Don't Wanna Lose You
June 27th, 1990:
Gloria Estefan – Don't Wanna Lose You
June 28th, 1990:
Gloria Estefan – Don't Wanna Lose You
June 29th, 1990:
Gloria Estefan – Don't Wanna Lose You
June 30th, 1990:
Milli Vanilli – Girl I'm Gonna Miss You
July 1st, 1990:
Milli Vanilli – Girl I'm Gonna Miss You
July 2nd, 1990:
Milli Vanilli – Girl I'm Gonna Miss You
July 3rd, 1990:
Milli Vanilli – Girl I'm Gonna Miss You
July 4th, 1990:
Milli Vanilli – Girl I'm Gonna Miss You
July 5th, 1990:
Milli Vanilli – Girl I'm Gonna Miss You
July 6th, 1990:
Milli Vanilli – Girl I'm Gonna Miss You
July 7th, 1990:
Milli Vanilli – Girl I'm Gonna Miss You
July 8th, 1990:
Milli Vanilli – Girl I'm Gonna Miss You
July 9th, 1990:
Milli Vanilli – Girl I'm Gonna Miss You
July 10th, 1990:
Milli Vanilli – Girl I'm Gonna Miss You
July 11th, 1990:
Milli Vanilli – Girl I'm Gonna Miss You
July 12th, 1990:
Milli Vanilli – Girl I'm Gonna Miss You
July 13th, 1990:
Milli Vanilli – Girl I'm Gonna Miss You
July 14th, 1990:
Janet Jackson – Miss You Much
July 15th, 1990:
Janet Jackson – Miss You Much
July 16th, 1990:
Janet Jackson – Miss You Much
July 17th, 1990:
Janet Jackson – Miss You Much
July 18th, 1990:
Janet Jackson – Miss You Much
July 19th, 1990:
Janet Jackson – Miss You Much
July 20th, 1990:
Janet Jackson – Miss You Much
July 21st, 1990:
Janet Jackson – Miss You Much
July 22nd, 1990:
Janet Jackson – Miss You Much
July 23rd, 1990:
Janet Jackson – Miss You Much
July 24th, 1990:
Janet Jackson – Miss You Much
July 25th, 1990:
Janet Jackson – Miss You Much
July 26th, 1990:
Janet Jackson – Miss You Much
July 27th, 1990:
Janet Jackson – Miss You Much
July 28th, 1990:
Janet Jackson – Miss You Much
July 29th, 1990:
Janet Jackson – Miss You Much
July 30th, 1990:
Janet Jackson – Miss You Much
July 31st, 1990:
Janet Jackson – Miss You Much
August 1st, 1990:
Janet Jackson – Miss You Much
August 2nd, 1990:
Janet Jackson – Miss You Much
August 3rd, 1990:
Janet Jackson – Miss You Much
August 4th, 1990:
Janet Jackson – Miss You Much
August 5th, 1990:
Janet Jackson – Miss You Much
August 6th, 1990:
Janet Jackson – Miss You Much
August 7th, 1990:
Janet Jackson – Miss You Much
August 8th, 1990:
Janet Jackson – Miss You Much
August 9th, 1990:
Janet Jackson – Miss You Much
August 10th, 1990:
Janet Jackson – Miss You Much
August 11th, 1990:
Roxette – Listen To Your Heart
August 12th, 1990:
Roxette – Listen To Your Heart
August 13th, 1990:
Roxette – Listen To Your Heart
August 14th, 1990:
Roxette – Listen To Your Heart
August 15th, 1990:
Roxette – Listen To Your Heart
August 16th, 1990:
Roxette – Listen To Your Heart
August 17th, 1990:
Roxette – Listen To Your Heart
August 18th, 1990:
Bad English – When I See You Smile
August 19th, 1990:
Bad English – When I See You Smile
August 20th, 1990:
Bad English – When I See You Smile
August 21st, 1990:
Bad English – When I See You Smile
August 22nd, 1990:
Bad English – When I See You Smile
August 23rd, 1990:
Bad English – When I See You Smile
August 24th, 1990:
Bad English – When I See You Smile
August 25th, 1990:
Bad English – When I See You Smile
August 26th, 1990:
Bad English – When I See You Smile
August 27th, 1990:
Bad English – When I See You Smile
August 28th, 1990:
Bad English – When I See You Smile
August 29th, 1990:
Bad English – When I See You Smile
August 30th, 1990:
Bad English – When I See You Smile
August 31st, 1990:
Bad English – When I See You Smile
September 1st, 1990:
Milli Vanilli – Blame It on the Rain
September 2nd, 1990:
Milli Vanilli – Blame It on the Rain
September 3rd, 1990:
Milli Vanilli – Blame It on the Rain
September 4th, 1990:
Milli Vanilli – Blame It on the Rain
September 5th, 1990:
Milli Vanilli – Blame It on the Rain
September 6th, 1990:
Milli Vanilli – Blame It on the Rain
September 7th, 1990:
Milli Vanilli – Blame It on the Rain
September 8th, 1990:
Milli Vanilli – Blame It on the Rain
September 9th, 1990:
Milli Vanilli – Blame It on the Rain
September 10th, 1990:
Milli Vanilli – Blame It on the Rain
September 11th, 1990:
Milli Vanilli – Blame It on the Rain
September 12th, 1990:
Milli Vanilli – Blame It on the Rain
September 13th, 1990:
Milli Vanilli – Blame It on the Rain
September 14th, 1990:
Milli Vanilli – Blame It on the Rain
September 15th, 1990:
Billy Joel – We Didn't Start the Fire
September 16th, 1990:
Billy Joel – We Didn't Start the Fire
September 17th, 1990:
Billy Joel – We Didn't Start the Fire
September 18th, 1990:
Billy Joel – We Didn't Start the Fire
September 19th, 1990:
Billy Joel – We Didn't Start the Fire
September 20th, 1990:
Billy Joel – We Didn't Start the Fire
September 21st, 1990:
Billy Joel – We Didn't Start the Fire
September 22nd, 1990:
Billy Joel – We Didn't Start the Fire
September 23rd, 1990:
Billy Joel – We Didn't Start the Fire
September 24th, 1990:
Billy Joel – We Didn't Start the Fire
September 25th, 1990:
Billy Joel – We Didn't Start the Fire
September 26th, 1990:
Billy Joel – We Didn't Start the Fire
September 27th, 1990:
Billy Joel – We Didn't Start the Fire
September 28th, 1990:
Billy Joel – We Didn't Start the Fire
September 29th, 1990:
Phil Collins – Another Day in Paradise
September 30th, 1990:
Phil Collins – Another Day in Paradise
October 1st, 1990:
Phil Collins – Another Day in Paradise
October 2nd, 1990:
Phil Collins – Another Day in Paradise
October 3rd, 1990:
Phil Collins – Another Day in Paradise
October 4th, 1990:
Phil Collins – Another Day in Paradise
October 5th, 1990:
Phil Collins – Another Day in Paradise
October 6th, 1990:
Phil Collins – Another Day in Paradise
October 7th, 1990:
Phil Collins – Another Day in Paradise
October 8th, 1990:
Phil Collins – Another Day in Paradise
October 9th, 1990:
Phil Collins – Another Day in Paradise
October 10th, 1990:
Phil Collins – Another Day in Paradise
October 11th, 1990:
Phil Collins – Another Day in Paradise
October 12th, 1990:
Phil Collins – Another Day in Paradise
October 13th, 1990:
Phil Collins – Another Day in Paradise
October 14th, 1990:
Phil Collins – Another Day in Paradise
October 15th, 1990:
Phil Collins – Another Day in Paradise
October 16th, 1990:
Phil Collins – Another Day in Paradise
October 17th, 1990:
Phil Collins – Another Day in Paradise
October 18th, 1990:
Phil Collins – Another Day in Paradise
October 19th, 1990:
Phil Collins – Another Day in Paradise
October 20th, 1990:
Phil Collins – Another Day in Paradise
October 21st, 1990:
Phil Collins – Another Day in Paradise
October 22nd, 1990:
Phil Collins – Another Day in Paradise
October 23rd, 1990:
Phil Collins – Another Day in Paradise
October 24th, 1990:
Phil Collins – Another Day in Paradise
October 25th, 1990:
Phil Collins – Another Day in Paradise
October 26th, 1990:
Phil Collins – Another Day in Paradise
October 27th, 1990:
Michael Bolton – How Am I Supposed to Live Without You
October 28th, 1990:
Michael Bolton – How Am I Supposed to Live Without You
October 29th, 1990:
Michael Bolton – How Am I Supposed to Live Without You
October 30th, 1990:
Michael Bolton – How Am I Supposed to Live Without You
October 31st, 1990:
Michael Bolton – How Am I Supposed to Live Without You
November 1st, 1990:
Michael Bolton – How Am I Supposed to Live Without You
November 2nd, 1990:
Michael Bolton – How Am I Supposed to Live Without You
November 3rd, 1990:
Michael Bolton – How Am I Supposed to Live Without You
November 4th, 1990:
Michael Bolton – How Am I Supposed to Live Without You
November 5th, 1990:
Michael Bolton – How Am I Supposed to Live Without You
November 6th, 1990:
Michael Bolton – How Am I Supposed to Live Without You
November 7th, 1990:
Michael Bolton – How Am I Supposed to Live Without You
November 8th, 1990:
Michael Bolton – How Am I Supposed to Live Without You
November 9th, 1990:
Michael Bolton – How Am I Supposed to Live Without You
November 10th, 1990:
Michael Bolton – How Am I Supposed to Live Without You
November 11th, 1990:
Michael Bolton – How Am I Supposed to Live Without You
November 12th, 1990:
Michael Bolton – How Am I Supposed to Live Without You
November 13th, 1990:
Michael Bolton – How Am I Supposed to Live Without You
November 14th, 1990:
Michael Bolton – How Am I Supposed to Live Without You
November 15th, 1990:
Michael Bolton – How Am I Supposed to Live Without You
November 16th, 1990:
Michael Bolton – How Am I Supposed to Live Without You
November 17th, 1990:
Paula Abdul & The Wild Pair – Opposites Attract
November 18th, 1990:
Paula Abdul & The Wild Pair – Opposites Attract
November 19th, 1990:
Paula Abdul & The Wild Pair – Opposites Attract
November 20th, 1990:
Paula Abdul & The Wild Pair – Opposites Attract
November 21st, 1990:
Paula Abdul & The Wild Pair – Opposites Attract
November 22nd, 1990:
Paula Abdul & The Wild Pair – Opposites Attract
November 23rd, 1990:
Paula Abdul & The Wild Pair – Opposites Attract
November 24th, 1990:
Paula Abdul & The Wild Pair – Opposites Attract
November 25th, 1990:
Paula Abdul & The Wild Pair – Opposites Attract
November 26th, 1990:
Paula Abdul & The Wild Pair – Opposites Attract
November 27th, 1990:
Paula Abdul & The Wild Pair – Opposites Attract
November 28th, 1990:
Paula Abdul & The Wild Pair – Opposites Attract
November 29th, 1990:
Paula Abdul & The Wild Pair – Opposites Attract
November 30th, 1990:
Paula Abdul & The Wild Pair – Opposites Attract
December 1st, 1990:
Paula Abdul & The Wild Pair – Opposites Attract
December 2nd, 1990:
Paula Abdul & The Wild Pair – Opposites Attract
December 3rd, 1990:
Paula Abdul & The Wild Pair – Opposites Attract
December 4th, 1990:
Paula Abdul & The Wild Pair – Opposites Attract
December 5th, 1990:
Paula Abdul & The Wild Pair – Opposites Attract
December 6th, 1990:
Paula Abdul & The Wild Pair – Opposites Attract
December 7th, 1990:
Paula Abdul & The Wild Pair – Opposites Attract
December 8th, 1990:
Paula Abdul & The Wild Pair – Opposites Attract
December 9th, 1990:
Janet Jackson – Escapade
December 10th, 1990:
Janet Jackson – Escapade
December 11th, 1990:
Janet Jackson – Escapade
December 12th, 1990:
Janet Jackson – Escapade
December 13th, 1990:
Janet Jackson – Escapade
December 14th, 1990:
Janet Jackson – Escapade
December 15th, 1990:
Janet Jackson – Escapade
December 16th, 1990:
Janet Jackson – Escapade
December 17th, 1990:
Janet Jackson – Escapade
December 18th, 1990:
Janet Jackson – Escapade
December 19th, 1990:
Janet Jackson – Escapade
December 20th, 1990:
Janet Jackson – Escapade
December 21st, 1990:
Janet Jackson – Escapade
December 22nd, 1990:
Janet Jackson – Escapade
December 23rd, 1990:
Janet Jackson – Escapade
December 24th, 1990:
Janet Jackson – Escapade
December 25th, 1990:
Janet Jackson – Escapade
December 26th, 1990:
Janet Jackson – Escapade
December 27th, 1990:
Janet Jackson – Escapade
December 28th, 1990:
Janet Jackson – Escapade
December 29th, 1990:
Janet Jackson – Escapade
December 30th, 1990:
Alannah Myles – Black Velvet
December 31st, 1990:
Alannah Myles – Black Velvet