Born in 2013? Find Your Conception Song!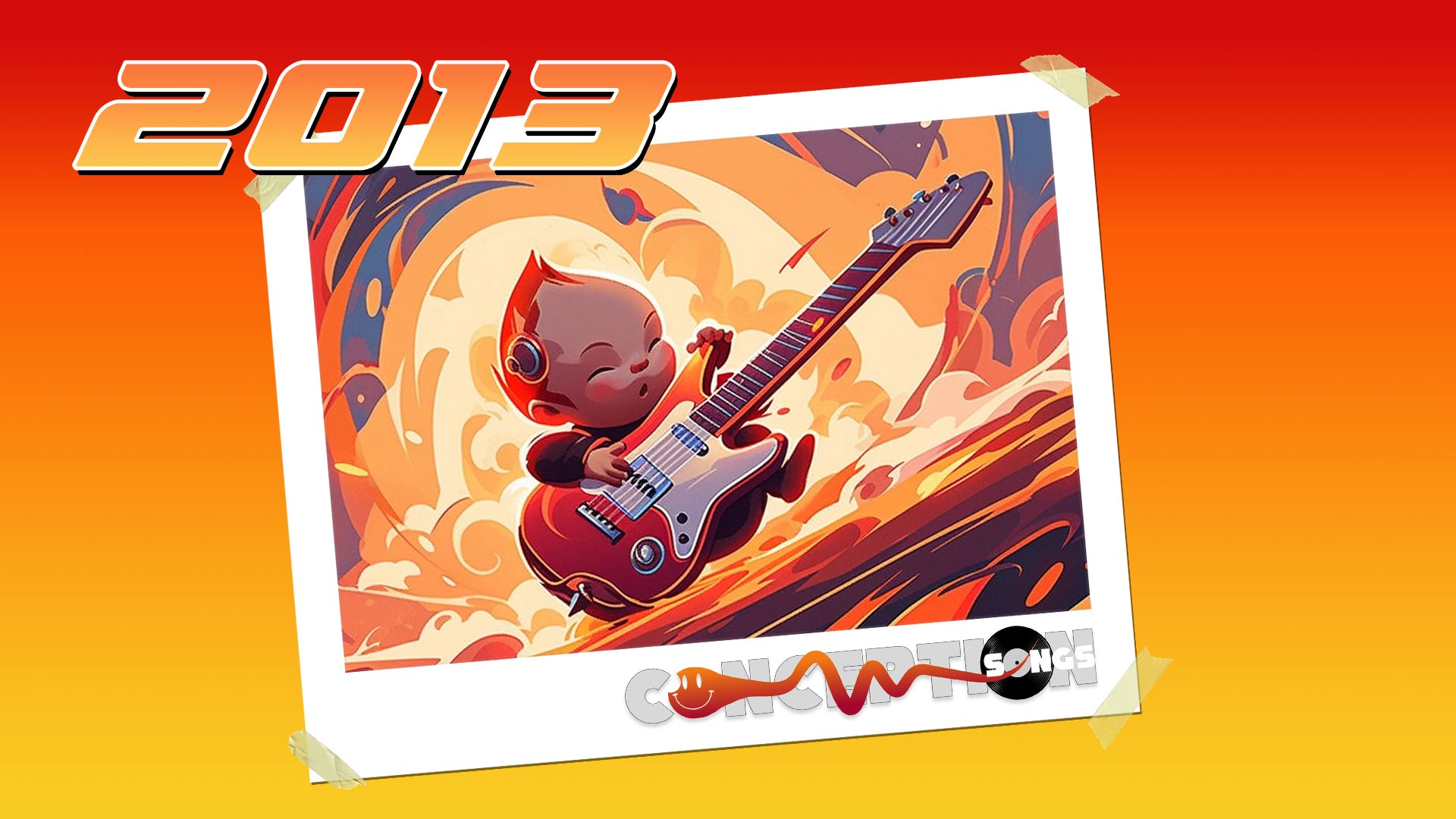 Born in 2013?
Check the date to find the # 1 song when you were conceived, nine months ago!
"Kissing -and I mean like, yummy, smacking kissing- is the most delicious, most beautiful and passionate thing that two people can do, bar none. Better than sex, hands down." – Drew Barrymore
Foreplay.
Yup, like Mom and Dad used to.
The average length of human gestation (Your 'Conception Era') is 280 days, or 40 weeks, from the first day of the woman's last menstrual period. The medical term for the due date is estimated date of confinement (EDC).
If you were born late, or a bit premature, add or subtract those days.
This Year's Euphemism: Getting Lucky
Your Birthday:
January 1st, 2013:
Fun featuring Janelle Monae – We Are Young
January 2nd, 2013:
Fun featuring Janelle Monae – We Are Young
January 3rd, 2013:
Fun featuring Janelle Monae – We Are Young
January 4th, 2013:
Fun featuring Janelle Monae – We Are Young
January 5th, 2013:
Fun featuring Janelle Monae – We Are Young
January 6th, 2013:
Fun featuring Janelle Mon�e – We Are Young
January 7th, 2013:
Fun featuring Janelle Monae – We Are Young
January 8th, 2013:
Fun featuring Janelle Monae – We Are Young
January 9th, 2013:
Fun featuring Janelle Monae – We Are Young
January 10th, 2013:
Fun featuring Janelle Monae – We Are Young
January 11th, 2013:
Fun featuring Janelle Monae – We Are Young
January 12th, 2013:
Fun featuring Janelle Monae – We Are Young
January 13th, 2013:
Fun featuring Janelle Monae – We Are Young
January 14th, 2013:
Fun featuring Janelle Monae – We Are Young
January 15th, 2013:
Fun featuring Janelle Mon�e – We Are Young
January 16th, 2013:
Fun featuring Janelle Monae – We Are Young
January 17th, 2013:
Fun featuring Janelle Monae – We Are Young
January 18th, 2013:
Fun featuring Janelle Monae – We Are Young
January 19th, 2013:
Fun featuring Janelle Monae – We Are Young
January 20th, 2013:
Fun featuring Janelle Monae – We Are Young
January 21st, 2013:
Fun featuring Janelle Monae – We Are Young
January 22nd, 2013:
Fun featuring Janelle Monae – We Are Young
January 23rd, 2013:
Fun featuring Janelle Monae – We Are Young
January 24th, 2013:
Fun featuring Janelle Monae – We Are Young
January 25th, 2013:
Fun featuring Janelle Monae – We Are Young
January 26th, 2013:
Fun featuring Janelle Monae – We Are Young
January 27th, 2013:
Fun featuring Janelle Monae – We Are Young
January 28th, 2013:
Fun featuring Janelle Monae – We Are Young
January 29th, 2013:
Fun featuring Janelle Monae – We Are Young
January 30th, 2013:
Fun featuring Janelle Monae – We Are Young
January 31st, 2013:
Fun featuring Janelle Monae – We Are Young
February 1st, 2013:
Fun featuring Janelle Monae – We Are Young
February 2nd, 2013:
Fun featuring Janelle Monae – We Are Young
February 3rd, 2013:
Gotye featuring Kimbra – Somebody That I Used to Know
February 4th, 2013:
Gotye featuring Kimbra – Somebody That I Used to Know
February 5th, 2013:
Gotye featuring Kimbra – Somebody That I Used to Know
February 6th, 2013:
Gotye featuring Kimbra – Somebody That I Used to Know
February 7th, 2013:
Gotye featuring Kimbra – Somebody That I Used to Know
February 8th, 2013:
Gotye featuring Kimbra – Somebody That I Used to Know
February 9th, 2013:
Gotye featuring Kimbra – Somebody That I Used to Know
February 10th, 2013:
Gotye featuring Kimbra – Somebody That I Used to Know
February 11th, 2013:
Gotye featuring Kimbra – Somebody That I Used to Know
February 12th, 2013:
Gotye featuring Kimbra – Somebody That I Used to Know
February 13th, 2013:
Gotye featuring Kimbra – Somebody That I Used to Know
February 14th, 2013:
Gotye featuring Kimbra – Somebody That I Used to Know
February 15th, 2013:
Gotye featuring Kimbra – Somebody That I Used to Know
February 16th, 2013:
Gotye featuring Kimbra – Somebody That I Used to Know
February 17th, 2013:
Gotye featuring Kimbra – Somebody That I Used to Know
February 18th, 2013:
Gotye featuring Kimbra – Somebody That I Used to Know
February 19th, 2013:
Gotye featuring Kimbra – Somebody That I Used to Know
February 20th, 2013:
Gotye featuring Kimbra – Somebody That I Used to Know
February 21st, 2013:
Gotye featuring Kimbra – Somebody That I Used to Know
February 22nd, 2013:
Gotye featuring Kimbra – Somebody That I Used to Know
February 23rd, 2013:
Gotye featuring Kimbra – Somebody That I Used to Know
February 24th, 2013:
Gotye featuring Kimbra – Somebody That I Used to Know
February 25th, 2013:
Gotye featuring Kimbra – Somebody That I Used to Know
February 26th, 2013:
Gotye featuring Kimbra – Somebody That I Used to Know
February 27th, 2013:
Gotye featuring Kimbra – Somebody That I Used to Know
February 28th, 2013:
Gotye featuring Kimbra – Somebody That I Used to Know
March 1st, 2013:
Gotye featuring Kimbra – Somebody That I Used to Know
March 2nd, 2013:
Gotye featuring Kimbra – Somebody That I Used to Know
March 3rd, 2013:
Gotye featuring Kimbra – Somebody That I Used to Know
March 4th, 2013:
Gotye featuring Kimbra – Somebody That I Used to Know
March 5th, 2013:
Gotye featuring Kimbra – Somebody That I Used to Know
March 6th, 2013:
Gotye featuring Kimbra – Somebody That I Used to Know
March 7th, 2013:
Gotye featuring Kimbra – Somebody That I Used to Know
March 8th, 2013:
Gotye featuring Kimbra – Somebody That I Used to Know
March 9th, 2013:
Gotye featuring Kimbra – Somebody That I Used to Know
March 10th, 2013:
Gotye featuring Kimbra – Somebody That I Used to Know
March 11th, 2013:
Gotye featuring Kimbra – Somebody That I Used to Know
March 12th, 2013:
Gotye featuring Kimbra – Somebody That I Used to Know
March 13th, 2013:
Gotye featuring Kimbra – Somebody That I Used to Know
March 14th, 2013:
Gotye featuring Kimbra – Somebody That I Used to Know
March 15th, 2013:
Gotye featuring Kimbra – Somebody That I Used to Know
March 16th, 2013:
Gotye featuring Kimbra – Somebody That I Used to Know
March 17th, 2013:
Gotye featuring Kimbra – Somebody That I Used to Know
March 18th, 2013:
Gotye featuring Kimbra – Somebody That I Used to Know
March 19th, 2013:
Gotye featuring Kimbra – Somebody That I Used to Know
March 20th, 2013:
Gotye featuring Kimbra – Somebody That I Used to Know
March 21st, 2013:
Gotye featuring Kimbra – Somebody That I Used to Know
March 22nd, 2013:
Gotye featuring Kimbra – Somebody That I Used to Know
March 23rd, 2013:
Gotye featuring Kimbra – Somebody That I Used to Know
March 24th, 2013:
Gotye featuring Kimbra – Somebody That I Used to Know
March 25th, 2013:
Gotye featuring Kimbra – Somebody That I Used to Know
March 26th, 2013:
Gotye featuring Kimbra – Somebody That I Used to Know
March 27th, 2013:
Gotye featuring Kimbra – Somebody That I Used to Know
March 28th, 2013:
Gotye featuring Kimbra – Somebody That I Used to Know
March 29th, 2013:
Gotye featuring Kimbra – Somebody That I Used to Know
March 30th, 2013:
Carly Rae Jepsen – Call Me Maybe
March 31st, 2013:
Carly Rae Jepsen – Call Me Maybe
April 1st, 2013:
Carly Rae Jepsen – Call Me Maybe
April 2nd, 2013:
Carly Rae Jepsen – Call Me Maybe
April 3rd, 2013:
Carly Rae Jepsen – Call Me Maybe
April 4th, 2013:
Carly Rae Jepsen – Call Me Maybe
April 5th, 2013:
Carly Rae Jepsen – Call Me Maybe
April 6th, 2013:
Carly Rae Jepsen – Call Me Maybe
April 7th, 2013:
Carly Rae Jepsen – Call Me Maybe
April 8th, 2013:
Carly Rae Jepsen – Call Me Maybe
April 9th, 2013:
Carly Rae Jepsen – Call Me Maybe
April 10th, 2013:
Carly Rae Jepsen – Call Me Maybe
April 11th, 2013:
Carly Rae Jepsen – Call Me Maybe
April 12th, 2013:
Carly Rae Jepsen – Call Me Maybe
April 13th, 2013:
Carly Rae Jepsen – Call Me Maybe
April 14th, 2013:
Carly Rae Jepsen – Call Me Maybe
April 15th, 2013:
Carly Rae Jepsen – Call Me Maybe
April 16th, 2013:
Carly Rae Jepsen – Call Me Maybe
April 17th, 2013:
Carly Rae Jepsen – Call Me Maybe
April 18th, 2013:
Carly Rae Jepsen – Call Me Maybe
April 19th, 2013:
Carly Rae Jepsen – Call Me Maybe
April 20th, 2013:
Carly Rae Jepsen – Call Me Maybe
April 21st, 2013:
Carly Rae Jepsen – Call Me Maybe
April 22nd, 2013:
Carly Rae Jepsen – Call Me Maybe
April 23rd, 2013:
Carly Rae Jepsen – Call Me Maybe
April 24th, 2013:
Carly Rae Jepsen – Call Me Maybe
April 25th, 2013:
Carly Rae Jepsen – Call Me Maybe
April 26th, 2013:
Carly Rae Jepsen – Call Me Maybe
April 27th, 2013:
Carly Rae Jepsen – Call Me Maybe
April 28th, 2013:
Carly Rae Jepsen – Call Me Maybe
April 29th, 2013:
Carly Rae Jepsen – Call Me Maybe
April 30th, 2013:
Carly Rae Jepsen – Call Me Maybe
May 1st, 2013:
Carly Rae Jepsen – Call Me Maybe
May 2nd, 2013:
Carly Rae Jepsen – Call Me Maybe
May 3rd, 2013:
Carly Rae Jepsen – Call Me Maybe
May 4th, 2013:
Carly Rae Jepsen – Call Me Maybe
May 5th, 2013:
Carly Rae Jepsen – Call Me Maybe
May 6th, 2013:
Carly Rae Jepsen – Call Me Maybe
May 7th, 2013:
Carly Rae Jepsen – Call Me Maybe
May 8th, 2013:
Carly Rae Jepsen – Call Me Maybe
May 9th, 2013:
Carly Rae Jepsen – Call Me Maybe
May 10th, 2013:
Carly Rae Jepsen – Call Me Maybe
May 11th, 2013:
Carly Rae Jepsen – Call Me Maybe
May 12th, 2013:
Carly Rae Jepsen – Call Me Maybe
May 13th, 2013:
Carly Rae Jepsen – Call Me Maybe
May 14th, 2013:
Carly Rae Jepsen – Call Me Maybe
May 15th, 2013:
Carly Rae Jepsen – Call Me Maybe
May 16th, 2013:
Carly Rae Jepsen – Call Me Maybe
May 17th, 2013:
Carly Rae Jepsen – Call Me Maybe
May 18th, 2013:
Carly Rae Jepsen – Call Me Maybe
May 19th, 2013:
Carly Rae Jepsen – Call Me Maybe
May 20th, 2013:
Carly Rae Jepsen – Call Me Maybe
May 21st, 2013:
Carly Rae Jepsen – Call Me Maybe
May 22nd, 2013:
Carly Rae Jepsen – Call Me Maybe
May 23rd, 2013:
Carly Rae Jepsen – Call Me Maybe
May 24th, 2013:
Carly Rae Jepsen – Call Me Maybe
May 25th, 2013:
Carly Rae Jepsen – Call Me Maybe
May 26th, 2013:
Carly Rae Jepsen – Call Me Maybe
May 27th, 2013:
Carly Rae Jepsen – Call Me Maybe
May 28th, 2013:
Carly Rae Jepsen – Call Me Maybe
May 29th, 2013:
Carly Rae Jepsen – Call Me Maybe
May 30th, 2013:
Carly Rae Jepsen – Call Me Maybe
May 31st, 2013:
Carly Rae Jepsen – Call Me Maybe
June 1st, 2013:
Flo Rida – Whistle
June 2nd, 2013:
Flo Rida – Whistle
June 3rd, 2013:
Flo Rida – Whistle
June 4th, 2013:
Flo Rida – Whistle
June 5th, 2013:
Flo Rida – Whistle
June 6th, 2013:
Flo Rida – Whistle
June 7th, 2013:
Flo Rida – Whistle
June 8th, 2013:
Taylor Swift – We Are Never Ever Getting Back Together
June 9th, 2013:
Taylor Swift – We Are Never Ever Getting Back Together
June 10th, 2013:
Taylor Swift – We Are Never Ever Getting Back Together
June 11th, 2013:
Taylor Swift – We Are Never Ever Getting Back Together
June 12th, 2013:
Taylor Swift – We Are Never Ever Getting Back Together
June 13th, 2013:
Taylor Swift – We Are Never Ever Getting Back Together
June 14th, 2013:
Taylor Swift – We Are Never Ever Getting Back Together
June 15th, 2013:
Taylor Swift – We Are Never Ever Getting Back Together
June 16th, 2013:
Taylor Swift – We Are Never Ever Getting Back Together
June 17th, 2013:
Taylor Swift – We Are Never Ever Getting Back Together
June 18th, 2013:
Taylor Swift – We Are Never Ever Getting Back Together
June 19th, 2013:
Taylor Swift – We Are Never Ever Getting Back Together
June 20th, 2013:
Taylor Swift – We Are Never Ever Getting Back Together
June 21st, 2013:
Taylor Swift – We Are Never Ever Getting Back Together
June 22nd, 2013:
Taylor Swift – We Are Never Ever Getting Back Together
June 23rd, 2013:
Taylor Swift – We Are Never Ever Getting Back Together
June 24th, 2013:
Taylor Swift – We Are Never Ever Getting Back Together
June 25th, 2013:
Taylor Swift – We Are Never Ever Getting Back Together
June 26th, 2013:
Taylor Swift – We Are Never Ever Getting Back Together
June 27th, 2013:
Taylor Swift – We Are Never Ever Getting Back Together
June 28th, 2013:
Taylor Swift – We Are Never Ever Getting Back Together
June 29th, 2013:
Taylor Swift – We Are Never Ever Getting Back Together
June 30th, 2013:
Taylor Swift – We Are Never Ever Getting Back Together
July 1st, 2013:
Taylor Swift – We Are Never Ever Getting Back Together
July 2nd, 2013:
Taylor Swift – We Are Never Ever Getting Back Together
July 3rd, 2013:
Taylor Swift – We Are Never Ever Getting Back Together
July 4th, 2013:
Taylor Swift – We Are Never Ever Getting Back Together
July 5th, 2013:
Taylor Swift – We Are Never Ever Getting Back Together
July 6th, 2013:
Maroon 5 – One More Night
July 7th, 2013:
Maroon 5 – One More Night
July 8th, 2013:
Maroon 5 – One More Night
July 9th, 2013:
Maroon 5 – One More Night
July 10th, 2013:
Maroon 5 – One More Night
July 11th, 2013:
Maroon 5 – One More Night
July 12th, 2013:
Maroon 5 – One More Night
July 13th, 2013:
Maroon 5 – One More Night
July 14th, 2013:
Maroon 5 – One More Night
July 15th, 2013:
Maroon 5 – One More Night
July 16th, 2013:
Maroon 5 – One More Night
July 17th, 2013:
Maroon 5 – One More Night
July 18th, 2013:
Maroon 5 – One More Night
July 19th, 2013:
Maroon 5 – One More Night
July 20th, 2013:
Maroon 5 – One More Night
July 21st, 2013:
Maroon 5 – One More Night
July 22nd, 2013:
Maroon 5 – One More Night
July 23rd, 2013:
Maroon 5 – One More Night
July 24th, 2013:
Maroon 5 – One More Night
July 25th, 2013:
Maroon 5 – One More Night
July 26th, 2013:
Maroon 5 – One More Night
July 27th, 2013:
Maroon 5 – One More Night
July 28th, 2013:
Maroon 5 – One More Night
July 29th, 2013:
Maroon 5 – One More Night
July 30th, 2013:
Maroon 5 – One More Night
July 31st, 2013:
Maroon 5 – One More Night
August 1st, 2013:
Maroon 5 – One More Night
August 2nd, 2013:
Maroon 5 – One More Night
August 3rd, 2013:
Maroon 5 – One More Night
August 4th, 2013:
Maroon 5 – One More Night
August 5th, 2013:
Maroon 5 – One More Night
August 6th, 2013:
Maroon 5 – One More Night
August 7th, 2013:
Maroon 5 – One More Night
August 8th, 2013:
Maroon 5 – One More Night
August 9th, 2013:
Maroon 5 – One More Night
August 10th, 2013:
Maroon 5 – One More Night
August 11th, 2013:
Maroon 5 – One More Night
August 12th, 2013:
Maroon 5 – One More Night
August 13th, 2013:
Maroon 5 – One More Night
August 14th, 2013:
Maroon 5 – One More Night
August 15th, 2013:
Maroon 5 – One More Night
August 16th, 2013:
Maroon 5 – One More Night
August 17th, 2013:
Maroon 5 – One More Night
August 18th, 2013:
Maroon 5 – One More Night
August 19th, 2013:
Maroon 5 – One More Night
August 20th, 2013:
Maroon 5 – One More Night
August 21st, 2013:
Maroon 5 – One More Night
August 22nd, 2013:
Maroon 5 – One More Night
August 23rd, 2013:
Maroon 5 – One More Night
August 24th, 2013:
Maroon 5 – One More Night
August 25th, 2013:
Maroon 5 – One More Night
August 26th, 2013:
Maroon 5 – One More Night
August 27th, 2013:
Maroon 5 – One More Night
August 28th, 2013:
Maroon 5 – One More Night
August 29th, 2013:
Maroon 5 – One More Night
August 30th, 2013:
Maroon 5 – One More Night
August 31st, 2013:
Maroon 5 – One More Night
September 1st, 2013:
Maroon 5 – One More Night
September 2nd, 2013:
Maroon 5 – One More Night
September 3rd, 2013:
Maroon 5 – One More Night
September 4th, 2013:
Maroon 5 – One More Night
September 5th, 2013:
Maroon 5 – One More Night
September 6th, 2013:
Maroon 5 – One More Night
September 7th, 2013:
Rihanna – Diamonds
September 8th, 2013:
Rihanna – Diamonds
September 9th, 2013:
Rihanna – Diamonds
September 10th, 2013:
Rihanna – Diamonds
September 11th, 2013:
Rihanna – Diamonds
September 12th, 2013:
Rihanna – Diamonds
September 13th, 2013:
Rihanna – Diamonds
September 14th, 2013:
Rihanna – Diamonds
September 15th, 2013:
Rihanna – Diamonds
September 16th, 2013:
Rihanna – Diamonds
September 17th, 2013:
Rihanna – Diamonds
September 18th, 2013:
Rihanna – Diamonds
September 19th, 2013:
Rihanna – Diamonds
September 20th, 2013:
Rihanna – Diamonds
September 21st, 2013:
Rihanna – Diamonds
September 22nd, 2013:
Rihanna – Diamonds
September 23rd, 2013:
Rihanna – Diamonds
September 24th, 2013:
Rihanna – Diamonds
September 25th, 2013:
Rihanna – Diamonds
September 26th, 2013:
Rihanna – Diamonds
September 27th, 2013:
Rihanna – Diamonds
September 28th, 2013:
Bruno Mars – Locked Out of Heaven
September 29th, 2013:
Bruno Mars – Locked Out of Heaven
September 30th, 2013:
Bruno Mars – Locked Out of Heaven
October 1st, 2013:
Bruno Mars – Locked Out of Heaven
October 2nd, 2013:
Bruno Mars – Locked Out of Heaven
October 3rd, 2013:
Bruno Mars – Locked Out of Heaven
October 4th, 2013:
Bruno Mars – Locked Out of Heaven
October 5th, 2013:
Bruno Mars – Locked Out of Heaven
October 6th, 2013:
Bruno Mars – Locked Out of Heaven
October 7th, 2013:
Bruno Mars – Locked Out of Heaven
October 8th, 2013:
Bruno Mars – Locked Out of Heaven
October 9th, 2013:
Bruno Mars – Locked Out of Heaven
October 10th, 2013:
Bruno Mars – Locked Out of Heaven
October 11th, 2013:
Bruno Mars – Locked Out of Heaven
October 12th, 2013:
Bruno Mars – Locked Out of Heaven
October 13th, 2013:
Bruno Mars – Locked Out of Heaven
October 14th, 2013:
Bruno Mars – Locked Out of Heaven
October 15th, 2013:
Bruno Mars – Locked Out of Heaven
October 16th, 2013:
Bruno Mars – Locked Out of Heaven
October 17th, 2013:
Bruno Mars – Locked Out of Heaven
October 18th, 2013:
Bruno Mars – Locked Out of Heaven
October 19th, 2013:
Bruno Mars – Locked Out of Heaven
October 20th, 2013:
Bruno Mars – Locked Out of Heaven
October 21st, 2013:
Bruno Mars – Locked Out of Heaven
October 22nd, 2013:
Bruno Mars – Locked Out of Heaven
October 23rd, 2013:
Bruno Mars – Locked Out of Heaven
October 24th, 2013:
Bruno Mars – Locked Out of Heaven
October 25th, 2013:
Bruno Mars – Locked Out of Heaven
October 26th, 2013:
Bruno Mars – Locked Out of Heaven
October 27th, 2013:
Bruno Mars – Locked Out of Heaven
October 28th, 2013:
Bruno Mars – Locked Out of Heaven
October 29th, 2013:
Bruno Mars – Locked Out of Heaven
October 30th, 2013:
Bruno Mars – Locked Out of Heaven
October 31st, 2013:
Bruno Mars – Locked Out of Heaven
November 1st, 2013:
Bruno Mars – Locked Out of Heaven
November 2nd, 2013:
Bruno Mars – Locked Out of Heaven
November 3rd, 2013:
Bruno Mars – Locked Out of Heaven
November 4th, 2013:
Bruno Mars – Locked Out of Heaven
November 5th, 2013:
Bruno Mars – Locked Out of Heaven
November 6th, 2013:
Bruno Mars – Locked Out of Heaven
November 7th, 2013:
Bruno Mars – Locked Out of Heaven
November 8th, 2013:
Bruno Mars – Locked Out of Heaven
November 9th, 2013:
Macklemore and Ryan Lewis featuring Wanz – Thrift Shop
November 10th, 2013:
Macklemore and Ryan Lewis featuring Wanz – Thrift Shop
November 11th, 2013:
Macklemore and Ryan Lewis featuring Wanz – Thrift Shop
November 12th, 2013:
Macklemore and Ryan Lewis featuring Wanz – Thrift Shop
November 13th, 2013:
Macklemore and Ryan Lewis featuring Wanz – Thrift Shop
November 14th, 2013:
Macklemore and Ryan Lewis featuring Wanz – Thrift Shop
November 15th, 2013:
Macklemore and Ryan Lewis featuring Wanz – Thrift Shop
November 16th, 2013:
Macklemore and Ryan Lewis featuring Wanz – Thrift Shop
November 17th, 2013:
Macklemore and Ryan Lewis featuring Wanz – Thrift Shop
November 18th, 2013:
Macklemore and Ryan Lewis featuring Wanz – Thrift Shop
November 19th, 2013:
Macklemore and Ryan Lewis featuring Wanz – Thrift Shop
November 20th, 2013:
Macklemore and Ryan Lewis featuring Wanz – Thrift Shop
November 21st, 2013:
Macklemore and Ryan Lewis featuring Wanz – Thrift Shop
November 22nd, 2013:
Macklemore and Ryan Lewis featuring Wanz – Thrift Shop
November 23rd, 2013:
Macklemore and Ryan Lewis featuring Wanz – Thrift Shop
November 24th, 2013:
Macklemore and Ryan Lewis featuring Wanz – Thrift Shop
November 25th, 2013:
Macklemore and Ryan Lewis featuring Wanz – Thrift Shop
November 26th, 2013:
Macklemore and Ryan Lewis featuring Wanz – Thrift Shop
November 27th, 2013:
Macklemore and Ryan Lewis featuring Wanz – Thrift Shop
November 28th, 2013:
Macklemore and Ryan Lewis featuring Wanz – Thrift Shop
November 29th, 2013:
Macklemore and Ryan Lewis featuring Wanz – Thrift Shop
November 30th, 2013:
Macklemore and Ryan Lewis featuring Wanz – Thrift Shop
December 1st, 2013:
Macklemore and Ryan Lewis featuring Wanz – Thrift Shop
December 2nd, 2013:
Macklemore and Ryan Lewis featuring Wanz – Thrift Shop
December 3rd, 2013:
Macklemore and Ryan Lewis featuring Wanz – Thrift Shop
December 4th, 2013:
Macklemore and Ryan Lewis featuring Wanz – Thrift Shop
December 5th, 2013:
Macklemore and Ryan Lewis featuring Wanz – Thrift Shop
December 6th, 2013:
Macklemore and Ryan Lewis featuring Wanz – Thrift Shop
December 7th, 2013:
Macklemore and Ryan Lewis featuring Wanz – Thrift Shop
December 8th, 2013:
Baauer – Harlem Shake
December 9th, 2013:
Baauer – Harlem Shake
December 10th, 2013:
Baauer – Harlem Shake
December 11th, 2013:
Baauer – Harlem Shake
December 12th, 2013:
Baauer – Harlem Shake
December 13th, 2013:
Baauer – Harlem Shake
December 14th, 2013:
Baauer – Harlem Shake
December 15th, 2013:
Baauer – Harlem Shake
December 16th, 2013:
Baauer – Harlem Shake
December 17th, 2013:
Baauer – Harlem Shake
December 18th, 2013:
Baauer – Harlem Shake
December 19th, 2013:
Baauer – Harlem Shake
December 20th, 2013:
Baauer – Harlem Shake
December 21st, 2013:
Baauer – Harlem Shake
December 22nd, 2013:
Baauer – Harlem Shake
December 23rd, 2013:
Baauer – Harlem Shake
December 24th, 2013:
Baauer – Harlem Shake
December 25th, 2013:
Baauer – Harlem Shake
December 26th, 2013:
Baauer – Harlem Shake
December 27th, 2013:
Baauer – Harlem Shake
December 28th, 2013:
Baauer – Harlem Shake
December 29th, 2013:
Baauer – Harlem Shake
December 30th, 2013:
Baauer – Harlem Shake
December 31st, 2013:
Baauer – Harlem Shake