Born in 1953? Find Your Conception Song!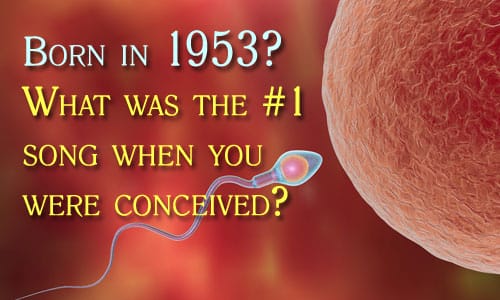 Born in 1953?
'Pondering the unicorn' is just one way to describe how a man and woman, who love each other very much, shard the marital bed.
Your Mom and Dad 'pondered the unicorn' and a lot of other stuff, nine months ago.
Check the date to find the # 1 song when you were conceived!
The average length of human gestation (Your 'Conception Era') is 280 days, or 40 weeks, from the first day of the woman's last menstrual period. The medical term for the due date is estimated date of confinement (EDC).
If you were born late, or a bit premature, add or subtract those days.
This Year's Euphemism: Putting the doggie in the window

Your Birthday:
January 1st, 1953:
Kay Starr – Wheel Of Fortune
January 2nd, 1953:
Kay Starr – Wheel Of Fortune
January 3rd, 1953:
Kay Starr – Wheel Of Fortune
January 4th, 1953:
Kay Starr – Wheel Of Fortune
January 5th, 1953:
Kay Starr – Wheel Of Fortune
January 6th, 1953:
Kay Starr – Wheel Of Fortune
January 7th, 1953:
Kay Starr – Wheel Of Fortune
January 8th, 1953:
Kay Starr – Wheel Of Fortune
January 9th, 1953:
Kay Starr – Wheel Of Fortune
January 10th, 1953:
Kay Starr – Wheel Of Fortune
January 11th, 1953:
Kay Starr – Wheel Of Fortune
January 12th, 1953:
Kay Starr – Wheel Of Fortune
January 13th, 1953:
Kay Starr – Wheel Of Fortune
January 14th, 1953:
Kay Starr – Wheel Of Fortune
January 15th, 1953:
Kay Starr – Wheel Of Fortune
January 16th, 1953:
Kay Starr – Wheel Of Fortune
January 17th, 1953:
Kay Starr – Wheel Of Fortune
January 18th, 1953:
Kay Starr – Wheel Of Fortune
January 19th, 1953:
Kay Starr – Wheel Of Fortune
January 20th, 1953:
Kay Starr – Wheel Of Fortune
January 21st, 1953:
Kay Starr – Wheel Of Fortune
January 22nd, 1953:
Kay Starr – Wheel Of Fortune
January 23rd, 1953:
Kay Starr – Wheel Of Fortune
January 24th, 1953:
Kay Starr – Wheel Of Fortune
January 25th, 1953:
Kay Starr – Wheel Of Fortune
January 26th, 1953:
Kay Starr – Wheel Of Fortune
January 27th, 1953:
Kay Starr – Wheel Of Fortune
January 28th, 1953:
Kay Starr – Wheel Of Fortune
January 29th, 1953:
Kay Starr – Wheel Of Fortune
January 30th, 1953:
Kay Starr – Wheel Of Fortune
January 31st, 1953:
Kay Starr – Wheel Of Fortune
February 1st, 1953:
Kay Starr – Wheel Of Fortune
February 2nd, 1953:
Kay Starr – Wheel Of Fortune
February 3rd, 1953:
Kay Starr – Wheel Of Fortune
February 4th, 1953:
Kay Starr – Wheel Of Fortune
February 5th, 1953:
Kay Starr – Wheel Of Fortune
February 6th, 1953:
Kay Starr – Wheel Of Fortune
February 7th, 1953:
Kay Starr – Wheel Of Fortune
February 8th, 1953:
Kay Starr – Wheel Of Fortune
February 9th, 1953:
Kay Starr – Wheel Of Fortune
February 10th, 1953:
Kay Starr – Wheel Of Fortune
February 11th, 1953:
Kay Starr – Wheel Of Fortune
February 12th, 1953:
Kay Starr – Wheel Of Fortune
February 13th, 1953:
Kay Starr – Wheel Of Fortune
February 14th, 1953:
Kay Starr – Wheel Of Fortune
February 15th, 1953:
Kay Starr – Wheel Of Fortune
February 16th, 1953:
Kay Starr – Wheel Of Fortune
February 17th, 1953:
Kay Starr – Wheel Of Fortune
February 18th, 1953:
Kay Starr – Wheel Of Fortune
February 19th, 1953:
Kay Starr – Wheel Of Fortune
February 20th, 1953:
Kay Starr – Wheel Of Fortune
February 21st, 1953:
Leroy Anderson – Blue Tango
February 22nd, 1953:
Leroy Anderson – Blue Tango
February 23rd, 1953:
Leroy Anderson – Blue Tango
February 24th, 1953:
Leroy Anderson – Blue Tango
February 25th, 1953:
Leroy Anderson – Blue Tango
February 26th, 1953:
Leroy Anderson – Blue Tango
February 27th, 1953:
Leroy Anderson – Blue Tango
February 28th, 1953:
Leroy Anderson – Blue Tango
March 1st, 1953:
Leroy Anderson – Blue Tango
March 2nd, 1953:
Leroy Anderson – Blue Tango
March 3rd, 1953:
Leroy Anderson – Blue Tango
March 4th, 1953:
Leroy Anderson – Blue Tango
March 5th, 1953:
Leroy Anderson – Blue Tango
March 6th, 1953:
Leroy Anderson – Blue Tango
March 7th, 1953:
Leroy Anderson – Blue Tango
March 8th, 1953:
Leroy Anderson – Blue Tango
March 9th, 1953:
Leroy Anderson – Blue Tango
March 10th, 1953:
Leroy Anderson – Blue Tango
March 11th, 1953:
Leroy Anderson – Blue Tango
March 12th, 1953:
Leroy Anderson – Blue Tango
March 13th, 1953:
Leroy Anderson – Blue Tango
March 14th, 1953:
Leroy Anderson – Blue Tango
March 15th, 1953:
Leroy Anderson – Blue Tango
March 16th, 1953:
Leroy Anderson – Blue Tango
March 17th, 1953:
Leroy Anderson – Blue Tango
March 18th, 1953:
Leroy Anderson – Blue Tango
March 19th, 1953:
Leroy Anderson – Blue Tango
March 20th, 1953:
Leroy Anderson – Blue Tango
March 21st, 1953:
Leroy Anderson – Blue Tango
March 22nd, 1953:
Leroy Anderson – Blue Tango
March 23rd, 1953:
Leroy Anderson – Blue Tango
March 24th, 1953:
Leroy Anderson – Blue Tango
March 25th, 1953:
Leroy Anderson – Blue Tango
March 26th, 1953:
Leroy Anderson – Blue Tango
March 27th, 1953:
Leroy Anderson – Blue Tango
March 28th, 1953:
Al Martino – Here In My Heart
March 29th, 1953:
Al Martino – Here In My Heart
March 30th, 1953:
Al Martino – Here In My Heart
March 31st, 1953:
Al Martino – Here In My Heart
April 1st, 1953:
Al Martino – Here In My Heart
April 2nd, 1953:
Al Martino – Here In My Heart
April 3rd, 1953:
Al Martino – Here In My Heart
April 4th, 1953:
Al Martino – Here In My Heart
April 5th, 1953:
Al Martino – Here In My Heart
April 6th, 1953:
Al Martino – Here In My Heart
April 7th, 1953:
Al Martino – Here In My Heart
April 8th, 1953:
Al Martino – Here In My Heart
April 9th, 1953:
Al Martino – Here In My Heart
April 10th, 1953:
Al Martino – Here In My Heart
April 11th, 1953:
Percy Faith – Delicado
April 12th, 1953:
Percy Faith – Delicado
April 13th, 1953:
Percy Faith – Delicado
April 14th, 1953:
Percy Faith – Delicado
April 15th, 1953:
Percy Faith – Delicado
April 16th, 1953:
Percy Faith – Delicado
April 17th, 1953:
Percy Faith – Delicado
April 18th, 1953:
Vera Lynn – Auf Wiederseh'n Sweetheart
April 19th, 1953:
Vera Lynn – Auf Wiederseh'n Sweetheart
April 20th, 1953:
Vera Lynn – Auf Wiederseh'n Sweetheart
April 21st, 1953:
Vera Lynn – Auf Wiederseh'n Sweetheart
April 22nd, 1953:
Vera Lynn – Auf Wiederseh'n Sweetheart
April 23rd, 1953:
Vera Lynn – Auf Wiederseh'n Sweetheart
April 24th, 1953:
Vera Lynn – Auf Wiederseh'n Sweetheart
April 25th, 1953:
Vera Lynn – Auf Wiederseh'n Sweetheart
April 26th, 1953:
Vera Lynn – Auf Wiederseh'n Sweetheart
April 27th, 1953:
Vera Lynn – Auf Wiederseh'n Sweetheart
April 28th, 1953:
Vera Lynn – Auf Wiederseh'n Sweetheart
April 29th, 1953:
Vera Lynn – Auf Wiederseh'n Sweetheart
April 30th, 1953:
Vera Lynn – Auf Wiederseh'n Sweetheart
May 1st, 1953:
Vera Lynn – Auf Wiederseh'n Sweetheart
May 2nd, 1953:
Vera Lynn – Auf Wiederseh'n Sweetheart
May 3rd, 1953:
Vera Lynn – Auf Wiederseh'n Sweetheart
May 4th, 1953:
Vera Lynn – Auf Wiederseh'n Sweetheart
May 5th, 1953:
Vera Lynn – Auf Wiederseh'n Sweetheart
May 6th, 1953:
Vera Lynn – Auf Wiederseh'n Sweetheart
May 7th, 1953:
Vera Lynn – Auf Wiederseh'n Sweetheart
May 8th, 1953:
Vera Lynn – Auf Wiederseh'n Sweetheart
May 9th, 1953:
Vera Lynn – Auf Wiederseh'n Sweetheart
May 10th, 1953:
Vera Lynn – Auf Wiederseh'n Sweetheart
May 11th, 1953:
Vera Lynn – Auf Wiederseh'n Sweetheart
May 12th, 1953:
Vera Lynn – Auf Wiederseh'n Sweetheart
May 13th, 1953:
Vera Lynn – Auf Wiederseh'n Sweetheart
May 14th, 1953:
Vera Lynn – Auf Wiederseh'n Sweetheart
May 15th, 1953:
Vera Lynn – Auf Wiederseh'n Sweetheart
May 16th, 1953:
Vera Lynn – Auf Wiederseh'n Sweetheart
May 17th, 1953:
Vera Lynn – Auf Wiederseh'n Sweetheart
May 18th, 1953:
Vera Lynn – Auf Wiederseh'n Sweetheart
May 19th, 1953:
Vera Lynn – Auf Wiederseh'n Sweetheart
May 20th, 1953:
Vera Lynn – Auf Wiederseh'n Sweetheart
May 21st, 1953:
Vera Lynn – Auf Wiederseh'n Sweetheart
May 22nd, 1953:
Vera Lynn – Auf Wiederseh'n Sweetheart
May 23rd, 1953:
Vera Lynn – Auf Wiederseh'n Sweetheart
May 24th, 1953:
Vera Lynn – Auf Wiederseh'n Sweetheart
May 25th, 1953:
Vera Lynn – Auf Wiederseh'n Sweetheart
May 26th, 1953:
Vera Lynn – Auf Wiederseh'n Sweetheart
May 27th, 1953:
Vera Lynn – Auf Wiederseh'n Sweetheart
May 28th, 1953:
Vera Lynn – Auf Wiederseh'n Sweetheart
May 29th, 1953:
Vera Lynn – Auf Wiederseh'n Sweetheart
May 30th, 1953:
Vera Lynn – Auf Wiederseh'n Sweetheart
May 31st, 1953:
Vera Lynn – Auf Wiederseh'n Sweetheart
June 1st, 1953:
Vera Lynn – Auf Wiederseh'n Sweetheart
June 2nd, 1953:
Vera Lynn – Auf Wiederseh'n Sweetheart
June 3rd, 1953:
Vera Lynn – Auf Wiederseh'n Sweetheart
June 4th, 1953:
Vera Lynn – Auf Wiederseh'n Sweetheart
June 5th, 1953:
Vera Lynn – Auf Wiederseh'n Sweetheart
June 6th, 1953:
Vera Lynn – Auf Wiederseh'n Sweetheart
June 7th, 1953:
Vera Lynn – Auf Wiederseh'n Sweetheart
June 8th, 1953:
Vera Lynn – Auf Wiederseh'n Sweetheart
June 9th, 1953:
Vera Lynn – Auf Wiederseh'n Sweetheart
June 10th, 1953:
Vera Lynn – Auf Wiederseh'n Sweetheart
June 11th, 1953:
Vera Lynn – Auf Wiederseh'n Sweetheart
June 12th, 1953:
Vera Lynn – Auf Wiederseh'n Sweetheart
June 13th, 1953:
Vera Lynn – Auf Wiederseh'n Sweetheart
June 14th, 1953:
Vera Lynn – Auf Wiederseh'n Sweetheart
June 15th, 1953:
Vera Lynn – Auf Wiederseh'n Sweetheart
June 16th, 1953:
Vera Lynn – Auf Wiederseh'n Sweetheart
June 17th, 1953:
Vera Lynn – Auf Wiederseh'n Sweetheart
June 18th, 1953:
Vera Lynn – Auf Wiederseh'n Sweetheart
June 19th, 1953:
Vera Lynn – Auf Wiederseh'n Sweetheart
June 20th, 1953:
Jo Stafford – You Belong To Me
June 21st, 1953:
Jo Stafford – You Belong To Me
June 22nd, 1953:
Jo Stafford – You Belong To Me
June 23rd, 1953:
Jo Stafford – You Belong To Me
June 24th, 1953:
Jo Stafford – You Belong To Me
June 25th, 1953:
Jo Stafford – You Belong To Me
June 26th, 1953:
Jo Stafford – You Belong To Me
June 27th, 1953:
Jo Stafford – You Belong To Me
June 28th, 1953:
Jo Stafford – You Belong To Me
June 29th, 1953:
Jo Stafford – You Belong To Me
June 30th, 1953:
Jo Stafford – You Belong To Me
July 1st, 1953:
Jo Stafford – You Belong To Me
July 2nd, 1953:
Jo Stafford – You Belong To Me
July 3rd, 1953:
Jo Stafford – You Belong To Me
July 4th, 1953:
Jo Stafford – You Belong To Me
July 5th, 1953:
Jo Stafford – You Belong To Me
July 6th, 1953:
Jo Stafford – You Belong To Me
July 7th, 1953:
Jo Stafford – You Belong To Me
July 8th, 1953:
Jo Stafford – You Belong To Me
July 9th, 1953:
Jo Stafford – You Belong To Me
July 10th, 1953:
Jo Stafford – You Belong To Me
July 11th, 1953:
Jo Stafford – You Belong To Me
July 12th, 1953:
Jo Stafford – You Belong To Me
July 13th, 1953:
Jo Stafford – You Belong To Me
July 14th, 1953:
Jo Stafford – You Belong To Me
July 15th, 1953:
Jo Stafford – You Belong To Me
July 16th, 1953:
Jo Stafford – You Belong To Me
July 17th, 1953:
Jo Stafford – You Belong To Me
July 18th, 1953:
Jo Stafford – You Belong To Me
July 19th, 1953:
Jo Stafford – You Belong To Me
July 20th, 1953:
Jo Stafford – You Belong To Me
July 21st, 1953:
Jo Stafford – You Belong To Me
July 22nd, 1953:
Jo Stafford – You Belong To Me
July 23rd, 1953:
Jo Stafford – You Belong To Me
July 24th, 1953:
Jo Stafford – You Belong To Me
July 25th, 1953:
Patti Page – I Went To Your Wedding
July 26th, 1953:
Patti Page – I Went To Your Wedding
July 27th, 1953:
Patti Page – I Went To Your Wedding
July 28th, 1953:
Patti Page – I Went To Your Wedding
July 29th, 1953:
Patti Page – I Went To Your Wedding
July 30th, 1953:
Patti Page – I Went To Your Wedding
July 31st, 1953:
Patti Page – I Went To Your Wedding
August 1st, 1953:
Patti Page – I Went To Your Wedding
August 2nd, 1953:
Patti Page – I Went To Your Wedding
August 3rd, 1953:
Patti Page – I Went To Your Wedding
August 4th, 1953:
Patti Page – I Went To Your Wedding
August 5th, 1953:
Patti Page – I Went To Your Wedding
August 6th, 1953:
Patti Page – I Went To Your Wedding
August 7th, 1953:
Patti Page – I Went To Your Wedding
August 8th, 1953:
Patti Page – I Went To Your Wedding
August 9th, 1953:
Patti Page – I Went To Your Wedding
August 10th, 1953:
Patti Page – I Went To Your Wedding
August 11th, 1953:
Patti Page – I Went To Your Wedding
August 12th, 1953:
Patti Page – I Went To Your Wedding
August 13th, 1953:
Patti Page – I Went To Your Wedding
August 14th, 1953:
Patti Page – I Went To Your Wedding
August 15th, 1953:
Patti Page – I Went To Your Wedding
August 16th, 1953:
Patti Page – I Went To Your Wedding
August 17th, 1953:
Patti Page – I Went To Your Wedding
August 18th, 1953:
Patti Page – I Went To Your Wedding
August 19th, 1953:
Patti Page – I Went To Your Wedding
August 20th, 1953:
Patti Page – I Went To Your Wedding
August 21st, 1953:
Patti Page – I Went To Your Wedding
August 22nd, 1953:
Patti Page – I Went To Your Wedding
August 23rd, 1953:
Patti Page – I Went To Your Wedding
August 24th, 1953:
Patti Page – I Went To Your Wedding
August 25th, 1953:
Patti Page – I Went To Your Wedding
August 26th, 1953:
Patti Page – I Went To Your Wedding
August 27th, 1953:
Patti Page – I Went To Your Wedding
August 28th, 1953:
Patti Page – I Went To Your Wedding
August 29th, 1953:
Johnny Standley – It's In The Book (parts 1 & 2)
August 30th, 1953:
Johnny Standley – It's In The Book (parts 1 & 2)
August 31st, 1953:
Johnny Standley – It's In The Book (parts 1 & 2)
September 1st, 1953:
Johnny Standley – It's In The Book (parts 1 & 2)
September 2nd, 1953:
Johnny Standley – It's In The Book (parts 1 & 2)
September 3rd, 1953:
Johnny Standley – It's In The Book (parts 1 & 2)
September 4th, 1953:
Johnny Standley – It's In The Book (parts 1 & 2)
September 5th, 1953:
Joni James – Why Don't You Believe Me
September 6th, 1953:
Joni James – Why Don't You Believe Me
September 7th, 1953:
Joni James – Why Don't You Believe Me
September 8th, 1953:
Joni James – Why Don't You Believe Me
September 9th, 1953:
Joni James – Why Don't You Believe Me
September 10th, 1953:
Joni James – Why Don't You Believe Me
September 11th, 1953:
Joni James – Why Don't You Believe Me
September 12th, 1953:
Joni James – Why Don't You Believe Me
September 13th, 1953:
Joni James – Why Don't You Believe Me
September 14th, 1953:
Joni James – Why Don't You Believe Me
September 15th, 1953:
Joni James – Why Don't You Believe Me
September 16th, 1953:
Joni James – Why Don't You Believe Me
September 17th, 1953:
Joni James – Why Don't You Believe Me
September 18th, 1953:
Joni James – Why Don't You Believe Me
September 19th, 1953:
Joni James – Why Don't You Believe Me
September 20th, 1953:
Joni James – Why Don't You Believe Me
September 21st, 1953:
Joni James – Why Don't You Believe Me
September 22nd, 1953:
Joni James – Why Don't You Believe Me
September 23rd, 1953:
Joni James – Why Don't You Believe Me
September 24th, 1953:
Joni James – Why Don't You Believe Me
September 25th, 1953:
Joni James – Why Don't You Believe Me
September 26th, 1953:
Joni James – Why Don't You Believe Me
September 27th, 1953:
Joni James – Why Don't You Believe Me
September 28th, 1953:
Joni James – Why Don't You Believe Me
September 29th, 1953:
Joni James – Why Don't You Believe Me
September 30th, 1953:
Joni James – Why Don't You Believe M
October 1st, 1953:
Joni James – Why Don't You Believe Me
October 2nd, 1953:
Joni James – Why Don't You Believe Me
October 3rd, 1953:
Jimmy Boyd – I Saw Mommy Kissing Santa Claus
October 4th, 1953:
Jimmy Boyd – I Saw Mommy Kissing Santa Claus
October 5th, 1953:
Jimmy Boyd – I Saw Mommy Kissing Santa Claus
October 6th, 1953:
Jimmy Boyd – I Saw Mommy Kissing Santa Claus
October 7th, 1953:
Jimmy Boyd – I Saw Mommy Kissing Santa Claus
October 8th, 1953:
Jimmy Boyd – I Saw Mommy Kissing Santa Claus
October 9th, 1953:
Jimmy Boyd – I Saw Mommy Kissing Santa Claus
October 10th, 1953:
Jimmy Boyd – I Saw Mommy Kissing Santa Claus
October 11th, 1953:
Jimmy Boyd – I Saw Mommy Kissing Santa Claus
October 12th, 1953:
Jimmy Boyd – I Saw Mommy Kissing Santa Claus
October 13th, 1953:
Jimmy Boyd – I Saw Mommy Kissing Santa Claus
October 14th, 1953:
Jimmy Boyd – I Saw Mommy Kissing Santa Claus
October 15th, 1953:
Jimmy Boyd – I Saw Mommy Kissing Santa Claus
October 16th, 1953:
Jimmy Boyd – I Saw Mommy Kissing Santa Claus
October 17th, 1953:
Perry Como – Don't Let the Stars Get in Your Eyes
October 18th, 1953:
Perry Como – Don't Let the Stars Get in Your Eyes
October 19th, 1953:
Perry Como – Don't Let the Stars Get in Your Eyes
October 20th, 1953:
Perry Como – Don't Let the Stars Get in Your Eyes
October 21st, 1953:
Perry Como – Don't Let the Stars Get in Your Eyes
October 22nd, 1953:
Perry Como – Don't Let the Stars Get in Your Eye
October 23rd, 1953:
Perry Como – Don't Let the Stars Get in Your Eyes
October 24th, 1953:
Perry Como – Don't Let the Stars Get in Your Eyes
October 25th, 1953:
Perry Como – Don't Let the Stars Get in Your Eyes
October 26th, 1953:
Perry Como – Don't Let the Stars Get in Your Eyes
October 27th, 1953:
Perry Como – Don't Let the Stars Get in Your Eyes
October 28th, 1953:
Perry Como – Don't Let the Stars Get in Your Eyes
October 29th, 1953:
Perry Como – Don't Let the Stars Get in Your Eyes
October 30th, 1953:
Perry Como – Don't Let the Stars Get in Your Eyes
October 31st, 1953:
Perry Como – Don't Let the Stars Get in Your Eyes
November 1st, 1953:
Perry Como – Don't Let the Stars Get in Your Eyes
November 2nd, 1953:
Perry Como – Don't Let the Stars Get in Your Eyes
November 3rd, 1953:
Perry Como – Don't Let the Stars Get in Your Eyes
November 4th, 1953:
Perry Como – Don't Let the Stars Get in Your Eyes
November 5th, 1953:
Perry Como – Don't Let the Stars Get in Your Eyes
November 6th, 1953:
Perry Como – Don't Let the Stars Get in Your Eyes
November 7th, 1953:
Perry Como – Don't Let the Stars Get in Your Eyes
November 8th, 1953:
Perry Como – Don't Let the Stars Get in Your Eyes
November 9th, 1953:
Perry Como – Don't Let the Stars Get in Your Eyes
November 10th, 1953:
Perry Como – Don't Let the Stars Get in Your Eyes
November 11th, 1953:
Perry Como – Don't Let the Stars Get in Your Eyes
November 12th, 1953:
Perry Como – Don't Let the Stars Get in Your Eyes
November 13th, 1953:
Perry Como – Don't Let the Stars Get in Your Eyes
November 14th, 1953:
Perry Como – Don't Let the Stars Get in Your Eyes
November 15th, 1953:
Perry Como – Don't Let the Stars Get in Your Eyes
November 16th, 1953:
Perry Como – Don't Let the Stars Get in Your Eyes
November 17th, 1953:
Perry Como – Don't Let the Stars Get in Your Eyes
November 18th, 1953:
Perry Como – Don't Let the Stars Get in Your Eyes
November 19th, 1953:
Perry Como – Don't Let the Stars Get in Your Eyes
November 20th, 1953:
Perry Como – Don't Let the Stars Get in Your Eyes
November 21st, 1953:
Teresa Brewer – Till I Waltz Again With You
November 22nd, 1953:
Teresa Brewer – Till I Waltz Again With You
November 23rd, 1953:
Teresa Brewer – Till I Waltz Again With You
November 24th, 1953:
Teresa Brewer – Till I Waltz Again With You
November 25th, 1953:
Teresa Brewer – Till I Waltz Again With You
November 26th, 1953:
Teresa Brewer – Till I Waltz Again With You
November 27th, 1953:
Teresa Brewer – Till I Waltz Again With You
November 28th, 1953:
Teresa Brewer – Till I Waltz Again With You
November 29th, 1953:
Teresa Brewer – Till I Waltz Again With You
November 30th, 1953:
Teresa Brewer – Till I Waltz Again With You
December 1st, 1953:
Teresa Brewer – Till I Waltz Again With You
December 2nd, 1953:
Teresa Brewer – Till I Waltz Again With You
December 3rd, 1953:
Teresa Brewer – Till I Waltz Again With You
December 4th, 1953:
Teresa Brewer – Till I Waltz Again With You
December 5th, 1953:
Teresa Brewer – Till I Waltz Again With You
December 6th, 1953:
Teresa Brewer – Till I Waltz Again With You
December 7th, 1953:
Teresa Brewer – Till I Waltz Again With You
December 8th, 1953:
Teresa Brewer – Till I Waltz Again With You
December 9th, 1953:
Teresa Brewer – Till I Waltz Again With You
December 10th, 1953:
Teresa Brewer – Till I Waltz Again With You
December 11th, 1953:
Teresa Brewer – Till I Waltz Again With You
December 12th, 1953:
Teresa Brewer – Till I Waltz Again With You
December 13th, 1953:
Teresa Brewer – Till I Waltz Again With You
December 14th, 1953:
Teresa Brewer – Till I Waltz Again With You
December 15th, 1953:
Teresa Brewer – Till I Waltz Again With You
December 16th, 1953:
Teresa Brewer – Till I Waltz Again With You
December 17th, 1953:
Teresa Brewer – Till I Waltz Again With You
December 18th, 1953:
Teresa Brewer – Till I Waltz Again With You
December 19th, 1953:
Teresa Brewer – Till I Waltz Again With You
December 20th, 1953:
Teresa Brewer – Till I Waltz Again With You
December 21st, 1953:
Teresa Brewer – Till I Waltz Again With You
December 22nd, 1953:
Teresa Brewer – Till I Waltz Again With You
December 23rd, 1953:
Teresa Brewer – Till I Waltz Again With You
December 24th, 1953:
Teresa Brewer – Till I Waltz Again With You
December 25th, 1953:
Teresa Brewer – Till I Waltz Again With You
December 26th, 1953:
Teresa Brewer – Till I Waltz Again With You
December 27th, 1953:
Patti Page – The Doggie In The Window
December 28th, 1953:
Patti Page – The Doggie In The Window
December 29th, 1953:
Patti Page – The Doggie In The Window
December 30th, 1953:
Patti Page – The Doggie In The Window
December 31st, 1953:
Patti Page – The Doggie In The Window