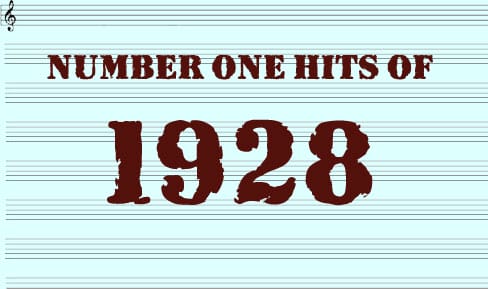 The Number One Hits of 1928
December 17, 1927 – March 16, 1928
Gene Austin
My Blue Heaven
Gene Austin was nicknamed "The Voice of the Southland" due to his Texas roots and smooth vocal style.
Written by Walter Donaldson and George Whiting, "My Blue Heaven" was published in 1927 and became one of the era's most popular songs.
March 17, 1928 – April 13, 1928
Paul Whiteman
Among My Souvenirs
Apart from being a bandleader, Paul Whiteman was a composer and violinist who also helped promote jazz during the 1920s.
"Among My Souvenirs" is a sentimental ballad by Edgar Leslie and Horatio Nicholls in 1927.
April 14, 1928 – April 27, 1928
Paul Whiteman
Together
Whiteman's band was known as the "Paul Whiteman Orchestra" and featured some of the most talented musicians.
Composed by Ray Henderson with lyrics by Buddy DeSylva and Lew Brown, "Together" was published in 1928.
April 28, 1928 – May 5, 1928
Paul Whiteman
Ol' Man River
Paul Whiteman was inducted into the Big Band and Jazz Hall of Fame in 1993.
"Ol' Man River" is a powerful song from the musical "Show Boat" by Jerome Kern and Oscar Hammerstein II, reflecting on the struggles of African Americans.
May 6, 1928 – May 25, 1928
Paul Whiteman
Ramona
Whiteman's most famous nickname was the "King of Jazz" due to his significant contributions to the genre.
"Ramona" is a romantic waltz written by Mabel Wayne with lyrics by L. Wolfe Gilbert, composed for the 1927 silent film of the same name.
May 26, 1928 – July 20, 1928
Gene Austin
Ramona
Austin sold over 80 million records throughout his career, which spanned four decades.
Gene Austin's rendition of "Ramona" became a hit in 1928, showcasing his ability to convey emotion through his voice.
July 21, 1928 – July 27, 1928
Fred Waring's Pennsylvanians
Laugh, Clown, Laugh!
Fred Waring was a musician, bandleader, and radio-television personality who led the Pennsylvanians for six decades.
"Laugh, Clown, Laugh!" is a song from the 1928 silent film of the same name, with music by Ted Fiorito and lyrics by Sam M. Lewis and Joe Young.
July 28, 1928 – September 7, 1928
Paul Whiteman
My Angel
Whiteman's band was unique due to its mix of classical, jazz, and popular music elements.
"My Angel" is a popular song written by Sidney Clare and M.K. Jerome in 1928.
September 8, 1928 – October 12, 1928
Gene Austin
Jeannine (I Dream Of Lilac Time)
Gene Austin was known for his easy-going vocal style and was one of the first crooners in the history of recorded music.
"Jeannine (I Dream Of Lilac Time)" was written by Nathaniel Shilkret and L. Wolfe Gilbert and became a popular ballad in 1928.
October 13, 1928 – October 19, 1928
Cliff '"Ukelele Ike" Edwards
I Can't Give You Anything But Love
Cliff Edwards, also known as "Ukelele Ike," was a popular American musician, singer, and actor best known for his ukulele playing.
"I Can't Give You Anything But Love" was written by Dorothy Fields and Jimmy McHugh, and it became a popular jazz standard.
October 20, 1928 – November 30, 1928
Al Jolson
Sonny Boy
Al Jolson was known as "The World's Greatest Entertainer" and became a major radio, stage, and film star.
"Sonny Boy" was written by Al Jolson, B.G. DeSylva, Lew Brown, and Ray Henderson for the 1928 film "The Singing Fool."
December 1, 1928 – January 25, 1929
Al Jolson
There's A Rainbow Round My Shoulder
Jolson was a leading figure in the development of talking pictures, with his role in "The Jazz Singer" (1927) as a turning point.
Written by Al Jolson, Billy Rose, and Dave Dreyer, "There's A Rainbow Round My Shoulder" was another hit song from the film "The Singing Fool."
The Biggest Pop Artists of 1928 include:
Louis Armstrong, Gene Austin, Ben Bernie and His Orchestra, Earl Burtnett and His Los Angeles Biltmore Hotel Orchestra, Coon-Sanders Orchestra, Frank Crumit, Vernon Dalhart, Vaughn Deleath, Dorsey Brothers, Cliff "Ukelele Ike" Edwards, Duke Ellington, Ruth Etting, Johnny Hamp, Ipana Troubadors, Al Jolson, Helen Kane, Ted Lewis and His Band, Guy Lombardo and His Royal Canadians, Nick Lucas, Moran & Mack, Red Nichols and His Five Pennies, George Olson, Leo Reisman, Paul Robeson, Jimmy Rodgers, Ben Selvin, Nat Shilkret and The Victor Orchestra, Bessie Smith, "Whispering" Jack Smith, Fred Waring's Pennsylvanians, Ted Weems and His Orchestra, Paul Whiteman and His Orchestra
Charts based on Billboard music charts.