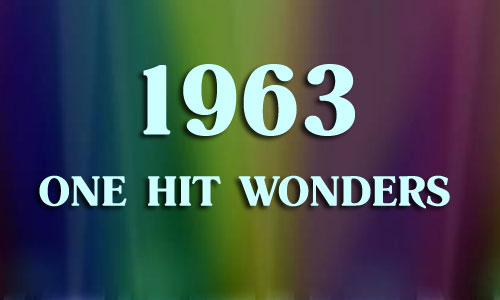 1963 One Hit Wonders & Artists Known For One Song
A Stranger In Your Town
The Shacklefords
The Shacklefords were a folk-pop group formed by songwriter and country music artist Lee Hazlewood and his then-wife, Suzi Jane Hokom. Their name was a direct nod to Hokom's ancestry.
Ain't Gonna Kiss Ya
The Ribbons
The Ribbons were an American girl group from the 60s, who are most noted for their work with the legendary producer, Perry Botkin Jr., who later achieved success composing music for numerous films and television shows.
At The Shore
Johnny Caswell
Johnny Caswell was a Philadelphia singer who had only a few minor hits. However, he later became a successful music industry executive, working for Chrysalis Music for over three decades.
Baby I Do Love You
The Galens
The Galens were a pop vocal group from New York. Despite releasing several singles, they had limited commercial success and remain relatively obscure.
Baja
The Astronauts
The Astronauts were an American rock and roll band, who, despite their Colorado roots, were notably successful in Japan. They were also known for their instrumental surf music, a rarity for a landlocked group.
Bony Maronie
The Appalachians
The Appalachians were a rock band from the mid-1960s. Little is known about them except that they covered songs from various genres, including R&B and rock'n'roll.
Boss
The Rumblers
The Rumblers, formed in California in the early 60s, were an instrumental surf group. They were signed by the Downey label, which was known for promoting local talent.
Brenda
The Cupids
The Cupids were a doo-wop group from the late 1950s and early 1960s, although much about their history remains unclear. Not to be confused with several other groups of the same name, this particular Cupids group recorded on the NRC label.
Bust Out
The Busters
The Busters were an instrumental surf rock band that formed in the early 1960s. They were most well-known for their hit single, "Bust Out."
Cast Your fate To The Wind
Vince Guaraldi Trio
The Vince Guaraldi Trio, led by pianist and composer Vince Guaraldi, gained fame for their jazz soundtrack recordings for the Peanuts animated television specials.
Coney Island Baby
The Excellents
The Excellents were an American doo-wop group from the 1960s. Despite the group's short lifespan, their song "Coney Island Baby" remains a classic in the genre.
Daughter
The Blenders
The Blenders were a R&B vocal quartet from the late 1950s and early 1960s. They were led by Tommy Hunt, who later had a successful solo career and became popular in the UK's Northern Soul scene.
Dawn
David Rockingham Trio
David Rockingham was a noted jazz organist known for his rhythmic R&B style. His trio is best remembered for their danceable organ instrumentals.
Dear Abby
The Hearts
The Hearts, an American doo-wop group, had multiple iterations over the years, with the most famous line-up including future solo star Baby Washington.
Denise
Randy & the Rainbows
Randy & the Rainbows, an American doo-wop group, had their biggest hit with the song "Denise, " later successfully covered by Blondie, with the title altered to "Denis."
Dominique
The Singing Nun
The Singing Nun, real name Jeanine Deckers, was a Belgian nun who topped the charts with her song "Dominique". She later left the convent and released music under the name Luc Dominique.
Don't Let Me Cross Over
Carl Butler
Carl Butler was a country music artist whose partnership with his wife Pearl made them one of the most popular duos on the country scene in the 1960s.
Echo
The Emotions
The Emotions, a girl group from Brooklyn, are best known for their hit "Echo." Despite their name, they are not related to the famous Chicago-based soul group of the same name.
El Watusi
Ray Barretto
Ray Barretto, a Puerto Rican conga drummer and band leader, was a leading figure in the development of Latin jazz and salsa music.
Enamorado
Keith Colley
Keith Colley was a pop singer and songwriter in the 1960s, who later co-wrote "Sugar, Sugar" for the animated group The Archies.
Groovy Baby
Billy Abbott and the Jewels
The group was not a traditional band but a creation of the record industry, specifically crafted for the recording of "Groovy Baby".
Heart
Kenny Chandler
Chandler is actually known for his solo career in pop music during the 1960s, and "Heart" was one of his charting hits.
Hello Muddud Hello Fadduh! (A Letter From Camp)
Alan Sherman
Sherman was known for his comedy and parody music. He was a successful television producer in the early 1960s before turning to music.
He's Mine (I Love Him Love Him Love Him)
Alice Wonder Land
Alice Wonder Land was the stage name for American singer and songwriter Alice Faye Henderson, who had a short but interesting music career in the early 60s.
Hey Lover
Debbie Dovale
Dovale was a one-hit-wonder with her song "Hey Lover," but she transitioned into a successful career in real estate.
Hootenanny
The Glencoves
The Glencoves was a folk group formed in 1961. They were a part of the American folk music revival that occurred during the early and mid-1960s.
Hot Pastrami
The Dartells
The Dartells were a band that formed in high school, known for their garage-rock sound.
How Much Is That Doggie In The Window?
Baby Jane and the Rockabyes
Despite their name, Baby Jane and the Rockabyes was an all-female group from New York, known for recording cover versions of popular hits of the time.
I Know I Know
Pookie Hudson
Pookie Hudson was the lead singer of the doo-wop group "The Spaniels," who are best known for the hit "Goodnite, Sweetheart, Goodnite".
I Wonder What She's Doing Tonight
Barry and the Tamerlanes
Barry and the Tamerlanes was a musical trio led by Barry DeVorzon who later became a successful songwriter and record producer.
I'm Just A Country Boy
George McCurn
George McCurn was an American actor and singer, best known for his role in the TV series "General Hospital" and for singing soulful ballads.
I'm Movin' On
Matt Lucas
Matt Lucas was known for his dynamic performance style and strong vocal abilities, especially his impressive falsetto.
I'm Not A Fool Any More
T.K. Hulin
T.K. Hulin is a Cajun Swamp Pop musician from Louisiana who began his career at the age of 16.
If I Had A Hammer
Trini Lopez
Trini Lopez was a singer, guitarist, and actor, who gained popularity with his live nightclub performances in the mid-1960s.
It Hurts To Be Sixteen
Andrea Carroll
Andrea Carroll was a pop singer from the 1960s whose real name was Andrea Lee DeCapua.
It Won't Be This Way (Always)
The King Pins
The King Pins were a short-lived American doo-wop group from the 60s, whose members later found success in other musical endeavors.
Jenny Brown
The Smothers Brothers
The Smothers Brothers were actually a comedy duo who incorporated music into their routines. They had their own TV show, "The Smothers Brothers Comedy Hour".
Just One Look
Doris Troy
Doris Troy worked as a backup singer for luminaries such as Dionne Warwick, before embarking on a solo career.
Little Band Of Gold
James Gilreath
James Gilreath was a Mississippi-born pop singer who primarily recorded in pop and country genres.
Little Eeefin Annie
Joe Perkins
Joe Perkins was a soul singer, whose unique style of "eeefing" (a form of vocal percussion/beatboxing) made this song a novelty hit.
Little Star
Bobby Callender
Bobby Callender was a singer-songwriter who embraced Eastern philosophy and musical styles later in his career, exploring fusion of Indian music with Western popular music.
Little Tin Soldier
The Toy Dolls
Los Angeles pre-teen duo Susan Leslie and Libby Redwine.
Long Tall Texan
Murry Kellum
Murry Kellum was a country music artist from the 60s who is remembered for this song which became a hit in both the Country and Pop charts.
Louie Louie
The Kingsmen
The Kingsmen are considered one-hit wonders; however, they have a significant place in rock and roll history due to the FBI investigating their song "Louie Louie" for supposed obscene lyrics.
Mama Didn't Lie
Jan Bradley
Jan Bradley is a soul singer who was discovered while still in high school, and she worked with Curtis Mayfield early in her career.
Martian Hop
The Ran-Dells
The Ran-Dells were a musical trio of cousins who are considered one-hit wonders with "Martian Hop" which combined doo-wop with themes of space travel, a novelty at that time.
Memory Lane
The Hippies
The Hippies were a surf rock band from Southern California who incorporated vocal harmonies reminiscent of the Beach Boys.
Miserlou
Dick Dale
Dick Dale, known as "The King of Surf Guitar," was a pioneer in the development of the electric guitar in the United States. His work would later be widely recognized and sampled in popular culture.
Mockingbird
Inez with Charlie Foxx
Charlie Foxx performed with his sister Inez. Their most successful song was their version of "Mockingbird". Despite their successes as a duo, they eventually embarked on solo careers.
More
Kai Winding
Kai Winding was a popular Danish trombonist and jazz composer who spent much of his career performing in big bands.
Mr. Bass Man
Johnny Cymbal
Johnny Cymbal was a Scottish-born American songwriter and singer, best remembered for this novelty song. He later adopted a pseudonym, Derek, and had another hit called "Cinnamon".
My Coloring Book
Sandy Stewart
Sandy Stewart is a pop singer and TV personality, most active in the 1950s and 60s. She also appeared regularly on the "Perry Como Show".
My Wife Can't Cook
Lonnie Russ
Lonnie Russ was a soul and R&B singer. While he didn't have many chart hits, he is recognized in Northern Soul circles.
Native Girl Elephant walk
Donald Jenkins
Donald Jenkins was a member of the Delighters, an R&B vocal group from Chicago, before going solo. He's known for his smooth vocal delivery.
Our Day Will Come
Ruby & The Romantics
Ruby & The Romantics were an American R&B group, known for being the first ones to score a number one hit on the Billboard Hot 100 chart with a song in the Bossa Nova style.
On Top Of Spaghetti
Tom Glazer
Tom Glazer was a folk singer and songwriter known for his children's music. He also wrote a book on folk music collecting and wrote songs for adults.
Our Winter Is Love
Bill Pursell
Bill Pursell is a composer and session pianist. He has worked with the likes of Johnny Cash, Marty Robbins, and Patsy Cline.
Pipeline
The Chantays
The Chantays were a surf rock band from Santa Ana, California. They formed while the members were still in high school.
Please Don't Kiss Me Again
The Charmettes
The Charmettes were a girl group from the early 60s. They only released a handful of singles, but they have a dedicated fan base among collectors of girl group music.
Please Don't Talk To The Lifeguard
Diane Ray
Diane Ray was a pop singer, best known for this song, which was her only hit. She was discovered at a talent show in Milwaukee.
Popsicles and Icicles
The Murmaids
The Murmaids were a one-hit-wonder all-female trio from Los Angeles. Despite their short-lived success, they are remembered as one of the seminal girl groups of the 60s.
Preacherman
Charlie Russo
Charlie Russo was a pop singer, primarily active in the 1960s. Despite not achieving widespread success, his songs are appreciated by collectors of rare 60s pop.
Puddin N Train (Ask Me Again I'll Tell You The Same)
The Alley Cats
The Alley Cats were an American doo-wop group who are known for their energetic a cappella performances.
Que Sera Sera (Whatever Will Be Will Be)
The High Keyes
The High Keyes were an American vocal group. Their rendition of "Que Sera Sera" is a rare example of a popular song being reimagined as a soul track.
Red Pepper I
Roosevelt Foundation
Roosevelt Fountain was a blues drummer from Texas. He led his own band, the Pens of Rhythm.
Remember Then
The Earls
The Earls, sometimes credited as Larry Chance and the Earls, were a popular doo-wop group in the 1960s. They are best known for their close harmonies.
Sally Go 'Round The Roses
The Jaynetts
The Jaynetts were a Bronx-based girl group, best known for this song. They had a constantly changing line-up and are considered a one-hit wonder.
Saltwater Taffy
Morty Jay
Morty Jay, a radio DJ, recorded this novelty song under a pseudonym. Despite not having a long recording career, he significantly impacted radio.
Sax Fifth Avenue
Johnny Beecher
Johnny Beecher was a pseudonym for Plas Johnson, an accomplished saxophonist who played as a session musician on numerous records.
Say Wonderful Things
Ronnie Carroll
Ronnie Carroll was a Northern Irish singer and political candidate. He represented the UK in the Eurovision Song Contest twice, in 1962 and 1963.
Shake A Tailfeather
The Five Du-Tones
The Five Du-Tones were an American rhythm, blues, and soul vocal group from St. Louis, Missouri. They had some minor success in the 1960s with their dance instruction records.
Shake Me I Rattle (Squeeze Me I Cry)
Marion Worth
Marion Worth was a country music singer in the 1960s and had several minor hits on the country charts. She was also a frequent guest on the Grand Ole Opry.
Spring
Birdlegs and Pauline
Birdlegs and Pauline was a duo comprised of Pauline Shivers and David "Birdlegs" Parker. They had a minor R&B hit but are generally considered a one-hit wonder.
Sukiaki
Kyu Sakamoto
Kyu Sakamoto was a Japanese singer and actor, known for his international hit "Sukiyaki". He tragically died in the Japan Airlines Flight 123 crash in 1985.
Summer's Comin'
Kirby St. Romain
Kirby St. Romain was a pop singer and songwriter from Louisiana. He released several singles in the 1960s but never achieved widespread fame.
Summertime
Chris Columbo Quintet
Chris Columbo was a jazz drummer and bandleader. He was a prominent figure in the jazz scene of the mid-20th century and played with Duke Ellington and Louis Armstrong.
Surfer Street
The Allisons
The Allisons were a British pop duo consisting of Brian Alford and Colin Day. They represented the UK in the Eurovision Song Contest in 1961.
Swinging On A Star
Big Dee Irwin and Little Eva
Big Dee Irwin was an American singer and songwriter. He started his career as a member of the doo-wop group The Pastels, before embarking on a solo career. Little Eva was most known for her hit song "The Loco-Motion".
The Boy Next Door
The Secrets
The Secrets were a girl group formed in Cleveland, Ohio in the early 1960s. Despite a promising start, they only had one hit before disbanding.
The Cinnamon Cinder (It's A Very Nice Dance)
The Pastel Six
The Pastel Six was an instrumental rock band from California. Despite their short-lived career, they were one of the many bands contributing to the surf music craze in the early 1960s.
The Ten Commandments Of Love
James MacArthur
James MacArthur was an American actor best known for his role as "Danno" in the original version of the television series "Hawaii Five-O". He also dabbled in singing, with this being one of his songs.
Till Then
The Classics
The Classics were a white doo-wop group from Brooklyn, New York. They had four other songs taht teetered on the Billboard Charts.
Toys In The Attic
Joe Sherman
Joe Sherman was an American songwriter and conductor. He composed music for numerous films and television series.
Unchained Melody
Vito and The Salutations
Vito and The Salutations were a doo-wop group known for their uptempo versions of popular ballads. Their version of "Unchained Melody" was featured in the film "Goodfellas".
Walk Right In
The Moments
The Moments were an American R&B vocal group whose biggest hits came in the 1970s. They changed their name to Ray, Goodman & Brown in 1978 due to a legal dispute.
Walk Right In
The Rooftop Singers
The Rooftop Singers were an American folk trio known for their hit "Walk Right In". The group was put together specifically to record the song.
Walking The Dog
Rufus Thomas
Rufus Thomas was a legendary R&B and soul music figure known for his energetic performances. He also worked as a radio DJ in Memphis.
Washington Square
The Village Stompers
The Village Stompers were an American dixieland jazz group. Their biggest hit, "Washington Square", led to them performing on a number of television variety shows.
Watermelon Man
Mongo Santamaria
Mongo Santamaria was a Cuban percussionist and band leader, known for his Latin jazz and Afro-Cuban rhythms. "Watermelon Man" was one of his biggest hits.
What Are Boys Made Of
The Percells
The Percells were a girl group from New York City. They released only a few singles before disbanding.
Who Stole The Keeshka?
The Matys Brothers
The Matys Brothers were an American polka band from the 1950s. They had several hits on the Billboard pop chart.
Wipe Out
The Surfaris
The Surfaris were an American surf rock band known for their instrumental songs, the most famous of which is "Wipe Out".
Wiggle Wobble
Les Cooper
Les Cooper was an American musician and songwriter, known for his instrumental hit "Wiggle Wobble". He was also a member of The Empires and The Whirlers.
Wild Weekend
The Rebels
The Rebels were an instrumental rock band from Buffalo, New York. "Wild Weekend" was originally written as a theme for a radio show.
Wonderful Summer
Robin Ward
Robin Ward was an American singer, primarily known for her 1963 hit "Wonderful Summer". She later became a successful session singer.
Zing! Went The Strings Of My Heart
The Furys
The Furys were an American doo-wop group from the late 1950s to early 1960s. Despite having some local success, they are relatively unknown today.