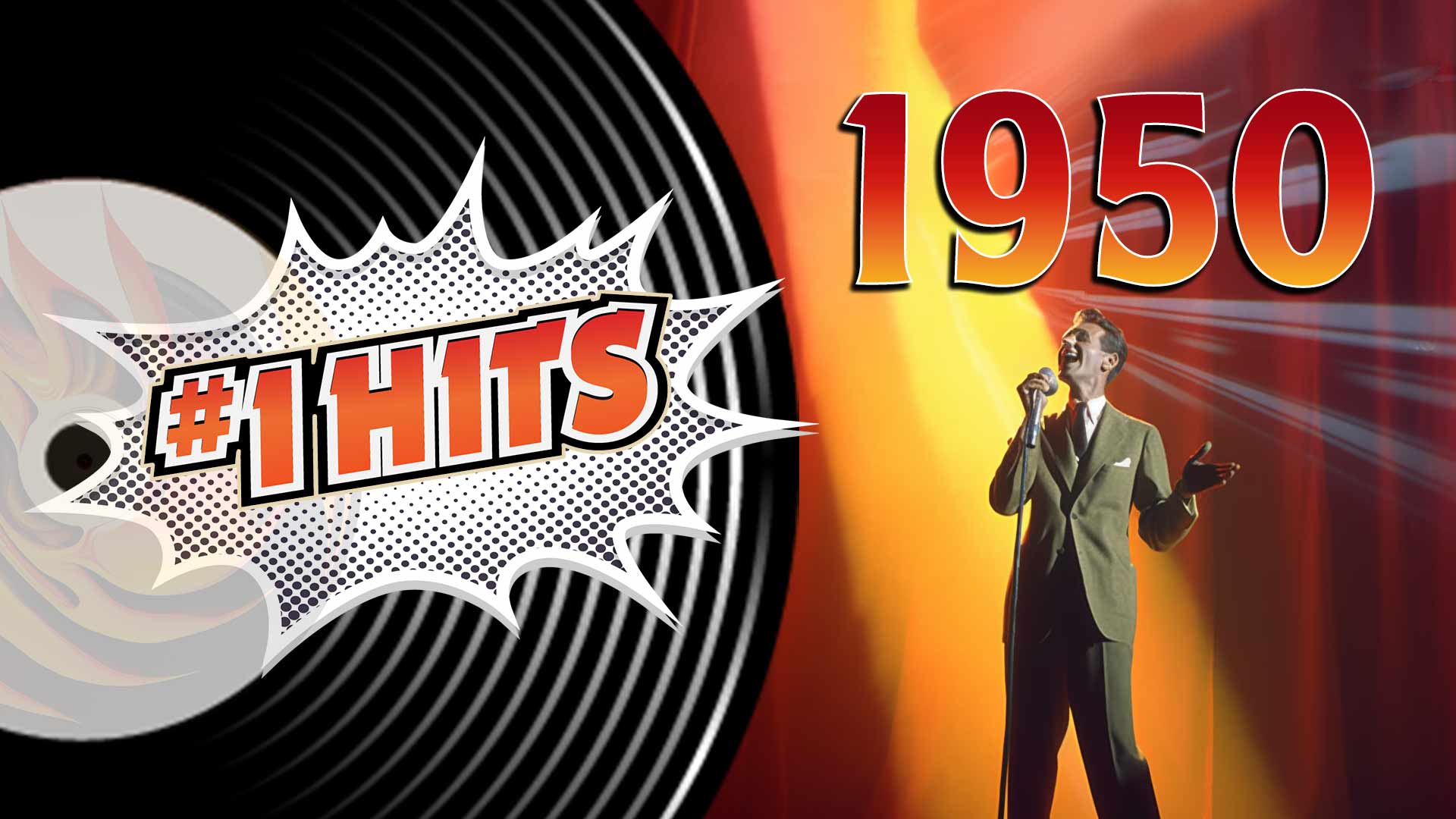 The Number One Hits Of 1950
Nov 26, 1949 – Jan 6, 1950
Frankie Laine
Mule Train
Frankie Laine was inducted into the Grammy Hall of Fame in 1998 for his contributions to the music industry.
"Mule Train" earned a gold record certification for its sales in the United States.
Jan 7, 1950 – Jan 13, 1950
Gene Autry
Rudolph, The Red-nosed Reindeer
Gene Autry, known as "The Singing Cowboy," was a successful actor, singer, and songwriter.
The song, written by Johnny Marks, became one of the best-selling Christmas songs ever.
Jan 14, 1950 – Feb 10, 1950
The Andrews Sisters
I Can Dream, Can't I
The Andrews Sisters were a popular American close-harmony singing group consisting of LaVerne, Maxene, and Patty Andrews.
"I Can Dream, Can't I" was written by Irving Kahal and Sammy Fain and became a hit for the group in 1950.
Feb 11, 1950 – Feb 17, 1950
Ames Brothers
Rag Mop
The Ames Brothers were a successful American quartet of siblings Ed, Vic, Joe, and Gene Ames.
"Rag Mop" was written by Johnny Lee Wills and Deacon Anderson and became a popular hit for the Ames Brothers.
Feb 18, 1950 – Mar 17, 1950
Red Foley
Chattanoogie Shoe Shine Boy
Red Foley, born Clyde Julian Foley, was an American country music singer and a genre pioneer.
"Chattanoogie Shoe Shine Boy" was written by Harry Stone and Jack Stapp and became one of Red Foley's best-known hits.
Mar 18, 1950 – Apr 14, 1950
Teresa Brewer
Music! Music! Music!
Teresa Brewer was an American pop singer who succeeded in the 1950s and continued performing throughout her life.
"Music! Music! Music!" was written by Bernie Baum and Stephan Weiss and was Teresa Brewer's first major hit.
Apr 15, 1950 – Apr 28, 1950
Eileen Barton
If I Knew You Were Comin' I'd've Baked a Cake
Eileen Barton was an American singer best known for her novelty hits in the 1940s and 1950s.
The song was written by Al Hoffman, Bob Merrill, and Clem Watts and became a chart-topping hit for Eileen Barton.
Apr 29, 1950 – Jul 14, 1950
Anton Karas
The Third Man Theme
Anton Karas was an Austrian zither player and composer known for his film scores.
"The Third Man Theme" was the main theme for the 1949 film "The Third Man" and became an international hit.
Jul 15, 1950 – Aug 18, 1950
Nat King Cole
Mona Lisa
Nat King Cole was the first African American performer to have his own radio and television show.
"Mona Lisa," written by Ray Evans and Jay Livingston, won an Academy Award for Best Original Song.
Aug 19, 1950 – Nov 17, 1950
Gordon Jenkins and The Weavers
Goodnight Irene
The Weavers were an influential American folk group founded by Pete Seeger, Lee Hays, Fred Hellerman, and Ronnie Gilbert.
"Goodnight Irene," written by Huddie Ledbetter and John Lomax, became one of the most popular folk songs of the 20th century.
Nov 18, 1950 – Dec 1, 1950
Sammy Kaye
Harbor Lights
Sammy Kaye, an American bandleader, and songwriter, was known for his "Swing and Sway with Sammy Kaye" radio and TV shows.
"Harbor Lights" was composed by Hugh Williams and Jimmy Kennedy and became a hit for multiple artists, including Sammy Kaye.
Dec 2, 1950 – Dec 29, 1950
Phil Harris
The Thing
Phil Harris was an American singer, actor, and comedian known for his work on radio and as the voice of Baloo in Disney's "The Jungle Book."
"The Thing," written by Charles R. Grean, became a novelty hit for Phil Harris and was known for its humorous lyrics.
Dec 30, 1950 – Mar 2, 1951
Patti Page
The Tennessee Waltz
Patti Page, born Clara Ann Fowler, was one of the best-selling female artists of the 1950s, selling over 100 million records.
"The Tennessee Waltz" was written by Redd Stewart and Pee Wee King and became Patti Page's signature song.
The Biggest Pop Artists of 1950 include:
Ames Brothers, Andrews Sisters, Anton Karas, Bing Crosby, Eileen Barton, Esther Phillips, Frank Sinatra, Frankie Laine, Guy Lombardo, Ivory Joe Hunter, Jimmy Wakely, Jo Stafford, Johnny Otis, Lloyd Glenn, Louise Jordan, Lowell Fulson, Margaret Whiting, Nat 'King' Cole, Patti Page, Perry Como, Phil Harris, Red Foley, The Robins, Roy Brown, Sammy Kaye, Teresa Brewer, Roy Brown, Dinah Washington, Weavers with Gordon Jenkins
(HPS music data is compiled from charts, including Billboard's Pop, Rock, Airplay, R&B/Dance, and Singles Charts. The Hot 100 is the primary chart used for this list.)