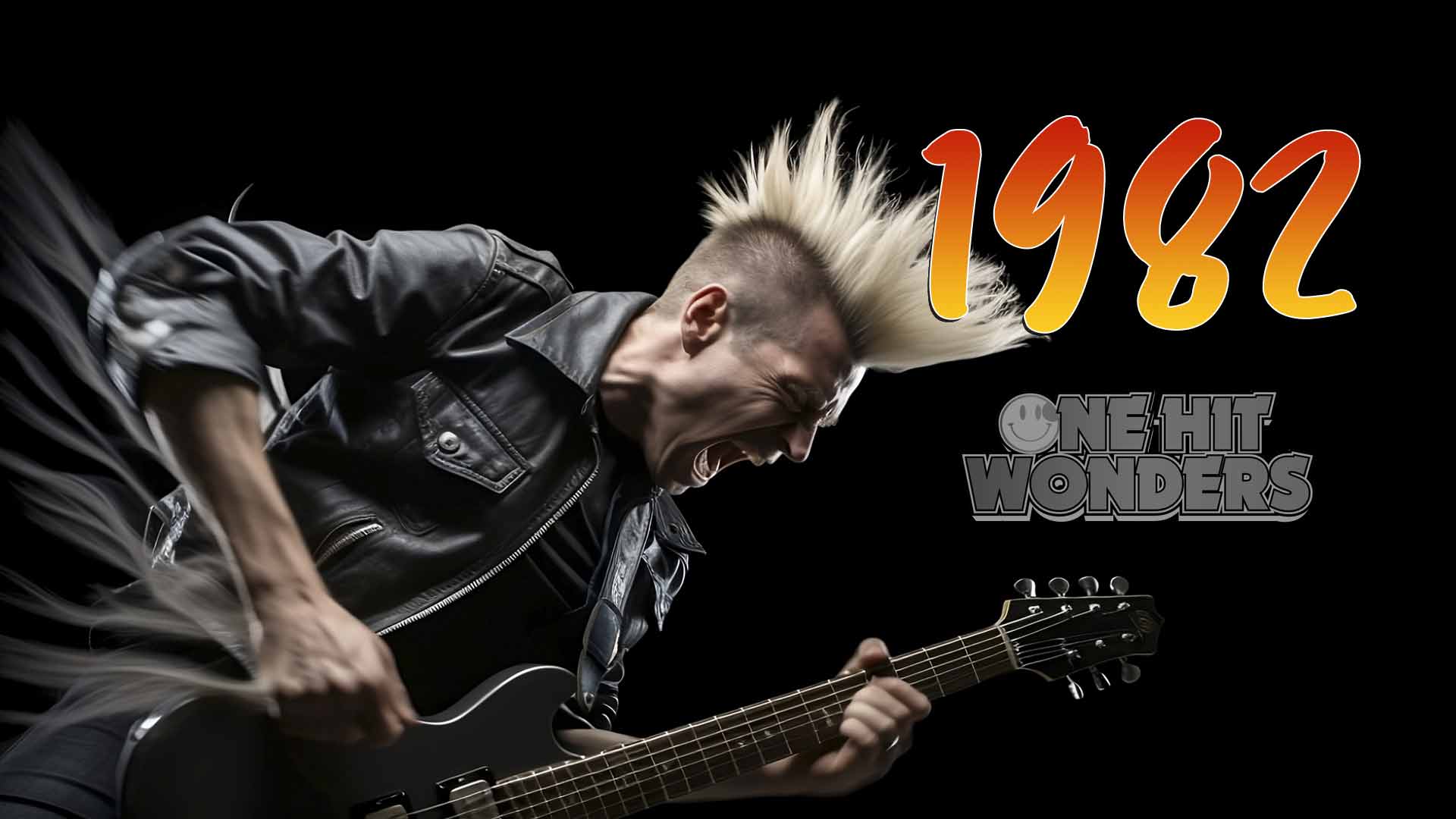 1982 One Hit Wonders & Artists Known For One Song
867-5309/Jenny
Tommy Tutone
Tommy Tutone is an American power pop band, best known for its 1981 hit "867-5309/Jenny". Tommy Heath is the lead singer and the band's name refers to him.
Bad to the Bone
George Thorogood
George Thorogood is an American musician, singer and songwriter from Wilmington, Delaware, known for his high-energy blues-rock. His band, the Delaware Destroyers, have released over 20 albums.
Beat Surrender
The Jam
The Jam was an English mod revival/punk rock band during the 1970s and early 1980s, which formed in 1972 at Sheerwater Secondary School in Woking, in the county of Surrey.
Blister in the Sun
The Violent Femmes
The Violent Femmes are an American folk punk band from Milwaukee, Wisconsin, initially active from 1980 to 2009. They have since been active again from 2013.
Call Me
Skyy
Skyy is an American R&B/funk/disco band based in New York City, formed by Solomon Roberts Jr., and released several US Billboard hit singles throughout the early 1980s.
Can't Hold Back Your Love
Kano
Kano is an Italo disco music project formed in Milan, Italy in 1979 by producers/musicians Luciano Ninzatti, Stefano Pulga and Matteo Bonsanto.
Chariots of Fire
Vangelis
Vangelis is a Greek musician and composer of electronic, progressive, ambient, jazz, and orchestral music, best known for his Academy Award–winning score for the film Chariots of Fire.
Cutie Pie
One Way
One Way was an American R&B and funk band popular in the late 1970s and 1980s.
Da Da Da (I Don't Love You You Don't Love Me Aha Aha Aha)
Trio
Trio was a German band, formed in the small German town of Großenkneten in 1980. The band is most noted for this song which was a hit in 35 countries.
Don't Run My Life
Spys
Spys was a short-lived American AOR/hard rock band from the early 1980s, notable for their connection to the band Foreigner.
Don't Stop Me Baby (I'm On Fire)
The Boys Band
The Boys Band were an early 1980s pop music group, whose single "(How Bout') Makin' Up" was released in 1982.
Don't Stop Prying
Rodway
Rodway is the name of an English rock/pop duo consisting of Mike and Steve Rodway. They were part of the 1980s British new wave music scene.
Don't Talk
Larry Lee
Larry Lee was an American rock and country musician from Missouri. He was a member of Ozark Mountain Daredevils before starting a solo career.
Forget Me Nots
Patrice Rushen
Patrice Rushen is an American jazz pianist and R&B singer. She's also a composer, record producer, multi-instrumentalist, songwriter, and music director.
Genius Of Love
Tom Tom Club
Tom Tom Club is a new wave band founded in 1981 by husband-and-wife team Tina Weymouth and Chris Frantz, both also known for being members of Talking Heads.
Give Me Just A Little More Time
Angela Clemmons
Angela Clemmons is an American singer-songwriter from Connecticut. She scored a hit in 1982 with this cover of the Chairmen of the Board song.
Holdin' On
Tane Cane
Tane Cane was an American band signed with Arista Records in the early 1980s. They were a part of the New Wave genre that was prevalent during this time.
Hooked on Big Bands
Frank Barber
Frank Barber was an English musician known for his orchestra arrangements and compositions. His most notable work is with the Frank Barber Orchestra, where they produced many medley arrangements.
Hooked on Classics
Royal Philharmonic Orchestra
The Royal Philharmonic Orchestra is one of the UK's most prestigious orchestras, based in London. It was founded by Sir Thomas Beecham in 1946 and is known for its classical music performances.
Hooked On Swing
Larry Elgart
Larry Elgart was an American jazz bandleader. Together with his brother Les Elgart, they recorded "Bandstand Boogie," which is most recognized as the theme song to the long-running television show 'American Bandstand.'
Hot Fun In The Summertime
Dayton
Dayton was a funk band from Dayton, Ohio. They were originally known as 'Sun' and were part of the late 1970s and early 1980s funk scene.
How Can I Live Without Her
Christopher Atkins
Christopher Atkins is primarily known as an actor, who rose to fame with his role in the 1980 film "The Blue Lagoon". Besides acting, Atkins also ventured into music with a few songs to his name.
I Want Candy
Bow Wow Wow
Bow Wow Wow was a British new wave band, created by manager Malcolm McLaren in 1980. The band's lead singer, Annabella Lwin was only 13 when McLaren discovered her.
I Know There's Something Going On
Frida
Frida, or Anni-Frid Lyngstad, is a Norwegian-Swedish singer, songwriter, and environmentalist. She is best known as one of the lead singers of the Swedish pop band ABBA.
I Know What Boys Like
Waitresses
The Waitresses were an experimental new wave band from Akron, Ohio. The band was short-lived, existing from 1978 to 1983, but they still have a cult following.
I'm Billie Jean
Bullet
Bullet was a rock band from the UK, best known for their single "White Lies, Blue Eyes", which peaked at #28 on the Billboard Hot 100 in 1972.
I've Never Been To Me
Charlene
Charlene is an American singer known primarily for her 1982 popular song "I've Never Been to Me". Her real name is Charlene Marilynn D'Angelo, but she is known professionally simply as Charlene.
If I Had My Wish Tonight
David Lasley
David Lasley is an American singer and songwriter, primarily known for his work as a background singer for various artists such as Bonnie Raitt and James Taylor. His own music typically features high falsetto vocals.
If It Ain't One Thing… It's Another
Richard 'Dimple' Fields
Richard 'Dimple' Fields was an American R&B and soul singer, popular during the 1980s. His nickname "Dimples" came from a lady fan who adored his dimples.
If The Love Fits Wear It
Leslie Pearl
Leslie Pearl is an American pop singer-songwriter. Besides her singing career, she also penned songs for a variety of artists, including Crystal Gayle and Dr. Hook.
It's My Party
Dave Stewart and Barbara Gaskin
Dave Stewart and Barbara Gaskin are an English pop duo. They have been working together since 1981. Stewart was a member of the bands Egg and Hatfield and the North, whereas Gaskin started her career in the band Spirogyra.
It's Raining Men
The Weather Girls
The Weather Girls were originally composed of Izora Armstead and Martha Wash. Martha Wash, known for her powerful vocals, later had a successful solo career and has been featured in numerous dance and house music hits.
Keeping Our Love Alive
Henry Paul Band
Henry Paul is an American southern rock and country singer/songwriter. He is a founding member of the Southern rock band Outlaws and the frontman for the Henry Paul Band.
Let It Whip
Dazz Band
Dazz Band is an American R&B, funk band. The name of the band is a portmanteau of the description "danceable jazz". Their songs frequently charted in the American R&B chart in the 1980s.
Little Darlin'
Sheila
Sheila is a French pop singer who became successful as a solo artist in the 1960s and 1970s, also was part of the duo "Sheila et Ringo". She became a television presenter in the 1990s and continued to record music into the 21st century.
Love Plus One
Haircut 100
Haircut 100 is a British new wave band formed in 1980. The band was stylistically noted for its look, influenced by a preppy, clean-cut image, contrasting with the rebellious look of many contemporary new wave bands.
Make Up Your Mind
Aurra
Aurra was an American 1980s soul group, which, at the time of its biggest success, was composed of Curt Jones and Starleana Young. After legal issues they continued their careers under the name Déjà.
Mama Used To Say
Junior
Junior, whose real name is Norman Washington "Junior" Giscombe, is a British singer-songwriter. He was one of the first British R&B artists to be successful in the United States.
Mickey
Toni Basil
Toni Basil is an American singer, actress, choreographer, dancer, and filmmaker. She is best known for her multi-million-selling worldwide #1 hit "Mickey". She has worked with artists like David Bowie and Talking Heads on choreography for music videos and performances.
Murphy's Law
Cheri
Cheri was a Canadian studio creation of producers Freddie James and Geraldine Hunt. The group had a hit with "Murphy's Law," a dance single that became a Billboard R&B chart-topper in 1982.
Never Say Never
Romeo Void
Romeo Void was an American new wave/post-punk band from San Francisco, California. Vocalist Debora Iyall fronted the band, one of few women of Indigenous heritage to lead a successful rock band. Another song, (A Girl In Trouble) Is A Terrible Thing peaked at #35 on the Billboard Charts, although Never Say Never lasted longer as a rock/dance anthem.
Nobody
Sylvia
Sylvia, born Sylvia Kirby Allen, is an American country music and country pop singer and songwriter. In addition to her singing career, she co-founded a record company and worked as a certified life and career coach.
On A Carousel
Glass Moon
Glass Moon was an American rock band from North Carolina. They are known for their 1982 hit "On a Carousel, " making the Billboard Top 40.
On The Loose
Saga
Saga is a Canadian rock band, formed in Oakville, Ontario. During the 1970s and 1980s, they had several hits in both Canada and Europe, and were also popular in Germany.
Pac-Man Fever
Buckner & Garcia
Buckner & Garcia was an American musical duo consisting of Jerry Buckner and Gary Garcia. They are best known for capitalizing on the video game craze of the early 1980s with their song "Pac-Man Fever".
Pass the Dutchie
Musical Youth
Musical Youth is a British Jamaican reggae band. The band became popular in 1982 with their successful #1 hit "Pass the Dutchie, " a high-charting hit globally. The song deals with the extreme poverty that can lead to juvenile delinquency.
Love
Placido Domingo and John Denver
Placido Domingo is a Spanish opera singer, conductor and arts administrator. He has recorded over a hundred complete operas and is known for his versatile and strong voice, possessing a ringing and dramatic tone throughout its range. On the other hand, John Denver was an American singer-songwriter, record producer, actor, activist, and humanitarian, whose greatest commercial success was as a solo singer. His music appeared on a variety of charts, including country music, the Billboard Hot 100, and adult contemporary, showing the breadth of his appeal.
Planet Rock
Afrika Bambaataa & the Soul Sonic Force
Afrika Bambaataa is one of the originators of breakbeat DJing and is respectfully known as "The Godfather" and "Amen Ra of Hip Hop Kulture". Bambaataa also organized the very first European hip hop tour.
Put Away Your Love
Alessi
Alessi Brothers is an American pop rock singer-songwriter duo who first came to international prominence with their 1977 hit "Oh Lori". The duo are identical twin brothers, Billy Alessi and Bobby Alessi.
Seasons of Gold
Gidea Park
Gidea Park is a British tribute act, put together by Adrian Baker. They predominantly recreated medleys of hits by popular American group The Beach Boys.
She Looks A Lot Like You
Clocks
Clocks were a relatively short-lived Canadian rock band active in the early 1980s.
Someday, Someway
Marshall Crenshaw
Marshall Crenshaw is an American musician, singer, and songwriter best known for his song "Someday, Someway". He got his first break playing John Lennon in the off-Broadway company of Beatlemania.
Tainted Love/Where Did Our Love Go
Soft Cell
Soft Cell was an English synth-pop duo who were part of the new wave movement. They are known for their use of synthesizers in place of guitars and had a big influence on the UK's electronic music scene.
Take Off
Bob and Doug McKenzie
Bob and Doug McKenzie are a pair of fictional Canadian brothers who hosted "Great White North", a sketch on the SCTV (Second City Television) comedy show. Rick Moranis and Dave Thomas created the characters.
(The Best Part of) Breakin' Up
Roni Griffith
Roni Griffith is a disco singer and performer who is best known for this song, which was a big hit in the clubs. Producer Bobby Orlando discovered Griffith.
The Gigolo
O'Bryan
O'Bryan McCoy Burnette II, known as O'Bryan, is an American singer-songwriter. Comedian and The Tonight Show host Jay Leno discovered him.
Too Good To Turn Back Now
Rick Bowles
Rick Bowles is an American singer-songwriter known for co-writing several hits for other artists, such as "That Rock Won't Roll" by Restless Heart and "The Power of Love" by Laura Branigan.
Valley Girl
Frank and Moon Unit Zappa
Frank Zappa was an American musician, composer, activist and filmmaker. Nonconformity, free-form improvisation, sound experiments, musical virtuosity, and satire of American culture characterize his work. His daughter, Moon Unit Zappa, is an American actress and author.
Voice On The Radio
Conductor
Conductor was a synth-pop band active in the early 1980s. Lush synthesizer arrangements and catchy hooks often characterized their songs.
What Do All The People Know
The Monroes
The Monroes were a new wave band from the early 1980s. The group was made up of musicians from both the United States and England.
Wot
Captain Sensible
Captain Sensible is an English singer, songwriter and guitarist. He co-founded the punk rock band The Damned, playing bass then switching to guitar. He embarked on a solo career during the 1980s.
You Can
Madleen Kane
Madleen Kane is a Swedish model and singer. A former Elite fashion model, she worked since age 17 for the German fashion magazine Burda Moden. In addition, she had five Top 10 hits on the US Hot Dance Music/Club Play chart in the late 1970s and early 1980s.
Younger Days
Joe Fagin
Joe Fagin is a British singer who hit the big time with a couple of hits in the 1980s. He is best known for "Breakin' Away" and "That's Livin' Alright" from the TV series Auf Wiedersehen, Pet.
Your Daddy Don't Know
Toronto
Toronto was a Canadian rock band active during the late 1970s and early 1980s. It was formed in Toronto, Ontario, Canada, by guitarist Brian Allen and American-born singer Holly Woods.
You've Got Another Thing Coming
Judas Priest
Judas Priest is an English heavy metal band formed in West Bromwich, West Midlands in 1969. They are frequently ranked as one of the greatest metal bands ever. The band has sold over 50 million copies of their albums to date.