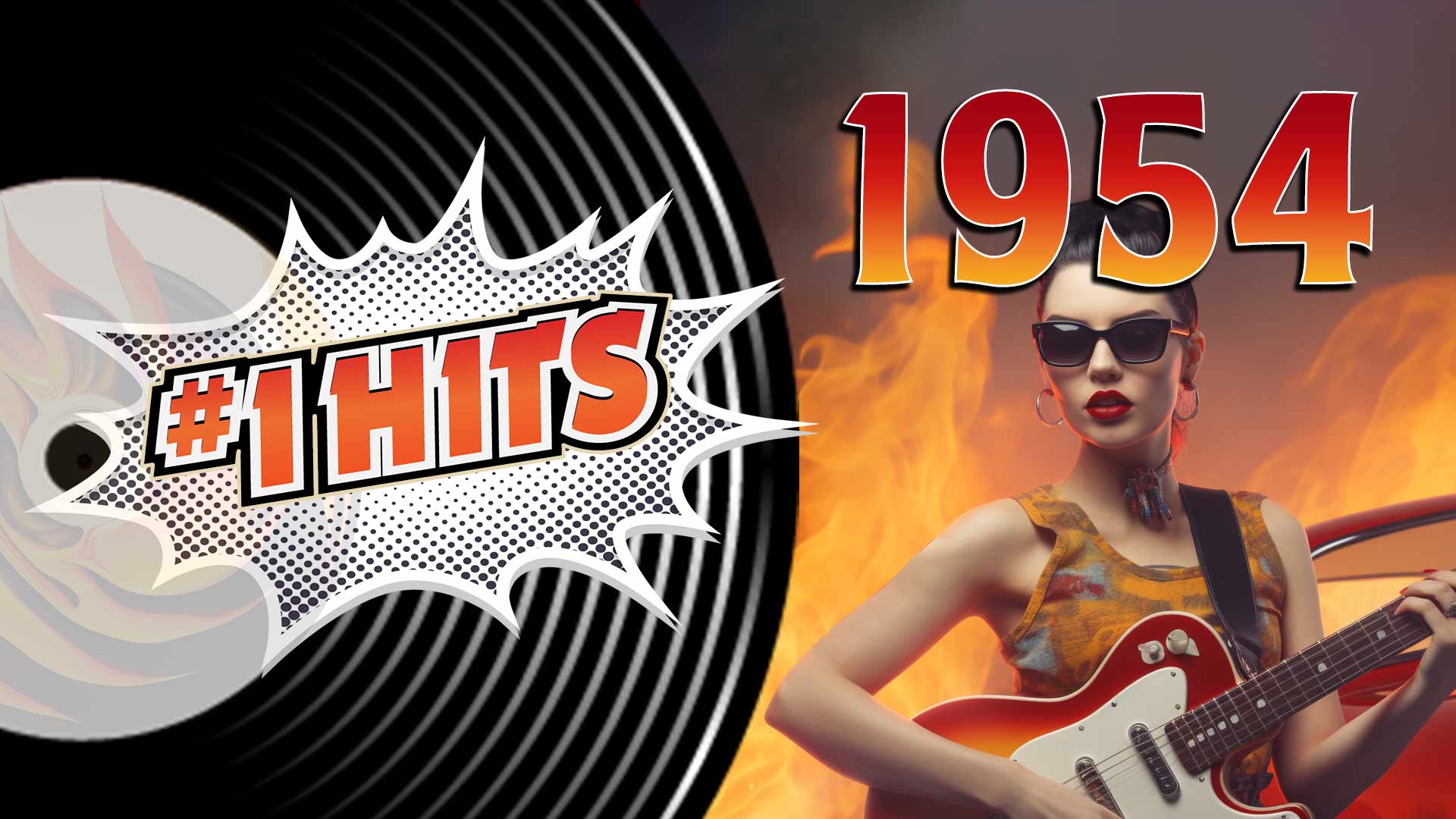 The Number One Hits Of 1954
Nov 21, 1953 – Jan 1, 1954
Tony Bennett
Rags To Riches
Tony Bennett is a highly decorated artist, having won 20 Grammy Awards and two Emmy Awards throughout his career.
"Rags To Riches" became one of Bennett's early hits and helped establish him as a successful recording artist.
Jan 2, 1954 – Feb 26, 1954
Eddie Fisher
Oh! My Pa-pa (O Mein Papa)
Eddie Fisher was one of the most popular singers in the US during the 1950s, selling millions of records and hosting his own TV show.
"Oh! My Pa-pa" is an adaptation of a German song originally written by Paul Burkhard. The song's emotional appeal contributed to its popularity.
Feb 27, 1954 – Mar 12, 1954
Doris Day
Secret Love
Doris Day was an American actress and singer who succeeded greatly in film and music, becoming a top-10 box office draw in the 1950s and 1960s.
"Secret Love" was featured in the film "Calamity Jane" (1953) and won the Academy Award for Best Original Song.
Mar 13, 1954 – Apr 9, 1954
Jo Stafford
Make Love To Me!
Jo Stafford was known for her versatile and expressive voice, which allowed her to explore various genres, including jazz, pop, and classical music.
"Make Love To Me!" is a romantic song that showcases Jo Stafford's vocal range and emotive capabilities.
Apr 10, 1954 – Jun 4, 1954
Perry Como
Wanted
Perry Como was also an accomplished television personality, hosting the popular "Perry Como's Kraft Music Hall" show from 1948 to 1963.
"Wanted" is a love ballad that became one of Perry Como's best-known hits, reaching the top of the charts.
Jun 5, 1954 – Aug 6, 1954
Kitty Kallen
Little Things Mean A Lot
Kitty Kallen was an American singer who enjoyed great success during the Big Band era and throughout the 1950s.
"Little Things Mean A Lot" is a sentimental ballad that focuses on the importance of small gestures in a relationship.
Aug 7, 1954 – Sep 24, 1954
The Crew-Cuts
Sh-Boom
The Crew-Cuts were a Canadian vocal quartet known for their close harmony singing and cover versions of popular R&B songs.
"Sh-Boom" is an early doo-wop song that became a crossover hit, introducing the genre to a wider audience.
Sep 25, 1954 – Nov 5, 1954
Rosemary Clooney
Hey There
Rosemary Clooney was also a successful actress, starring in films such as "White Christmas" (1954) alongside Bing Crosby.
"Hey There" is a song from the musical "The Pajama Game," and Clooney's version became a major hit.
Nov 6, 1954 – Nov 12, 1954
Rosemary Clooney
This Ole House
In addition to her singing career, Rosemary Clooney was an accomplished actress, starring in films such as "White Christmas" (1954).
"This Ole House" is an upbeat song about an old, abandoned house that became one of Clooney's signature tunes.
Nov 13, 1954 – Dec 3, 1954
Eddie Fisher
I Need You Now
Eddie Fisher's personal life attracted significant media attention, including his marriages to actresses Debbie Reynolds and Elizabeth Taylor.
"I Need You Now" is a heartfelt ballad that resonated with audiences and became one of Fisher's most memorable hits.
Dec 4, 1954 – Jan 21, 1955
The Chordettes
Mr. Sandman
The Chordettes were an all-female vocal group known for their tight harmonies and pop-oriented sound, influenced by barbershop quartet styles.
"Mr. Sandman" is a whimsical and dreamy song that became one of The Chordettes' most iconic recordings, reaching No. 1 on the US charts.
The Biggest Pop Artists of 1954 include:
B.B. King, The Charms, The Chords, The Chordettes, Crew-Cuts, Doris Day, The Drifters, Eddie Fisher, Four Aces, Frank Sinatra, Hank Ballard, Jo Stafford, Joe Turner, Johnny Ace, Kay Starr, Kitty Kallen, Muddy Waters, Patti Page, Perry Como, Rosemary Clooney, Roy Hamilton, Ruth Brown, Tony Bennett, Tony Martin
(HPS music data is compiled from charts, including Billboard's Pop, Rock, Airplay, R&B/Dance, and Singles Charts. The Hot 100 is the primary chart used for this list.)