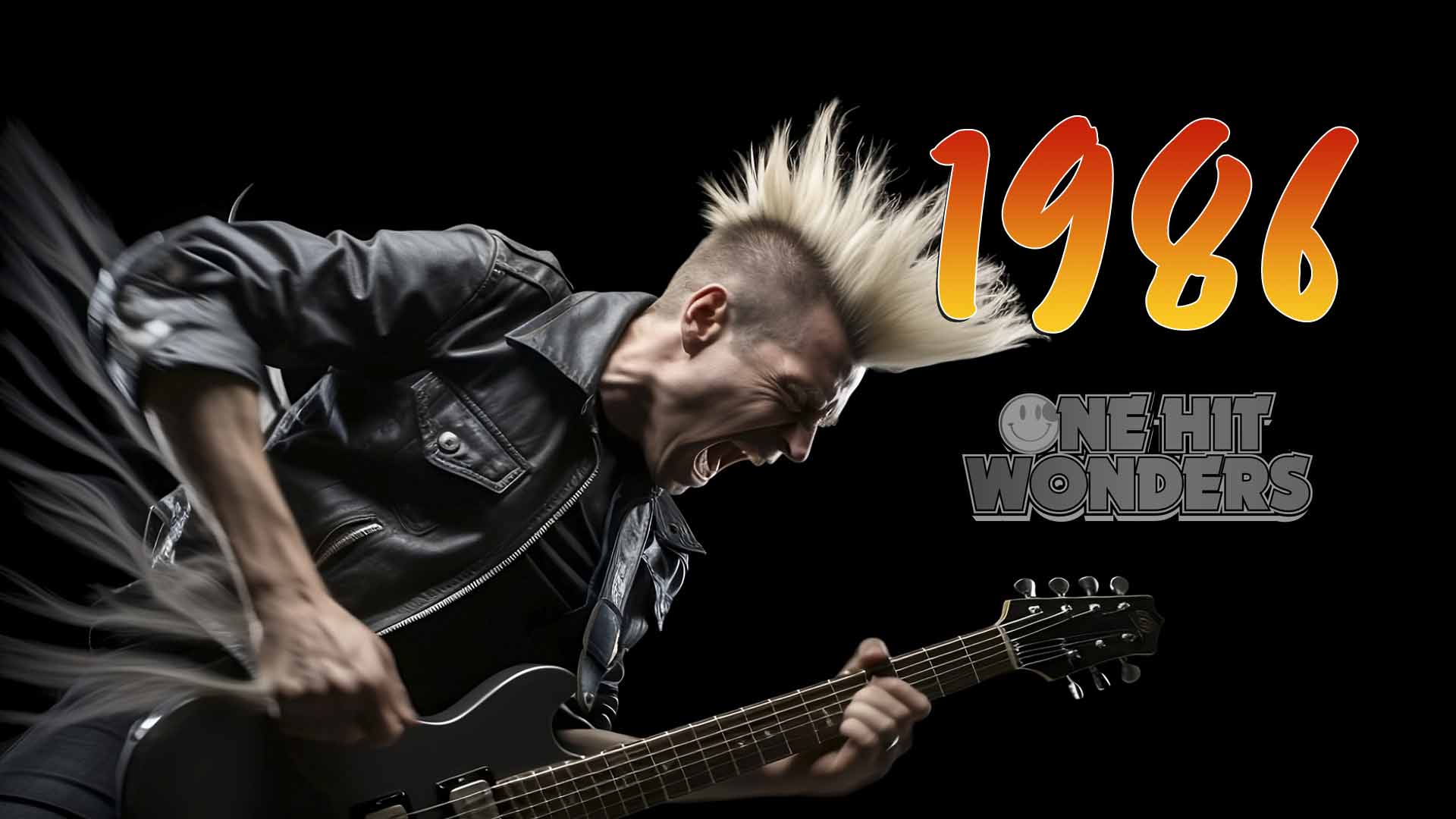 1986 One Hit Wonders & Artists Known For One Song
100 MPH
Mazarati
Mazarati was a funk group formed by Brown Mark, who was a bassist for Prince's band, The Revolution.
A Good Heart
Feargal Sharkey
Feargal Sharkey is a Northern Irish singer, who became prominent as the lead vocalist of pop punk band The Undertones.
Ain't Nothin' Goin On But The Rent
Gwen Guthrie
Gwen Guthrie was a professional school teacher before she decided to pursue a career in music. She was also a successful background singer for Aretha Franklin.
Am I Forgiven
Isle of Man
Isle of Man was a short-lived rock band from the late 1980s, featuring singer Harry Sandler, who later became a well-respected music industry photographer.
Baby Love
Regina
Regina is an American pop singer Regina Richards, who later turned to songwriting, co-writing the Vanessa Williams's hit "Save the Best for Last".
Beat's So Lonely
Charlie Sexton
At the age of 16, Charlie Sexton was hailed as a prodigy and savior of blues by music critics.
Captain of Her Heart
Double
Double was a Swiss duo best known for this song, they pioneered the use of jazz in pop music during the mid-1980s.
Dancin In My Sleep
Secret Ties
Secret Ties was a Hi-NRG band from San Francisco, their song "Dancing In My Sleep" became popular in dance clubs during the late '80s.
Digging Your Scene
Blow Monkeys
British band Blow Monkeys was known for their sophisticated pop sound, mixing soul, jazz, and indie rock influences.
Do Me Baby
Meli'sa Morgan
R&B singer Meli'sa Morgan started her career as a backing vocalist for Chaka Khan.
Don Quichotte
Magazine 60
Magazine 60 was a French synthpop band in the 1980s. Their music often referenced popular culture and historical events.
Everybody Dance
Ta Mara & The Seen
Ta Mara & The Seen was a Minneapolis-based R&B group that was managed and produced by Jesse Johnson of The Time.
Feel The Heat
Jean Beauvoir
Jean Beauvoir is a multi-talented musician who has been part of punk band The Plasmatics and also had a successful solo career.
Female Intuition
Mai Tai
Mai Tai, an all-female group from the Netherlands, was named after the cocktail. The group represented the Netherlands at the Eurovision Song Contest in 1984.
Fire With Fire
Wild Blue
Wild Blue, previously known as "Wild Blue Yonder", was a pop rock band from Chicago that achieved brief popularity in the mid-1980s.
For Tonight
Nancy Martinez
Nancy Martinez is a Canadian dance music singer who enjoyed success in the mid 1980s.
Friends and Lovers
Gloria Loring & Carl Anderson
Gloria Loring is an American singer and actress, known for playing Liz Chandler on the soap opera "Days of Our Lives" for six years. Carl Anderson was an American singer, film and theatre actor best known for his portrayal of Judas Iscariot in the Broadway and film versions of Jesus Christ Superstar.
Hands Across America
Voices of America
Hands Across America was a public fundraising event on Sunday, May 25, 1986, when 5 to 6.5 million people held hands for 15 minutes in an attempt to form a continuous human chain across the contiguous United States.
Heartbeat
Don Johnson
Don Johnson is an actor, producer, director, singer, and songwriter. He is best known for his role as James "Sonny" Crockett in the 1980s television series "Miami Vice".
I Do What I Do (9 1/2 Weeks Theme)
John Taylor
John Taylor is best known as the bass guitarist and co-founder of the new wave band Duran Duran.
I Like You
Phyllis Nelson
Phyllis Nelson was an experienced disco singer and songwriter who had a successful career in France before achieving international success.
I Still Want You
The Del Fuegos
The Del Fuegos were an American garage rock band from the 1980s, led by singer Dan Zanes who later became a Grammy-winning children's music performer.
I Wanna Be A Cowboy
Boys Don't Cry
Boys Don't Cry was a British pop/rock band that saw their biggest success in the U.S., especially with the hit single "I Wanna Be a Cowboy".
It's Not You, It's Not Me
KBC Band
KBC Band was a rock band formed by former Jefferson Airplane members Paul Kantner, Marty Balin, and Jack Casady.
Jungle Boy
John Eddie
John Eddie is a singer-songwriter from Richmond, Virginia, who has opened for Bob Seger and the E Street Band.
Keep Your Hands To Yourself
Georgia Satellites
Georgia Satellites were a Southern rock band most known for their 1986 top five hit single, "Keep Your Hands to Yourself".
Let's Go All The Way
Sly Fox
Sly Fox was a short-lived pop duo consisting of Gary "Mudbone" Cooper and Michael Camacho.
Live Is Life
Opus
Opus is an Austrian pop-rock group which formed in 1973.
Living On Video
Trans-X
Trans-X is a Canadian synthpop band that was started by Pascal Languirand, a French-Canadian musician.
Love In Siberia
Laban
Laban was a Danish synthpop duo consisting of Lecia Jønsson and Ivan Pedersen.
Oh Yeah
Yello
Yello is a Swiss electronic duo known for their surreal, multimedia art style.
One Step Closer To You
Gavin Christoper
Gavin Christopher was a singer, songwriter, and producer from Chicago, known for his collaborations with artists like Herbie Hancock and Curtis Mayfield.
Out of Mind Out of Sight
The Models
The Models were an Australian rock band formed in Melbourne in 1978.
Prove Me Wrong
David Pack
David Pack is a Grammy-winning musician, producer, and music director who was the frontman for the band Ambrosia.
Right Between The Eyes
Wax
Wax was a pop-rock duo formed in Manchester in 1985, consisting of American singer-songwriter Andrew Gold and 10cc's Graham Gouldman.
Rock Me Amadeus
Falco
Falco was an Austrian singer and songwriter who is best known for his chart-topping hits in the mid-1980s.
Rumors
Timex Social Club
Timex Social Club was a contemporary R&B group from Berkeley, California, that is known for its 1986 hit single, "Rumors".
Runaway
Luis Cardenas
Luis Cardenas is a Mexican-American musician best known for his cover of Del Shannon's "Runaway".
Say It, Say It
E.G. Daily
E.G. Daily is an American singer and actress who has voiced numerous animated characters, including Tommy Pickles in the "Rugrats" series.
Shake You Down
Gregory Abbott
Gregory Abbott is a singer, musician, and composer who has a degree in psychology from the University of California, Berkeley.
She Sells Sanctuary
The Cult
The Cult is a British rock band that gained a dedicated following in the UK with mid-1980s singles like "She Sells Sanctuary" before breaking into the American metal market in the late '80s.
Somebody Somewhere
Platinum Blonde
Platinum Blonde is a Canadian rock band originally consisting of Mark Holmes from Mansfield, England, Sergio Galli, and Chris Steffler.
Something About You
Level 42
Level 42 was formed in Isle of Wight, England. The band's name comes from a line in the Hitchhiker's Guide to the Galaxy, where 42 is the Answer to the Ultimate Question of Life, the Universe, and Everything.
Spirit in the Sky
Doctor and the Medics
Doctor and the Medics is a British glam rock band that was formed in London in 1981.
Stacy
Fortune
Fortune is an American rock band that was formed in 1982.
Stairway To Heaven
Far Corporation
Far Corporation was a British-German band that was the first act to make the UK Top 10 with a cover of Led Zeppelin's "Stairway to Heaven".
Stay The Night
Benjamin Orr
Benjamin Orr was a co-founder and the bassist for the rock band the Cars. He sang lead vocals on several of their best-known songs, including "Drive".
Superbowl Shuffle
Chicago Bears Shufflin' Crew
The Chicago Bears Shufflin' Crew was a group formed by Chicago Bears football team members. The song was nominated for a Grammy Award in 1987.
The Captain Of Her Heart
Double
Double was a Swiss duo consisting of singer Kurt Maloo and keyboard player Felix Haug. Their style was a sophisticated blend of jazz and pop.
The Future's So Bright, I Gotta Wear Shades
Timbuk 3
Timbuk 3 was a band formed by the husband and wife team Pat and Barbara K. MacDonald. They played all the instruments on their albums.
The Rain
Oran 'Juice' Jones
Oran "Juice" Jones is an American R&B singer who was the first signee to the Def Jam subsidiary label OBR Records.
Tuff Enuff
Fabulous Thunderbirds
The Fabulous Thunderbirds is a Texas blues band that was formed in 1974.
Two of Hearts
Stacie Q
Stacie Q is an American pop singer, best known for her 1986 hit single "Two of Hearts".
Victory Line
Limited Warranty
Limited Warranty was an American band from Minnesota. They were winners on Ed McMahon's Star Search show in the 80s.
Walk This Way
Run-D.M.C. with Steve Tyler & Joe Perry
Run-D.M.C. was an influential hip hop group from Queens, New York. Aerosmith's Steven Tyler and Joe Perry collaborated with the group on their hit single "Walk This Way".
Weatherman
Nick Jameson
Nick Jameson is an American actor and musician, and also a prolific voice actor for television and video games.
Welcome To The Boomtown
David & David
David & David was a rock duo composed of Los Angeles-based studio musicians David Baerwald and David Ricketts.
When The Heart Rules The Mind
GTR
GTR was a British rock band founded in 1985 by former Yes and Asia guitarist Steve Howe and former Genesis guitarist Steve Hackett.
Who's Johnny
El DeBarge
El DeBarge is a singer-songwriter, best known as the lead singer of the family group DeBarge.
You're A Friend of Mine
Clarence Clemons and Jackson Browne
Clarence Clemons was an American musician and actor, known as a prominent member of Bruce Springsteen's E Street Band. Jackson Browne is a successful singer-songwriter and musician who has sold over 18 million albums in the United States.
​