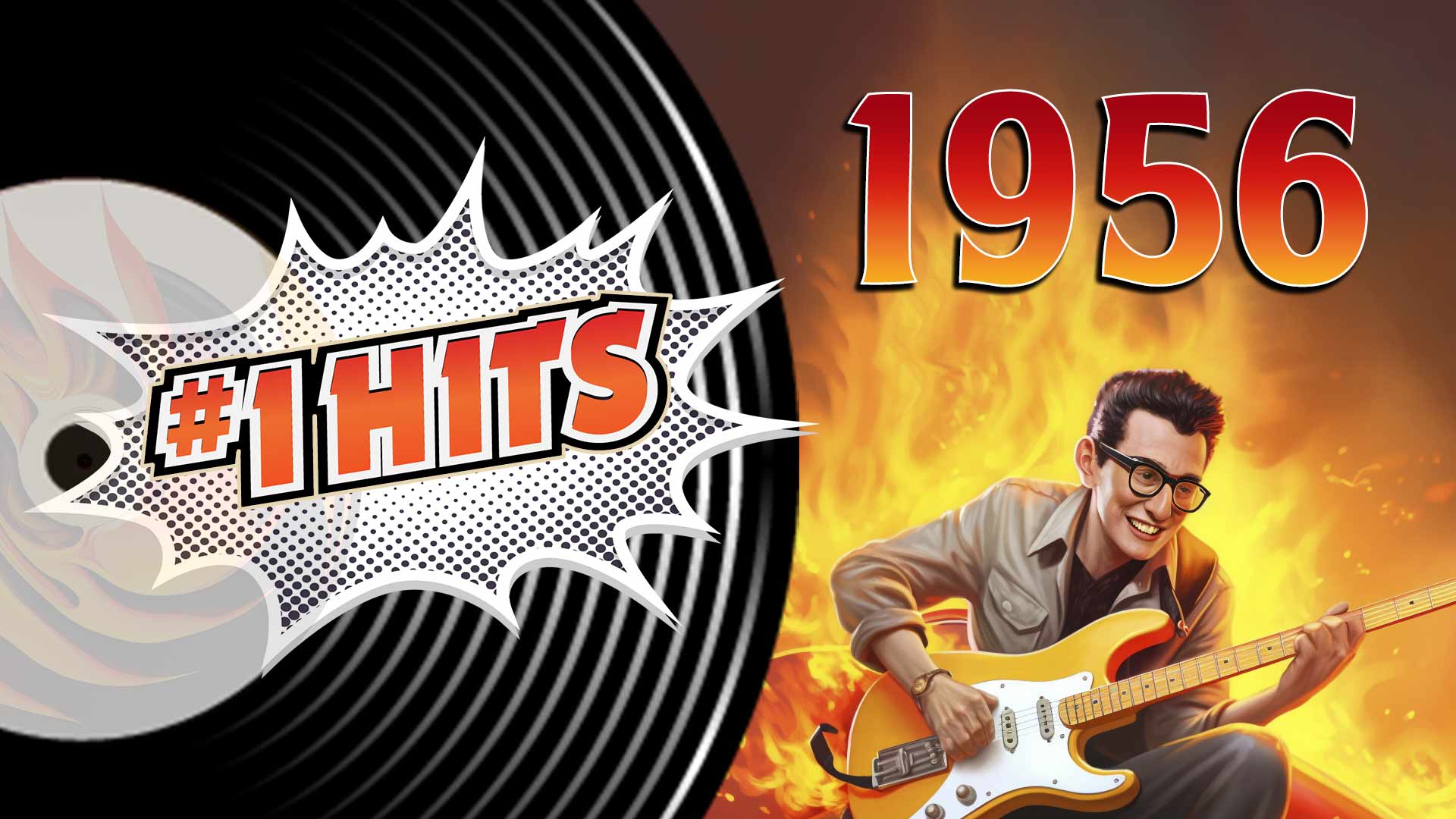 The Number One Hits Of 1956
Nov 26, 1955 – Jan 13, 1956
Tennessee Ernie Ford
Sixteen Tons
Tennessee Ernie Ford was a versatile artist who starred in his TV variety show, "The Ford Show," in the late 1950s.
"Sixteen Tons" has a unique arrangement with finger snaps and a distinctive bass vocal line.
Jan 14, 1956 – Feb 17, 1956
Dean Martin
Memories Are Made Of This
Dean Martin was a famous "Rat Pack" member and starred in numerous films, including the "Matt Helm" series.
"Memories Are Made Of This" was composed by Terry Gilkyson, Richard Dehr, and Frank Miller and became one of Dean Martin's signature songs.
Feb 18, 1956 – Feb 24, 1956
Kay Starr
Rock And Roll Waltz
Kay Starr was known for her unique blend of pop, jazz, and country music styles, which earned her the nickname "The Queen of Hillbilly Swing."
"Rock And Roll Waltz" was written by Shorty Allen and Roy Alfred, combining elements of waltz and early rock and roll.
Feb 25, 1956 – Mar 23, 1956
Nelson Riddle
Lisbon Antigua
Nelson Riddle was a renowned American bandleader, arranger, and orchestrator, working with many famous artists like Frank Sinatra and Nat King Cole.
"Lisbon Antigua" is an instrumental piece with a light and catchy melody, contributing to its popularity.
Mar 24, 1956 – Apr 20, 1956
Les Baxter
Poor People Of Paris
Les Baxter pioneered exotica music, which combined elements of jazz, Latin, and African music with lush orchestral arrangements.
"Poor People Of Paris" is an instrumental adaptation of the French song "La Goualante du Pauvre Jean" by Marguerite Monnot and René Rouzaud.
Apr 21, 1956 – Jun 15, 1956
Elvis Presley
Heartbreak Hotel
Elvis Presley, known as the "King of Rock and Roll," was a cultural icon and one of the best-selling solo artists in the history of recorded music.
"Heartbreak Hotel" was written by Mae Boren Axton, Tommy Durden, and Elvis Presley and became his first number-one hit.
Jun 16, 1956 – Jul 27, 1956
Gogi Grant
The Wayward Wind
Gogi Grant, born Myrtle Audrey Arinsberg, was an American singer with a powerful and emotive singing style.
"The Wayward Wind" was written by Herb Newman and Stan Lebowsky, and it tells a story of a lover who has been abandoned.
Jul 28, 1956 – Aug 3, 1956
Elvis Presley
I Want You, I Need You, I Love You
Elvis Presley's dynamic stage presence and ability to mix various musical styles led to his immense popularity and enduring legacy.
"I Want You, I Need You, I Love You" was composed by Maurice Mysels and Ira Kosloff and became another hit for Presley.
Aug 4, 1956 – Aug 17, 1956
The Platters
My Prayer
The Platters were a highly successful vocal group known for their tight harmonies and polished performances.
"My Prayer" was originally composed by Georges Boulanger, with lyrics added by Jimmy Kennedy, and became one of The Platters' most memorable hits.
Aug 18, 1956 – Nov 2, 1956
Elvis Presley
Don't Be Cruel / Hound Dog
Elvis Presley's impact on popular culture earned him the nickname "The King of Rock and Roll" and an enduring legacy.
"Don't Be Cruel" was written by Otis Blackwell and Elvis Presley, while "Hound Dog" was composed by Jerry Leiber and Mike Stoller; both songs became major hits.
Nov 3, 1956 – Dec 7, 1956
Elvis Presley
Love Me Tender
Elvis Presley is one of the most significant cultural icons of the 20th century, with a music career spanning multiple genres.
"Love Me Tender" is based on the Civil War ballad "Aura Lee," with new lyrics by Ken Darby. The song was featured in Presley's film debut of the same name.
Dec 8, 1956 – Feb 8, 1957
Guy Mitchell
Singing The Blues
Guy Mitchell, born Albert George Cernik, was an American pop singer who found success in the 1950s and 1960s.
"Singing The Blues" was composed by Melvin Endsley and became one of Guy Mitchell's most popular songs, reaching the top of the charts.
The Biggest Pop Artists of 1956 include:
Bill Haley and His Comets, Chuck Berry, Dean Martin, Eddie Fisher, Elvis Presley, Fats Domino, Four Aces, The Four Lads, Frank Sinatra, Gale Storm, Gogi Grant, Guy Mitchell, Joe Turner, Kay Starr, Lawrence Welk, Les Baxter, Little Richard, Little Willie John, The McGuire Sisters, Nat 'King' Cole, Nelson Riddle, Pat Boone, Patti Page, Perry Como, The Platters, Ray Charles, Teresa Brewer
(HPS music data is compiled from charts, including Billboard's Pop, Rock, Airplay, R&B/Dance, and Singles Charts. The Hot 100 is the primary chart used for this list.)