Born in 1971? Find Your Conception Song!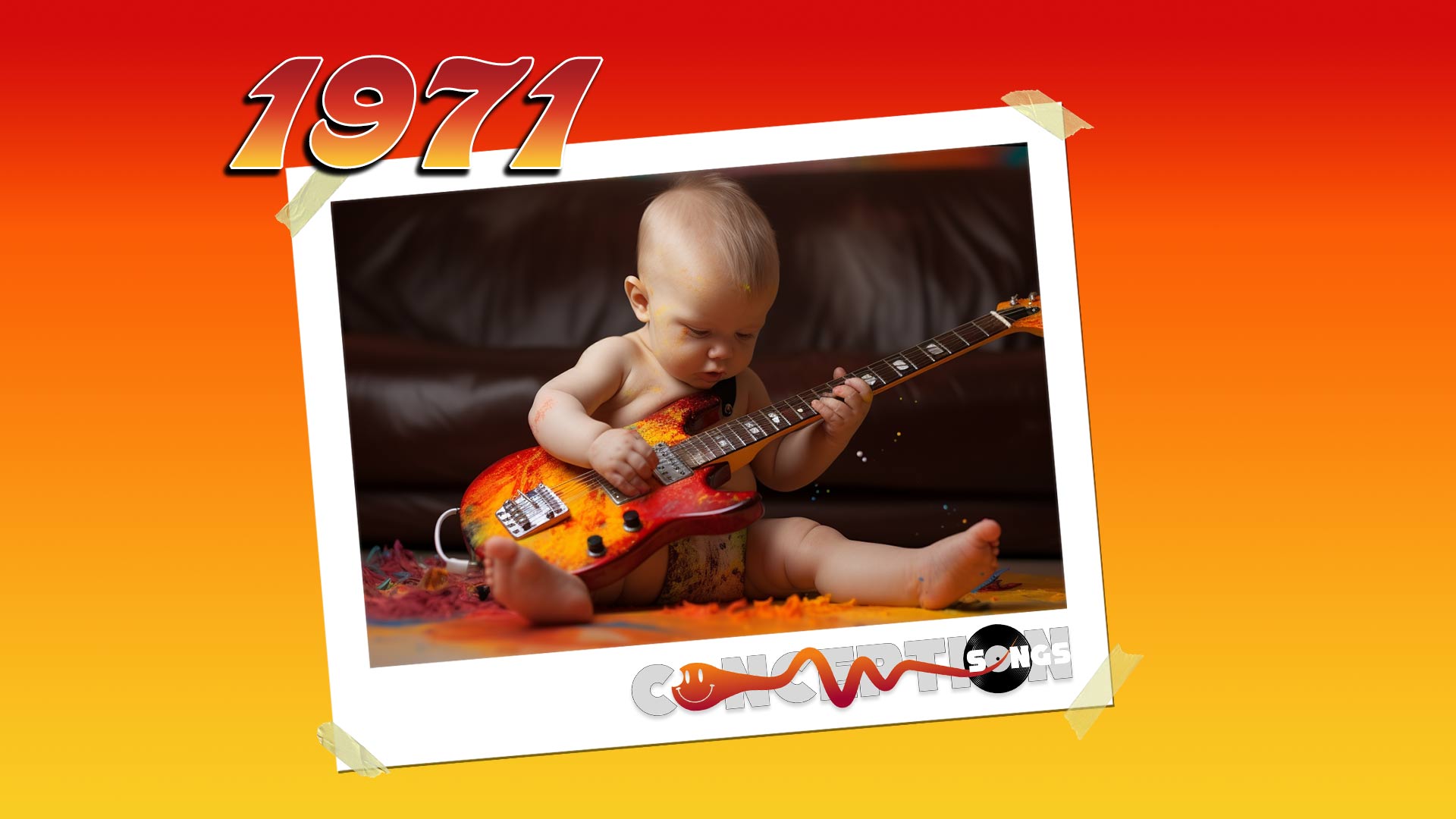 Born in 1971?
Some of the popular 
songs at this time included (theme from) Shaft, Brown Sugar, Family Affair, Mr. Big Stuff, and Brand Melanie New Key – "I got a brand new pair of roller skates- You got a brand new key – I think that we should get together and try them out you see…"
Melanie was not really singing about roller skates and keys, you see.
Check the date to find the # 1 song when you were conceived, nine months ago!
The average length of human gestation (Your 'Conception Era') is 280 days, or 40 weeks, from the first day of the woman's last menstrual period. The medical term for the due date is the estimated date of confinement (EDC).
If you were born late, or a bit premature, add or subtract those days.
This Year's Euphemisms: Not Listening to Mama and Making a French Connection
Your Birthday:
January 1st, 1971:
Simon & Garfunkel – Bridge Over Troubled Water
January 2nd, 1971:
Simon & Garfunkel – Bridge Over Troubled Water
January 3rd, 1971:
Simon & Garfunkel – Bridge Over Troubled Water
January 4th, 1971:
Simon & Garfunkel – Bridge Over Troubled Water
January 5th, 1971:
Simon & Garfunkel – Bridge Over Troubled Water
January 6th, 1971:
Simon & Garfunkel – Bridge Over Troubled Water
January 7th, 1971:
Simon & Garfunkel – Bridge Over Troubled Water
January 8th, 1971:
Simon & Garfunkel – Bridge Over Troubled Water
January 9th, 1971:
Simon & Garfunkel – Bridge Over Troubled Water
January 10th, 1971:
Simon & Garfunkel – Bridge Over Troubled Water
January 11th, 1971:
Simon & Garfunkel – Bridge Over Troubled Water
January 12th, 1971:
Simon & Garfunkel – Bridge Over Troubled Water
January 13th, 1971:
Simon & Garfunkel – Bridge Over Troubled Water
January 14th, 1971:
Simon & Garfunkel – Bridge Over Troubled Water
January 15th, 1971:
Simon & Garfunkel – Bridge Over Troubled Water
January 16th, 1971:
The Beatles – Let It Be
January 17th, 1971:
The Beatles – Let It Be
January 18th, 1971:
The Beatles – Let It Be
January 19th, 1971:
The Beatles – Let It Be
January 20th, 1971:
The Beatles – Let It Be
January 21st, 1971:
The Beatles – Let It Be
January 22nd, 1971:
The Beatles – Let It Be
January 23rd, 1971:
The Beatles – Let It Be
January 24th, 1971:
The Beatles – Let It Be
January 25th, 1971:
The Beatles – Let It Be
January 26th, 1971:
The Beatles – Let It Be
January 27th, 1971:
The Beatles – Let It Be
January 28th, 1971:
The Beatles – Let It Be
January 29th, 1971:
The Beatles – Let It Be
January 30th, 1971:
The Jackson 5 – ABC
January 31st, 1971:
The Jackson 5 – ABC
February 1st, 1971:
The Jackson 5 – ABC
February 2nd, 1971:
The Jackson 5 – ABC
February 3rd, 1971:
The Jackson 5 – ABC
February 4th, 1971:
The Jackson 5 – ABC
February 5th, 1971:
The Jackson 5 – ABC
February 6th, 1971:
The Jackson 5 – ABC
February 7th, 1971:
The Jackson 5 – ABC
February 8th, 1971:
The Jackson 5 – ABC
February 9th, 1971:
The Jackson 5 – ABC
February 10th, 1971:
The Jackson 5 – ABC
February 11th, 1971:
The Jackson 5 – ABC
February 12th, 1971:
The Jackson 5 – ABC
February 13th, 1971:
The Guess Who – American Woman / No Sugar Tonight
February 14th, 1971:
The Guess Who – American Woman / No Sugar Tonight
February 15th, 1971:
The Guess Who – American Woman / No Sugar Tonight
February 16th, 1971:
The Guess Who – American Woman / No Sugar Tonight
February 17th, 1971:
The Guess Who – American Woman / No Sugar Tonight
February 18th, 1971:
The Guess Who – American Woman / No Sugar Tonight
February 19th, 1971:
The Guess Who – American Woman / No Sugar Tonight
February 20th, 1971:
The Guess Who – American Woman / No Sugar Tonight
February 21st, 1971:
The Guess Who – American Woman / No Sugar Tonight
February 22nd, 1971:
The Guess Who – American Woman / No Sugar Tonight
February 23rd, 1971:
The Guess Who – American Woman / No Sugar Tonight
February 24th, 1971:
The Guess Who – American Woman / No Sugar Tonight
February 25th, 1971:
The Guess Who – American Woman / No Sugar Tonight
February 26th, 1971:
The Guess Who – American Woman / No Sugar Tonight
February 27th, 1971:
The Guess Who – American Woman / No Sugar Tonight
February 28th, 1971:
The Guess Who – American Woman / No Sugar Tonight
March 1st, 1971:
The Guess Who – American Woman / No Sugar Tonight
March 2nd, 1971:
The Guess Who – American Woman / No Sugar Tonight
March 3rd, 1971:
The Guess Who – American Woman / No Sugar Tonight
March 4th, 1971:
The Guess Who – American Woman / No Sugar Tonight
March 5th, 1971:
Ray Stevens – Everything Is Beautiful
March 6th, 1971:
Ray Stevens – Everything Is Beautiful
March 7th, 1971:
Ray Stevens – Everything Is Beautiful
March 8th, 1971:
Ray Stevens – Everything Is Beautiful
March 9th, 1971:
Ray Stevens – Everything Is Beautiful
March 10th, 1971:
Ray Stevens – Everything Is Beautiful
March 11th, 1971:
Ray Stevens – Everything Is Beautiful
March 12th, 1971:
Ray Stevens – Everything Is Beautiful
March 13th, 1971:
Ray Stevens – Everything Is Beautiful
March 14th, 1971:
Ray Stevens – Everything Is Beautiful
March 15th, 1971:
Ray Stevens – Everything Is Beautiful
March 16th, 1971:
Ray Stevens – Everything Is Beautiful
March 17th, 1971:
Ray Stevens – Everything Is Beautiful
March 18th, 1971:
Ray Stevens – Everything Is Beautiful
March 19th, 1971:
Ray Stevens – Everything Is Beautiful
March 20th, 1971:
The Beatles – The Long and Winding Road / For You Blue
March 21st, 1971:
The Beatles – The Long and Winding Road / For You Blue
March 22nd, 1971:
The Beatles – The Long and Winding Road / For You Blue
March 23rd, 1971:
The Beatles – The Long and Winding Road / For You Blue
March 24th, 1971:
The Beatles – The Long and Winding Road / For You Blue
March 25th, 1971:
The Beatles – The Long and Winding Road / For You Blue
March 26th, 1971:
The Beatles – The Long and Winding Road / For You Blue
March 27th, 1971:
The Beatles – The Long and Winding Road / For You Blue
March 28th, 1971:
The Beatles – The Long and Winding Road / For You Blue
March 29th, 1971:
The Beatles – The Long and Winding Road / For You Blue
March 30th, 1971:
The Beatles – The Long and Winding Road / For You Blue
March 31st, 1971:
The Beatles – The Long and Winding Road / For You Blue
April 1st, 1971:
The Beatles – The Long and Winding Road / For You Blue
April 2nd, 1971:
The Beatles – The Long and Winding Road / For You Blue
April 3rd, 1971:
The Jackson 5 – The Love You Save
April 4th, 1971:
The Jackson 5 – The Love You Save
April 5th, 1971:
The Jackson 5 – The Love You Save
April 6th, 1971:
The Jackson 5 – The Love You Save
April 7th, 1971:
The Jackson 5 – The Love You Save
April 8th, 1971:
The Jackson 5 – The Love You Save
April 9th, 1971:
The Jackson 5 – The Love You Save
April 10th, 1971:
The Jackson 5 – The Love You Save
April 11th, 1971:
The Jackson 5 – The Love You Save
April 12th, 1971:
The Jackson 5 – The Love You Save
April 13th, 1971:
The Jackson 5 – The Love You Save
April 14th, 1971:
The Jackson 5 – The Love You Save
April 15th, 1971:
The Jackson 5 – The Love You Save
April 16th, 1971:
The Jackson 5 – The Love You Save
April 17th, 1971:
Three Dog Night – Mama Told Me (Not to Come)
April 18th, 1971:
Three Dog Night – Mama Told Me (Not to Come)
April 19th, 1971:
Three Dog Night – Mama Told Me (Not to Come)
April 20th, 1971:
Three Dog Night – Mama Told Me (Not to Come)
April 21st, 1971:
Three Dog Night – Mama Told Me (Not to Come)
April 22nd, 1971:
Three Dog Night – Mama Told Me (Not to Come)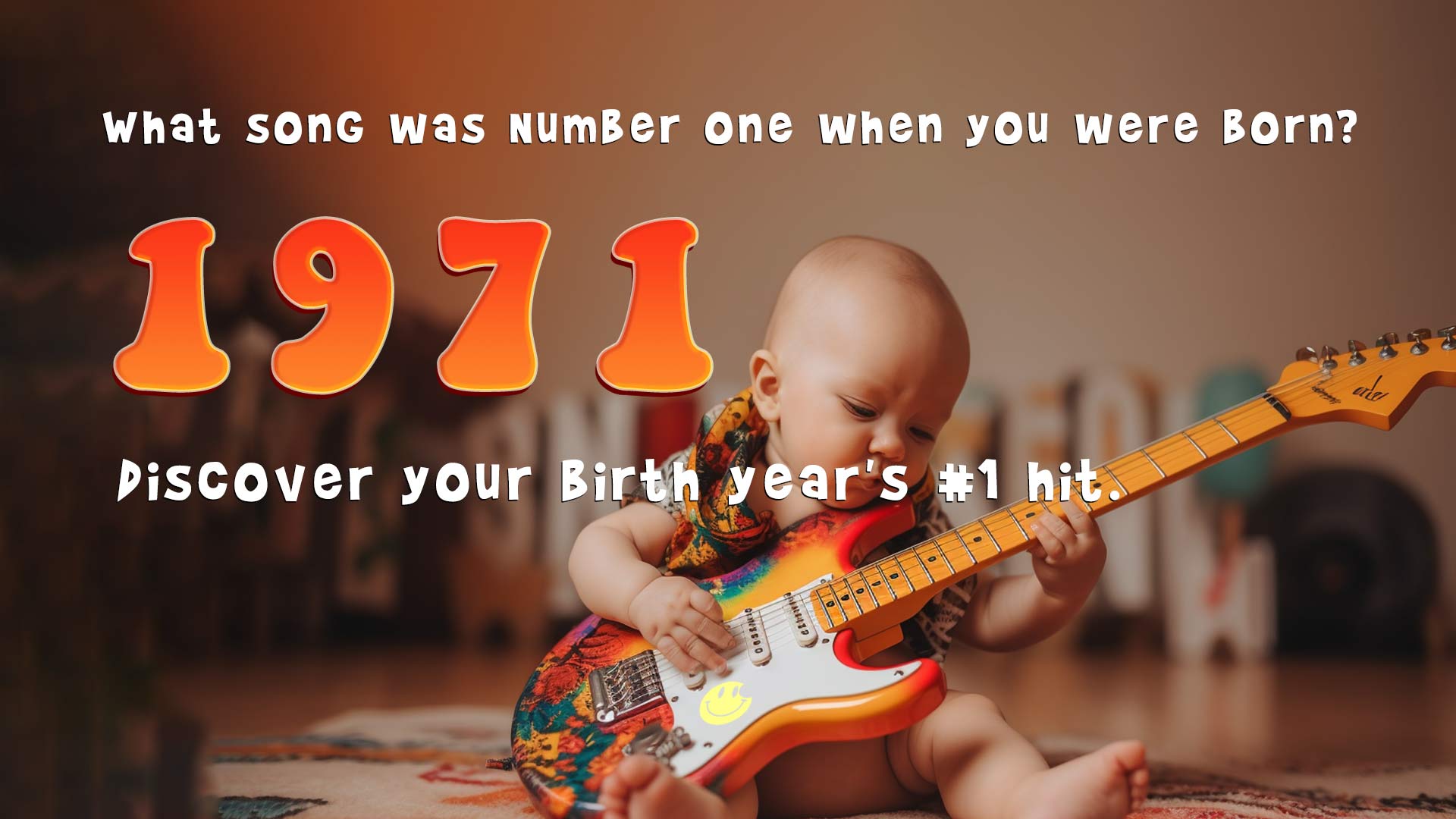 April 23rd, 1971:
Three Dog Night – Mama Told Me (Not to Come)
April 24th, 1971:
Three Dog Night – Mama Told Me (Not to Come)
April 25th, 1971:
Three Dog Night – Mama Told Me (Not to Come)
April 26th, 1971:
Three Dog Night – Mama Told Me (Not to Come)
April 27th, 1971:
Three Dog Night – Mama Told Me (Not to Come)
April 28th, 1971:
Three Dog Night – Mama Told Me (Not to Come)
April 29th, 1971:
Three Dog Night – Mama Told Me (Not to Come)
April 30th, 1971:
Three Dog Night – Mama Told Me (Not to Come)
May 1st, 1971:
The Carpenters – (They Long to Be) Close to You
May 2nd, 1971:
The Carpenters – (They Long to Be) Close to You
May 3rd, 1971:
The Carpenters – (They Long to Be) Close to You
May 4th, 1971:
The Carpenters – (They Long to Be) Close to You
May 5th, 1971:
The Carpenters – (They Long to Be) Close to You
May 6th, 1971:
The Carpenters – (They Long to Be) Close to You
May 7th, 1971:
The Carpenters – (They Long to Be) Close to You
May 8th, 1971:
The Carpenters – (They Long to Be) Close to You
May 9th, 1971:
The Carpenters – (They Long to Be) Close to You
May 10th, 1971:
The Carpenters – (They Long to Be) Close to You
May 11th, 1971:
The Carpenters – (They Long to Be) Close to You
May 12th, 1971:
The Carpenters – (They Long to Be) Close to You
May 13th, 1971:
The Carpenters – (They Long to Be) Close to You
May 14th, 1971:
The Carpenters – (They Long to Be) Close to You
May 15th, 1971:
The Carpenters – (They Long to Be) Close to You
May 16th, 1971:
The Carpenters – (They Long to Be) Close to You
May 17th, 1971:
The Carpenters – (They Long to Be) Close to You
May 18th, 1971:
The Carpenters – (They Long to Be) Close to You
May 19th, 1971:
The Carpenters – (They Long to Be) Close to You
May 20th, 1971:
The Carpenters – (They Long to Be) Close to You
May 21st, 1971:
The Carpenters – (They Long to Be) Close to You
May 22nd, 1971:
The Carpenters – (They Long to Be) Close to You
May 23rd, 1971:
The Carpenters – (They Long to Be) Close to You
May 24th, 1971:
The Carpenters – (They Long to Be) Close to You
May 25th, 1971:
The Carpenters – (They Long to Be) Close to You
May 26th, 1971:
The Carpenters – (They Long to Be) Close to You
May 27th, 1971:
The Carpenters – (They Long to Be) Close to You
May 28th, 1971:
The Carpenters – (They Long to Be) Close to You
May 29th, 1971:
Bread – Make It with You
May 30th, 1971:
Bread – Make It with You
May 31st, 1971:
Bread – Make It with You
June 1st, 1971:
Bread – Make It with You
June 2nd, 1971:
Bread – Make It with You
June 3rd, 1971:
Bread – Make It with You
June 4th, 1971:
Bread – Make It with You
June 5th, 1971:
Edwin Starr – War
June 6th, 1971:
Edwin Starr – War
June 7th, 1971:
Edwin Starr – War
June 8th, 1971:
Edwin Starr – War
June 9th, 1971:
Edwin Starr – War
June 10th, 1971:
Edwin Starr – War
June 11th, 1971:
Edwin Starr – War
June 12th, 1971:
Edwin Starr – War
June 13th, 1971:
Edwin Starr – War
June 14th, 1971:
Edwin Starr – War
June 15th, 1971:
Edwin Starr – War
June 16th, 1971:
Edwin Starr – War
June 17th, 1971:
Edwin Starr – War
June 18th, 1971:
Edwin Starr – War
June 19th, 1971:
Edwin Starr – War
June 20th, 1971:
Edwin Starr – War
June 21st, 1971:
Edwin Starr – War
June 22nd, 1971:
Edwin Starr – War
June 23rd, 1971:
Edwin Starr – War
June 24th, 1971:
Edwin Starr – War
June 25th, 1971:
Edwin Starr – War
June 26th, 1971:
Diana Ross – Ain't No Mountain High Enough
June 27th, 1971:
Diana Ross – Ain't No Mountain High Enough
June 28th, 1971:
Diana Ross – Ain't No Mountain High Enough
June 29th, 1971:
Diana Ross – Ain't No Mountain High Enough
June 30th, 1971:
Diana Ross – Ain't No Mountain High Enough
July 1st, 1971:
Diana Ross – Ain't No Mountain High Enough
July 2nd, 1971:
Diana Ross – Ain't No Mountain High Enough
July 3rd, 1971:
Diana Ross – Ain't No Mountain High Enough
July 4th, 1971:
Diana Ross – Ain't No Mountain High Enough
July 5th, 1971:
Diana Ross – Ain't No Mountain High Enough
July 6th, 1971:
Diana Ross – Ain't No Mountain High Enough
July 7th, 1971:
Diana Ross – Ain't No Mountain High Enough
July 8th, 1971:
Diana Ross – Ain't No Mountain High Enough
July 9th, 1971:
Diana Ross – Ain't No Mountain High Enough
July 10th, 1971:
Diana Ross – Ain't No Mountain High Enough
July 11th, 1971:
Diana Ross – Ain't No Mountain High Enough
July 12th, 1971:
Diana Ross – Ain't No Mountain High Enough
July 13th, 1971:
Diana Ross – Ain't No Mountain High Enough
July 14th, 1971:
Diana Ross – Ain't No Mountain High Enough
July 15th, 1971:
Diana Ross – Ain't No Mountain High Enough
July 16th, 1971:
Diana Ross – Ain't No Mountain High Enough
July 17th, 1971:
Neil Diamond – Cracklin' Rosie
July 18th, 1971:
Neil Diamond – Cracklin' Rosie
July 19th, 1971:
Neil Diamond – Cracklin' Rosie
July 20th, 1971:
Neil Diamond – Cracklin' Rosie
July 21st, 1971:
Neil Diamond – Cracklin' Rosie
July 22nd, 1971:
Neil Diamond – Cracklin' Rosie
July 23rd, 1971:
Neil Diamond – Cracklin' Rosie
July 24th, 1971:
The Jackson 5 – I'll Be There
July 25th, 1971:
The Jackson 5 – I'll Be There
July 26th, 1971:
The Jackson 5 – I'll Be There
July 27th, 1971:
The Jackson 5 – I'll Be There
July 28th, 1971:
The Jackson 5 – I'll Be There
July 29th, 1971:
The Jackson 5 – I'll Be There
July 30th, 1971:
The Jackson 5 – I'll Be There
July 31st, 1971:
The Jackson 5 – I'll Be There
August 1st, 1971:
The Jackson 5 – I'll Be There
August 2nd, 1971:
The Jackson 5 – I'll Be There
August 3rd, 1971:
The Jackson 5 – I'll Be There
August 4th, 1971:
The Jackson 5 – I'll Be There
August 5th, 1971:
The Jackson 5 – I'll Be There
August 6th, 1971:
The Jackson 5 – I'll Be There
August 7th, 1971:
The Jackson 5 – I'll Be There
August 8th, 1971:
The Jackson 5 – I'll Be There
August 9th, 1971:
The Jackson 5 – I'll Be There
August 10th, 1971:
The Jackson 5 – I'll Be There
August 11th, 1971:
The Jackson 5 – I'll Be There
August 12th, 1971:
The Jackson 5 – I'll Be There
August 13th, 1971:
The Jackson 5 – I'll Be There
August 14th, 1971:
The Jackson 5 – I'll Be There
August 15th, 1971:
The Jackson 5 – I'll Be There
August 16th, 1971:
The Jackson 5 – I'll Be There
August 17th, 1971:
The Jackson 5 – I'll Be There
August 18th, 1971:
The Jackson 5 – I'll Be There
August 19th, 1971:
The Jackson 5 – I'll Be There
August 20th, 1971:
The Jackson 5 – I'll Be There
August 21st, 1971:
The Jackson 5 – I'll Be There
August 22nd, 1971:
The Jackson 5 – I'll Be There
August 23rd, 1971:
The Jackson 5 – I'll Be There
August 24th, 1971:
The Jackson 5 – I'll Be There
August 25th, 1971:
The Jackson 5 – I'll Be There
August 26th, 1971:
The Jackson 5 – I'll Be There
August 27th, 1971:
The Jackson 5 – I'll Be There
August 28th, 1971:
The Partridge Family – I Think I Love You
August 29th, 1971:
The Partridge Family – I Think I Love You
August 30th, 1971:
The Partridge Family – I Think I Love You
August 31st, 1971:
The Partridge Family – I Think I Love You
September 1st, 1971:
The Partridge Family – I Think I Love You
September 2nd, 1971:
The Partridge Family – I Think I Love You
September 3rd, 1971:
The Partridge Family – I Think I Love You
September 4th, 1971:
The Partridge Family – I Think I Love You
September 5th, 1971:
The Partridge Family – I Think I Love You
September 6th, 1971:
The Partridge Family – I Think I Love You
September 7th, 1971:
The Partridge Family – I Think I Love You
September 8th, 1971:
The Partridge Family – I Think I Love You
September 9th, 1971:
The Partridge Family – I Think I Love You
September 10th, 1971:
The Partridge Family – I Think I Love You
September 11th, 1971:
The Partridge Family – I Think I Love You
September 12th, 1971:
The Partridge Family – I Think I Love You
September 13th, 1971:
The Partridge Family – I Think I Love You
September 14th, 1971:
The Partridge Family – I Think I Love You
September 15th, 1971:
The Partridge Family – I Think I Love You
September 16th, 1971:
The Partridge Family – I Think I Love You
September 17th, 1971:
The Partridge Family – I Think I Love You
September 18th, 1971:
Smokey Robinson & the Miracles – The Tears of a Clown
September 19th, 1971:
Smokey Robinson & the Miracles – The Tears of a Clown
September 20th, 1971:
Smokey Robinson & the Miracles – The Tears of a Clown
September 21st, 1971:
Smokey Robinson & the Miracles – The Tears of a Clown
September 22nd, 1971:
Smokey Robinson & the Miracles – The Tears of a Clown
September 23rd, 1971:
Smokey Robinson & the Miracles – The Tears of a Clown
September 24th, 1971:
Smokey Robinson & the Miracles – The Tears of a Clown
September 25th, 1971:
Smokey Robinson & the Miracles – The Tears of a Clown
September 26th, 1971:
Smokey Robinson & the Miracles – The Tears of a Clown
September 27th, 1971:
Smokey Robinson & the Miracles – The Tears of a Clown
September 28th, 1971:
Smokey Robinson & the Miracles – The Tears of a Clown
September 29th, 1971:
Smokey Robinson & the Miracles – The Tears of a Clown
September 30th, 1971:
Smokey Robinson & the Miracles – The Tears of a Clown
October 1st, 1971:
Smokey Robinson & the Miracles – The Tears of a Clown
October 2nd, 1971:
George Harrison – My Sweet Lord / Isn't It a Pity
October 3rd, 1971:
George Harrison – My Sweet Lord / Isn't It a Pity
October 4th, 1971:
George Harrison – My Sweet Lord / Isn't It a Pity
October 5th, 1971:
George Harrison – My Sweet Lord / Isn't It a Pity
October 6th, 1971:
George Harrison – My Sweet Lord / Isn't It a Pity
October 7th, 1971:
George Harrison – My Sweet Lord / Isn't It a Pity
October 8th, 1971:
George Harrison – My Sweet Lord / Isn't It a Pity
October 9th, 1971:
George Harrison – My Sweet Lord / Isn't It a Pity
October 10th, 1971:
George Harrison – My Sweet Lord / Isn't It a Pity
October 11th, 1971:
George Harrison – My Sweet Lord / Isn't It a Pity
October 12th, 1971:
George Harrison – My Sweet Lord / Isn't It a Pity
October 13th, 1971:
George Harrison – My Sweet Lord / Isn't It a Pity
October 14th, 1971:
George Harrison – My Sweet Lord / Isn't It a Pity
October 15th, 1971:
George Harrison – My Sweet Lord / Isn't It a Pity
October 16th, 1971:
George Harrison – My Sweet Lord / Isn't It a Pity
October 17th, 1971:
George Harrison – My Sweet Lord / Isn't It a Pity
October 18th, 1971:
George Harrison – My Sweet Lord / Isn't It a Pity
October 19th, 1971:
George Harrison – My Sweet Lord / Isn't It a Pity
October 20th, 1971:
George Harrison – My Sweet Lord / Isn't It a Pity
October 21st, 1971:
George Harrison – My Sweet Lord / Isn't It a Pity
October 22nd, 1971:
George Harrison – My Sweet Lord / Isn't It a Pity
October 23rd, 1971:
George Harrison – My Sweet Lord / Isn't It a Pity
October 24th, 1971:
George Harrison – My Sweet Lord / Isn't It a Pity
October 25th, 1971:
George Harrison – My Sweet Lord / Isn't It a Pity
October 26th, 1971:
George Harrison – My Sweet Lord / Isn't It a Pity
October 27th, 1971:
George Harrison – My Sweet Lord / Isn't It a Pity
October 28th, 1971:
George Harrison – My Sweet Lord / Isn't It a Pity
October 29th, 1971:
George Harrison – My Sweet Lord / Isn't It a Pity
October 30th, 1971:
Tony Orlando and Dawn – Knock Three Times
October 31st, 1971:
Tony Orlando and Dawn – Knock Three Times
November 1st, 1971:
Tony Orlando and Dawn – Knock Three Times
November 2nd, 1971:
Tony Orlando and Dawn – Knock Three Times
November 3rd, 1971:
Tony Orlando and Dawn – Knock Three Times
November 4th, 1971:
Tony Orlando and Dawn – Knock Three Times
November 5th, 1971:
Tony Orlando and Dawn – Knock Three Times
November 6th, 1971:
Tony Orlando and Dawn – Knock Three Times
November 7th, 1971:
Tony Orlando and Dawn – Knock Three Times
November 8th, 1971:
Tony Orlando and Dawn – Knock Three Times
November 9th, 1971:
Tony Orlando and Dawn – Knock Three Times
November 10th, 1971:
Tony Orlando and Dawn – Knock Three Times
November 11th, 1971:
Tony Orlando and Dawn – Knock Three Times
November 12th, 1971:
Tony Orlando and Dawn – Knock Three Times
November 13th, 1971:
Tony Orlando and Dawn – Knock Three Times
November 14th, 1971:
Tony Orlando and Dawn – Knock Three Times
November 15th, 1971:
Tony Orlando and Dawn – Knock Three Times
November 16th, 1971:
Tony Orlando and Dawn – Knock Three Times
November 17th, 1971:
Tony Orlando and Dawn – Knock Three Times
November 18th, 1971:
Tony Orlando and Dawn – Knock Three Times
November 19th, 1971:
Tony Orlando and Dawn – Knock Three Times
November 20th, 1971:
The Osmonds – One Bad Apple
November 21st, 1971:
The Osmonds – One Bad Apple
November 22nd, 1971:
The Osmonds – One Bad Apple
November 23rd, 1971:
The Osmonds – One Bad Apple
November 24th, 1971:
The Osmonds – One Bad Apple
November 25th, 1971:
The Osmonds – One Bad Apple
November 26th, 1971:
The Osmonds – One Bad Apple
November 27th, 1971:
The Osmonds – One Bad Apple
November 28th, 1971:
The Osmonds – One Bad Apple
November 29th, 1971:
The Osmonds – One Bad Apple
November 30th, 1971:
The Osmonds – One Bad Apple
December 1st, 1971:
The Osmonds – One Bad Apple
December 2nd, 1971:
The Osmonds – One Bad Apple
December 3rd, 1971:
The Osmonds – One Bad Apple
December 4th, 1971:
The Osmonds – One Bad Apple
December 5th, 1971:
The Osmonds – One Bad Apple
December 6th, 1971:
The Osmonds – One Bad Apple
December 7th, 1971:
The Osmonds – One Bad Apple
December 8th, 1971:
The Osmonds – One Bad Apple
December 9th, 1971:
The Osmonds – One Bad Apple
December 10th, 1971:
The Osmonds – One Bad Apple
December 11th, 1971:
The Osmonds – One Bad Apple
December 12th, 1971:
The Osmonds – One Bad Apple
December 13th, 1971:
The Osmonds – One Bad Apple
December 14th, 1971:
The Osmonds – One Bad Apple
December 15th, 1971:
The Osmonds – One Bad Apple
December 16th, 1971:
The Osmonds – One Bad Apple
December 17th, 1971:
The Osmonds – One Bad Apple
December 18th, 1971:
The Osmonds – One Bad Apple
December 19th, 1971:
The Osmonds – One Bad Apple
December 20th, 1971:
The Osmonds – One Bad Apple
December 21st, 1971:
The Osmonds – One Bad Apple
December 22nd, 1971:
The Osmonds – One Bad Apple
December 23rd, 1971:
The Osmonds – One Bad Apple
December 24th, 1971:
The Osmonds – One Bad Apple
December 25th, 1971:
The Osmonds – One Bad Apple
December 26th, 1971:
Janis Joplin – Me and Bobby McGee
December 27th, 1971:
Janis Joplin – Me and Bobby McGee
December 28th, 1971:
Janis Joplin – Me and Bobby McGee
December 29th, 1971:
Janis Joplin – Me and Bobby McGee
December 30th, 1971:
Janis Joplin – Me and Bobby McGee
December 31st, 1971:
Janis Joplin – Me and Bobby McGee