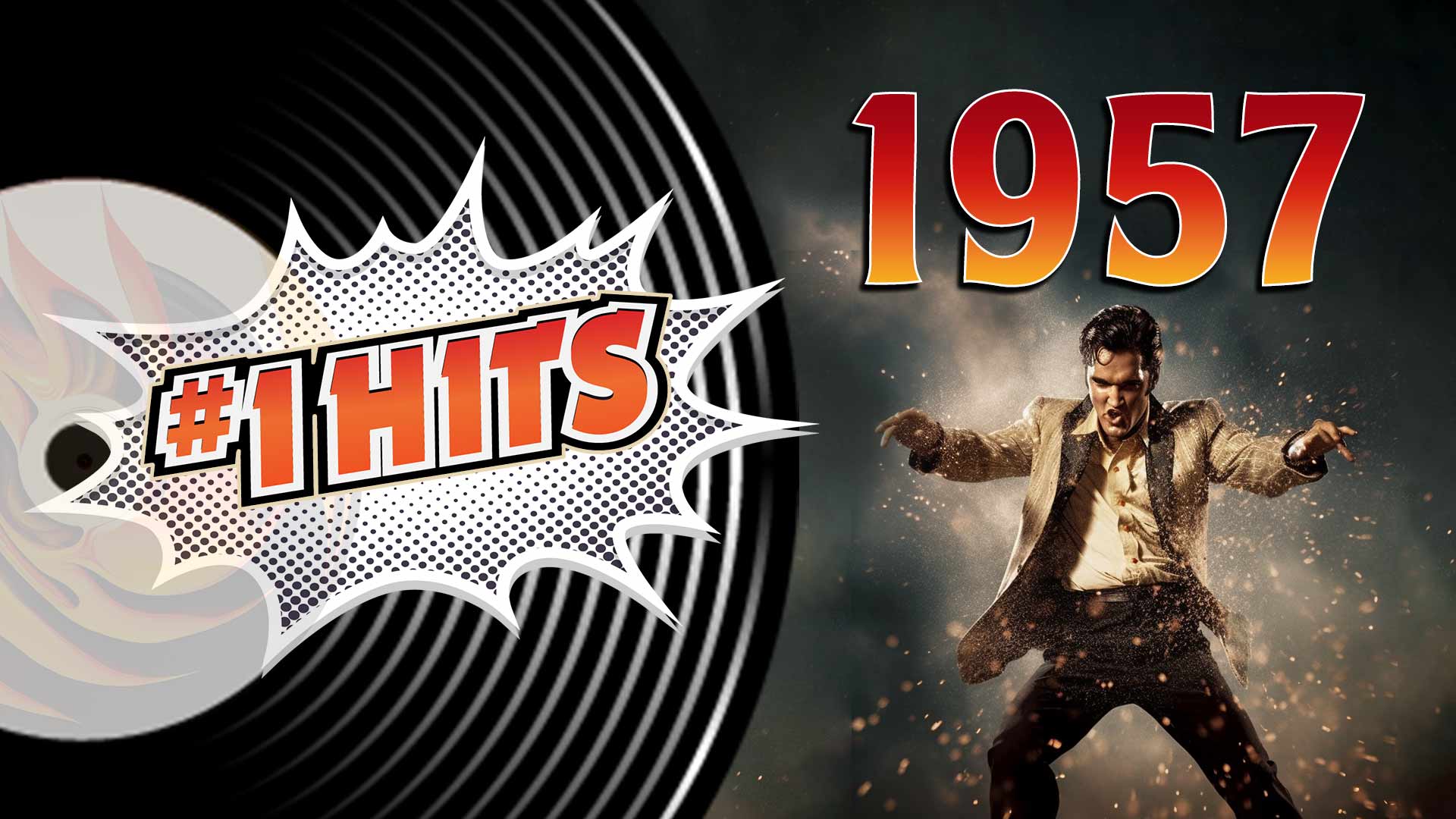 The Number One Hits Of 1957
Dec 8, 1956 – Feb 8, 1957
Guy Mitchell
Singing The Blues
Guy Mitchell was known for his easygoing, upbeat vocal style and ability to adapt to various musical genres.
"Singing The Blues" became a crossover hit, appealing to pop and country music audiences.
Feb 9, 1957 – Mar 1, 1957
Elvis Presley
Too Much
In addition to his music career, Elvis Presley was a successful actor, appearing in 33 films.
"Too Much" was written by Bernard Weinman and Lee Rosenberg and showcased Presley's distinctive vocal style.
Mar 2, 1957 – Mar 29, 1957
Tab Hunter
Young Love
Tab Hunter, born Arthur Andrew Kelm, was an American actor and singer who rose to fame in the 1950s.
"Young Love" was composed by Ric Cartey and Carole Joyner, becoming a major hit for Tab Hunter.
Mar 30, 1957 – Apr 5, 1957
Buddy Knox
Party Doll
Buddy Knox was an American rockabilly musician best known for his hit "Party Doll."
"Party Doll" was written by Buddy Knox and Jimmy Bowen and is considered a classic of the rockabilly genre.
Apr 6, 1957 – Apr 12, 1957
Perry Como
Round And Round
Perry Como was known for his warm, smooth, baritone voice and numerous television appearances.
"Round And Round" was written by Joe Shapiro and Lou Stallman, becoming one of Como's most successful songs.
Apr 13, 1957 – Jun 7, 1957
Elvis Presley
All Shook Up
Elvis Presley was inducted into multiple music halls of fame, including the Rock and Roll, Country, and Gospel Music Halls of Fame.
"All Shook Up" was written by Otis Blackwell and became one of Presley's most enduring hits.
Jun 8, 1957 – Jul 12, 1957
Pat Boone
Love Letters In The Sand
Pat Boone, born Charles Eugene Boone, was a popular American singer, actor, and television personality.
"Love Letters In The Sand" was written by J. Fred Coots, Nick Kenny, and Charles Kenny and became one of Boone's most successful singles.
Jul 13, 1957 – Aug 30, 1957
Elvis Presley
(Let Me Be Your) Teddy Bear
Elvis Presley received the Grammy Lifetime Achievement Award at the age of 36.
"(Let Me Be Your) Teddy Bear" was written by Kal Mann and Bernie Lowe and was featured in Presley's film "Loving You."
Aug 31, 1957 – Sep 13, 1957
Debbie Reynolds
Tammy
Debbie Reynolds was a versatile American actress, singer, and dancer who appeared in numerous films and television shows.
"Tammy" was written by Jay Livingston and Ray Evans, and it became the theme song for the film "Tammy and the Bachelor."
Sep 14, 1957 – Sep 27, 1957
Paul Anka
Diana
Paul Anka is a Canadian-American singer and songwriter who became a teenage sensation in the late 1950s.
"Diana" was written by Paul Anka and became his first major hit, selling millions of copies worldwide.
Sep 28, 1957 – Oct 4, 1957
The Crickets
That'll Be The Day
The Crickets were a rock and roll band formed by Buddy Holly in the 1950s, with members Jerry Allison, Joe B. Mauldin, and Niki Sullivan.
"That'll Be The Day" was written by Buddy Holly and Jerry Allison and became one of the band's biggest hits, later being inducted into the Grammy Hall of Fame.
Oct 5, 1957 – Oct 18, 1957
Jimmie Rodgers
Honeycomb
Jimmie Rodgers was an American singer known for his distinctive, smooth voice and ability to perform various music styles, from country to folk.
"Honeycomb" was written by Bob Merrill and became Jimmie Rodgers' first hit single, reaching the top of the charts.
Oct 19, 1957 – Oct 25, 1957
The Everly Brothers
Wake Up Little Susie
The Everly Brothers, consisting of Don and Phil Everly, were known for their harmony-driven rock and roll sound and influence on numerous artists.
"Wake Up Little Susie" was written by Felice and Boudleaux Bryant, becoming one of the Everly Brothers' most recognizable hits.
Oct 26, 1957 – Dec 6, 1957
Elvis Presley
Jailhouse Rock / Treat Me Nice
Elvis Presley's iconic look and unique stage presence earned him the nickname "The King of Rock and Roll."
"Jailhouse Rock" and "Treat Me Nice" were both featured in Presley's film "Jailhouse Rock" and were written by Jerry Leiber and Mike Stoller.
Dec 7, 1957 – Dec 27, 1957
Sam Cooke
You Send Me
Sam Cooke was an influential American soul and R&B singer and songwriter, often referred to as the "King of Soul."
"You Send Me" was written by Sam Cooke and became his first major hit, helping to establish his career as a soul music pioneer.
Dec 28, 1957 – Jan 10, 1958
Pat Boone
April Love
Pat Boone was also a successful actor, appearing in films like "April Love" and "Journey to the Center of the Earth."
"April Love" was written by Sammy Fain and Paul Francis Webster, and it served as the theme song for the film of the same name, starring Pat Boone.
The Biggest Pop Artists of 1957 include:
Andy Williams, Buddy Holly, Buddy Knox, Chuck Berry, Chuck Willis, Clyde McPhatter, The Coasters, Debbie Reynolds,The Dell-Vikings, The Diamonds, Elvis Presley, The Everly Brothers, Fats Domino, Frank Sinatra, Frankie Lymon & the Teenagers, Harry Belafonte, Jimmy Reed, Jimmy Rodgers, Johnny Mathis, Little Richard, Nat 'King' Cole, Patti Page, Paul Anka, Perry Como, The Platters, Ricky Nelson, Sam Cooke, Steve Lawrence, Tab Hunter, Tommy Sands
(HPS music data is compiled from charts, including Billboard's Pop, Rock, Airplay, R&B/Dance, and Singles Charts. The Hot 100 is the primary chart used for this list.)