1988 One Hit Wonders & Artists Known For One Song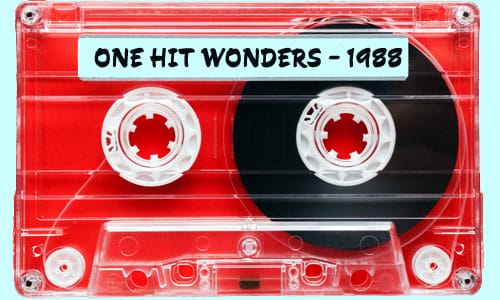 Are You Sure – So
Birthday – The Sugarcubes
Black Leather – Kings of the Sun
Breakaway – Big Pig
Broken Land – The Adventures
Cars With The Boom – L'Trimm
Da' Butt – E.U.
Dancing Under A Latin Moon – Candi
Dear Mr. Jesus – PowerSource
Doctorin' The Tardis – The Timelords
Don't Break My Heart – Romeo's Daughter
Don't WAlk Away – Toni Childs
Don't Worry, Be Happy – Bobby McFerrin
Get It On – Kingdom Come
Got A New Love – Good Question
Handle With care – The Traveling Wilburys
Heart Don't Fail Me Now – Holly Knight
(Holly wrote hits for the likes of Heart, Tina Turner and many more)
Hot Hot Hot – Buster Poindexter
I Heard It Through The Grapevine – California Rasins
I Want To Be Your Property – Blue Mercedes
Jack The Lad – 3 Man Land
Jackie – Blue Zone U.K.
K.I.S.S.I.N.G. – Siedah Garrett
Kiss – Art of Noise featuring Tom Jones
Live It Up – Gardner Cole
Long Way To Love – Britny Fox
Love Changes (Everything) – Climie Fisher
My Girl – Suave
Play That Funky Music – Roxanne
Pretty Boys and Pretty Girls – Book of Love
Pump Up The Volume – M/A/R/R/S
Ritual – Dan Reed Network
Samantha (What You Gonna Do?) – Cellarful of Noise
Savin' Myself – Eria Fachin
She's Like The Wind – Patrick Swayze
Teen Age Riot – Sonic Youth
Tell That Girl To Shut Up – Transvision Vamp
Thanks For My Child – Cheryl Pepsii Riley
The Only Way Is Up – Yazz/Plastic Population
The Promise – When In Rome
Theme From S – Express – S – Express
Tomorrow People – Ziggy Marley
Turn Off The Lights – World Class Wrecking Cru
Under The Milky Way – The Church
What I Am – Edie Brickell & New Bohemians
When Will I Be Famous – Bros
Where Is My Mind? – The Pixies
Yeah, Yeah, Yeah – Judson Spence
You Don't Know – Scarlett & Black . .