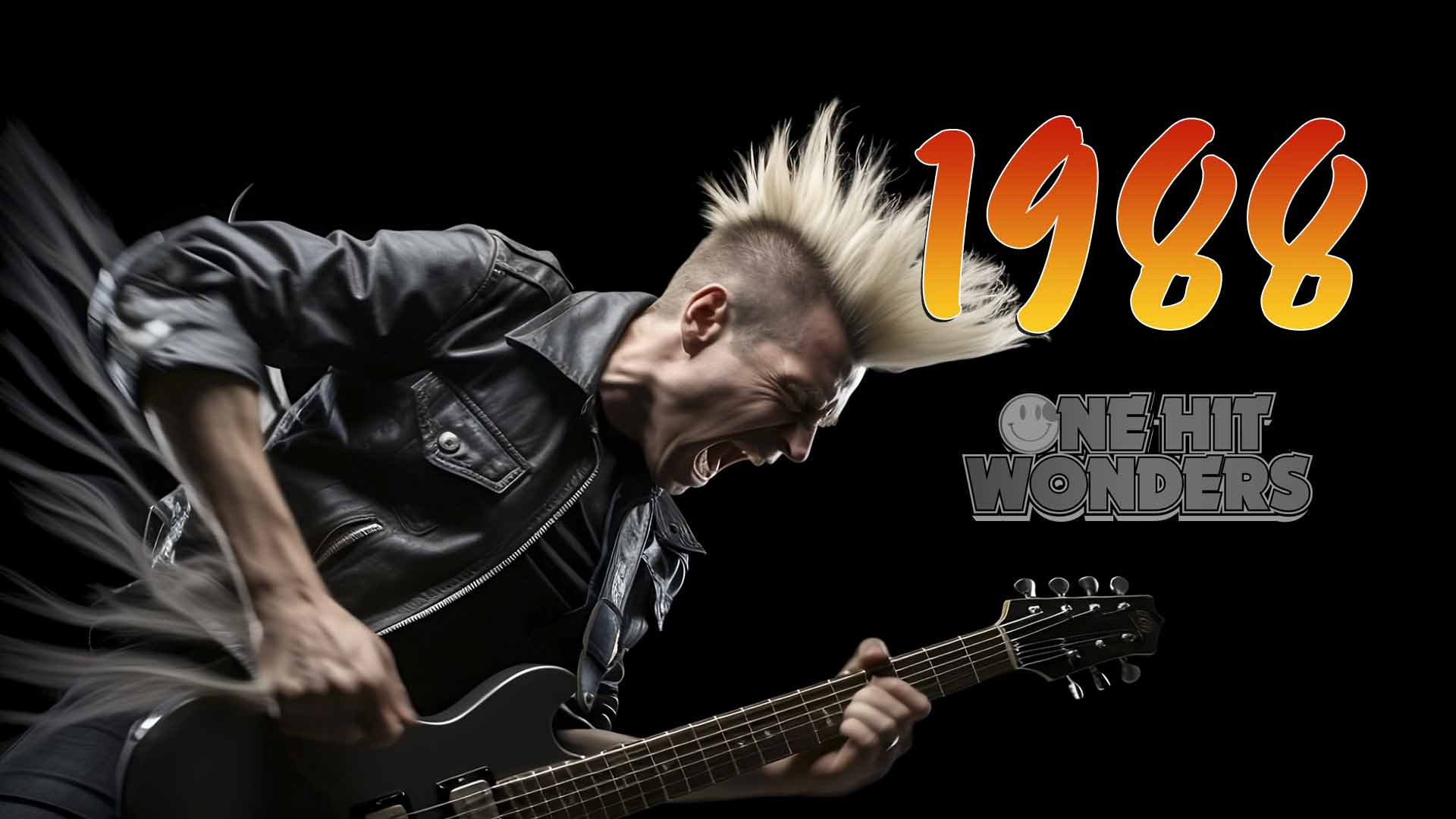 1988 One Hit Wonders & Artists Known For One Song
Are You Sure
So
So was a British duo in the 1980s, featuring Marcus Bell and Mark Long, who were former members of the new wave band The Opposition.
Birthday
The Sugarcubes
The Sugarcubes, an alternative rock band from Iceland, was the first group to bring international fame to singer Björk.
Black Leather
Kings of the Sun
Kings of the Sun is an Australian hard rock band that formed in Sydney, Australia in 1987.
Breakaway
Big Pig
Big Pig was an Australian funk, rock and pop band that existed from 1985 to 1991.
Broken Land
The Adventures
The Adventures was a Northern Irish rock band, formed in Belfast in 1984.
Cars With The Boom
L'Trimm
L'Trimm was a Miami Bass hip-hop duo composed of Lady Tigra and Bunny D, high school friends from Kendall, Florida.
Da' Butt
E.U.
E.U. (Experience Unlimited) is a Washington D.C.-based go-go/funk band that was particularly popular in the 1980s.
Dancing Under A Latin Moon
Candi
Candi was the stage name for Candita Pennella, a Canadian pop singer with a dance-pop hit in the late 1980s.
Dear Mr. Jesus
PowerSource
PowerSource was a Contemporary Christian music group in the 1980s, featuring a pre-teen Sharon Batts.
Doctorin' The Tardis
The Timelords
The Timelords was an alias for The KLF, a British electronic band of the late 80s and early 90s known for their avant-garde pop and ambient house music.
Don't Break My Heart
Romeo's Daughter
Romeo's Daughter is a British AOR, contemporary and mainstream rock band featuring Leigh Matty, Craig Joiner and Anthony Mitman.
Don't Walk Away
Toni Childs
Toni Childs is an American-Australian singer-songwriter, known for her powerful and distinctive voice.
Don't Worry, Be Happy
Bobby McFerrin
Bobby McFerrin is a Grammy-winning jazz vocalist and conductor known for his unique vocal techniques and improvisational skills.
Get It On
Kingdom Come
Kingdom Come is a German-American hard rock band formed in 1987.
Got A New Love
Good Question
Good Question was an American duo consisting of former beauty queen Kathy Merrick and Curtiss Boone.
Handle With Care
The Traveling Wilburys
The Traveling Wilburys was a British–American supergroup consisting of Bob Dylan, George Harrison, Jeff Lynne, Roy Orbison, and Tom Petty.
Heart Don't Fail Me Now
Holly Knight
Holly Knight is an American songwriter, vocalist, and musician who was a part of the band Device in the mid-1980s.
Hot Hot Hot
Buster Poindexter
Buster Poindexter is the alter ego of singer David Johansen, frontman of the band New York Dolls.
I Heard It Through The Grapevine
California Raisins
The California Raisins were a fictional rhythm and blues musical group, composed of anthropomorphized raisins, which had their own animated TV specials.
I Want To Be Your Property
Blue Mercedes
Blue Mercedes was a British pop music duo, composed of David Titlow and Duncan Millar.
Jack The Lad
3 Man Island
3 Man Island was a British music project of the late 1980s.
Jackie
Blue Zone UK
Blue Zone was a British band of the late 1980s, featuring Lisa Stansfield as the lead singer.
K.I.S.S.I.N.G.
Siedah Garrett
Siedah Garrett is an American singer and songwriter, who has written songs and performed backing vocals for many recording artists in the music industry, including Michael Jackson and Quincy Jones.
Kiss
Art of Noise featuring Tom Jones
Art of Noise was an English avant-garde synth-pop group known for their innovative electronic sound. Tom Jones is a Welsh singer known for his powerful voice and wide-ranging career.
Live It Up
Gardner Cole
Gardner Cole is an American songwriter, keyboard player and producer. He has written songs for several high-profile pop artists, most notably Madonna.
Long Way To Love
Britny Fox
Britny Fox is an American glam metal band from the Philadelphia, Pennsylvania area, active from 1985 to 1992 and then reformed from 2000 to 2008.
Love Changes (Everything)
Climie Fisher
Climie Fisher was a British pop duo formed by vocalist Simon Climie and former King keyboard player Rob Fisher.
My Girl
Suave
Suave is an R&B and soul artist who had a hit in the 1980s with his cover of The Temptations' "My Girl".
Play That Funky Music
Roxanne
Roxanne is an American singer from New Jersey, who was the first white female rapper signed to the Select Records label.
Pretty Boys and Pretty Girls
Book of Love
Book of Love is an American synthpop and electronic band, formed in 1983 in Philadelphia, Pennsylvania.
Pump Up The Volume
M/A/R/R/S
M/A/R/R/S was a one-off recording act from 1987, a collaboration between alternative electronic acts A.R. Kane and Colourbox, with additional input from DJs Chris "C.J." Mackintosh and Dave Dorrell.
Ritual
Dan Reed Network
Dan Reed Network is a funk rock band from Portland, Oregon. Dan Reed, the frontman, is also known as a solo artist and actor.
Samantha (What You Gonna Do?)
Cellarful of Noise
Cellarful of Noise was a pop rock project headed by Mark Avsec of Donnie Iris fame.
Savin' Myself
Eria Fachin
Eria Fachin was a Canadian pop and Hi-NRG dance music singer born to Italian-Canadian parents, best known for her North American hit "Savin' Myself".
She's Like The Wind
Patrick Swayze
Patrick Swayze was a well-known American actor, dancer, and singer-songwriter. He is best known for his roles in films like "Dirty Dancing" and "Ghost".
Teen Age Riot
Sonic Youth
Sonic Youth was an influential experimental rock band from New York City, noted for its explorations of noise, dissonance, and extended guitar tunings.
Tell That Girl To Shut Up
Transvision Vamp
Transvision Vamp was a British alternative rock group, led by vocalist Wendy James.
Thanks For My Child
Cheryl Pepsii Riley
Cheryl Pepsii Riley is an American R&B singer best known for her 1988 ballad, "Thanks For My Child".
The Only Way Is Up
Yazz/Plastic Population
Yazz is a British pop singer who had several hits in the late 1980s. The Plastic Population was a British music production team.
The Promise
When In Rome
When In Rome was an English synth-pop group that emerged in the late 1980s.
Theme From S – Express
S – Express
S-Express was a British dance music act from the late 1980s, formed by the DJ and producer Mark Moore.
Tomorrow People
Ziggy Marley
Ziggy Marley is a Jamaican musician and the oldest son of reggae legend Bob Marley.
Turn Off The Lights
World Class Wrecking Cru
World Class Wrecking Cru was an electro group from Compton, California, best known for its former member Dr. Dre.
Under The Milky Way
The Church
The Church is an Australian psychedelic rock band formed in Sydney in 1980.
What I Am
Edie Brickell & New Bohemians
Edie Brickell is an American singer-songwriter widely known for 1988's Shooting Rubberbands at the Stars, the debut album by Edie Brickell & New Bohemians.
When Will I Be Famous
Bros
Bros was a British band active in the late 1980s and early 1990s, consisting of twin brothers Matt, Luke Goss, and Craig Logan.
Where Is My Mind?
The Pixies
The Pixies are an American alternative rock band formed in 1986 in Boston, Massachusetts. They were one of the most influential bands of the late 20th century.
Yeah, Yeah, Yeah
Judson Spence
Judson Spence is an American singer-songwriter from the late 1980s. He's also known for writing songs for other artists like Amy Grant.
You Don't Know
Scarlett & Black
Scarlett & Black was a British pop duo in the 1