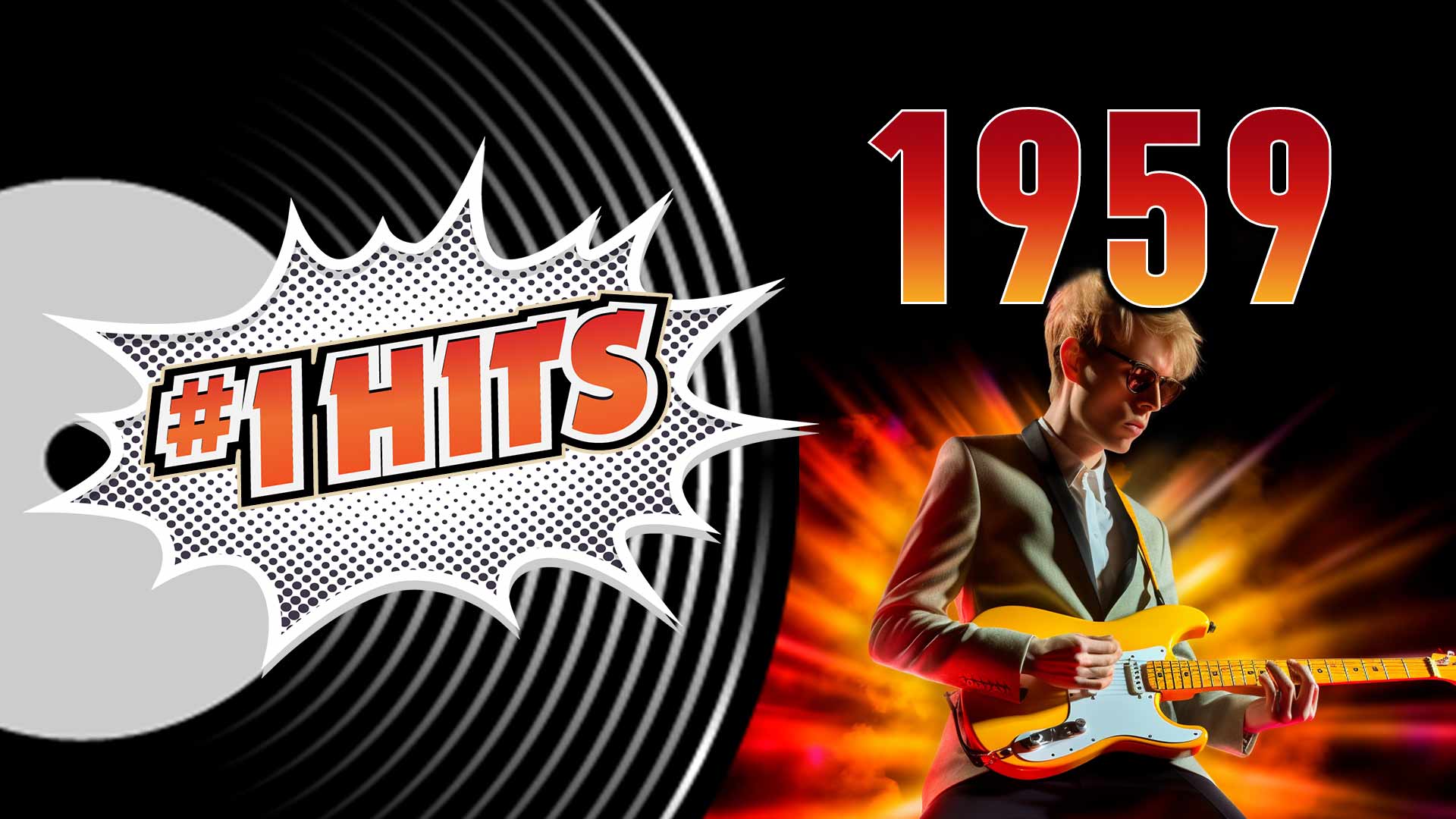 The Number One Hits Of 1959
Dec 22, 1958 – Jan 18, 1959
The Chipmunks with David Seville
The Chipmunk Song
Ross Bagdasarian Sr., the creator of The Chipmunks, was an American actor, singer, and songwriter who used the pseudonym, David Seville.
"The Chipmunk Song" became the fastest-selling record in history at its release, selling over 4 million copies in seven weeks.
Jan 19, 1959 – Feb 8, 1959
The Platters
Smoke Gets in Your Eyes
The Platters were inducted into the Rock and Roll Hall of Fame in 1990 for their significant contributions to the music industry.
"Smoke Gets in Your Eyes" is a song by Jerome Kern and Otto Harbach for the 1933 musical Roberta.
Feb 9, 1959 – Mar 8, 1959
Lloyd Price
Stagger Lee
Lloyd Price was nicknamed "Mr. Personality" after his 1959 hit "Personality" and was inducted into the Rock and Roll Hall of Fame in 1998.
"Stagger Lee" is a popular folk song based on the murder of Billy Lyons by Lee Shelton in 1895.
Mar 9, 1959 – Apr 12, 1959
Frankie Avalon
Venus
Frankie Avalon was a teen idol in the late 1950s and early 1960s, transitioning to acting in beach party films during the 1960s.
"Venus" was written by Ed Marshall and became Avalon's first number-one hit.
Apr 13, 1959 – May 10, 1959
The Fleetwoods
Come Softly to Me
The Fleetwoods were formed by Gretchen Christopher, Barbara Ellis, and Gary Troxel in Olympia, Washington, in 1958.
"Come Softly to Me" was originally titled "Come Softly" and was written by the group members.
May 11, 1959 – May 17, 1959
Dave "Baby" Cortez
The Happy Organ
Dave "Baby" Cortez, born David Cortez Clowney, is an American pop and R&B organist and pianist known for his instrumental hits.
"The Happy Organ" was the first instrumental song to reach number one on the Billboard Hot 100 chart.
May 18, 1959 – May 31, 1959
Wilbert Harrison
Kansas City
Wilbert Harrison was an American singer, pianist, and guitarist known for his distinctive vocal style and piano playing.
"Kansas City" was written by Jerry Leiber and Mike Stoller in 1952, becoming a hit for Harrison in 1959.
Jun 1, 1959 – Jul 12, 1959
Johnny Horton
The Battle of New Orleans
Johnny Horton was an American country and rockabilly singer known for his historical ballads and honky-tonk tunes.
"The Battle of New Orleans" was written by Jimmy Driftwood and is based on the 1815 battle during the War of 1812.
Jul 13, 1959 – Aug 9, 1959
Paul Anka
Lonely Boy
Paul Anka is a Canadian-American singer, songwriter, and actor who became a teen idol in the late 1950s.
"Lonely Boy" was written by Paul Anka and was featured in the 1959 film Girls Town.
Aug 10, 1959 – Aug 23, 1959
Elvis Presley
A Big Hunk o' Love
Elvis Presley was nicknamed "The King of Rock and Roll" and was one of the best-selling solo artists in the history of recorded music.
"A Big Hunk o' Love" was written by Aaron Schroeder and Sid Wyche and was recorded by Presley during a two-day leave from the Army.
Aug 24, 1959 – Sep 20, 1959
The Browns
The Three Bells
The Browns were an American country and folk music vocal trio consisting of siblings Jim Ed, Maxine, and Bonnie Brown.
"The Three Bells" is an English version of the French song "Les Trois Cloches" and was a hit for The Browns in 1959.
Sep 21, 1959 – Oct 4, 1959
Santo & Johnny
Sleep Walk
Santo & Johnny was an American rock and roll instrumental duo, consisting of brothers Santo and Johnny Farina.
"Sleep Walk" is an instrumental song characterized by its steel guitar and was composed by the Farina brothers.
Oct 5, 1959 – Nov 15, 1959
Bobby Darin
Mack the Knife
Bobby Darin was an American singer, songwriter, and actor who gained fame in the late 1950s with his pop and big band sound.
"Mack the Knife" is a song from the 1928 German play The Threepenny Opera, with music by Kurt Weill and lyrics by Bertolt Brecht.
Nov 16, 1959 – Dec 13, 1959
The Fleetwoods
Mr. Blue
The Fleetwoods are known for their unique vocal harmonies and were the first group to have two number-one hits on the Billboard Hot 100 in a single year in the "rock era."
"Mr. Blue" was written by DeWayne Blackwell and became The Fleetwoods' second number-one hit in 1959.
Dec 14, 1959 – Dec 27, 1959
Guy Mitchell
Heartaches by the Number
Guy Mitchell was an American pop singer and actor known for his smooth, relaxed vocal style and numerous chart-topping hits.
"Heartaches by the Number" was written by Harlan Howard and became one of Mitchell's most successful songs.
Dec 28, 1959 – Jan 3, 1960
Frankie Avalon
Why
Frankie Avalon is also known for appearing in beach party films, such as Beach Party (1963) and Bikini Beach (1964).
"Why" was written by Peter De Angelis and Robert Marcucci and was Avalon's last number-one hit on the Billboard Hot 100.
The Biggest Pop Artists of 1959 include:
Bobby Darin, Brook Benton, Connie Francis, Dee Clark, The Coasters, The Crests, The Drifters, Duane Eddy, Elvis Presley, Fabian, Fats Domino, The Fleetwoods, Frankie Avalon, Jackie Wilson, Johnny Cash, Johnny Horton, Johnny Mathis, Pat Boone, Paul Anka, The Platters, Lloyd Price, Paul Anka, Ricky Nelson, Ritchie Valens, The Skyliners, Tommy Edwards
(HPS music data is compiled from charts, including Billboard's Pop, Rock, Airplay, R&B/Dance, and Singles Charts. The Hot 100 is the primary chart used for this list.)