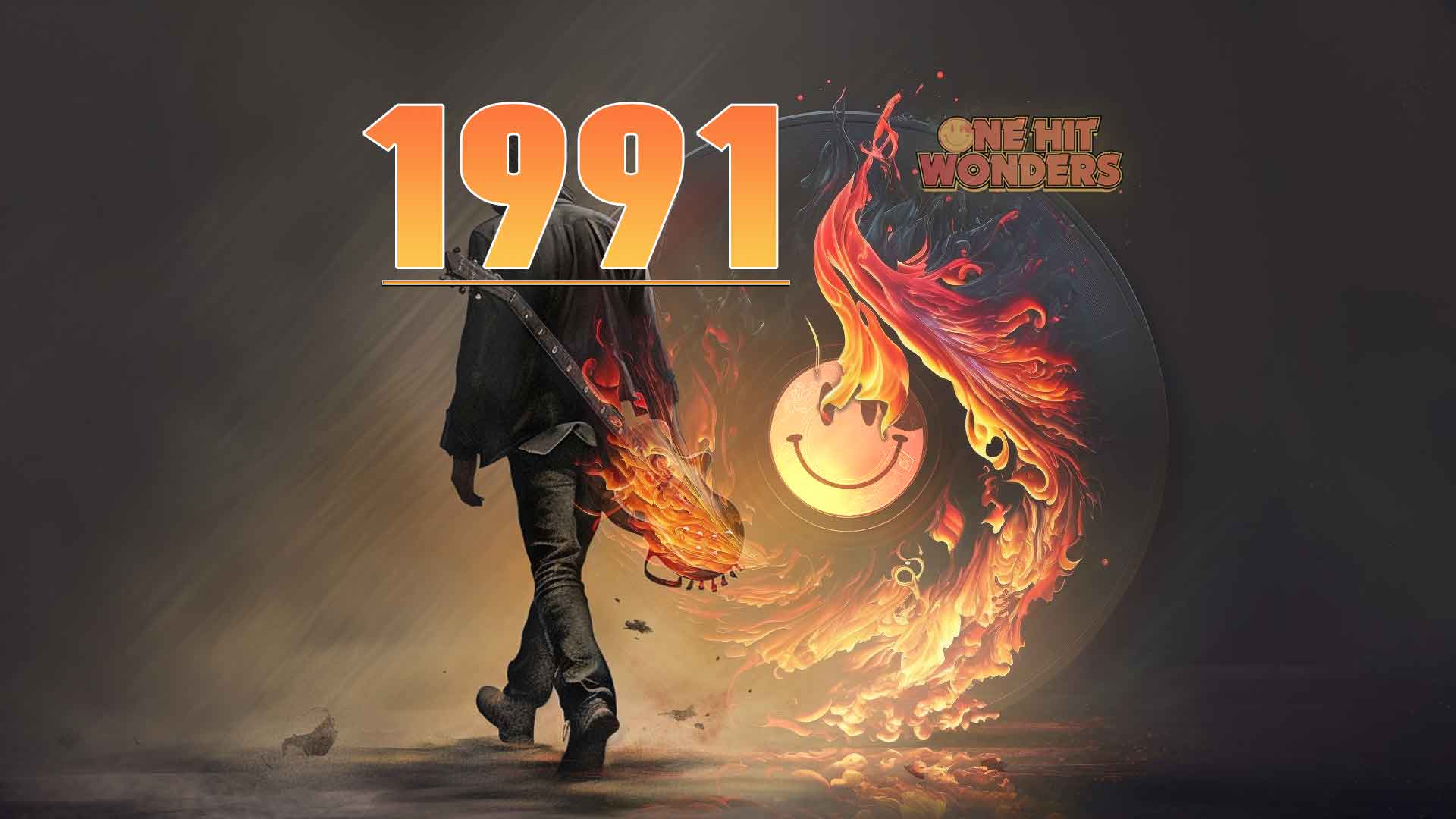 1991 One Hit Wonders & Artists Known For One Song

Ain't Gonna Hurt Nobody
Kid'n Play
Kid 'n Play is an American hip-hop duo from New York City that was popular in the late 1980s and early 1990s.
All About You
Pretty In Pink
Pretty in Pink was a short-lived female Pop trio from Canada in the early 1990s.
All I Need Is You
Blue Train
Blue Train was a British pop group, active during the late 1980s and early 1990s.
Baby's Coming Back
Jellyfish
Jellyfish was an American rock band formed in San Francisco in 1989.
Ballad of Youth
Richie Sambora
Richie Sambora is an American rock guitarist, singer, songwriter and producer, best known as the lead guitarist of the rock band Bon Jovi for 30 years.
Crazy
Daisy Dee
Daisy Dee is a Dutch singer, actress and TV presenter, especially well-known in the German-speaking world.
Deeper Shade of Soul
Urban Dance Squad
Urban Dance Squad was a Dutch rap rock band formed after what was originally intended as a one-time jam-session at a festival in Utrecht in 1986.
Dirty Love
Thunder
Thunder is an English rock band from London, formed in 1989.
Do The Bartman
The Simpsons
The Simpsons is an American animated sitcom created by Matt Groening. Nancy Cartwright, the voice of Bart Simpson, is an American actress and voice actress.
Does Anybody Really Fall In Love Anymore
Kane Roberts
Kane Roberts is an American heavy metal guitarist known for his work with Alice Cooper in the late 1980s.
Dream Lover
The Rebel Pebbles
The Rebel Pebbles was an American all-female pop band from California, known for incorporating different musical styles.
Everyotherday
Or-N-More
Or-N-More was an American dance-pop band led by singer and songwriter Orfeh (real name Orfeh Alimorad), active in the early 1990s.
Feel The Groove
Cartouche
Cartouche was a Belgian Eurodance group whose biggest dance hit from 1991 was "Feel the Groove".
Forever Amo'r
D'zyre
D'zyre was an American Latin freestyle duo from the early 1990s.
Get Here
Oleta Adams
Oleta Adams is an American singer and pianist, she has released several successful albums since her breakthrough in 1990.
Get Serious
Cut 'N' Move
Cut 'N' Move was a dance-pop group from Denmark, active from 1989 to 1995.
Give Peace A Chance
Peace Choir
The Peace Choir was a collective of numerous musical artists who came together to record a cover of John Lennon's "Give Peace a Chance" in response to the Gulf War.
Go For It! (Heart and Fire)
Joey B Ellis & Tynetta Hare
Joey B. Ellis is an American hip hop artist who became known for his soundtrack contributions to the 1990 film "Rocky V". Tynetta Hare is an American singer who primarily works as a background vocalist.
Good Vibrations
Marky Mark & the Funky Bunch
Marky Mark and the Funky Bunch was a hip-hop group led by Mark Wahlberg. The group's best-known member, Mark Wahlberg, went on to a successful acting career.
Going Through The Motions
Aftershock
Aftershock was an American dance band active in the early 1990s.
Groovy Train
The Farm
The Farm is a British band known for fusing rock, psychedelia, and electronic dance music.
Higher Than Hope
Daryl Braithwaite
Daryl Braithwaite is an Australian singer, known for his successful solo career post his stint with Sherbet, one of Australia's most successful rock bands of the 1970s.
How To Dance
Bingoboys
Bingoboys are an Austrian dance music trio from Vienna who had a hit with "How to Dance" in 1991.
I Don't Want To Lose Your Love
B Angie B
B Angie B is an American R&B/soul singer and songwriter, who was the first female artist to be signed to the Hammer's Bust It Records Label.
I Wonder Why
Curtis Stigers
Curtis Stigers is an American jazz vocalist, saxophonist, guitarist, and songwriter, who achieved a number of hits in the early 1990s.
If I Say Yes
Kingofthehill
Kingofthehill was a rock band from St. Louis, Missouri, with a sound described as a cross between hard rock and AOR.
I'm Not Your Puppet
Hi-C
Hi-C is an American rapper from Compton, California. He is known for his collaborations with DJ Quik.
I'm Too Sexy
Right Said Fred
Right Said Fred is an English band based in London and formed by brothers Fred and Richard Fairbrass in 1989.
I've Been Thinking About You
Londonbeat
Londonbeat is a British-American dance band who scored a number of pop and dance hits in the early 1990s.
I've Been Waiting For You
Guys Next Door
Guys Next Door was an American television series that aired on Saturday mornings on NBC from 1990 to 1991. The cast were part of a band of the same name.
Keep Warm
Jinny
Jinny is a British Eurodance group, active during the 1990s.
Kisses In The Night
Brandon
Brandon is a Mexican singer who started his solo career in the late 1980s after leaving the group Menudo.
Lily Was Here
David A. Stewart & Candy Dulfer
David A. Stewart is an English musician, songwriter and record producer, best known for Eurythmics. Candy Dulfer is a Dutch-British jazz and pop saxophonist.
Love Desire
Sandee
Sandee was an American freestyle and dance-pop singer, a staple in the Miami dance music scene of the late 80s and early 90s.
Love Gets Rough
Troy Newman
Troy Newman was an Australian singer-songwriter and musician who had a Top 30 hit single in Australia with "Love Gets Rough".
Love Me Forever Or Love Me Not
Trilogy
Trilogy was an American freestyle-pop group that was active in the late 1980s and early 1990s.
Lowrider (On the Boulvard)
Latin Alliance Featuring War
Latin Alliance was an American hip-hop super-group composed of Kid Frost, A.L.T., and Mellow Man Ace. War is an American funk band from California, known for hits like "Low Rider" and "Why Can't We Be Friends".
Mind Playin Tricks On Me
Geto Boys
Geto Boys were an American hip-hop group from Texas, deeply associated with the gangsta rap style.
Monster
Fred Schneider
Fred Schneider is an American vocalist, best known as the frontman of the rock band The B-52's, of which he is a founding member.
My Body Says Yes
Titiyo
Titiyo is a Swedish pop singer and songwriter, who is the half-sister of Neneh Cherry, an internationally successful singer-songwriter.
My Fallen Angel
Coro
Coro is an American singer active in the late 1980s and 1990s. He is of Cuban and Dominican descent.
My Heart Belongs To You
Russ Irwin
Russ Irwin is an American singer-songwriter, who is also known for his work as a session musician.
One More Try
Timmy-T
Timmy T is an American freestyle and hip-hop artist, best known for his 1991 Billboard Hot 100 number one single "One More Try".
People Are Still Having Sex
LaTour
LaTour was a house music project by house music artist William LaTour, active during the late 1980s and early 1990s.
Place In This World
Michael W. Smith
Michael W. Smith is a prominent Christian Music singer and songwriter, and a key figure in "Contemporary Christian Music" since the 1980s.
Pop Goes The Weasel
3rd Bass
3rd Bass was an American hip-hop group that achieved success in the late 1980s and early 1990s.
Power Windows
Billy Falcon
Billy Falcon is an American musician, composer and music producer. He released rock albums throughout the late 1970s and 1980s and wrote songs for others like Stevie Nicks and Bon Jovi.
Shake It (Like A White Girl)
Jesse Jaymes
Jesse Jaymes was a rapper and songwriter from the late 1980s and early 1990s.
Silent Lucidity
Queensryche
Queensryche is an American heavy metal band, formed in 1980 in Bellevue, Washington. They are one of the most successful and influential bands in the progressive metal genre.
Skat Strut
MC Skat Kat & The Stray Mob
MC Skat Kat was an animated cat character who appeared with Paula Abdul in the music video for her "Opposites Attract" song in 1989. The Stray Mob was the name of the fictional rap group he fronted.
'Step On' Remix '91
Happy Mondays
Happy Mondays are an English rock band formed in Salford in 1980. They were key figures in the "Madchester" movement.
Still Got The Blues
Gary Moore
Gary Moore was a Northern Irish rock guitarist and singer-songwriter. He is often described as a virtuoso guitarist.
Temple of Love
Harriet
Harriet was a British pop singer active in the early 1990s.
The Devil Came Up To Michigan
K.M.C. Kru
K.M.C. Kru was an American hip hop duo from Detroit, Michigan, active during the early 1990s.
The One and Only
Chesney Hawkes
Chesney Hawkes is an English pop singer, songwriter, and actor. He is best known for his 1991 single "The One and Only".
Then Came You
T.P.E.
T.P.E. was a dance-pop group that had a hit in the early 1990s with "Then Came You".
There She Goes
The La's
The La's are an English rock band from Liverpool, active from 1983 until 1992 and ronted by singer-songwriter Lee Mavers.
Thinking Of You
Grandmaster Slice
Grandmaster Slice is an American hip-hop DJ/rapper best known for his 1989 hit "Electric Slide".
This Beat Is Hot
B.G. The Prince of Rap
B.G. The Prince of Rap is a rapper and dance music artist, born in Washington D.C., but based in Germany.
This House
Tracie Spencer
Tracie Spencer is an American singer and actress who released her self-titled album, which included the hit single "This House", at the age of 12.
This Is Ponderous
2nu
2nu is a spoken word band, best known for their single "This Is Ponderous", which reached No. 46 on the Billboard Hot 100 in 1991.
Treat 'Em Right
Chubb Rock
Chubb Rock is a New York-based rapper who released several commercially successful hip hop albums in the early 1990s.
Try A Little Tenderness
The Commitments
The Commitments is a fictional band from the novel of the same name by Irish writer Roddy Doyle, later turned into a successful film.
Turn It Up
Oaktown's 3.5.7
Oaktown's 3.5.7 was an American hip hop group formed in 1989, managed by MC Hammer.
Unbelievable
EMF
EMF is a British alternative rock band that formed in Cinderford, Gloucestershire, in 1989. They are best known for their 1990 hit single "Unbelievable".
Use It Up And Wear It Out
Pat & Mick
Pat & Mick were a British vocal duo, consisting of popular radio personalities Pat Sharp and Mick Brown, who released a successful cover of Odyssey's "Use It Up And Wear It Out".
Voices That Care
Voices That Care
Voices That Care was a charity single released in 1991 in response to the Persian Gulf War. The supergroup featured a wide range of actors and musicians.
Wanna Dance
Yasmin
Yasmin is a British singer-songwriter. Yasmin Zarine Shahmir, known professionally as Yasmin, is a British singer-songwriter and DJ.
Weekend
DJ Dick
DJ Dick is the pseudonym of German techno DJ and producer Sven Väth, one of the most important figures in the German electronic music scene.
Why Can't You Come Home
Ex-Girlfriend
Ex-Girlfriend was an all-female New Jack Swing group formed by new jack swing group Full Force.
Within My Heart
Voyce
Voyce is a freestyle music artist best known for her late 1980s and early 1990s songs.
Written All Over Your Face
Rude Boys
Rude Boys are an American R&B group, formed in Cleveland, Ohio in 1986.
You Don't Have To Go Home Tonight
The Triplets
The Triplets are a Latin pop trio from Mexico, consisting of the triplets Diana, Sylvia, and Vicky Villegas.