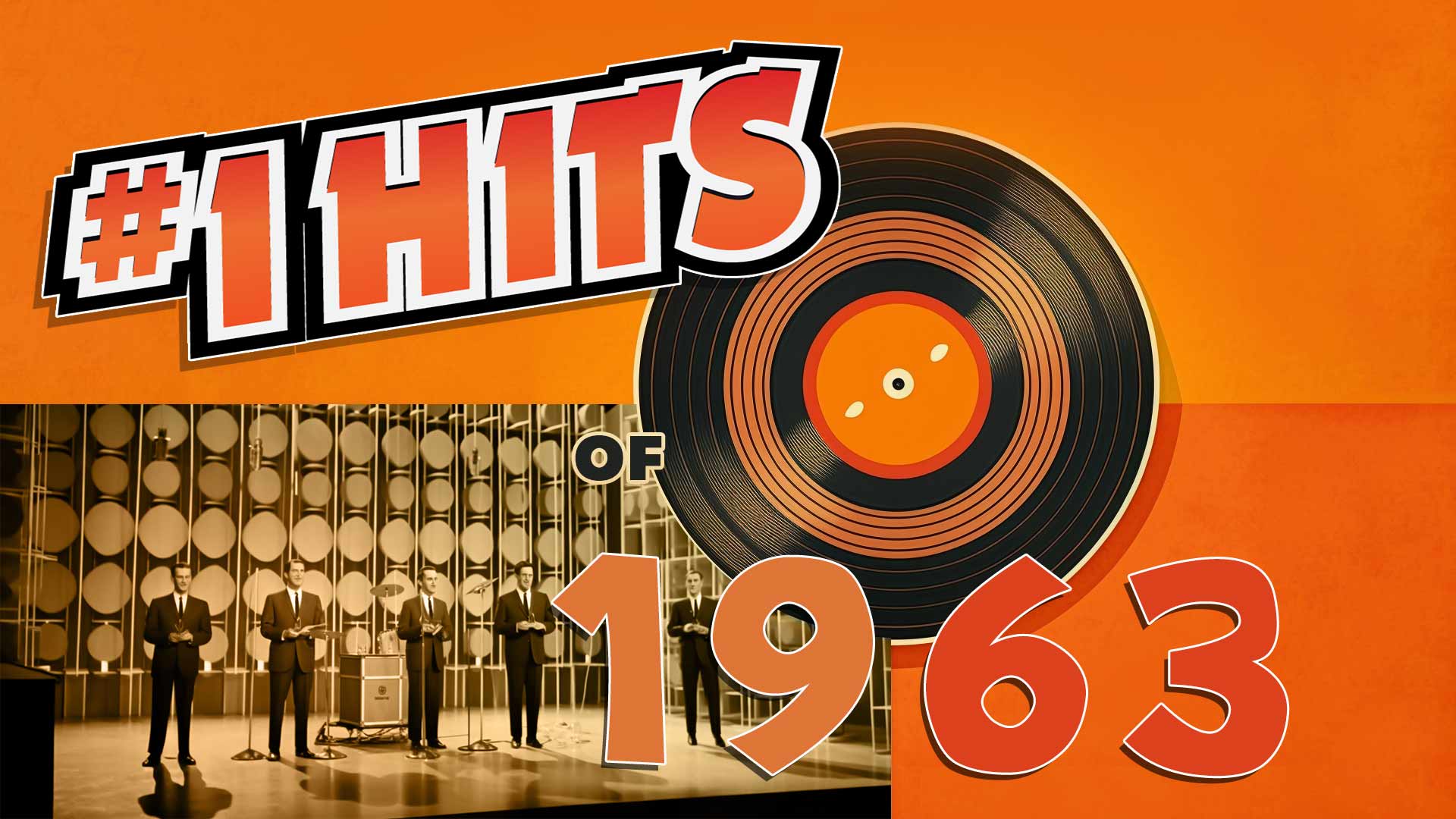 The Number One Hits Of 1963
December 22, 1962 – January 11, 1963
The Tornados
Telstar
The Tornados' lineup included Clem Cattini, George Bellamy, Roger LaVern, Heinz Burt, and Alan Caddy.
"Telstar" was inspired by the launch of the Telstar communications satellite and was a pioneer of space-age pop.
January 12, 1963 – January 25, 1963
Steve Lawrence
Go Away, Little Girl
Steve Lawrence, born Sidney Liebowitz, is an American singer and actor known for his music, film, and television work.
"Go Away Little Girl" was the first song to reach No. 1 by two different artists in the "rock era," first by Steve Lawrence and later by Donny Osmond.
January 26, 1963 – February 8, 1963
The Rooftop Singers
Walk Right In
The Rooftop Singers was an American folk group consisting of Erik Darling, Bill Svanoe, and Lynne Taylor.
"Walk Right In" is a 12-string guitar-driven folk tune adapted from a song by Gus Cannon.
February 9, 1963 – March 1, 1963
Paul & Paula
Hey Paula
Paul & Paula were an American pop duo consisting of Ray Hildebrand (Paul) and Jill Jackson (Paula).
"Hey, Paula" was inspired by a spontaneous duet between Hildebrand and Jackson while attending college.
March 2, 1963 – March 22, 1963
The Four Seasons
Walk Like A Man
The Four Seasons were inducted into the Rock and Roll Hall of Fame in 1990.
"Walk Like A Man" was inspired by the group's experiences growing up in a tough neighborhood.
March 23, 1963 – March 29, 1963
Ruby & the Romantics
Our Day Will Come
Ruby & the Romantics was an American R&B group from Akron, Ohio, featuring lead vocalist Ruby Nash.
"Our Day Will Come" is a classic love song covered by numerous artists, including Amy Winehouse.
March 30, 1963 – April 26, 1963
The Chiffons
He's So Fine
The Chiffons were an American girl group known for their bright harmonies and upbeat sound.
"He's So Fine" later became the center of a copyright infringement lawsuit involving George Harrison's "My Sweet Lord."
April 27, 1963 – May 17, 1963
Little Peggy March
I Will Follow Him
Little Peggy March, born Margaret Annemarie Battavio, was only 15 when she recorded "I Will Follow Him."
"I Will Follow Him" is an English adaptation of a French song, "Chariot," by Franck Pourcel and Paul Mauriat.
May 18, 1963 – May 31, 1963
Jimmy Soul
If You Wanna Be Happy
Jimmy Soul, born James Louis McCleese, was an American singer known for his energetic and upbeat music.
"If You Wanna Be Happy" is based on the Calypso song "Ugly Woman" by Roaring Lion.
June 1, 1963 – June 14, 1963
Lesley Gore
It's My Party
Lesley Gore, born Lesley Sue Goldstein, was discovered by Quincy Jones at age 16.
"It's My Party" was produced by Quincy Jones and became a defining song of the early 1960s teenage pop scene.
June 15, 1963 – July 5, 1963
Kyu Sakamoto
Sukiyaki
Kyu Sakamoto was a Japanese singer and actor known for his (only) international hit "Sukiyaki."
"Sukiyaki" is a melancholic song with lyrics about lost love and the hope for a brighter future.
July 6, 1963 – July 19, 1963
The Essex
Easier Said Than Done
The Essex was an American R&B vocal group formed by active-duty U.S. Marines stationed in Japan.
"Easier Said Than Done" was the group's most successful single, featuring a catchy, upbeat sound.
July 20, 1963 – August 2, 1963
Jan and Dean
Surf City
Jan and Dean were an American rock duo consisting of William Jan Berry and Dean Ormsby Torrence.
"Surf City" was co-written by Brian Wilson of The Beach Boys and exemplified the California surf music style.
August 3, 1963 – August 9, 1963
The Tymes
So Much in Love
The Tymes were an American soul and R&B group from Philadelphia, Pennsylvania.
"So Much in Love" features the group's smooth harmonies and has become a classic doo-wop ballad.
August 10, 1963 – August 30, 1963
Little Stevie Wonder
Fingertips (pt. II)
Little Stevie Wonder, born Stevland Hardaway Morris, was signed by Motown's Tamla label at age 11.
"Fingertips (pt. II)" was a live recording from a Motortown Revue performance, showcasing Stevie's talent on the harmonica.
August 31, 1963 – September 20, 1963
The Angels
My Boyfriend's Back
The Angels were an American girl group originally known as The Starlets.
"My Boyfriend's Back" was written by Bob Feldman, Jerry Goldstein, and Richard Gottehrer and is a classic girl group song of the 1960s.
September 21, 1963 – October 11, 1963
Bobby Vinton
Blue Velvet
Bobby Vinton, born Stanley Robert Vintula Jr., is also known as "The Polish Prince" due to his Polish heritage.
"Blue Velvet" was originally written in 1950 by Bernie Wayne and Lee Morris and later popularized by Vinton in 1963.
October 12, 1963 – November 15, 1963
Jimmy Gilmer and the Fireballs
Sugar Shack
Jimmy Gilmer and the Fireballs were an American rock and roll group from Raton, New Mexico.
"Sugar Shack" was written by Keith McCormack and Faye Voss and became a hit with its infectious melody and danceable rhythm.
November 16, 1963 – November 22, 1963
Nino Tempo and April Stevens
Deep Purple
Nino Tempo and April Stevens are a brother-sister duo, born Antonio LoTempio and Carol Vincinette LoTempio.
"Deep Purple" was a popular song from the 1930s, originally written by Peter DeRose and Mitchell Parish and revived by the duo in 1963.
November 23, 1963 – December 6, 1963
Dale & Grace
I'm Leaving It Up to You
Dale & Grace was an American pop duo of Dale Houston and Grace Broussard.
"I'm Leaving It Up to You" was originally written and recorded by Don Harris and Dewey Terry in 1957 and gained popularity with Dale & Grace's cover version.
December 7, 1963 – January 3, 1964
The Singing Nun
Dominique
The Singing Nun, born Jeanine Deckers, was a Belgian nun known for her folk-inspired music.
"Dominique" was a tribute to Saint Dominic, the founder of the Dominican Order, and featured the Singing Nun's simple guitar accompaniment and clear vocals.
The Biggest Pop Artists of 1963 include:
The Angels, The Beach Boys, Bobby Bland, Bobby Vee, Bobby Vinton, Brenda Lee, Brook Benton, Ray Charles, The Chiffons, Chubby Checker, Connie Francis, The Crystals, Dion, The Dovells, Elvis Presley, The 4 Seasons, Garnet Mimms & the Enchanters, Inez Foxx, Jackie Wilson, Leslie Gore, Little Peggy March, Major Lance, Martha and the Vandellas, The Marvelettes, Marvin Gaye, Mary Wells, Paul & Paula, Peter, Paul & Mary, Ray Charles, Ricky Nelson, The Ronettes, Roy Orbison, Rufus Thomas, Sam Cooke, Steve Lawrence, Stevie Wonder, The Tymes
(HPS music data is compiled from charts, including Billboard's Pop, Rock, Airplay, R&B/Dance, and Singles Charts. The Hot 100 is the primary chart used for this list.)