Born in 1975? Find Your Conception Song!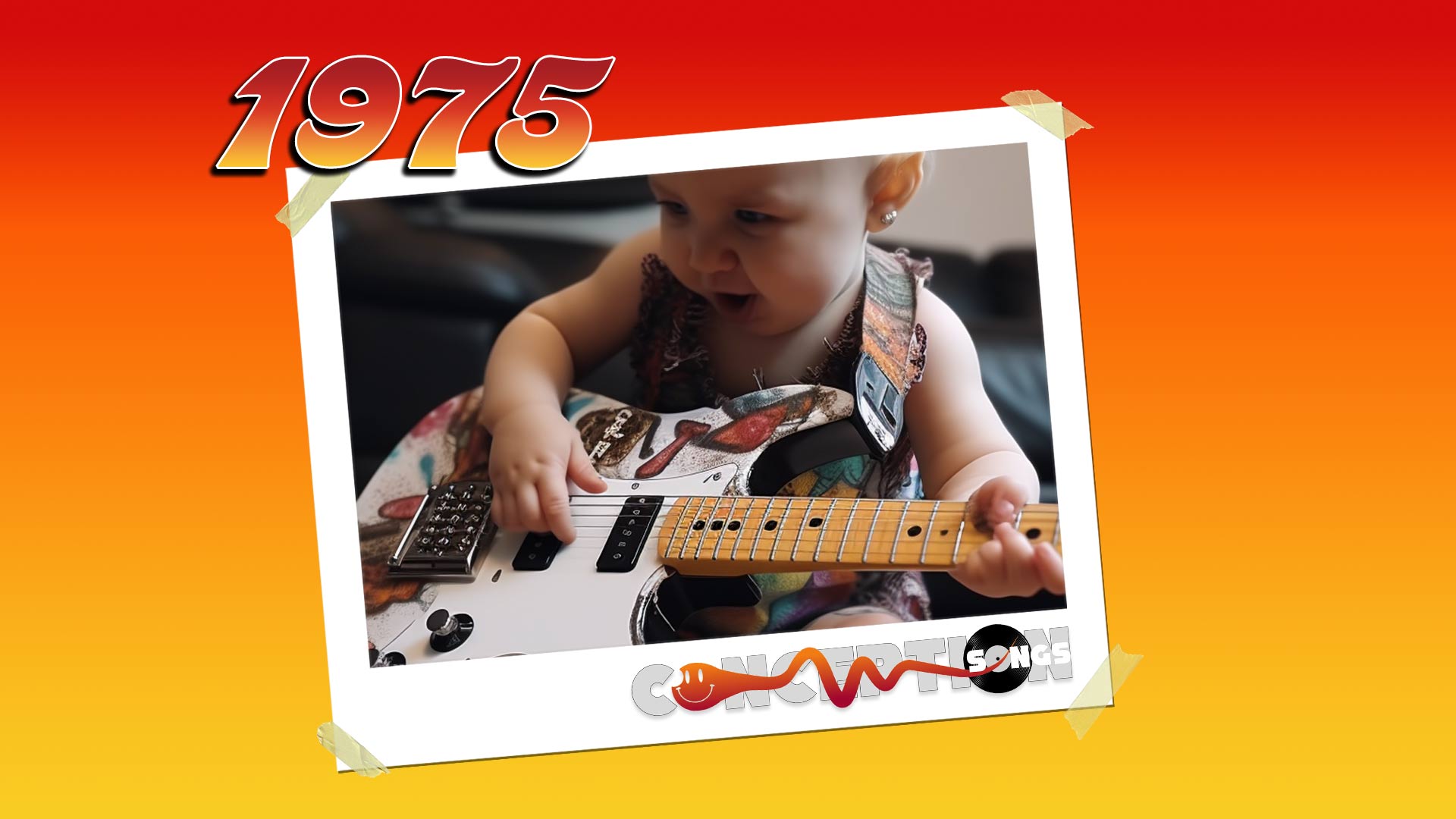 Born this year?
Like Paula Anka said… Having My Baby?
Check the date to find the # 1 song when you were conceived, nine months ago!
The average length of human gestation (Your 'Conception Era') is 280 days, or 40 weeks, from the first day of the woman's last menstrual period. The medical term for the due date is estimated date of confinement (EDC).
If you were born late, or a bit premature, add or subtract those days.
This Year's Euphemisms: Making a bigger boat and Mingling limbs

Your Birthday:
January 1st, 1975:
Cher – Dark Lady
January 2nd, 1975:
Cher – Dark Lady
January 3rd, 1975:
Cher – Dark Lady
January 4th, 1975:
John Denver – Sunshine on My Shoulders
January 5th, 1975:
John Denver – Sunshine on My Shoulders
January 6th, 1975:
John Denver – Sunshine on My Shoulders
January 7th, 1975:
John Denver – Sunshine on My Shoulders
January 8th, 1975:
John Denver – Sunshine on My Shoulders
January 9th, 1975:
John Denver – Sunshine on My Shoulders
January 10th, 1975:
John Denver – Sunshine on My Shoulders
January 11th, 1975:
Blue Swede – Hooked on a Feeling
January 12th, 1975:
Blue Swede – Hooked on a Feeling
January 13th, 1975:
Blue Swede – Hooked on a Feeling
January 14th, 1975:
Blue Swede – Hooked on a Feeling
January 15th, 1975:
Blue Swede – Hooked on a Feeling
January 16th, 1975:
Blue Swede – Hooked on a Feeling
January 17th, 1975:
Blue Swede – Hooked on a Feeling
January 18th, 1975:
Elton John – Bennie and the Jets
January 19th, 1975:
Elton John – Bennie and the Jets
January 20th, 1975:
Elton John – Bennie and the Jets
January 21st, 1975:
Elton John – Bennie and the Jets
January 22nd, 1975:
Elton John – Bennie and the Jets
January 23rd, 1975:
Elton John – Bennie and the Jets
January 24th, 1975:
Elton John – Bennie and the Jets
January 25th, 1975:
MFSB and The Three Degrees – TSOP (The Sound of Philadelphia)
January 26th, 1975:
MFSB and The Three Degrees – TSOP (The Sound of Philadelphia)
January 27th, 1975:
MFSB and The Three Degrees – TSOP (The Sound of Philadelphia)
January 28th, 1975:
MFSB and The Three Degrees – TSOP (The Sound of Philadelphia)
January 29th, 1975:
MFSB and The Three Degrees – TSOP (The Sound of Philadelphia)
January 30th, 1975:
MFSB and The Three Degrees – TSOP (The Sound of Philadelphia)
January 31st, 1975:
MFSB and The Three Degrees – TSOP (The Sound of Philadelphia)
February 1st, 1975:
MFSB and The Three Degrees – TSOP (The Sound of Philadelphia)
February 2nd, 1975:
MFSB and The Three Degrees – TSOP (The Sound of Philadelphia)
February 3rd, 1975:
MFSB and The Three Degrees – TSOP (The Sound of Philadelphia)
February 4th, 1975:
MFSB and The Three Degrees – TSOP (The Sound of Philadelphia)
February 5th, 1975:
MFSB and The Three Degrees – TSOP (The Sound of Philadelphia)
February 6th, 1975:
MFSB and The Three Degrees – TSOP (The Sound of Philadelphia)
February 7th, 1975:
MFSB and The Three Degrees – TSOP (The Sound of Philadelphia)
February 8th, 1975:
Grand Funk – The Loco-Motion
February 9th, 1975:
Grand Funk – The Loco-Motion
February 10th, 1975:
Grand Funk – The Loco-Motion
February 11th, 1975:
Grand Funk – The Loco-Motion
February 12th, 1975:
Grand Funk – The Loco-Motion
February 13th, 1975:
Grand Funk – The Loco-Motion
February 14th, 1975:
Grand Funk – The Loco-Motion
February 15th, 1975:
Grand Funk – The Loco-Motion
February 16th, 1975:
Grand Funk – The Loco-Motion
February 17th, 1975:
Grand Funk – The Loco-Motion
February 18th, 1975:
Grand Funk – The Loco-Motion
February 19th, 1975:
Grand Funk – The Loco-Motion
February 20th, 1975:
Grand Funk – The Loco-Motion
February 21st, 1975:
Grand Funk – The Loco-Motion
February 22nd, 1975:
Ray Stevens – The Streak
February 23rd, 1975:
Ray Stevens – The Streak
February 24th, 1975:
Ray Stevens – The Streak
February 25th, 1975:
Ray Stevens – The Streak
February 26th, 1975:
Ray Stevens – The Streak
February 27th, 1975:
Ray Stevens – The Streak
February 28th, 1975:
Ray Stevens – The Streak
March 1st, 1975:
Ray Stevens – The Streak
March 2nd, 1975:
Ray Stevens – The Streak
March 3rd, 1975:
Ray Stevens – The Streak
March 4th, 1975:
Ray Stevens – The Streak
March 5th, 1975:
Ray Stevens – The Streak
March 6th, 1975:
Ray Stevens – The Streak
March 7th, 1975:
Ray Stevens – The Streak
March 8th, 1975:
Ray Stevens – The Streak
March 9th, 1975:
Ray Stevens – The Streak
March 10th, 1975:
Ray Stevens – The Streak
March 11th, 1975:
Ray Stevens – The Streak
March 12th, 1975:
Ray Stevens – The Streak
March 13th, 1975:
Ray Stevens – The Streak
March 14th, 1975:
Ray Stevens – The Streak
March 15th, 1975:
Paul McCartney and Wings – Band on the Run
March 16th, 1975:
Paul McCartney and Wings – Band on the Run
March 17th, 1975:
Paul McCartney and Wings – Band on the Run
March 18th, 1975:
Paul McCartney and Wings – Band on the Run
March 19th, 1975:
Paul McCartney and Wings – Band on the Run
March 20th, 1975:
Paul McCartney and Wings – Band on the Run
March 21st, 1975:
Paul McCartney and Wings – Band on the Run
March 22nd, 1975:
Bo Donaldson and The Heywoods – Billy, Don't Be a Hero
March 23rd, 1975:
Bo Donaldson and The Heywoods – Billy, Don't Be a Hero
March 24th, 1975:
Bo Donaldson and The Heywoods – Billy, Don't Be a Hero
March 25th, 1975:
Bo Donaldson and The Heywoods – Billy, Don't Be a Hero
March 26th, 1975:
Bo Donaldson and The Heywoods – Billy, Don't Be a Hero
March 27th, 1975:
Bo Donaldson and The Heywoods – Billy, Don't Be a Hero
March 28th, 1975:
Bo Donaldson and The Heywoods – Billy, Don't Be a Hero
March 29th, 1975:
Bo Donaldson and The Heywoods – Billy, Don't Be a Hero
March 30th, 1975:
Bo Donaldson and The Heywoods – Billy, Don't Be a Hero
March 31st, 1975:
Bo Donaldson and The Heywoods – Billy, Don't Be a Hero
April 1st, 1975:
Bo Donaldson and The Heywoods – Billy, Don't Be a Hero
April 2nd, 1975:
Bo Donaldson and The Heywoods – Billy, Don't Be a Hero
April 3rd, 1975:
Bo Donaldson and The Heywoods – Billy, Don't Be a Hero
April 4th, 1975:
Bo Donaldson and The Heywoods – Billy, Don't Be a Hero
April 5th, 1975:
Gordon Lightfoot – Sundown
April 6th, 1975:
Gordon Lightfoot – Sundown
April 7th, 1975:
Gordon Lightfoot – Sundown
April 8th, 1975:
Gordon Lightfoot – Sundown
April 9th, 1975:
Gordon Lightfoot – Sundown
April 10th, 1975:
Gordon Lightfoot – Sundown
April 11th, 1975:
Gordon Lightfoot – Sundown
April 12th, 1975:
The Hues Corporation – Rock the Boat
April 13th, 1975:
The Hues Corporation – Rock the Boat
April 14th, 1975:
The Hues Corporation – Rock the Boat
April 15th, 1975:
The Hues Corporation – Rock the Boat
April 16th, 1975:
The Hues Corporation – Rock the Boat
April 17th, 1975:
The Hues Corporation – Rock the Boat
April 18th, 1975:
The Hues Corporation – Rock the Boat
April 19th, 1975:
George McCrae – Rock Your Baby
April 20th, 1975:
George McCrae – Rock Your Baby
April 21st, 1975:
George McCrae – Rock Your Baby
April 22nd, 1975:
George McCrae – Rock Your Baby
April 23rd, 1975:
George McCrae – Rock Your Baby
April 24th, 1975:
George McCrae – Rock Your Baby
April 25th, 1975:
George McCrae – Rock Your Baby
April 26th, 1975:
George McCrae – Rock Your Baby
April 27th, 1975:
George McCrae – Rock Your Baby
April 28th, 1975:
George McCrae – Rock Your Baby
April 29th, 1975:
George McCrae – Rock Your Baby
April 30th, 1975:
George McCrae – Rock Your Baby
May 1st, 1975:
George McCrae – Rock Your Baby
May 2nd, 1975:
George McCrae – Rock Your Baby
May 3rd, 1975:
John Denver – Annie's Song
May 4th, 1975:
John Denver – Annie's Song
May 5th, 1975:
John Denver – Annie's Song
May 6th, 1975:
John Denver – Annie's Song
May 7th, 1975:
John Denver – Annie's Song
May 8th, 1975:
John Denver – Annie's Song
May 9th, 1975:
John Denver – Annie's Song
May 10th, 1975:
John Denver – Annie's Song
May 11th, 1975:
John Denver – Annie's Song
May 12th, 1975:
John Denver – Annie's Song
May 13th, 1975:
John Denver – Annie's Song
May 14th, 1975:
John Denver – Annie's Song
May 15th, 1975:
John Denver – Annie's Song
May 16th, 1975:
John Denver – Annie's Song
May 17th, 1975:
Roberta Flack – Feel Like Makin' Love
May 18th, 1975:
Roberta Flack – Feel Like Makin' Love
May 19th, 1975:
Roberta Flack – Feel Like Makin' Love
May 20th, 1975:
Roberta Flack – Feel Like Makin' Love
May 21st, 1975:
Roberta Flack – Feel Like Makin' Love
May 22nd, 1975:
Roberta Flack – Feel Like Makin' Love
May 23rd, 1975:
Roberta Flack – Feel Like Makin' Love
May 24th, 1975:
Paper Lace – The Night Chicago Died
May 25th, 1975:
Paper Lace – The Night Chicago Died
May 26th, 1975:
Paper Lace – The Night Chicago Died
May 27th, 1975:
Paper Lace – The Night Chicago Died
May 28th, 1975:
Paper Lace – The Night Chicago Died
May 29th, 1975:
Paper Lace – The Night Chicago Died
May 30th, 1975:
Paper Lace – The Night Chicago Died
May 31st, 1975:
Paul Anka and Odia Coates – (You're) Having My Baby
June 1st, 1975:
Paul Anka and Odia Coates – (You're) Having My Baby
June 2nd, 1975:
Paul Anka and Odia Coates – (You're) Having My Baby
June 3rd, 1975:
Paul Anka and Odia Coates – (You're) Having My Baby
June 4th, 1975:
Paul Anka and Odia Coates – (You're) Having My Baby
June 5th, 1975:
Paul Anka and Odia Coates – (You're) Having My Baby
June 6th, 1975:
Paul Anka and Odia Coates – (You're) Having My Baby
June 7th, 1975:
Paul Anka and Odia Coates – (You're) Having My Baby
June 8th, 1975:
Paul Anka and Odia Coates – (You're) Having My Baby
June 9th, 1975:
Paul Anka and Odia Coates – (You're) Having My Baby
June 10th, 1975:
Paul Anka and Odia Coates – (You're) Having My Baby
June 11th, 1975:
Paul Anka and Odia Coates – (You're) Having My Baby
June 12th, 1975:
Paul Anka and Odia Coates – (You're) Having My Baby
June 13th, 1975:
Paul Anka and Odia Coates – (You're) Having My Baby
June 14th, 1975:
Paul Anka and Odia Coates – (You're) Having My Baby
June 15th, 1975:
Paul Anka and Odia Coates – (You're) Having My Baby
June 16th, 1975:
Paul Anka and Odia Coates – (You're) Having My Baby
June 17th, 1975:
Paul Anka and Odia Coates – (You're) Having My Baby
June 18th, 1975:
Paul Anka and Odia Coates – (You're) Having My Baby
June 19th, 1975:
Paul Anka and Odia Coates – (You're) Having My Baby
June 20th, 1975:
Paul Anka and Odia Coates – (You're) Having My Baby
June 21st, 1975:
Eric Clapton – I Shot the Sheriff
June 22nd, 1975:
Eric Clapton – I Shot the Sheriff
June 23rd, 1975:
Eric Clapton – I Shot the Sheriff
June 24th, 1975:
Eric Clapton – I Shot the Sheriff
June 25th, 1975:
Eric Clapton – I Shot the Sheriff
June 26th, 1975:
Eric Clapton – I Shot the Sheriff
June 27th, 1975:
Eric Clapton – I Shot the Sheriff
June 28th, 1975:
Barry White – Can't Get Enough of Your Love, Babe
June 29th, 1975:
Barry White – Can't Get Enough of Your Love, Babe
June 30th, 1975:
Barry White – Can't Get Enough of Your Love, Babe
July 1st, 1975:
Barry White – Can't Get Enough of Your Love, Babe
July 2nd, 1975:
Barry White – Can't Get Enough of Your Love, Babe
July 3rd, 1975:
Barry White – Can't Get Enough of Your Love, Babe
July 4th, 1975:
Barry White – Can't Get Enough of Your Love, Babe
July 5th, 1975:
Andy Kim – Rock Me Gently
July 6th, 1975:
Andy Kim – Rock Me Gently
July 7th, 1975:
Andy Kim – Rock Me Gently
July 8th, 1975:
Andy Kim – Rock Me Gently
July 9th, 1975:
Andy Kim – Rock Me Gently
July 10th, 1975:
Andy Kim – Rock Me Gently
July 11th, 1975:
Andy Kim – Rock Me Gently
July 12th, 1975:
Olivia Newton-John – I Honestly Love You
July 13th, 1975:
Olivia Newton-John – I Honestly Love You
July 14th, 1975:
Olivia Newton-John – I Honestly Love You
July 15th, 1975:
Olivia Newton-John – I Honestly Love You
July 16th, 1975:
Olivia Newton-John – I Honestly Love You
July 17th, 1975:
Olivia Newton-John – I Honestly Love You
July 18th, 1975:
Olivia Newton-John – I Honestly Love You
July 19th, 1975:
Olivia Newton-John – I Honestly Love You
July 20th, 1975:
Olivia Newton-John – I Honestly Love You
July 21st, 1975:
Olivia Newton-John – I Honestly Love You
July 22nd, 1975:
Olivia Newton-John – I Honestly Love You
July 23rd, 1975:
Olivia Newton-John – I Honestly Love You
July 24th, 1975:
Olivia Newton-John – I Honestly Love You
July 25th, 1975:
Olivia Newton-John – I Honestly Love You
July 26th, 1975:
Billy Preston – Nothing from Nothing
July 27th, 1975:
Billy Preston – Nothing from Nothing
July 28th, 1975:
Billy Preston – Nothing from Nothing
July 29th, 1975:
Billy Preston – Nothing from Nothing
July 30th, 1975:
Billy Preston – Nothing from Nothing
July 31st, 1975:
Billy Preston – Nothing from Nothing
August 1st, 1975:
Billy Preston – Nothing from Nothing
August 2nd, 1975:
Dionne Warwick and The Spinners – Then Came You
August 3rd, 1975:
Dionne Warwick and The Spinners – Then Came You
August 4th, 1975:
Dionne Warwick and The Spinners – Then Came You
August 5th, 1975:
Dionne Warwick and The Spinners – Then Came You
August 6th, 1975:
Dionne Warwick and The Spinners – Then Came You
August 7th, 1975:
Dionne Warwick and The Spinners – Then Came You
August 8th, 1975:
Dionne Warwick and The Spinners – Then Came You
August 9th, 1975:
Stevie Wonder – You Haven't Done Nothin'
August 10th, 1975:
Stevie Wonder – You Haven't Done Nothin'
August 11th, 1975:
Stevie Wonder – You Haven't Done Nothin'
August 12th, 1975:
Stevie Wonder – You Haven't Done Nothin'
August 13th, 1975:
Stevie Wonder – You Haven't Done Nothin'
August 14th, 1975:
Stevie Wonder – You Haven't Done Nothin'
August 15th, 1975:
Stevie Wonder – You Haven't Done Nothin'
August 16th, 1975:
Bachman-Turner Overdrive – You Ain't Seen Nothing Yet
August 17th, 1975:
Bachman-Turner Overdrive – You Ain't Seen Nothing Yet
August 18th, 1975:
Bachman-Turner Overdrive – You Ain't Seen Nothing Yet
August 19th, 1975:
Bachman-Turner Overdrive – You Ain't Seen Nothing Yet
August 20th, 1975:
Bachman-Turner Overdrive – You Ain't Seen Nothing Yet
August 21st, 1975:
Bachman-Turner Overdrive – You Ain't Seen Nothing Yet
August 22nd, 1975:
Bachman-Turner Overdrive – You Ain't Seen Nothing Yet
August 23rd, 1975:
John Lennon – Whatever Gets You Thru the Night
August 24th, 1975:
John Lennon – Whatever Gets You Thru the Night
August 25th, 1975:
John Lennon – Whatever Gets You Thru the Night
August 26th, 1975:
John Lennon – Whatever Gets You Thru the Night
August 27th, 1975:
John Lennon – Whatever Gets You Thru the Night
August 28th, 1975:
John Lennon – Whatever Gets You Thru the Night
August 29th, 1975:
John Lennon – Whatever Gets You Thru the Night
August 30th, 1975:
Billy Swan – I Can Help
August 31st, 1975:
Billy Swan – I Can Help
September 1st, 1975:
Billy Swan – I Can Help
September 2nd, 1975:
Billy Swan – I Can Help
September 3rd, 1975:
Billy Swan – I Can Help
September 4th, 1975:
Billy Swan – I Can Help
September 5th, 1975:
Billy Swan – I Can Help
September 6th, 1975:
Billy Swan – I Can Help
September 7th, 1975:
Billy Swan – I Can Help
September 8th, 1975:
Billy Swan – I Can Help
September 9th, 1975:
Billy Swan – I Can Help
September 10th, 1975:
Billy Swan – I Can Help
September 11th, 1975:
Billy Swan – I Can Help
September 12th, 1975:
Billy Swan – I Can Help
September 13th, 1975:
Carl Douglas – Kung Fu Fighting
September 14th, 1975:
Carl Douglas – Kung Fu Fighting
September 15th, 1975:
Carl Douglas – Kung Fu Fighting
September 16th, 1975:
Carl Douglas – Kung Fu Fighting
September 17th, 1975:
Carl Douglas – Kung Fu Fighting
September 18th, 1975:
Carl Douglas – Kung Fu Fighting
September 19th, 1975:
Carl Douglas – Kung Fu Fighting
September 20th, 1975:
Carl Douglas – Kung Fu Fighting
September 21st, 1975:
Carl Douglas – Kung Fu Fighting
September 22nd, 1975:
Carl Douglas – Kung Fu Fighting
September 23rd, 1975:
Carl Douglas – Kung Fu Fighting
September 24th, 1975:
Carl Douglas – Kung Fu Fighting
September 25th, 1975:
Carl Douglas – Kung Fu Fighting
September 26th, 1975:
Carl Douglas – Kung Fu Fighting
September 27th, 1975:
Harry Chapin – Cat's in the Cradle
September 28th, 1975:
Harry Chapin – Cat's in the Cradle
September 29th, 1975:
Harry Chapin – Cat's in the Cradle
September 30th, 1975:
Harry Chapin – Cat's in the Cradle
October 1st, 1975:
Harry Chapin – Cat's in the Cradle
October 2nd, 1975:
Harry Chapin – Cat's in the Cradle
October 3rd, 1975:
Harry Chapin – Cat's in the Cradle
October 4th, 1975:
Helen Reddy – Angie Baby
October 5th, 1975:
Helen Reddy – Angie Baby
October 6th, 1975:
Helen Reddy – Angie Baby
October 7th, 1975:
Helen Reddy – Angie Baby
October 8th, 1975:
Helen Reddy – Angie Baby
October 9th, 1975:
Helen Reddy – Angie Baby
October 10th, 1975:
Helen Reddy – Angie Baby
October 11th, 1975:
Elton John – Lucy in the Sky with Diamonds
October 12th, 1975:
Elton John – Lucy in the Sky with Diamonds
October 13th, 1975:
Elton John – Lucy in the Sky with Diamonds
October 14th, 1975:
Elton John – Lucy in the Sky with Diamonds
October 15th, 1975:
Elton John – Lucy in the Sky with Diamonds
October 16th, 1975:
Elton John – Lucy in the Sky with Diamonds
October 17th, 1975:
Elton John – Lucy in the Sky with Diamonds
October 18th, 1975:
Elton John – Lucy in the Sky with Diamonds
October 19th, 1975:
Elton John – Lucy in the Sky with Diamonds
October 20th, 1975:
Elton John – Lucy in the Sky with Diamonds
October 21st, 1975:
Elton John – Lucy in the Sky with Diamonds
October 22nd, 1975:
Elton John – Lucy in the Sky with Diamonds
October 23rd, 1975:
Elton John – Lucy in the Sky with Diamonds
October 24th, 1975:
Elton John – Lucy in the Sky with Diamonds
October 25th, 1975:
Barry Manilow – Mandy
October 26th, 1975:
Barry Manilow – Mandy
October 27th, 1975:
Barry Manilow – Mandy
October 28th, 1975:
Barry Manilow – Mandy
October 29th, 1975:
Barry Manilow – Mandy
October 30th, 1975:
Barry Manilow – Mandy
October 31st, 1975:
Barry Manilow – Mandy
November 1st, 1975:
The Carpenters – Please Mr. Postman
November 2nd, 1975:
The Carpenters – Please Mr. Postman
November 3rd, 1975:
The Carpenters – Please Mr. Postman
November 4th, 1975:
The Carpenters – Please Mr. Postman
November 5th, 1975:
The Carpenters – Please Mr. Postman
November 6th, 1975:
The Carpenters – Please Mr. Postman
November 7th, 1975:
The Carpenters – Please Mr. Postman
November 8th, 1975:
Neil Sedaka – Laughter in the Rain
November 9th, 1975:
Neil Sedaka – Laughter in the Rain
November 10th, 1975:
Neil Sedaka – Laughter in the Rain
November 11th, 1975:
Neil Sedaka – Laughter in the Rain
November 12th, 1975:
Neil Sedaka – Laughter in the Rain
November 13th, 1975:
Neil Sedaka – Laughter in the Rain
November 14th, 1975:
Neil Sedaka – Laughter in the Rain
November 15th, 1975:
Ohio Players – Fire
November 16th, 1975:
Ohio Players – Fire
November 17th, 1975:
Ohio Players – Fire
November 18th, 1975:
Ohio Players – Fire
November 19th, 1975:
Ohio Players – Fire
November 20th, 1975:
Ohio Players – Fire
November 21st, 1975:
Ohio Players – Fire
November 22nd, 1975:
Linda Ronstadt – You're No Good
November 23rd, 1975:
Linda Ronstadt – You're No Good
November 24th, 1975:
Linda Ronstadt – You're No Good
November 25th, 1975:
Linda Ronstadt – You're No Good
November 26th, 1975:
Linda Ronstadt – You're No Good
November 27th, 1975:
Linda Ronstadt – You're No Good
November 28th, 1975:
Linda Ronstadt – You're No Good
November 29th, 1975:
Average White Band – Pick Up the Pieces
November 30th, 1975:
Average White Band – Pick Up the Pieces
December 1st, 1975:
Average White Band – Pick Up the Pieces
December 2nd, 1975:
Average White Band – Pick Up the Pieces
December 3rd, 1975:
Average White Band – Pick Up the Pieces
December 4th, 1975:
Average White Band – Pick Up the Pieces
December 5th, 1975:
Average White Band – Pick Up the Pieces
December 6th, 1975:
Eagles – Best of My Love
December 7th, 1975:
Eagles – Best of My Love
December 8th, 1975:
Eagles – Best of My Love
December 9th, 1975:
Eagles – Best of My Love
December 10th, 1975:
Eagles – Best of My Love
December 11th, 1975:
Eagles – Best of My Love
December 12th, 1975:
Eagles – Best of My Love
December 13th, 1975:
Eagles – Best of My Love
December 14th, 1975:
Olivia Newton-John – Have You Never Been Mellow
December 15th, 1975:
Olivia Newton-John – Have You Never Been Mellow
December 16th, 1975:
Olivia Newton-John – Have You Never Been Mellow
December 17th, 1975:
Olivia Newton-John – Have You Never Been Mellow
December 18th, 1975:
Olivia Newton-John – Have You Never Been Mellow
December 19th, 1975:
Olivia Newton-John – Have You Never Been Mellow
December 20th, 1975:
Olivia Newton-John – Have You Never Been Mellow
December 21st, 1975:
The Doobie Brothers – Black Water
December 22nd, 1975:
The Doobie Brothers – Black Water
December 23rd, 1975:
The Doobie Brothers – Black Water
December 24th, 1975:
The Doobie Brothers – Black Water
December 25th, 1975:
The Doobie Brothers – Black Water
December 26th, 1975:
The Doobie Brothers – Black Water
December 27th, 1975:
The Doobie Brothers – Black Water
December 28th, 1975:
Frankie Valli – My Eyes Adored You
December 29th, 1975:
Frankie Valli – My Eyes Adored You
December 30th, 1975:
Frankie Valli – My Eyes Adored You
December 31st, 1975:
Frankie Valli – My Eyes Adored You