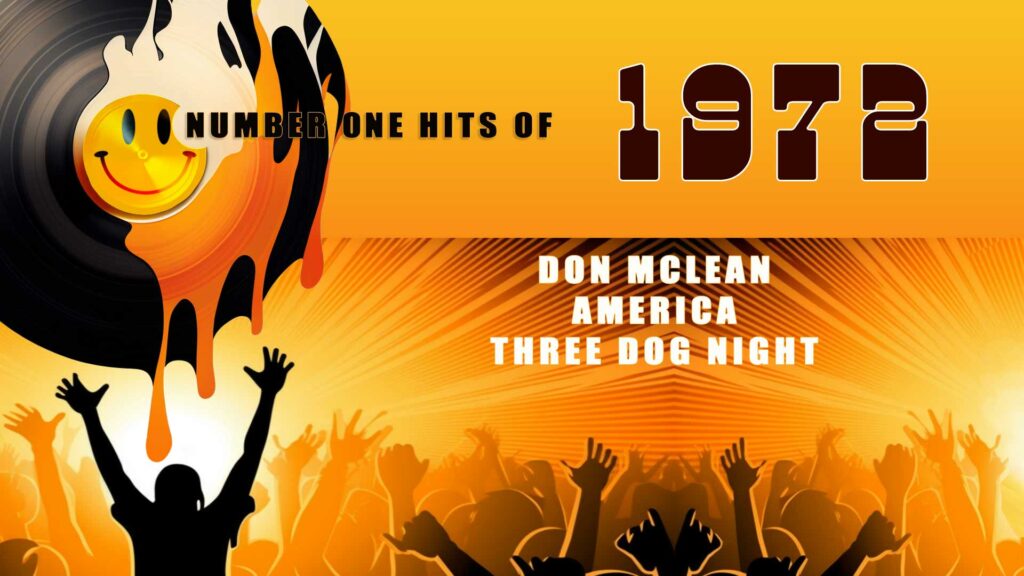 In 1972, Don Mclean's "American Pie" became a #1 hit, offering a nostalgic tribute to the early days of rock and roll and the loss of innocence that followed. The song's poetic lyrics and catchy melody captured the imagination of audiences, and it continues to be a celebrated masterpiece of the era.
The Number One Hits Of 1972
Dec 25, 1971 – Jan 14, 1972
Melanie
Brand New Key
Melanie Safka is an American singer-songwriter known for her folk and pop songs.
Jan 15, 1972 – Feb 11, 1972
Don McLean

American Pie
American Pie is an epic folk rock song that runs for over eight minutes and is famous for its cryptic and metaphorical lyrics. The song reflects significant events and changes in American society during the 1950s and 1960s. It references various musicians, political figures, and cultural icons, using them as symbols to convey the social and cultural shifts of the time.

The song's chorus, "Bye, bye Miss American Pie, drove my Chevy to the levee, but the levee was dry," has become particularly iconic and is recognized by people worldwide. "American Pie" is seen as a lament for the loss of innocence and idealism of the 1960s and has been interpreted as a commentary on the tragic deaths of Buddy Holly, Ritchie Valens, and The Big Bopper in a plane crash in 1959 (often referred to as "The Day the Music Died").
Feb 12, 1972 – Feb 18, 1972
Al Green
Let's Stay Together
Reverend Al Green is an American soul singer, songwriter, and record producer, known for his smooth vocal style.
Feb 19, 1972 – Mar 17, 1972
Nilsson
Without You
Harry Nilsson was an American singer-songwriter known for his versatile voice and range. The song is a cover of Badfinger's original.
Mar 18, 1972 – Mar 24, 1972
Neil Young
Heart of Gold
Canadian singer-songwriter and musician known for his folk-rock and country-rock sound.
Mar 25, 1972 – Apr 14, 1972
America
A Horse with No Name
English-American rock band known for their close vocal harmonies and acoustic-driven sound.
Apr 15, 1972 – May 26, 1972
Roberta Flack
The First Time Ever I Saw Your Face
American singer, known for her soulful voice and romantic ballads. British folk musician Ewan MacColl wrote the song.
May 27, 1972 – Jun 2, 1972
The Chi-Lites
Oh Girl
American R&B/soul vocal quartet from Chicago, known for their smooth harmonies and romantic ballads.
Jun 3, 1972 – Jun 9, 1972
The Staple Singers
I'll Take You There
 American gospel, soul, and R&B singing group known for their social and political change message.
Jun 10, 1972 – Jun 30, 1972
Sammy Davis Jr.
Candy Man
American entertainer known for his singing, dancing, and acting skills. The song was written for the film "Willy Wonka & the Chocolate Factory."
Jul 1, 1972 – Jul 7, 1972
Neil Diamond
Song Sung Blue
American singer-songwriter is known for his pop and soft rock hits.
Jul 8, 1972 – Jul 28, 1972
Bill Withers
Lean On Me
American singer-songwriter is known for his soulful voice and introspective lyrics.
Jul 29, 1972 – Aug 25, 1972
Gilbert O'Sullivan
Alone Again (Naturally)
Irish singer-songwriter is known for his ballads and piano-driven sound.
Aug 26, 1972 – Sep 15, 1972
Looking Glass
Brandy (You're a Fine Girl)
American pop rock band known for their catchy melodies and storytelling lyrics.
Sep 16, 1972 – Sep 22, 1972
Three Dog Night
Black and White
American rock band known for their powerful vocal harmonies and covers of other artists' songs.
Sep 23, 1972 – Oct 13, 1972
Mac Davis
Baby, Don't Get Hooked on Me
American country singer, songwriter, and actor known for his storytelling style and smooth vocals.
Oct 14, 1972 – Oct 20, 1972
Michael Jackson
Ben
American singer, songwriter, and dancer, often referred to as the "King of Pop." The song is the title track of a 1972 horror film about a rat.
Oct 21, 1972 – Nov 3, 1972
Chuck Berry
My Ding-a-ling
American guitarist, singer, and songwriter, often called the "Father of Rock and Roll." The song is a novelty tune based on a 1952 song by Dave Bartholomew.
Nov 4, 1972 – Dec 1, 1972
Johnny Nash
I Can See Clearly Now
American reggae and pop music singer-songwriter is known for his bright and optimistic songs.
Dec 2, 1972 – Dec 8, 1972
The Temptations
Papa Was a Rollin' Stone
American vocal group known for their versatile vocal styles and harmonies, as well as their choreographed stage performances.
Dec 9, 1972 – Dec 15, 1972
Helen Reddy
I Am Woman
Australian-American singer, actress, and activist known for her powerful anthems and pop hits. The song became an unofficial anthem for the women's liberation movement.
Dec 16, 1972 – Jan 5, 1973
Billy Paul
Me and Mrs. Jones
American soul singer is known for his smooth vocals and storytelling style. The song is about an extramarital affair.
The Biggest Pop Artists of 1972 include:
Al Green, America, Aretha Franklin, Betty Wright, Bill Withers, Billy Preston, Bobby Womack, Bread, The Carpenters, The Chi-Lites, Don McLean, Donny Hathaway, Donny Osmond, The Dramatics, Elton John, Gilbert O'Sullivan, Harold Melvin & the Blue Notes, The Jackson 5, James Brown, Joe Simon, Johnnie Taylor, Kurtis Mayfield, Looking Glass, Luther Ingram, Micheal Jackson, Millie Jackson, Neil Diamond, Nilsson, The O'Jays, The Osmonds, The Persuaders, Roberta Flack, The Spinners, The Staple Singers, Stevie Wonder, The Stylistics, The Temptations, Three Dog Night, Tyrone Davis, War
(HPS music data is compiled from charts, including Billboard's Pop, Rock, Airplay, R&B/Dance, and Singles Charts. The Hot 100 is the primary chart used for this list.)