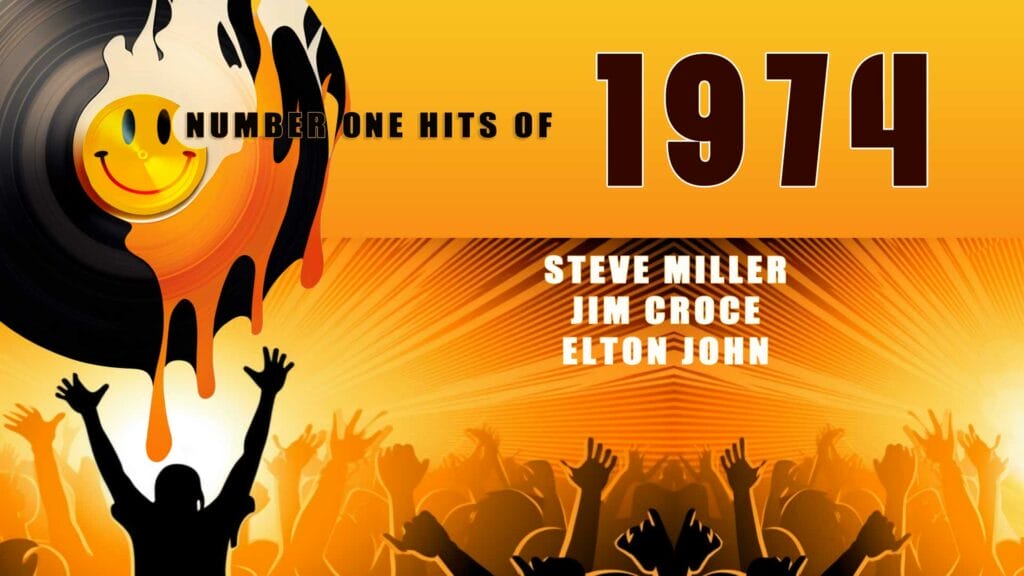 The Number One Hits Of 1974
In 1974, singer-songwriter Jim Croce scored a #1 hit with "Bad, Bad Leroy Brown," a catchy tune with a colorful cast of characters. Tragically, Croce died in a plane crash just a few months later, but his music has endured and continues to inspire new generations of fans.

Dec 29, 1973 – Jan 11, 1974
Jim Croce
Time in a Bottle
American folk-rock singer-songwriter and guitarist.
Croce's 1972 album, "You Don't Mess Around with Jim, " featured the song."
Jan 12, 1974 – Jan 18, 1974
Steve Miller Band
The Joker
Formed in San Francisco in 1966, the band is led by Steve Miller.
The song is known for its "Space Cowboy" and "Gangster of Love" references.
Jan 19, 1974 – Jan 25, 1974
Al Wilson
Show and Tell
Al Wilson was an American soul singer.
The song was written and produced by Jerry Fuller.
Jan 26, 1974 – Feb 1, 1974
Ringo Starr
You're Sixteen
English musician Ringo Starr was the drummer for The Beatles.
The song was a cover of a 1960 Johnny Burnette hit.
Feb 2, 1974 – Feb 8, 1974
Barbra Streisand
The Way We Were
American singer, actress, and filmmaker Barbra Streisand has six decades of career.
The song served as the theme for the 1973 film of the same name.
Feb 9, 1974 – Mar 1, 1974
Love Unlimited Orchestra
Love's Theme
Barry White formed the orchestra to back his female vocal trio, Love Unlimited.
An instrumental track, it was one of the earliest examples of disco.
Mar 2, 1974 – Mar 22, 1974
Terry Jacks
Seasons in the Sun
Canadian singer-songwriter Terry Jacks was also a member of the pop duo The Poppy Family.
The song is an adaptation of the French song "Le Moribond" by Jacques Brel.
Mar 23, 1974 – Mar 29, 1974
Cher
Dark Lady
American singer and actress Cher, known for her distinctive contralto voice, has had a career spanning over six decades.
The song tells a story of betrayal and revenge.
Mar 30, 1974 – Apr 5, 1974
John Denver
Sunshine on My Shoulders
American singer-songwriter John Denver was known for his folk and country hits.
The song was inspired by a sunny day in Minnesota.
Apr 6, 1974 – Apr 12, 1974
Blue Swede
Hooked on a Feeling
Vocalist Björn Skifs led Swedish rock band Blue Swede.
Their version is famous for its "ooga-chaka" introduction.
Apr 13, 1974 – Apr 19, 1974
Elton John
Bennie and the Jets
English singer-songwriter Elton John has sold over 300 million records.
The song features a live audience and a glam-rock style.
Apr 20, 1974 – May 3, 1974
MFSB and The Three Degrees
TSOP
MFSB was a pool of studio musicians in Philadelphia, and The Three Degrees was a female vocal group
The song was used as the theme music for "Soul Train."
May 4, 1974 – May 17, 1974
Grand Funk
The Loco-Motion
American hard rock band Grand Funk was formed in 1969.
Their version of the song is a cover of Little Eva's 1962 hit
May 18, 1974 – Jun 7, 1974
Ray Stevens
The Streak
American singer-songwriter and comedian Ray Stevens is known for his novelty songs.
The song humorously describes the 1970s streaking craze.
Jun 8, 1974 – Jun 14, 1974
Paul McCartney and Wings
Band on the Run
English musician Paul McCartney formed Wings after the breakup of The Beatles.
The song was inspired by McCartney's experience of being arrested in Scotland.
Jun 15, 1974 – Jun 28, 1974
Bo Donaldson and The Heywoods
Billy, Don't Be a Hero
American pop group Bo Donaldson and The Heywoods were popular in the 1970s.
The song tells the story of a young man going off to war.
Jun 29, 1974 – Jul 5, 1974
Gordon Lightfoot
Sundown
Canadian singer-songwriter Gordon Lightfoot is known for his folk and country hits.
The song is about a cheating lover and has a country-rock style.
Jul 6, 1974 – Jul 12, 1974
The Hues Corporation
Rock the Boat
American disco-soul group The Hues Corporation was formed in 1969.
The song is considered one of the first disco hits.
Jul 13, 1974 – Jul 26, 1974
George McCrae
Rock Your Baby
American soul and disco singer George McCrae began his career in the 1970s.
The song was one of the first hits of the disco era.
Jul 27, 1974 – Aug 9, 1974
John Denver
Annie's Song
The song was written as an ode to Denver's wife, Annie.
Aug 10, 1974 – Aug 16, 1974
Roberta Flack
Feel Like Makin' Love
The song was a sensual ballad that became one of Flack's signature hits.
Aug 17, 1974 – Aug 23, 1974
Paper Lace
The Night Chicago Died
English pop group Paper Lace was formed in 1969.
The song tells a fictional story of a Chicago shootout between police and gangsters.
Aug 24, 1974 – Sep 13, 1974
Paul Anka and Odia Coates
(You're) Having My Baby
Canadian singer-songwriter Paul Anka became a teen idol in the late 1950s.
The song is a duet with American singer Odia Coates about a couple expecting a child.
Sep 14, 1974 – Sep 20, 1974
Eric Clapton
I Shot the Sheriff
English rock and blues guitarist and singer Eric Clapton is a three-time inductee to the Rock and Roll Hall of Fame.
The song covers Bob Marley's original and tells a story of self-defense.
Sep 21, 1974 – Sep 27, 1974
Barry White
Can't Get Enough of Your Love, Babe
American singer-songwriter and producer Barry White was known for his deep voice and romantic ballads.
The song became one of White's most popular and signature hits.
Sep 28, 1974 – Oct 4, 1974
Andy Kim
Rock Me Gently
Canadian pop singer-songwriter Andy Kim is known for his hit singles in the 1960s and 1970s.
The song was a comeback hit for Kim, showcasing his soft rock style.
Oct 5, 1974 – Oct 18, 1974
Olivia Newton-John
I Honestly Love You
Australian-British singer and actress Olivia Newton-John gained worldwide fame in the 1970s
The song is a tender ballad that became one of Newton-John's signature hits.
Oct 19, 1974 – Oct 25, 1974
Billy Preston
Nothing from Nothing
American musician and singer Billy Preston was known as the "Fifth Beatle" due to his collaborations with the band.
The song is an upbeat, soulful tune that features Preston's keyboard skills.
Oct 26, 1974 – Nov 1, 1974
Dionne Warwick and The Spinners
Then Came You
American singer Dionne Warwick became a pop and R&B icon in the 1960s.
The song is a collaboration with American R&B vocal group The Spinners and became a hit for both artists
Nov 2, 1974 – Nov 8, 1974
Stevie Wonder
You Haven't Done Nothin'
American singer-songwriter and multi-instrumentalist Stevie Wonder is a Motown legend.
The song is a funk-infused protest track addressing the political climate of the time.
Nov 9, 1974 – Nov 15, 1974
Bachman-Turner Overdrive
You Ain't Seen Nothing Yet
Canadian rock group Bachman-Turner Overdrive was formed in 1973.
The song features a stuttering vocal and a catchy guitar riff.
Nov 16, 1974 – Nov 22, 1974
John Lennon
Whatever Gets You Thru the Night
English musician John Lennon was a member of The Beatles.
The song features Elton John on piano and backing vocals and is an upbeat, piano-driven tune.
Nov 23, 1974 – Dec 6, 1974
Billy Swan
I Can Help
American country singer-songwriter Billy Swan had a successful career in the 1970s.
The song is a light-hearted, country-pop tune with a catchy chorus.
Dec 7, 1974 – Dec 20, 1974
Carl Douglas
Kung Fu Fighting
Jamaican singer Carl Douglas is best known for this one-hit-wonder.
The song was inspired by the martial arts film craze of the 1970s
Dec 21, 1974 – Dec 27, 1974
Harry Chapin
Cat's in the Cradle
American singer-songwriter and philanthropist Harry Chapin was known for his storytelling style.
The song is a narrative about a father and son's relationship over time.
Dec 28, 1974 – Jan 3, 1975
Helen Reddy
Angie Baby
Australian-American singer Helen Reddy was a prominent feminist icon in the 1970s.
The song is a haunting story of a young girl with a vivid imagination and mysterious powers.
The Biggest Pop Artists of 1974 include:
Al Green, Aretha Franklin, Bachman-Turner Overdrive, Barry White, Billy Swan, Bo Donaldson & the Heywoods, Bobby Womack, Charlie Rich, Chicago, Diana Ross, Eddie Kendricks, Elton John, Gladys Knight & the Pips, Grand Funk Railroad, Harry Chapin, Helen Reddy, The Jackson 5, James Brown, Jim Stafford, John Denver, John Lennon, Johnnie Taylor, Kool & the Gang, Love Unlimited, MFSB, The O'Jays, Ohio Players, Olivia Newton-John, Paul McCartney & Wings, Roberta Flack, Rufus featuring Chaka Kahn, The Spinners, The Staple Singers, Stevie Wonder, The Stylistics, Tavares, The Temptations, The Three Degrees, Tyrone Davis
(HPS music data is compiled from charts, including Billboard's Pop, Rock, Airplay, R&B/Dance, and Singles Charts. The Hot 100 is the primary chart used for this list.)