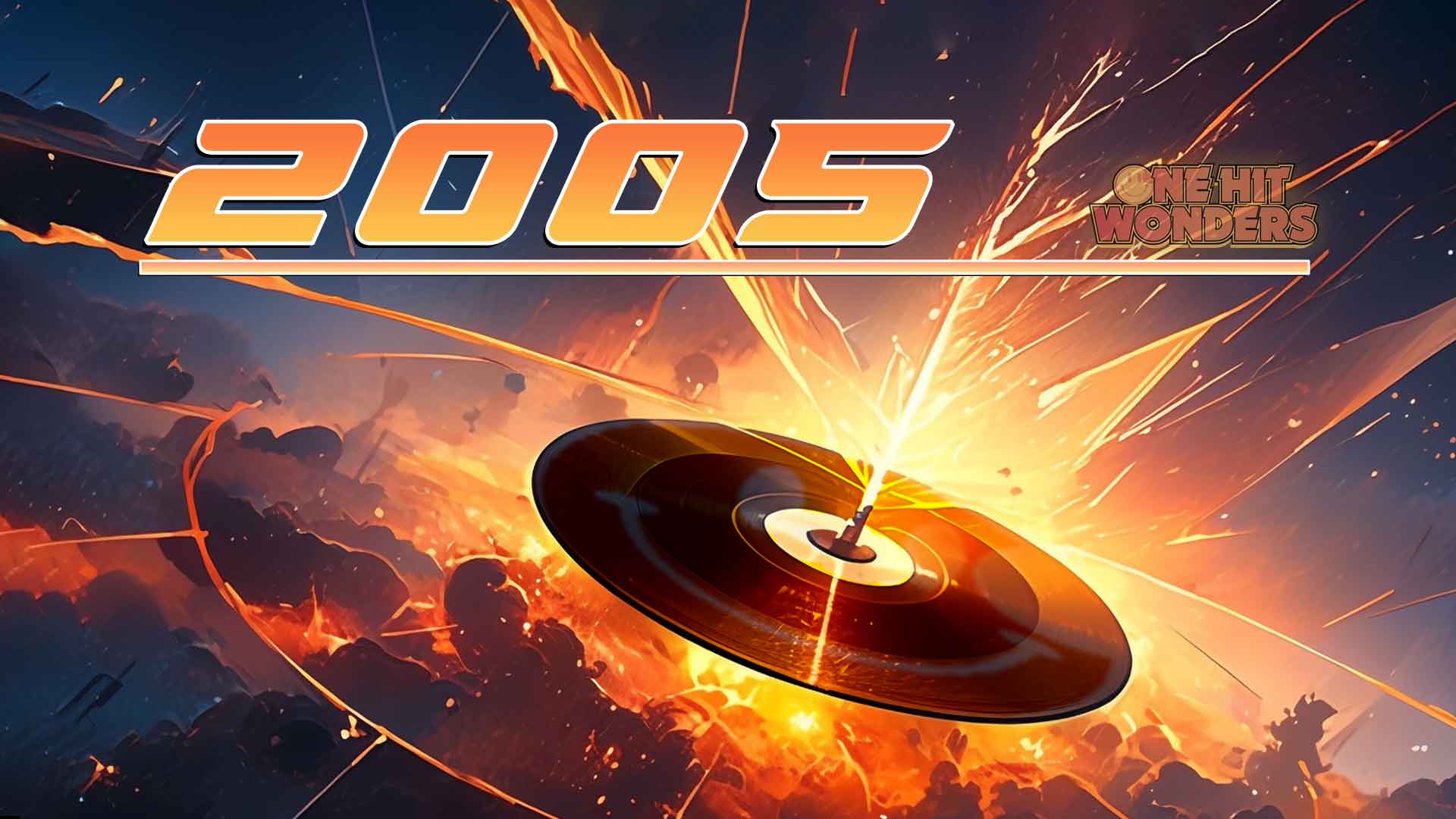 2005 One Hit Wonders & Artists Known For One Song
Amor Eterno
Christian Castro
Christian Castro is a Grammy Award-nominated Mexican pop singer, known for his romantic ballads.
An Honest Mistake
The Bravery
The Bravery is an American rock band from New York City, known for their post-punk revival style.
Any Other Night
Sharissa
Sharissa, an R&B singer from Brooklyn, New York, has collaborated with artists like R. Kelly and Tank.
Axel F
Crazy Frog
Crazy Frog is a Swedish animated character used in various music and video projects, with "Axel F" being one of its most well-known hits.
B.Y.O.B.
System of A Down
System of a Down is an Armenian-American heavy metal band that won a Grammy Award for Best Hard Rock Performance for the song "B.Y.O.B.".
Breathe
Anna Nalick
Anna Nalick is an American singer-songwriter best known for her hit song "Breathe (2 AM)" from her debut album.
Collide
Howie Day
Howie Day is an American singer-songwriter known for his extensive use of looping effects in his live performances.
Crazy Frog
Axel F
Crazy Frog, created by Erik Wernquist, was marketed by the ringtone provider Jamba! and had a two-year run of chart success in Europe.
Dem Boyz
Boyz N Da Hood
Boyz N Da Hood is an American southern hip hop group from Atlanta, Georgia.
Don't Ask Me How I Know
Bobby Pinson
Bobby Pinson is a country singer-songwriter who has written songs for Toby Keith, Sugarland, and other artists.
Everytime We Touch
Cascada
Cascada is a German eurodance act known for their dance-pop version of the ballad "Everytime We Touch".
Girlfight
Brooke Valentine
Brooke Valentine is an American R&B singer and songwriter, best known for her single "Girlfight".
Give Me That
Webbie
Webbie is a rapper from Baton Rouge, Louisiana, who's been active since the late 90s.
Good Times
Tommy Lee
Tommy Lee is best known as the drummer for Mötley Crüe but has also had success with his solo projects.
Happy?
Mudvayne
Mudvayne was an American heavy metal band known for their sonic experimentation and elaborate visual appearance.
Hello Tomorrow
Squeak E. Clean
Squeak E. Clean is the stage name of Sam Spiegel, a composer and producer who has worked on film scores and advertisements.
Help Somebody
Van Zant
Van Zant is a musical duo composed of brothers Donnie and Johnny Van Zant, from the musical families of .38 Special and Lynyrd Skynyrd respectively.
Here We Go
Trina featuring Kelly Rowland
Trina is a rapper from Miami who first gained notoriety in 1998 with her appearance on Trick Daddy's "Nann Nigga". Kelly Rowland was a member of Destiny's Child before launching her solo career.
Hold You Down
The Alchemist
The Alchemist is an American hip hop record producer, disc jockey (DJ) and rapper who began his music career in 1991 in the hip hop duo The Whooliganz.
How Do You Get That Lonely
Blaine Larsen
Blaine Larsen is a country music artist who was only 18 years old when he first started charting on Billboard.
I Play Chicken With The Train
Cowboy Troy
Cowboy Troy is a country rapper who was one of the first artists to merge country and hip-hop styles successfully.
If You Were Mine
Marcos Hernandez
Marcos Hernandez is a pop, R&B, and soul singer and songwriter who was born in Phoenix, Arizona, but moved to Dallas, Texas, at the age of 15.
Jerk It Out
Caesars
Caesars is a Swedish indie rock band that gained international fame with the song "Jerk It Out".
Kryptonite (I'm On It)
Purple Ribbon All-stars
Purple Ribbon All-Stars is a southern hip-hop ensemble signed to rapper Big Boi's Purple Ribbon Records.
Laffy Taffy
D4L
D4L was an American rap group formed in 2003; they are best known for their hit single "Laffy Taffy," which peaked at No.1 on the Billboard Hot 100.
Listen To Your Heart
D.H.T
D.H.T is a Belgian house and trance group that gained popularity with their dance cover of Roxette's "Listen to Your Heart".
Make Her Feel Good
Teairra Mari
Teairra Mari is an R&B singer who was signed to Roc-A-Fella Records at the age of 16.
Must Be Nice
Lyfe Jennings
Lyfe Jennings is a platinum-selling American R&B and soul singer-songwriter, record producer, and instrumentalist. He plays the guitar, bass, and piano which he integrates into his music.
Nada Es Para Siempre
Luis Fonsi
Luis Fonsi is a Puerto Rican singer and songwriter who gained worldwide fame for his hit song "Despacito" with Daddy Yankee.
Perdidos
Monchy & Alexandra
Monchy & Alexandra were a bachata musical group from the Dominican Republic who were popular in the mid-1990s and early 2000s.
Seasons of Love
Cast of Rent
The Cast of Rent featured on the song "Seasons of Love" is from the Broadway musical RENT, known for addressing issues like homelessness, drug addiction, and AIDS.
Slow Down
Bobby Valentino
Bobby Valentino is an American singer, songwriter, and actor who was formerly part of the R&B group Mista.
So Seductive
Tony Yayo
Tony Yayo is a rapper and member of the hip hop group G-Unit, which was formed by his childhood friend 50 Cent.
Some Cut
Trillville
Trillville is a rap group from Atlanta, Georgia which was formed in 1997 and gained mainstream success in 2003.
The Widow
The Mars Volta
The Mars Volta is an American progressive rock band known for their unique fusion of punk, jazz, and Latin influences.
There It Go! (The Whistle Song)
Juelz Santana
Juelz Santana is a rapper and actor from Harlem, New York, who is a member of the East Coast hip hop group The Diplomats.
Under Pressure
The Used & My Chemical Romance
The Used and My Chemical Romance are both American rock bands. They collaborated on a cover of Queen and David Bowie's "Under Pressure" for a charity release.
We Will Become Silhouettes
Postal Service
The Postal Service was an American electronic indie pop band. The group consisted of Death Cab for Cutie's lead singer Ben Gibbard and producer Jimmy Tamborello.
Welcome To Jamrock
Damian Marley
Damian Marley, also known as "Jr. Gong", is a reggae artist and the youngest son of Bob Marley. He won two Grammy awards for the album "Welcome to Jamrock".
You're The One
Guerilla Black
Guerilla Black is a rapper from Compton, California, w